Which One Is Better? A Mortgage Broker Or A Bank?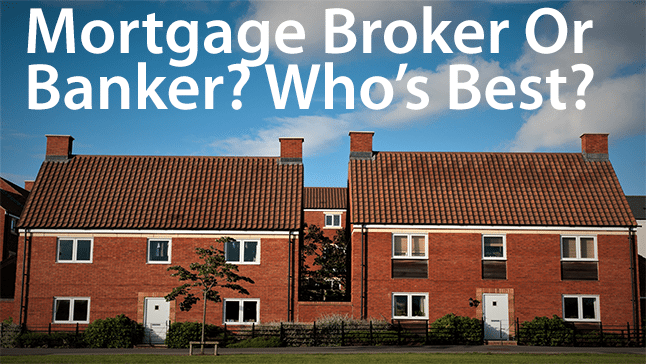 Mortgage Broker Vs. Mortgage Banker: Who Offers The Best Mortgage Rates?
When you're shopping for a home loan, you have two main sources of money — the mortgage broker and the bank (also called a "direct lender" in the mortgage industry). One might be better than the other for you, depending on your circumstances.
Verify your new rate (Jul 21st, 2018)
How Banks Work
Does it matter whether you choose a mortgage broker or a bank? It might, depending on your needs.
Mortgage banks use their own money to fund mortgages, and their loan officers, processors, underwriters and funders all work for the same company. After the loan funds, it may be kept in the lender's portfolio of investments, or it may be sold to investors.
5 Things A Truly Great Mortgage Lender Does
Loan officers serve as the bank's sales force. They usually earn commissions for originating loans, and the prices they charge may not be negotiable. They can only sell products offered by their employer, and that can limit the options offered to you.
Loan officers can offer the same loan at various price points, from "no-cost" loans with higher rates to more expensive but lower discounted rates.
How Brokers Work
Brokers act as the sales force for wholesale lenders. Wholesale lenders send their brokers rate sheets, which list the rates and prices available for each product. Brokers are often smaller than banks.
A loan with a higher rate may have "rebate" pricing, money which can be used to pay the broker's commission and perhaps other closing costs on the borrower's behalf. This rebate is also called a Yield Spread Premium, or YSP.
Are Mortgage Brokers Obsolete In 2017?
For loans with lower rates, the borrower pays the broker's commission, usually about one percent of the loan amount.
Brokers work with a variety of wholesale lenders, which gives them access to many products at many price points.
Pros Of Banks
Here are the pluses of dealing with a mortgage bank.
Cons Of Mortgage Banks
And here are the drawbacks.
Pros Of Mortgage Brokers
Brokers operate differently. Here are the upsides.
Cons Of Brokers
Brokers also have their drawbacks.
Who Should Use A Mortgage Broker?
In general, if your loan is a straightforward transaction, and your credit, income and assets are strong, you may be able to save time and money with a bank.
How Much Do Mortgage Lenders Make On Your Loan?
If your application involves challenges, a broker who knows which lenders are most flexible can help. For instance, a broker might be best if your FICO is 600 (higher than the minimum for FHA loans), because many lenders impose higher minimums, making it harder to get approved.
A good broker would know which lenders don't apply tougher standards and are more likely to approve your application.
Negotiating A Better Rate For Your Home Loan
That said, many brokers today offer competitive pricing in line with that of direct lenders. And many banks today have a larger variety of programs. Look for portfolio lenders if you need something really creative.
To get the best of both worlds, obtain loan quotes from at least one broker and at least one bank when you shop for a mortgage.
What Are Today's Mortgage Rates?
Today's mortgage rates from mortgage brokers and bankers are highly competitive. To get the best deal on a home loan, experts note that you need at least three or four quotes.
It doesn't really matter if a lender's compensation is disclosed on closing documents if you know that you got the best deal available to you. You only find that out by shopping and comparing.
Verify your new rate (Jul 21st, 2018)
The information contained on The Mortgage Reports website is for informational purposes only and is not an advertisement for products offered by Full Beaker. The views and opinions expressed herein are those of the author and do not reflect the policy or position of Full Beaker, its officers, parent, or affiliates.
Try the Mortgage Calculator