4 Types Of Mortgage Companies: Which Will Give You The "Best Deal"?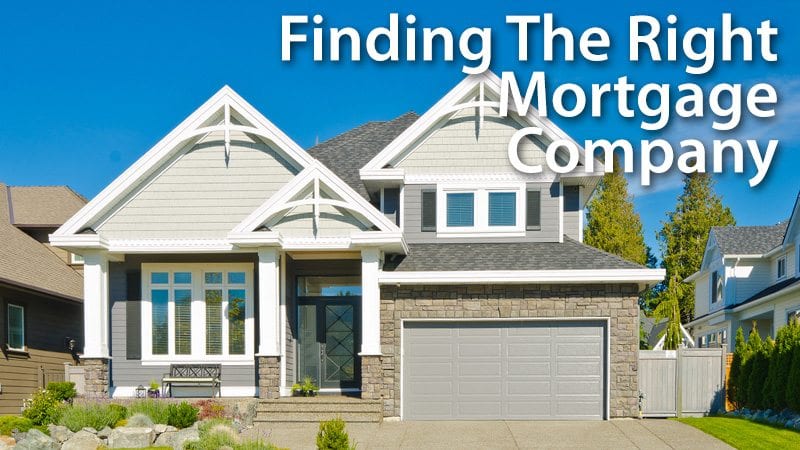 Failing To Shop Lenders Is Expensive
According to the Consumer Financial Protection Bureau (CFPB), 77% of homeowners apply to only one mortgage company, and nearly half do no comparison shopping at all.
That can be expensive. CFPB's research says that shopping can lower the consumer's mortgage rate by about 0.50%.
That's $1,250 per year on a $250,000 mortgage.
Since your home is typically the largest investment you'll ever have, it's wise to shop and compare.
But there's more to finding a great mortgage company than finding the best deal. Each type of mortgage company offers distinct advantages that may align with your needs.
Knowing what to look for in a mortgage company can get you the best value –and a good experience, too.
Verify your new rate (May 23rd, 2018)
Before You Shop For The "Best Deal"
The first step to securing a great mortgage is finding the right mortgage company.
Most consumers involved in a real estate related transaction will need a lender's help. These consumers include:
First-time home buyers
Investors looking to take on additional properties
Homeowner looking to refinance
Move-up buyers selling one property and buying another
Often, homeowners jump right into the mortgage process and simply look for the "best deal."
It's important to understand, though, depending on your situation, the type of lending institution can be as important as finding the right company.
As such, it can be helpful to understand the different types of lending institutions.
Verify your new rate (May 23rd, 2018)
Each Type Of Lending Institution Offers Its Own Advantages
Mortgage companies are financial institutions that help people secure home loans against residential property.
Regardless of the type of financial institution, there will always be a mortgage loan originator (aka a loan officer) involved in the mortgage process.
The loan originator takes your loan application, pulls your credit, and gathers the necessary documentation for your mortgage.
There are generally four different types of mortgage companies from which homeowners can choose.
1. Banks and mortgage bankers
Perhaps the most common of all financial institutions are banks.
Banks get their money from investors and its own customers.
In addition to offering checking and savings and investment options, banks will often offer different types of mortgage loans for qualified borrowers.
For many people, their local bank is the first and possibly only financial institution they will ever do business with.
2. Credit unions
Credit unions are very similar to banks, except that they are owned by their account holders, known as members.
These institutions usually require membership and get funds from their members.
Similar to their bank counterparts, credit unions offer a range of services to their members such as depository accounts for checking, savings, and retirement.
As with banks, credit union members will often utilize their institution as a one-stop shop, obtaining their mortgage loan, as well as all their other banking needs at the same place.
3. Mortgage lenders
A mortgage lender is a financial institution, similar to a bank, that originates and funds loans in their own name.
Unlike banks and credit unions, mortgage lenders exist for the sole purpose of making loans against real estate.
Most mortgage lenders do not service, or "keep", their loans. Instead, lenders sell their loans to banks or servicing companies.
These servicers then take on the job of collecting payments on a monthly basis.
Mortgage lenders get their money from banks, also known as investors.
Unlike banks and credit unions, most lenders do all their own loan processing, underwriting and closing functions "in-house". They can take care of the entire process with internal staff.
In-house operations shorten the time frame involved with obtaining a mortgage loan.
4. Mortgage brokers
A mortgage broker is essentially a "middleman" between the homeowner and bank.
Mortgage brokers do not lend money directly.
Brokers have access to many lenders, as well as many different loan programs.
In some cases, especially when your credit isn't perfect, a mortgage broker can shop around to find a home loan that isn't offered by a bank, credit union, or even a lender.
If your home bank or credit union can't approve you, your next step is to talk to mortgage companies and brokers.
Verify your new rate (May 23rd, 2018)
How To Compare Mortgage Companies
Which financial institution is the best choice for getting your mortgage loan? As is often the answer — it depends.
The best place to obtain mortgage financing will vary from one homeowner to the next, according to their specific wants and needs at that time.
For example, if getting your home loan wrapped up quickly is imperative, it's important to know how long it will take to process your loan application.
In this scenario, a mortgage broker or lender may be a better option as they can typically close loans faster than banks or credit unions.
If time isn't an important factor, and you prefer to have all of your financial accounts in one place, your local bank or credit union could be the best choice.
Credit unions may also have lower costs and interest rates that they can offer their members.
However, though some banks and credit unions can offer lower closing costs and interest rates, they may not offer government-backed loans such as FHA mortgages or VA.
USDA home loan lenders may be even harder to find.
If your situation calls for a government-backed loan, it's important to know whether your bank or credit union can offer government loans. If not, a broker or lender may be the better option for you.
Another important consideration comes into play if your credit is less-than-perfect, or if your debt-to-income ratios are high.
Banks and credit unions tend to have more conservative underwriting guidelines. As such, these institutions may not be able to approve your loan application. Lenders and brokers, however, tend to be more flexible in this area.
Regardless of what company you choose for your mortgage financing, it's vital that homeowners compare apples-to-apples with regard to rates and fees.
If your primary objective is simply to get the lowest closing costs and lowest rate, compare rates and closing costs on the same day. Interest rates and fees change daily.
What Are Today's Rates?
Homeowners should always shop and compare offerings from a few different companies. Rates are still low. With a little upfront research, you can secure a great rate that best suits your situation.
Get quotes from several places. You can get started here. Your social security number isn't required to get started, and all quotes come with instant access to your live credit scores.
Verify your new rate (May 23rd, 2018)
The information contained on The Mortgage Reports website is for informational purposes only and is not an advertisement for products offered by Full Beaker. The views and opinions expressed herein are those of the author and do not reflect the policy or position of Full Beaker, its officers, parent, or affiliates.
Try the Mortgage Calculator