The average down payment on a house & when to put down more or less money
What's the average down payment on a house?
If you said 20%, you're in good company. Almost two in five people think 20% is the minimum down payment amount.
But that's far from true.
In 2019, the National Association of Realtors found that the average down payment on a house or condo was just 12%. For first-time home buyers, that number drops to 6%.
And many people put down even less money — or no money at all.
Check a few loan programs to see how much you need to put down on your new home loan. After all, you've nothing to lose but your landlord.
Check your low-down-payment loan options (Sep 21st, 2021)
---
In this article (Skip to…)
---
Minimum down payments by loan type
The average down payment on a home is just a benchmark, much like the average mortgage interest rate.
Some buyers will want to put down more, and some less.
If you're currently renting or you're a first-time home buyer saving up, you'll probably be most interested in the minimum down payment you can get away with.
In that case, it's worth noting that many mortgage programs allow as little as 3% or even no money down:
Verify your low-down-payment eligibility (Sep 21st, 2021)
What is private mortgage insurance (PMI), and how is it related to average down payments?
When borrowers put down less than 20% on a mortgage loan, they're usually required to pay for mortgage insurance. That means most people making an average down payment of 6-12% will be stuck with an extra monthly charge.
The two most common types of mortgage insurance are:
Private mortgage insurance (PMI) — Required on conventional loans with less than 20% down. Can be canceled later
Mortgage insurance premium (MIP) — Required on all FHA loans. Typically lasts the life of the loan and cannot be canceled (unless you refinance)
Mortgage insurance is one of the biggest drawbacks to making a smaller-than-average down payment.
Why? Because PMI and MIP insurance protect the mortgage lender if you default on your loan. You're paying to protect the company, not yourself.
And mortgage insurance payments can add up.
Put down a little less than the average down payment (say, 3-5%), and PMI can easily come in at over $100 each month — even on a modest mortgage of, say, $200,000.
How much you'll actually pay will depend on other factors, including the type of mortgage, loan size, and your credit report and score.
Good news: PMI often goes away once you reach 20% equity
The good news is, homeowners aren't stuck with PMI forever.
If you have a conventional loan, your lender should stop charging PMI when one of the following happens:
You reach 78% loan-to-value ratio based on your original loan value
You reach 80% loan-to-value and you request PMI cancelation from your servicer.
If you have an FHA loan, mortgage insurance cannot be canceled. But, once you reach 20% equity, you can likely refinance into a conventional loan with no PMI.
Also note that VA loans do not charge ongoing PMI, even with zero down. The Department of Veterans Affairs charges an upfront "funding fee" instead of PMI, but that can typically be rolled up in your mortgage loan amount.
Does PMI mean you should wait until you have 20% down?
No! Or, rather, mostly no. But it depends on the real estate market where you live and your circumstances.
Overall, homeowners make way more money through home price inflation (appreciation) than they pay out in PMI — especially with a conventional loan that cancels PMI when your loan-to-value ratio (LTV) reaches 80%.
So it often makes sound financial sense to bite the bullet and pay the premiums.
For more information, read up on the pros and cons of making a 20% down payment.
Check your home loan options (Sep 21st, 2021)

Benefits of making a smaller-than-average down payment on a house
There's one clear benefit to beginning homeownership with a smaller down payment: You become a homeowner sooner.
In all but a few areas, you're likely to see your property grow in value each year. That means you're building home equity rather than paying rent you'll never see returns on.
But what about PMI? Yes, you'll likely resent every cent you pay out each month. But you're almost certain to be free of it soon enough.
Either you can prompt your lender to stop charging it when your loan balance reaches 80% of your home's market value, or you can refinance out of mortgage insurance on an FHA loan.
How much do you need to save for a down payment?
A couple years back, Realtor.com broke down the numbers.
It wondered how much someone who's 18 years old now would have to save each month to buy a house when they turn 30.
Of course, the study had to make some assumptions about the future, including how much the median home would cost in 2031 ($386,310) and that "you find a mutual fund with a fixed 3% return a year."
So how much would that member of Generation Z have to save each month to achieve the goal? As a nationwide average:
5% down payment — $190 per month
10% down payment — $300 per month
20% down payment — $530 per month
Those numbers will be more doable for some savers than others. This study is a couple years old now, but the amount of money you'd need to save for a new home down payment remains about the same.
Luckily, it's not necessary for anyone to save $500 per month to make a 20% down payment. That's why low-down payment and no-down mortgage options exist.
The "right" down payment amount is different for everyone
What you decide to put down on a house should be based on your current and future financials.
The Consumer Financial Protection Bureau (CFPB) points out, "When you make a larger down payment, you have lower monthly payments and your loan costs less overall."
Here's how the CFPB breaks down the numbers: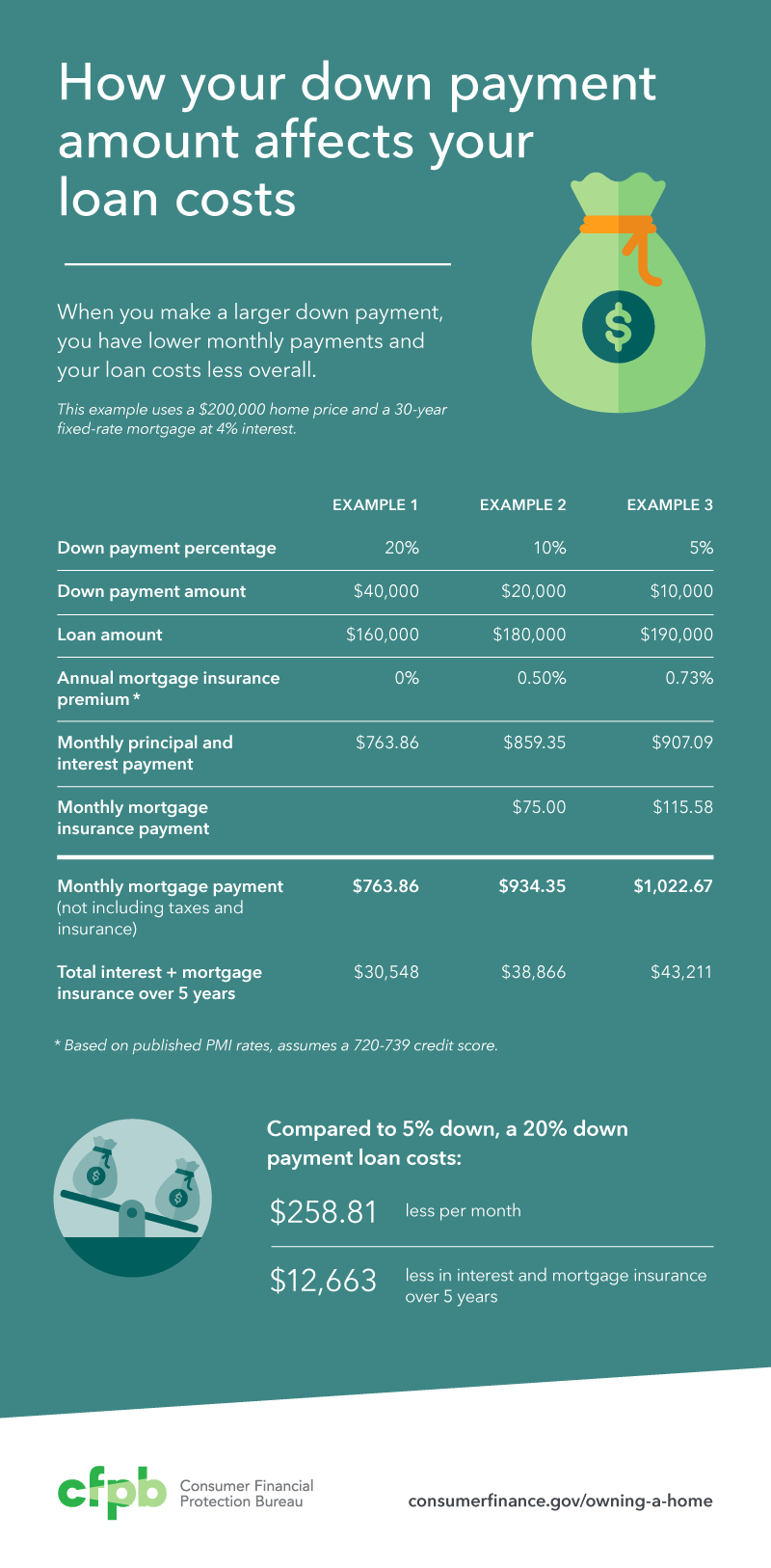 Use that for guidance. But don't rely on the figures because they're just a guide.
And make sure the assumptions it makes for its example (the size of the mortgage loan, the credit score, and the mortgage rate) are roughly right for you.
Is it worth making a bigger-than-average down payment?
If you decide to carry on saving until you reach the magic 20% down payment figure, you'll be in line for some significant rewards.
Why? Because in a worst-case scenario, lenders don't usually lose money on a 20-percent-down loan if they have to foreclose. So they treat these borrowers as preferred customers.
That means you get certain benefits, including:
A lower interest rate
Smaller monthly mortgage payments
No mortgage insurance
True, your rate will also depend on some other factors, like your credit score and monthly debt burden.
But 20% should earn you a lower interest rate than someone with a smaller down payment and the same credit score and debt-to-income ratio.
And of course, your monthly mortgage payments are bound to be lower the more you put down. Because along with a lower interest rate, you have a smaller loan amount.
If you buy a home for $300,000 with 20% down, you're borrowing $240,000. Buy a home at the same purchase price with 3% down and you're borrowing $291,000. Guess which has the lower payment.
And the final advantage, as we explained above, is that you won't have to pay private mortgage insurance if you're able to put 20% down.
In short, more money down means you'd spend a lot less on your home loan over time.
Tips buy a house if you're short on savings
Suppose you're keen to become a homeowner as soon as possible. But your savings account isn't big enough for even a 3% down payment. Are there things you can do? You bet.
See if you qualify for a zero-down mortgage
Conventional loans and mortgages backed by the Federal Housing Administration require down payments: at least 3% for a conventional loan and 3.5% for an FHA loan.
But USDA and VA mortgages allow no down payment. The catch? You have to meet special eligibility requirements.
You can only get a VA loan with 0% down if you're a veteran, current service member, or a member of a related group. So check your eligibility.
If you're not affiliated with the military, you may be able to get a no-down-payment mortgage via the USDA loan program.
USDA loans require borrowers to have modest income and to buy a home in a designated area. USDA-eligible areas are generally rural but include some less-populated suburbs.
Both these programs make it possible to buy a house with no down payment. But you'll still need cash to cover closing costs — or a motivated seller who's willing to pay closing costs for you.
Apply for down payment assistance
There are more than 2,000 down payment assistance (DPA) programs across the country.
Each DPA program provides loans or grants to qualified homebuyers. Some down payment assistance programs will help with closing costs, too.
Most of these programs are designed for first-time home buying, but repeat buyers can often qualify when they haven't owned a home for the past three years.
Each program is different. So you need to find ones that operate where you want to buy and see what they offer.
Your real estate agent or loan officer should know about local DPA programs. Or you can research them on your own. Use this guide to down payment assistance as a starting point.
Pay with gift money
Most home loan programs allow you to cover some or all of your out-of-pocket costs with gifted money.
This money can typically come from a family member, friend, or even an employer.
The one requirement is that the funds need to be properly documented. The lender needs to be able to see where they came from, and they need a letter stating the donor won't ask for repayment.
You can learn more about down payment gifts here.
Split the down payment with a co-borrower
There's a growing trend for homebuyers to purchase with somebody else named on the mortgage. This is called "co-borrowing."
A co-borrower can be someone who lives in the home like a roommate. Or it may be an "investor non-occupant," who lives elsewhere and has a purely financial role. Those are often parents, siblings, or friends.
The co-borrower typically takes a financial interest in the property and shares the benefit of home price inflation with you.
The upsides? Your co-borrower may chip in for the down payment. And his or her income and credit score count when you make your mortgage application.
The downsides? There are few for you, except you're sharing the profits of home price appreciation. And the co-borrower is on the hook if things go wrong.
Find out what you can afford with an average down payment
You might be able to afford a home with the money currently in your savings account. And if you're just short on funds, there are down payment assistance programs that can help.
Explore low-down-payment loan options to see what kind of home you can afford today.
Verify your new rate (Sep 21st, 2021)