Simple mortgage definitions : Homeowners insurance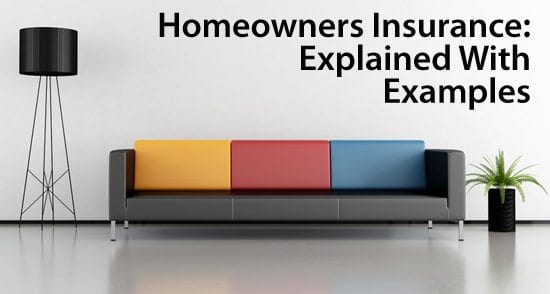 What is homeowners insurance?
Like automobile drivers, homeowners are required to carry insurance on their property.
The official name for such coverage is "hazard insurance". However, most often, its called "homeowners insurance".
Homeowners insurance policies can cover minor incidents including a leaking roof and faulty plumbing; and, catastrophic damage, as from a storm.
Homeowners insurance is sometimes mixed up with Private Mortgage Insurance (PMI), which is a specific insurance type generally reserved for homeowners making a downpayment of less than 20 percent.
Editor's Note: PMI is neither good nor bad.
Regardless of your downpayment amount and mortgage rate, as a homeowner, you should carry an adequate homeowners insurance policy.
Verify your new rate (Jun 18th, 2018)
Why homeowners insurance is required
Mortgage lenders require homeowners to carry homeowners insurance. There are a number of reasons for this but the most important one is that your lender will want your home rebuilt in case of catastrophe.
Your lender's mortgage is collateralized against the home, after all. Without the home, the mortgage has little value.
By requiring homeowners to carry insurance for at least the cost of rebuilding the home, then, the lender and homeowner are both protected from disaster.
Proper coverage will protect against foreclosure after a tornado, hurricane, or earthquake, as examples.
Homeowners insurance policies are comprised of six types of coverage, generally. These six components are :
Dwelling: Covers damage to the home, and attached structures
Loss of Use: Covers living expenses while your home is in repair
Personal Liability: Provides financial protection against lawsuits from damage or injuries which occurred on your property
Personal Possessions: Covers lost or stolen goods
Medical Payments: Covers medical bills of a person injured on your property
Other Structures: Covers damage to non-attached structures
Your homeowners insurance policy may include some, or all, of these pieces. In general, the more coverage you keep, the higher your annual premium.
Verify your new rate (Jun 18th, 2018)
How much does homeowners insurance cost?
Also like auto insurance, the cost of homeowners insurance will depend on your policy traits.
Your local crime rates affect what you pay for hazard insurance, for example, because with more crime in the area, your potential for loss is greater.
Similarly, the closer your home is to a police station; a fire station; and, water supply, the lower your insurance premium can be expected to be.
Beyond the amount of coverage you seek, and the policies you choose to carry, there are five key factors which can affect your final policy costs.
Home Age : In general, newer homes are less expensive to insure than older ones
Construction Type : Premiums are typically lower for brick homes as compared to frame homes
Proximity To Services : The closer your home is to a fire hydrant; and the local fire station, the lower your policy costs, in general.
Coverage Amount : The greater your coverage of personal items, the higher your premium costs
Deductible : Larger deductibles lower annual premium costs
Deductible choices typically range from $250 to $1,000, although some insurers offer options on either side of that scale. Choose an appropriate deductible for your financial situation.
Also, for added savings, note that some insurers offer multi-policy discounts to their customers. This means that if you insure your automobile and home with the same insurer, you may be eligible receive a discount on both policies.
Verify your new rate (Jun 18th, 2018)
Pay your homeowners insurance monthly
There are two ways to pay your annual homeowners insurance premium. You can elect to pay it once annually, in cash, to your insurer. Or, you can elect to pay it as part of your mortgage, one month-at-a-time.
Paying your insurance as part of your mortgage is known as "escrowing" your insurance, a process which is optional for some homeowners and mandatory for others.
In general, escrowing your insurance is optional if your mortgage is conventional (i.e. via Fannie Mae or Freddie Mac) and your downpayment or home equity is twenty percent of the home's value or greater.
Homeowners choosing to optionally escrow their homeowners insurance can typically negotiate lower mortgage rates or loan fees with their lender. In some instances, banks will require the escrow of real estate taxes, too, but not always.
For homeowners with FHA mortgages, VA loans or with less than 20% equity, escrowing homeowners insurance is required per official mortgage guidelines.
Homeowners insurance is the "I" in PITI, a term which represents a person's total monthly house payment.
Principal : The amount of the payment which repays the initial loan. Except with interest-only mortgages, principal payments are smaller at the start of a loan, and larger at its end. The schedule by which principal payments increase over time is known as amortization.
Interest : The amount of the payment which repays the lender for taking on risk. Higher interest rates are linked with larger monthly payments. Interest rates can be lowered via a refinance, if yours is too high.
Taxes : The amount of the payment directed to real estate and property taxes. Your lender will hold these pro-rated payments for you and pay them to local governments when due — typically twice annually.
Insurance : The amount of the payment directed to hazard insurance payments. Your lender will hold these pro-rated payments for you and them to your insurer when due — typically once annually.
Note that your mortgage may also require private mortgage insurance (PMI) or a mortgage insurance premium (PMI) as required by the FHA, for example.
Mortgage insurance payments are can be considered part of the "insurance" payment in your PITI.
What are today's mortgage rates?
Homeowners insurance, like mortgage rates, vary between companies. Comparison shop for the best rates and programs which meet your household needs. Buy what you need for the best possible coverage.
Take a look at today's real mortgage rates now. Your social security number is not required to get started, and all quotes come with instant access to your live credit scores.
Verify your new rate (Jun 18th, 2018)
The information contained on The Mortgage Reports website is for informational purposes only and is not an advertisement for products offered by Full Beaker. The views and opinions expressed herein are those of the author and do not reflect the policy or position of Full Beaker, its officers, parent, or affiliates.
Try the Mortgage Calculator