What is the VA IRRRL ?
The VA IRRRL is a simple way to refinance your current VA loan into a lower rate and monthly payment.
IRRRL stands for "VA Interest Rate Reduction Refinance Loan." With the VA IRRRL, there's less documentation (no credit, income, or employment verification) and you might not need an appraisal. Closing costs also tend to be lower and can be rolled into your loan to eliminate upfront charges.
This IRRRL information is accurate as of May 31, 2023.
---
In this article (Skip to…)
---
VA IRRRL rates today
VA IRRRL rates are some of the best mortgage rates on the market. Thanks to backing from the Department of Veterans Affairs, lenders can offer exceptionally low interest rates on these loans.
VA IRRRL rates today, May 31, 2023
| | |
| --- | --- |
| Loan Type  | Today's VA Refinance Rate |
| VA 30-year fixed-rate | % (% APR) |
| VA 15-year fixed-rate | % (% APR) |
| VA 5/1 ARM | % (%) |
Today's starting rate for a 30-year VA IRRRL is % (% APR), according to our lender network*.
Of course, VA refinance rates vary by customer. Your rate will likely be higher or lower than average depending on your loan size, credit score, loan-to-value ratio, and other factors.
*Interest rates and annual percentage rates for sample purposes only. Average rates assume 0% down and a 740 credit score. See our full loan VA rate assumptions here.
How the VA IRRRL works
Like any mortgage refinance, the VA IRRRL program replaces your existing mortgage with a new loan. The new loan starts fresh at 30 or 15 years, depending on which loan term you choose.
But the process for a VA Streamline Refinance is a little different from a traditional refi.
Because there's no income, employment, or credit verification required, borrowers have less paperwork to handle. And you don't need a new Certificate of Eligibility (COE), because the IRRRL can only be used on an existing VA loan. So the lender already knows you're VA-eligible.
Finally, there's no home appraisal. This can shave a week or more off your loan's underwriting time — so VA Streamline loans typically close faster than other refinances.
Is the VA IRRRL program worth it?
As with any refinance, using the VA IRRRL results in a brand-new loan. So your mortgage will start over at 30 or 15 years, depending on which loan term you choose.
But using the VA IRRRL is worth it for many homeowners. That's because today's ultra-low VA rates can result in a much lower monthly payment and potentially save you thousands in interest payments in the long run.
Another big benefit? VA loan closing costs can be rolled into the loan. This allows veterans to refinance with few or no out-of-pocket expenses. Sometimes it is also possible for the lender to absorb your loan costs in exchange for a higher interest rate on your loan.
Benefits of a VA Streamline Refinance
The VA IRRRL lets veterans and service members refinance their current mortgage loan to a lower rate and monthly payment.
The biggest benefits of the VA Streamline program compared to other refinance options are:
Limited paperwork
Low interest rates
No private mortgage insurance (PMI)
Appraisal typically not required
May be able to refinance with little or no equity
You might have low or no closing costs
A low credit score won't disqualify you
Available to most veterans and active-duty members of the armed forces from all branches, including many Reserves and National Guard members
The VA Streamline loan program is extremely popular because it's easy to use.
If you already have a VA mortgage on your home, the IRRRL program makes refinancing to a lower rate relatively quick and painless.
However, lenders can set their own requirements for credit checks and appraisals. So if you want to skip these steps, be sure to shop around and ask about lenders' policies before you apply.
VA IRRRL guidelines
To qualify for a VA Streamline Refinance (IRRRL), your current mortgage must be a VA home loan. Homeowners must also meet underwriting requirements set by the Department of Veterans affairs.
Current guidelines for the IRRRL include:
You are current on payments with no more than one 30-day late payment within the past year
Your new rate and monthly payment for the IRRRL must be lower than the previous loan's monthly payment. The only time this condition does not apply is if you refinance an ARM to a fixed-rate mortgage
You must not receive any cash from the IRRRL
You must certify that you currently or previously occupied the property
You must have previously used your VA Loan eligibility on the property you intend to refinance. You may see this referred to as a VA-to-VA refinance
You can easily figure out if you meet the VA IRRRL guidelines by checking with your current mortgage lender, or any other lender that's authorized to do VA loans (most are).
VA IRRRL lenders
It pays to shop around for the best lender when you do a VA Streamline Refinance. And that's because not all lenders have the same rules.
For instance, some lenders require credit and income approval even though the VA doesn't. And interest rates can vary a lot from one company to the next. So depending on which lender you choose, you may or may not have access to the full suite of VA IRRRL benefits.
Not sure where to start? According to the Department of Veterans Affairs, these are the most popular VA loan lenders by volume:
Lakeview Loan Servicing
For more information on how to choose a VA IRRRL lender, check out our review of the Best VA Loan Lenders.
VA Streamline Refinance vs. VA cash-out refinance
Generally, homeowners are not allowed to get cash back with the VA IRRRL program. There's just one exception: IRRRL users may get up to $6,000 cash-back if they plan to use it for energy-efficient home improvements.
For everyone else, there is a VA cash-out refinance loan.
A cash-out refinance allows borrowers to refinance their existing loan into a lower rate while also taking cash from the home's value. This replaces your existing mortgage, instead of simply withdrawing cash like a home equity loan.
A qualified borrower can refinance up to 100 percent of the home's value (100% LTV) using a VA loan in some cases. Another benefit is that the VA cash-out refinance can be used regardless of your current loan type — whether VA, USDA, FHA, or conventional.
Just like the VA Streamline Refinance loan, the home must be used as a principal dwelling by the owner. There is no set period of time that you must have owned your home, however, you must have enough equity to qualify for the loan.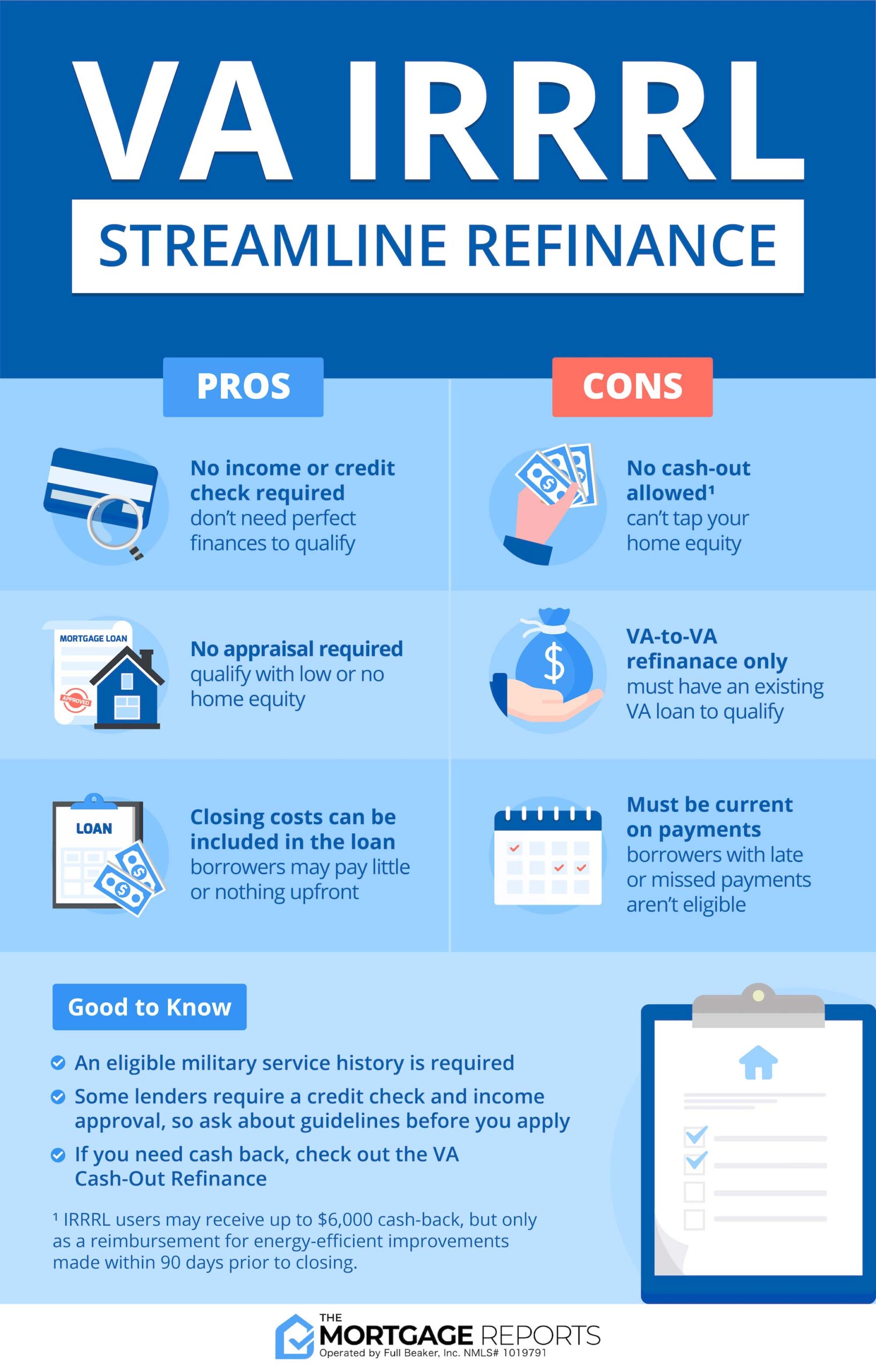 VA IRRRL FAQ
How much does the IRRRL cost?
Closing costs for a VA Streamline Refinance are similar to other VA loans: usually 1 to 3 percent of the loan amount. Lenders may charge a loan origination fee of up to 1 percent of the loan's value. However, you may be able to skip the home appraisal, which can save around $500 to $1,000. Borrowers are charged a 0.5 percent funding fee as well, which costs $500 for every $100,000 borrowed. This can be rolled into the loan amount to avoid paying upfront.
Who has the best VA refinance rates?
VA mortgage rates are not controlled by the Department of Veterans Affairs. Rather, they're set by the private lenders that offer these loans. That means VA refinance rates can vary a lot from one lender to the next. Rates are different for each borrower, so you need to shop around for your best rate. Compare personalized offers from at least 3-5 lenders to find the best deal.
How many times can you use the VA IRRRL?
There's no limit to the number of times you can use the IRRRL program, as long as you wait the required 210 days between each refinance and each one has a 'net tangible benefit' (lowering your interest rate and monthly payment significantly). Refinancing involves closing costs and starts your loan over, so using the IRRRL repeatedly won't make sense for most homeowners.
How long does an IRRRL take?
The time it takes to refinance using an IRRRL varies a lot, depending on the borrower and lender. If all goes smoothly, a VA IRRRL might close in under a month — which is faster than most refinances. However, a complicated loan application or a busy loan officer can bog down the process.
Can you get cash out on a VA IRRRL?
Only under special circumstances. You may receive up to $6,000 cash-in-hand at your IRRRL closing. The cash MUST be used for energy-efficiency improvements, and must be a reimbursement for improvements made within 90 days prior to closing. Some VA borrowers will also receive cashback if they prepaid taxes and insurance on their previous loan, and some of those funds went unused.
Who qualifies for a VA IRRRL?
To qualify for a VA IRRRL, you must have a current VA loan that's been open for at least 7 months (210 days). You must also be current on your mortgage payments, and the new loan must have a clear financial benefit. Because the IRRRL is a streamlined refi program, lenders do not have to check your credit score, although some do anyways.
How soon can I do a VA IRRRL?
The VA requires you to wait 7 months (210 days) from your last loan closing before using the VA Streamline Refinance. However, some VA lenders impose their own waiting period of up to 12 months. If your current lender says it's too soon to refinance your VA loan after 7 months, it might be worth shopping for another lender that will let you refinance earlier.
Can you remove a spouse with the VA IRRRL?
In general, the borrower(s) obligated on the original VA loan must be the same as borrower(s) obligated on the refinance. However, there are a few exceptions, for example in the case of a divorce. An IRRRL is possible in all of the following scenarios: Divorced veteran alone; Veteran and different spouse; and, surviving spouse alone because the veteran died. An IRRRL is not possible for a divorced spouse alone, or a different spouse alone because the veteran died.
What documentation is needed for the VA IRRRL?
The VA does not require a credit check or appraisal when using a Streamline Refinance. However, many lenders require a credit check and employment verification to guarantee you are still financially stable enough to pay your mortgage. Some lenders also require a new appraisal — but since skipping the appraisal is one of the main benefits of an IRRRL, we encourage you to shop around if your lender requires one. A COE is not required, because the existing borrower has already been approved for VA financing.
Does the IRRRL require a funding fee?
Yes, a VA funding fee is required for the VA IRRRL refinance. It's 0.5 percent of the loan amount. You have the option to roll the funding fee into your loan when using the IRRRL, so you don't have to pay it upfront in cash. Just remember, rolling the funding fee into your mortgage means you'll pay interest on that amount over the life of your loan.
How do I get my funding fee waived?
Only select VA borrowers are eligible to have the funding fee waived. These include veterans receiving disability compensation; surviving spouses of veterans who died from a service-connected disability; veterans entitled to receive VA compensation for a service-connected disability, but who receive retirement pay or active duty pay; and active-duty service members who provide, on or before the date of loan closing, evidence of having been awarded the Purple Heart.
Can I roll the funding fee into my mortgage?
Yes, the VA allows borrowers to roll the funding fee into their mortgage loan amount rather than paying it upfront. Keep in mind, this means you'll pay interest on the funding fee over time.
Do I need to qualify for a better interest rate to use a Streamline Refinance?
If you are going from a fixed-rate mortgage to another fixed-rate mortgage, the VA requires your IRRRL to have a lower interest rate. But if you are moving from an adjustable-rate mortgage (ARM) to a fixed-rate mortgage, the VA will allow you to refinance to a higher interest rate.
What is the maximum VA IRRRL loan size?
There is no loan limit for a VA loan. Even jumbo loan sizes are allowed if the homeowner qualifies. However, a VA Streamline Refinance will be limited to the existing loan balance plus any accrued late fees and late charges, plus typical loan costs and the cost of any energy efficiency improvements.
Can I use the VA Streamline Refinance for an investment property?
Yes, you can use the VA Streamline Refinance for an investment property. You must certify that you previously lived in the property as your primary residence. However, you no longer need to be living there full-time at the time you refinance.
Can I buy discount points to lower my interest rate?
The VA does allow you to buy discount points to get a lower mortgage rate. Just note, you can only finance two discount points. Additional points will require an upfront cash payment. Discount points typically cost 1 percent of the loan amount and lower interest rates by about 0.25 percent.
How does VA refinancing work?
Start by getting a preapproval to make sure you're qualified for a VA refinance. Then, check rates from a few different lenders. You do not have to refinance with your current lender, and most people can find an even lower rate and payment by shopping around. Once you choose a mortgage company, you'll submit your loan documents and get approved. A VA Streamline Refinance requires less paperwork than other loan types, and may let you skip the home appraisal.
Check VA refinance rates today
The VA Streamline Refinance is one of the simplest and fastest mortgage products available for consumers today. Check rates with top-rated and VA-approved lenders for your refinance.