Mortgage calculators are useful — but not if they don't tell you how much your true home payment will be. To arrive at this number, home buyers must use a mortgage payment calculator that includes things like private mortgage insurance (PMI), property taxes, homeowners insurance, HOA dues, and other costs. The below calculator does just that. Leaving nothing to chance, it allows you to estimate all parts of your future home payment.
See today's mortgage rates, December 9, 2023
Mortgage eligibility
Mortgage loans are typically available to those who meet the following qualifications:
A credit score of 620 or higher
A debt-to-income ratio of 43% or less (higher DTI acceptable with compensating factors)
1-2 years of consistent employment history (most likely 2 years if self-employed)
A home that meets the lender's property standards
These are general guidelines, however, and home shoppers should get a full qualification check and pre-approval letter from a lender. Many buyers are eligible, but don't know it yet.
Verify your home buying eligibility
How we calculate your mortgage payment
---
Additional mortgage calculators
This calculator assumes a conventional loan offered by Fannie Mae or Freddie Mac. However, conventional is not the best loan type for everyone. Also check out other calculators by The Mortgage Reports:
---
Mortgage calculator Q&A
How much house can I afford?
How much house you can afford depends on a number of factors. Primarily: your income, current debts, credit score, and how much you've saved for a down payment. You can also afford a more expensive house the lower your mortgage rate is. Use the "By Income" tab on our mortgage calculator to see exactly how much house you can afford based on your income, down payment, and current interest rates.
How much is a typical mortgage payment?
A typical mortgage payment was under $1,000 per month in 2021, according to CoreLogic. That was the average principal and interest (P&A) payment for a mortgage loan. It did not factor in other monthly costs like property taxes, insurance, and HOA dues. Keep in mind that mortgage rates have risen since 2021, and higher mortgage rates lead to higher monthly payments on average.
How do you calculate a mortgage payment on a calculator?
To calculate your mortgage payment using a mortgage calculator, you'll need to input details about your loan. Those include home price, down payment, interest rate, and your projected taxes and insurance costs. Note: You likely won't know the exact interest rate until you're close to closing and you lock a rate in. But you can estimate your payment using today's average mortgage rates.
How much is the mortgage payment on...
We calculated mortgage payments for the following home prices using a 10% down payment and a 5% fixed interest rate (which was near the weekly average rate for a 30-year loan at the time of this writing). Sample payments include principal and interest only.
$100,000 house — $520/month
$200,000 house — $1,000/month
$300,000 house — $1,560/month
$400,000 house — $2,090/month
$500,000 house — $2,600/month
Your own monthly mortgage payment will probably be different than the examples shown above. That's because monthly payments depend on your exact interest rate, down payment, and more. But you can use these samples as a point of reference to see how payments compare for various loan sizes.
How does a mortgage payment calculator work?
Our mortgage payment calculator estimates your total monthly mortgage payment, including: Principal, Interest, Property taxes, Homeowners insurance, and HOA dues, if applicable.
Mortgage calculators determine your monthly principal and interest based on your loan amount, loan term, down payment, and interest rate. These factors are used to make a payment (or u0022amortizationu0022) schedule. It shows how the loan amount will deplete over the course of your mortgage, with regular monthly payments.
In addition, The Mortgage Reports uses national and state databases to estimate your monthly payments for taxes and insurance. Actual numbers will vary. But it's important to include these costs in your estimate, as they can add a few hundred dollars per month to your mortgage payment.
Mortgage payment schedule example
Following is a sample mortgage payment schedule for a $300,000 house, purchased using a 30-year mortgage with 10% down and a 3.73% interest rate.
You can see how over time, a bigger portion of each monthly payment goes toward the principal balance, and a smaller portion goes toward interest.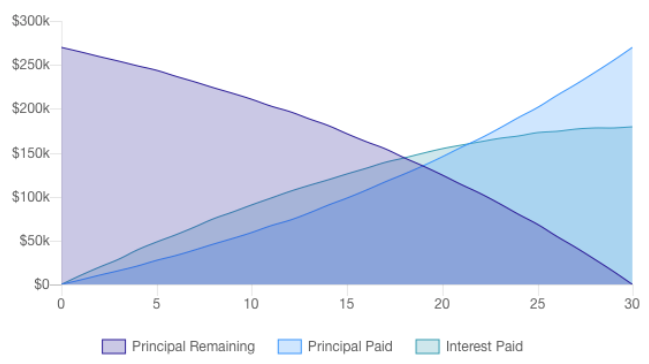 Image: The Mortgage Reports
---
Mortgage calculator: Fees and definitions
The above mortgage calculator details costs associated with loans or with home buying in general. But many buyers don't know why each cost exists. Below are descriptions of each cost.
Principal and interest. This is the amount that goes toward paying off the loan balance plus the interest due each month. This remains constant for the life of your fixed-rate loan.
Private mortgage insurance (PMI). Based on recent PMI rates from mortgage insurance provider MGIC, this is a fee you pay on top of your mortgage payment to insure the lender against loss. PMI is required any time you put less than 20% down on a conventional loan. Is PMI worth it? See our analysis here.
Property tax. The county or municipality in which the home is located charges a certain amount per year in taxes. This cost is split into 12 installments and collected each month with your mortgage payment. Your lender collects this fee because the county can seize a home if property taxes are not paid. The calculator estimates property taxes based on averages from tax-rates.org.
Homeowners insurance. Lenders require you to insure your home from fire and other damages. This fee is collected with your mortgage payment, and the lender sends the payment to your insurance company each year.
HOA/other. If you are buying a condo or a home in a Planned Unit Development (PUD), you may need to pay homeowners association (HOA) dues. Lenders factor in this cost when determining your ratios. (See an explanation of debt-to-income ratios above). You may put in other home-related fees such as flood insurance in this field. Lenders don't consider costs such as utilities or maintenence, but feel free to put in any additional expenses to get a view of your all-inclusive payment.
Loan term. The number of years it takes to pay off the loan (assuming no additional principal payments). Mortgage loans most often come in 30- or 15-year options.
Down payment. This is the dollar amount you put toward your home cost. Conventional loans require just 3% down, and 20% down is required to avoid mortgage insurance. Down payments can come from a down payment gift or eligible assistance program.
Interest rate. The mortgage rate your lender charges. Shop at least three lenders to find the best rate.
---
More about home loan qualification
Learning how to buy a home has never been easier. Following are articles to get you started, whether you've purchased a home before or this is your first time.
Check your home buying eligibility
Home buyers are often eligible to buy right now, but they often don't know it.
The best way to check is to request an eligibility check via online request. You will be in contact with a lender in a few minutes, who can walk you through the quick process.
Time to make a move? Let us find the right mortgage for you
Sources:
Property tax averages: http://www.tax-rates.org/taxtables/property-tax-by-state
PMI rates: https://www.mgic.com/rates/ratefinder
http://www.freddiemac.com/research/insight/20180417_consumers_leaving_money.page
By refinancing an existing loan, the total finance charges incurred may be higher over the life of the loan.