Mortgage rates forecast for July 2019
Mortgage rates have taken a turn for the better, and there's an audible rushing sound as homeowners flock to refinance.
Refinance applications jumped 47% week-over-week recently, according to the Mortgage Bankers Association.
It's easy to see why.
Mortgage agency Freddie Mac says average 30-year mortgage rates hit 3.82% in June, the lowest level in nearly two years.
This is one of the best times in history to refinance, but will rates stay low?
Well, President Trump's pressure on the Fed, plus low inflation, plus lackluster economic data has one commentator saying we'll see the lowest rates ever in the next 12 months. How's that for a forecast?
Ready to capture a historic low rate? This could be your opportunity.
Compare Rates From Top Rated National Lenders and Save (Jul 15th, 2019)
Predictions for July
July will be a wild ride for mortgage rates. Market-moving news will leave rates different than they were in June. The only question is, will they be more or less advantageous for mortgage shoppers?
Skip to:
Forecasts for 2019 put rates somewhere around 4.4% by the end of the year. That's down from forecasts earlier in the year that called for rates in the 5s.
The funny thing is, though, that rates have been dropping since late 2018. Now, it appears rate increases could be much more subdued than first thought, if rates increase at all.
Been looking for a good rate on a refinance or home purchase? Now might be the time to lock.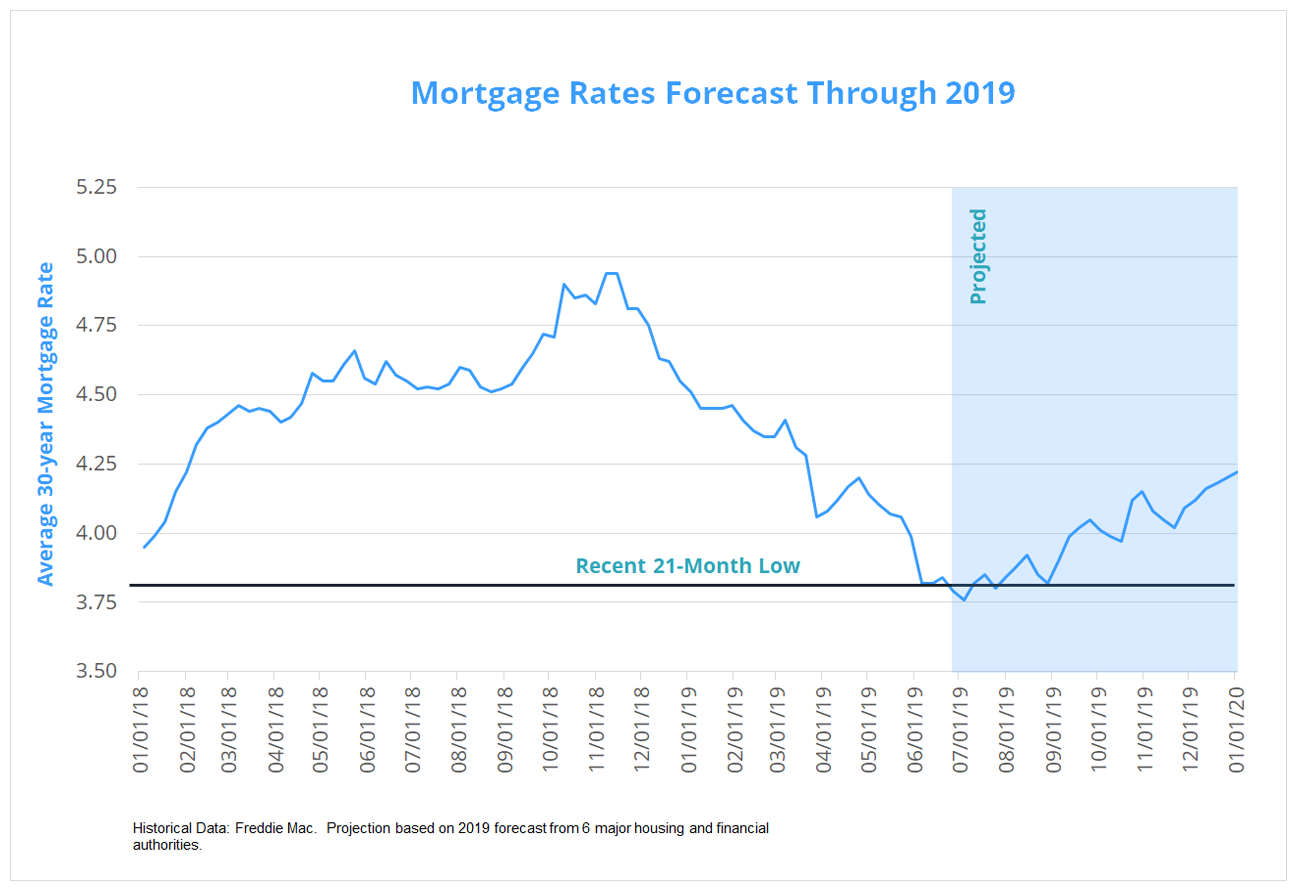 Mortgage agency Freddie Mac slashes its rate forecast for 2019-2020
Freddie Mac is one of the leading sources for rate forecasts in the U.S.
So when it cuts its rate prediction by nearly 1%, consumers should pay attention.
As recently as late-2018, the agency predicted 30-year mortgage rates at 5.1% for 2019. The group just cut that prediction to 4.3%.
 As a home buyer, it could mean buying four bedrooms instead of three, or selecting the neighborhood you really wanted.
What's more, it foresees rates going up to just 4.5% in 2020.
This is significant. A 0.80% lower rate on a $350,000 mortgage translates to a savings of $170 per month. As a home buyer, it could mean buying four bedrooms instead of three, or selecting the neighborhood you really wanted.
As a refinance candidate, it means finally having breathing room in your monthly budget.
With current rates in the low 4s, and major agencies predicting they'll stay that way, it makes sense to seriously consider a home purchase or refinance in the next few months.
Shop and Compare Today's Rates and Save (Jul 15th, 2019)

Expect a Fed rate cut in July — but low rates are available now
The Federal Open Market Committee (FOMC) adjourned on June 19 and didn't issue a rate cut.
But it did just about everything it could to hint at dropping rates in the near future.
Mounting pressure from President Trump combined with lackluster economic data spurred the financial body to issue a post-meeting announcement that basically told markets that a cut was coming.
The statement said the economy is "rising at a moderate rate" instead of "solid" as it did in May. Additionally, it stated that "uncertainties" about economic expansion have increased.
The change of tune has markets excited about falling rates. In fact, at the time of this writing, the CME FedWatch Tool shows a 100% chance of a rate cut at the next Fed meeting, adjourning July 31.
But should mortgage consumers wait until then to lock in a rate? No. Markets are forward-looking, so mortgage rates have already fallen to fresh lows in anticipation of the new Fed paradigm.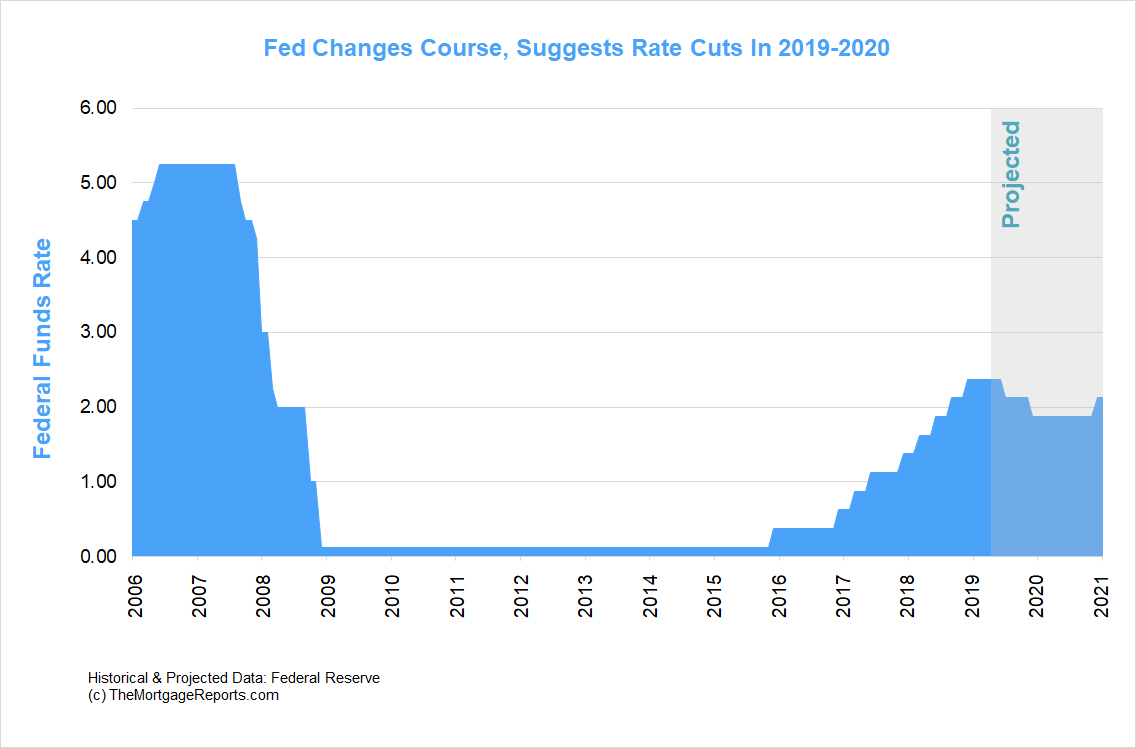 Will mortgage rates continue to drop?
It's starting to look like a real possibility.
President Trump is relentless about driving down rates and he isn't afraid to use the Fed to do so. Some even suggest it's his plan to use trade wars to spur Fed cuts:
Maybe Trump is a genius, after all. What if he finally gets the steep Fed rate cuts he has been demanding? After that, he ends the trade wars, tariffs go to zero, and the stock market surges to new highs — just in time for the 2020 election!

— David Rosenberg (@EconguyRosie) June 5, 2019
Some predictions are downright bold. Barry Habib, a well-known mortgage rate commentator, says mortgage rates will be "the lowest they've ever been" in the next 12 months. Yes, lower than the 3.31%, 30-year fixed average seen in 2012.
Should home buyers and refinancing homeowners hold on for such a rate? Well, keep in mind that most mortgage rate predictions are wrong. But if you're 6-12 months out from buying a home, this should provide some encouragement.
Shop and Compare Today's Rates and Save (Jul 15th, 2019)
Mortgage rate trends as predicted by housing authorities
Housing agencies nationwide are calling for rates in the low- to mid-4s for 2019.
| | |
| --- | --- |
| Agency | 30-Yr Rate Prediction |
| National Association of Realtors | 4.40% |
| National Association of Home Builders | 4.46% |
| Mortgage Bankers Association | 4.40% |
| Freddie Mac | 4.30% |
| Fannie Mae | 4.20% |
| Realtor.com | 4.50% |
| Average of all agencies | 4.38% |
To sum it up, everyone is predicting slightly higher rates. Today's rate might be as good as we'll see for years to come.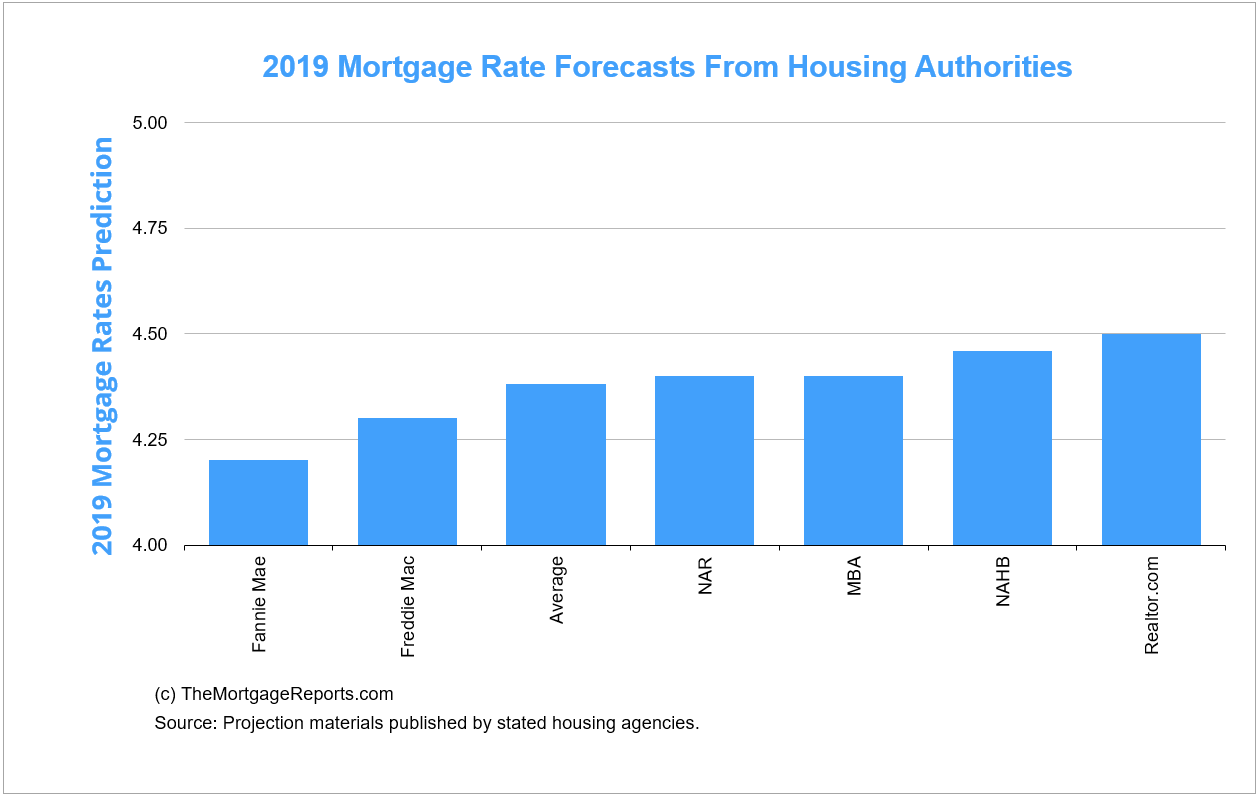 Advice for July 2019
Knowing what will happen in June is only half the battle. As a mortgage rate shopper, you need to know the best actions to take this month.
6 million homeowners could lower their mortgage rate by at least 0.75%
There's some very exciting news from mortgage data firm Black Knight.
Their research shows that nearly six million homeowners could cut their current mortgage rate by 0.75% or more. The average savings, says the firm, is over $270 per month.
Most refinance candidates sat on the sidelines in 2018 because rates were just too high. Now, many people — even those who purchased their homes in 2018 — are eligible for a refinance and big monthly savings.
Rates are hitting fresh lows, and now could be the time to lock.
Show Me Today's Rates (Jul 15th, 2019)
Mortgage lenders are more likely to approve your loan
Because rates rose in 2018, lenders are desperate.
Mortgage refinance applications are still down big compared to a few years ago, according to the Mortgage Bankers Association.
For this reason, home purchase and refinance applicants should try and try again if they get denied. Remember: shopping for a mortgage is like shopping for anything else. There are hundreds of sources from which you can buy. If you are denied, try again.
Mortgage companies are likely to stir up business by loosening guidelines in 2019. Higher debt-to-income ratios and lower credit scores may be allowed.
Frustrated mortgage applicants could finally get a "yes."
Loan product rate updates
Many mortgage shoppers don't realize there are many different types of mortgage rates. But this knowledge can help home buyers and refinancing households find the best value for their situation.
Following are updates for specific loan types and their corresponding rates.
Conventional loan rates
Conventional refinance rates and those for home purchases are still low despite recent increases.
According to loan software company Ellie Mae, the 30-year mortgage rate averaged 4.52% in May (the most recent data available).
This is higher than Freddie Mac's 3.84% average because it factors in low credit and low-down-payment conventional loan closings, which tend to come with higher rates. Additionally, the most recent Ellie Mae report shows rate levels before they started dropping.
Lower credit score borrowers can use conventional loans, but these loans are more suited for those with decent credit and at least 3% down. Five percent down is preferable due to higher rates that come with lower down payments.
Twenty percent of equity is preferred when refinancing.
With adequate equity in the home, a conventional refinance can pay off any loan type. Got an Alt-A, subprime, or high-PMI loan? A conventional refi can take care of it.
For instance, say you purchased a home three years ago with an FHA loan at 3.5% down. Since then, home values have skyrocketed.
You refinance into a conventional loan (because you now have 20% equity) and eliminate FHA mortgage insurance.
This could be a savings of hundreds of dollars per month, even if your interest rate goes up.
Getting rid of mortgage insurance is a big deal. This mortgage calculator with PMI estimates your current mortgage insurance cost. Enter 20% down to see your new payment without PMI.
Shop and Compare Today's Rates and Save (Jul 15th, 2019)
FHA mortgage rates
FHA is currently the go-to program for home buyers who may not qualify for conventional loans.
The good news is that you will get a similar rate — or even lower one — with an FHA loan than you will with conventional.
Related: Read more about FHA costs and requirements on our FHA loan calculator page.
According to loan software company Ellie Mae, which processes more than 3 million loans per year, FHA loan rates averaged 4.63% in May (the most recent data available), while conventional loans averaged 4.52%.
Another interesting stat from Ellie Mae: About 30% of all FHA loans are issued to applicants with scores below 650.
FHA loans come with mortgage insurance. But the overall cost is not much more than for conventional loans.
A little-known program, called the FHA streamline refinance, lets you convert your current FHA loan into a new one at a lower rate if rates are now lower.
An FHA streamline requires no W2s, pay stubs, or tax returns. And you don't need an appraisal, so home value doesn't matter.
Learn more about the FHA streamline refinance here.
Compare Rates From Top Rated National Lenders and Save (Jul 15th, 2019)
VA mortgage rates
Homeowners with a VA loan currently are eligible for the ever-popular VA streamline refinance.
No income, asset, or appraisal documentation is required.
If you've experienced a loss of income or diminished savings, a VA streamline can get you into a lower rate and better financial situation. This is true even when you wouldn't qualify for a standard refinance.
But don't overlook the VA loan for home buying. It requires zero down payment. That means if you have the cash for closing costs, or can get them paid for by the seller, you can buy a home without raising any additional funds.
Don't overlook the VA loan for home buying. It requires zero down payment.
VA mortgages are offered by local and national lenders, not by the government directly.
This public-private partnership offers consumers the best of both worlds: strong government backing and the convenience and speed of a private company.
Most lenders will accept scores down to 620, or even lower. Plus, you don't pay high interest rates for low scores.
Quite the contrary, VA loans come with the lowest rates of all loan types according to Ellie Mae. In May (the most recent data available), 30-year VA mortgage rates averaged just 4.31% while conventional loans averaged 4.52%
Check your monthly payment with this VA loan calculator.
There's incredible value in VA loans.
Show Me Today's Rates (Jul 15th, 2019)
USDA mortgage rates
Like FHA and VA, current USDA loan holders can refinance via a "streamlined" process.
With the USDA streamline refinance, you don't need a new appraisal. You don't even have to qualify using your current income. The lender will only make sure that you are still within USDA income limits.
More about the USDA streamline refinance.
Home buyers are also learning the benefits of the USDA loan program for home buying.
No down payment is required, and rates are ultra-low.
Home payments can be even lower than rent payments, as this USDA loan calculator shows.
Qualification is easier because the government wants to spur homeownership in rural areas. Home buyers might qualify even if they've been turned down for another loan type in the past.
Shop and Compare Today's Rates and Save (Jul 15th, 2019)
Mortgage rates today
While a monthly mortgage rate forecast is helpful, it's important to know that rates change daily.
You might get 3.9% today, and 4.0% tomorrow. Many factors alter the direction of current mortgage rates.
To get a synopsis of what's happening today, visit our daily rate update. You will find live rates and lock recommendations.

This month's economic calendar
The next thirty days hold no shortage of market-moving news. In general, news that points to a strengthening economy could mean higher rates, while bad news can make rates drop.
Friday, July 5: Nonfarm Payrolls, wages, unemployment rate
Thursday, July 11: Consumer Price Index
Tuesday, July 16: Retail Sales
Wednesday, July 31: FOMC (Fed) meeting adjourns, statement released
Now could be the time to lock in a rate in case these events push up rates this month.
What are today's mortgage rates?
Low mortgage rates are still available. You can get a rate quote within minutes with just a few simple steps to start.
Show Me Today's Rates (Jul 15th, 2019)
Selected sources:
https://www.cnbc.com/2019/06/03/as-mortgage-rates-plunge-millions-more-homeowners-can-benefit-from-refinancing.html
https://www.elliemae.com/mortgage-data/origination-insight-reports
https://www.federalreserve.gov/monetarypolicy/fomccalendars.htm