January 2018 mortgage rates forecast (FHA, VA, USDA, Conventional)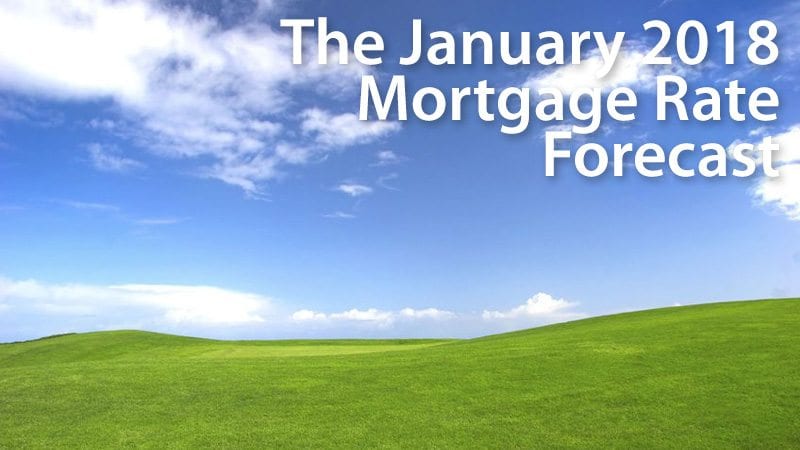 Mortgage rates forecast for January 2018
It's a new year, but a similar story from years past is on repeat. Mortgage rates are low, but not for long.
Just about every analyst out there is calling for higher rates in the new year. The economy is breaking records, and a freshly minted tax code could induce economic expansion, but also inflation.
All these factors are bad for mortgage rates.
The good news, though, is that rates are surprisingly steady in the face of overarching changes like the new tax law. A golden opportunity still exists for those who are looking to buy or refinance a home in 2018.
Verify your new rate (Jan 20th, 2018)
Freddie Mac: Mortgage rates just won't rise above 4%
Mortgage agency Freddie Mac has been tracking rates for more than 45 years.
There have been few mortgage rate streaks like the one we're seeing now.
Mortgage rates, it seems, are under a glass ceiling. The last time the 30-year fixed rate average rose above 4% was the week of July 13. Since then, mortgage rates have remained below the psychologically important four-percent mark for 23 straight weeks.
This doesn't make a lot of sense.
The stock market is nearing 25,000 for the first time. The S&P 500 is up nearly 21% since one year ago. That kind of growth usually pushes up mortgage rates, as investors dump bonds and pile into stocks.
Yet, higher rates have failed to materialize.
A Marketwatch poll revealed that analysts thought rates would be near 4.5% by the end of 2017. The highest weekly average rate of the year was 4.3%, and those rates haven't been around since March.
What does that mean for the home buyer or refinancing household? A lot. Here is the difference in principal and interest payment on a $250,000 mortgage between expected and actual levels as of December 27, 2017.
4.50%: $1,267 per month
3.94%: $1,185 per month
That $82-per-month difference makes home buying more affordable, or could make a refinance pencil out.
Is it time to take action? It surely could be, before events in 2018 take their toll on rates.
Conventional loan rates
Conventional refinance rates are holding low, as are rates for home purchases.
The Freddie Mac report described above asks lenders about conventional rates, but not ones for FHA, USDA, or VA loan types.
Yet those programs are worth looking into if you have a small down payment or damaged credit.
Conventional loans, however, are more suited for those with decent credit and at least 3% down (but preferably 5% due to higher rates that come with lower down payments).
Twenty percent in equity is preferred when refinancing.
With adequate equity in the home, a conventional refinance can pay off any loan type. These loans can even cancel mortgage insurance.
For instance, say you purchased a home three years ago with an FHA loan at 3.5% down. Since then, home values have skyrocketed.
You refinance into a conventional loan (because you now have 20% equity) and eliminate FHA mortgage insurance.
Depending on your original home price and loan amount, this could be a savings of hundreds of dollars per month, even if your interest rate goes up.
Getting rid of mortgage insurance is a big deal.
Learn more about conventional refinance loans here.
Verify your conventional loan eligibility (Jan 20th, 2018)
FHA mortgage rates
FHA is currently the go-to program for home buyers who don't qualify for conventional loans.
The good news is that you could get a lower rate on an FHA loan than you can for conventional.
According to loan software company Ellie Mae, which processes more than 3 million loans per year, FHA loans averaged 4.26% in November, while conventional loans averaged 4.29%.
(You might wonder why Ellie Mae reports higher average rates than does Freddie Mac. It's because Ellie Mae considers loans at all credit and down payment levels, whereas Freddie Mac averages rates for the "perfect scenario.")
So, even with damaged credit, you can get a great rate. Yes, these loans come with mortgage insurance, but overall cost per month is not that much more than for conventional loans.
A little-known program, called the FHA streamline refinance, lets you convert your current FHA loan into a new one at a lower rate, if rates have fallen since you received your loan.
An FHA streamline requires no W2s, pay stubs, or tax returns. And you don't need an appraisal, so current home value doesn't matter.
Learn more about the FHA streamline loan here.
Verify your FHA loan eligibility (Jan 20th, 2018)
VA mortgage rates
Homeowners with a VA loan currently are eligible for the ever-popular VA streamline refinance.
No income, asset, or appraisal documentation is required.
If you've experienced a loss of income or diminished savings, a VA streamline can get you into a lower rate and better financial situation. This is true even when you wouldn't qualify for a standard refinance.
Learn more about the VA streamline refinance here.
But don't overlook the VA loan for home buying. It requires zero down payment. That means if you have cash for closing costs, or can get them paid for by the seller, you can buy a home without raising any additional funds.
VA mortgages are offered by local and national lenders, not by the government directly.
This public-private partnership gives consumers the best of both worlds: strong government backing and the convenience and speed of a private company.
These loans don't require a high credit score. In fact, most lenders will accept scores down to 640, or even lower in some cases. Plus you don't pay high interest rates for low scores.
Quite the contrary, VA loans come with the lowest scores of all loan types according to Ellie Mae. In November, 30-year VA mortgage rates averaged 4.01% while conventional loans averaged 4.29%
There's incredible value in VA loans.
Verify your VA loan eligibility (Jan 20th, 2018)
USDA mortgage rates
Like FHA and VA, current USDA loan holders can refinance via a "streamlined" process.
With the USDA streamline refinance, you don't need a new appraisal. You don't even have to qualify using your current income. The lender will only make sure that you are still within USDA income limits.
More about the USDA streamline refinance.
Home buyers are also learning the benefits of the USDA loan program for home buying.
No down payment is required, and rates are ultra-low.
Qualification is easier because the government wants to spur homeownership in rural areas. Home buyers might qualify even if they've been turned down for another loan type in the past.
Verify your USDA loan eligibility (Jan 20th, 2018)
Mortgage rates today
While a monthly mortgage rate forecast is helpful, it's important to know that rates change daily.
You might get 4.0% today, and 4.125% tomorrow. Many factors alter the direction of current mortgage rates.
To get a synopsis of what's happening today, visit our daily rate update. You will find live rates and lock recommendations.
Mortgage rate predictions for January 2018
There is no shortage of market-moving news in January. More important, the month sets the tone for the new year.
That's why it's important to focus on this month's events, but also predictions for 2018.
Verify your new rate (Jan 20th, 2018)
What will mortgage rates do in 2018?
The general consensus among mortgage rate forecasters, not surprisingly, is that mortgage rates will go up in 2018.
Following is a short list of predictions for 30-year fixed rates, according to the nation's top authorities.
Freddie Mac: 4.4%
Mortgage Bankers Association: 4.6%
Kiplinger: 4.4%
National Association of Home Builders: 4.2%
Compared to today's rates below 4%, all of these are unwelcome but realistic predictions.
The question astute mortgage shoppers might ask is, why does everyone keep predicting higher mortgage rates? Basically, it's because mortgage rates are currently "too low."
Put another way, mortgage rates should be higher than they are. The economy has made a near-full recovery since almost a decade ago, when the housing downturn took its toll.
Unemployment topped out at 10% during the Great Recession and now sits in the low 4s. The stock market is booming, and housing prices are rising, too.
Mortgage rates are currently "too low."
Interest rates usually rise when the economy is doing this well. In the summer of 2007, in the midst of the last boom, 30-year rates neared 6.75% according to Freddie Mac. The boom prior to that — in 1999 — offered rates above 8%.
So why are rates still half that?
That's a good question, and one that many analysts have tried to answer. Many cite low inflation, as discussed below. Others say wages for the average worker aren't rising enough to spur stronger spending, and therefore a true recovery.
And there could be something to that. If you don't own a house, you don't own stocks, and you haven't gotten a real raise in years, do you really feel better off than you did a few years ago? Probably not.
While one could speculate forever on why mortgage rates are still low, the fact that they are should spur refinancing homeowners and prospective buyers. By all accounts, there's a closing window on low rates.
The invisible ceiling will likely break apart in 2018.
The new tax code is now law. What does that mean for rates?
On December 22, President Trump signed into law "the biggest [tax] cuts ever in the history of this country."
The new code brings a number of changes, some of which directly affect homeowners and home buyers.
For instance, you will no longer be able to write off unlimited property taxes (or state and local sales tax). Those items are now capped at $10,000. Likewise, the mortgage interest deduction — one of homeowners' most beloved deductions — is now applicable to the first $750,000 in mortgages, down from $1 million.
But those changes won't necessarily affect mortgage rates themselves. What could affect them are the economic changes that come with the tax cuts.
First, the new tax code cuts the corporate tax from 35% to 21%. If all goes as the administration plans, that cut could spark economic development. Corporations could focus on expansion and hiring with the newfound funds.
More workers getting paid more could lead to higher mortgage rates via increasing inflation.
The average person could get a tax break as well, adding to economic growth.
For instance, a person in the 25% tax bracket will see their tax reduced to 22%. Likewise the 15% tax bracket is now 12%.
In real dollars, a married couple making $100,000 per year will see 3% more of their income, or $3,000, in 2018.
Multiply that by the millions of couples in that tax bracket, and it could add to economic expansion. That is, if those families decide to spend the money.
But more money flowing throughout the economy is not the only way mortgage rates could rise.
By some estimates, the tax plan will add hundreds of billions to $2 trillion to the federal deficit according to Investopedia. That debt would be financed by selling more Treasury bonds.
A bigger supply of bonds would dampen investor demand. So rates would need to rise to keep investors buying.
Treasury bond rates don't guide mortgage rates, but another type of bond does: mortgage-backed securities.
A bigger supply of bonds would dampen demand. So rates would need to rise to keep investors buying. Higher rates on mortgage-backed securities mean higher rates for consumer mortgages.
So, should you take a "wait and see" attitude toward mortgage rates in 2018? Probably not.
All eyes on inflation
You can't talk about mortgage rates without also mentioning inflation.
Low inflation is perhaps the best explanation for today's "too low" mortgage rates.
Related: How inflation changes mortgage rates
Inflation has been surprisingly low. The five years preceding October 2017 saw a rate of "core" inflation (excluding food and energy) of 1.58% per year, falling short of the Fed's goal of 2%.
Low inflation in times of recession are expected. But why hasn't inflation budged during solid "rebound" years?
For comparison, prices during the five years preceding October 2008 saw a robust 2.19% average increase per year.
Not even the Fed fully knows why inflation hasn't picked up to those levels. To date, it has explained it away as "transitory." Meaning, whatever is causing ultra-stable prices will soon go away.
We won't try to answer the question here, but consumers should note is that interest rates are on borrowed time. Rate shoppers are benefitting from the current low-inflation anomaly. 
Will mortgage rates rise sharply in January as inflation picks up? Not likely. However, a gradual increase is expected as 2018 progresses.
This month's economic calendar
The next thirty days hold no shortage of market-moving news.
Wednesday, January 3: Federal Open Market Committee (FOMC) meeting minutes released
Friday, January 5: Jobs Report, unemployment rate, wages
Friday, January 12: Consumer Price Index (closely-watched inflation measurement)
Thursday, January 18: Housing Starts
Wednesday, January 24: Existing Home Sales
Thursday, January 25: New Home Sales
Wednesday, January 31: FOMC meeting adjourns
Now could be the time to lock in a rate in case these events push up rates this month.
What are today's mortgage rates?
Mortgage rates are holding below 4 percent, to the surprise of analysts. Home buyers have excellent purchasing power, and refinancing households can save more cash than they could just months ago.
Get a personalized mortgage rate analysis to see how much you can save.
Verify your new rate (Jan 20th, 2018)
Selected sources:
https://www.housingwire.com/articles/41648-mba-economists-heres-what-mortgage-rates-are-going-to-do-in-2018-and-beyond
https://www.nahb.org/en/research/housing-economics/economic-and-housing-forecasts.aspx
http://fortune.com/2017/12/20/gop-tax-bill-brackets/
https://www.investopedia.com/news/trumps-tax-reform-what-can-be-done/
The information contained on The Mortgage Reports website is for informational purposes only and is not an advertisement for products offered by Full Beaker. The views and opinions expressed herein are those of the author and do not reflect the policy or position of Full Beaker, its officers, parent, or affiliates.
Try the Mortgage Calculator