May 2018 mortgage rates forecast (FHA, VA, USDA, Conventional)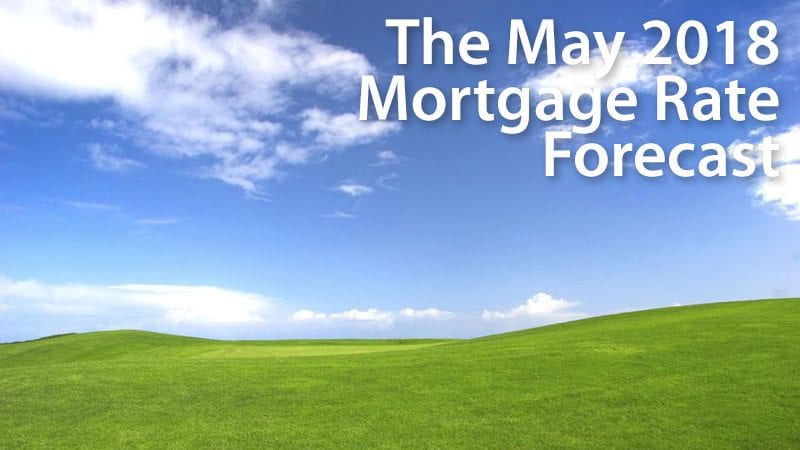 Mortgage rates forecast for May 2018
Mortgage rate shoppers just can't catch a break.
The 30-year mortgage rate just shot past another multi-year high, and there's little to stop it from going higher.
Fortunately, rates are still low by historical standards. Sub-5% rates were once thought impossible, yet they have continued this winning streak since 2011.
Refinancing households are still finding great deals, and home buyers are snapping up homes as soon as they become available.
Rates are now at their lowest levels we'll likely see over the next few years, or even decades. Patience in today's market might yield nothing but a higher price tag on your mortgage.
Verify your new rate (May 23rd, 2018)
Freddie Mac: Mortgage rates at highest levels in 56 months
Mortgage rates just broke a barrier not surpassed in more than four and a half years.
Since August 2013, rates had remained below 4.58%, that is, until the late stages of April, according to mortgage agency Freddie Mac.
The 30-year fixed rate average is up 80 basis points, or 0.80%, compared to lows reached in September 2017.
What does that mean for the home buyer or refinancing homeowner? A lot.
Home buyers will pay nearly $150 more per month for a $350,000 home with 10% down, according to this mortgage payment calculator.
A homeowner looking to refinance may discover that the new loan may not yield any savings at all.
Rates are better today than they have been in 85% of history.
But there is a bright spot. Rates are high, but only compared to some of the lowest rate levels ever recorded. If you had offered a 4.58% rate to a home buyer ten years ago, they would have jumped at the chance
(The 30-year rate eclipsed 6.5% in 2008).
Looking at the entire 2,457 weeks Freddie Mac has been recording data, only 380 weeks offered mortgage rates lower than today's levels.
Rates are better today than they have been in 85% of history.
Verify your new rate (May 23rd, 2018)
Mortgage rate predictions for 2018 and 2019
Mortgage rates have already surpassed predictions cast by major housing agencies at the end of 2017. Now, the question is, what are these groups forecasting for the remainder of the year?
| | | |
| --- | --- | --- |
| Agency | 2018 Prediction | 2019 Prediction |
| Mortgage Bankers Association | 4.9% | 5.4% |
| Freddie Mac | 4.6% | 5.1% |
| Fannie Mae | 4.5% | 4.5% |
| Realtor.com | 5.0% | No forecast |
| National Association of Realtors | 4.5% | 4.8% |
| Kiplinger | 4.7% | No forecast |
| National Association of Home Builders | 4.5% | 5.0% |
To sum it up, everyone is predicting higher rates. Today's rate might be as good as we'll see for years to come.
Verify your new rate (May 23rd, 2018)
Why are mortgage rates rising?
Many people are asking "Why are mortgage rates rising?"
The economy has made a near-full recovery since almost a decade ago when the housing downturn took its toll.
Unemployment topped out at 10% during the Great Recession but now sits in the low 4s. The stock market is booming, and housing prices are rising, too.
Mortgage rates were, and perhaps still are, "too low."
Interest rates usually rise when the economy is doing this well. In the summer of 2007, in the midst of the last boom, 30-year rates neared 6.75% according to Freddie Mac. The boom prior to that — in 1999 — offered rates above 8%.
It's shouldn't be much of a surprise that rates are now rising. If economic expansion continues, we could easily see 5% rates in 2018.
Verify your new rate (May 23rd, 2018)
Conventional loan rates
Conventional refinance rates and those for home purchases are still low despite recent increases.
According to loan software company Ellie Mae, the 30-year mortgage rate now averages 4.72%.
This is slightly higher than Freddie Mac's 4.58% average because it factors in low credit and low down payment conventional loan closings, which tend to come with higher rates.
Lower credit score borrowers can use conventional loans, but these loans are more suited for those with decent credit and at least 3% down. Five percent down is preferable due to higher rates that come with lower down payments.
Twenty percent in equity is preferred when refinancing.
With adequate equity in the home, a conventional refinance can pay off any loan type. These loans can even cancel mortgage insurance.
For instance, say you purchased a home three years ago with an FHA loan at 3.5% down. Since then, home values have skyrocketed.
You refinance into a conventional loan (because you now have 20% equity) and eliminate FHA mortgage insurance.
Depending on your original home price and loan amount, this could be a savings of hundreds of dollars per month, even if your interest rate goes up.
Getting rid of mortgage insurance is a big deal. This mortgage calculator with PMI estimates your current mortgage insurance cost. Enter 20% down to see your new payment without PMI.
Learn more about conventional refinance loans here.
Verify your conventional loan eligibility (May 23rd, 2018)
FHA mortgage rates
FHA is currently the go-to program for home buyers who may not qualify for conventional loans.
The good news is that you will get a similar rate — or even lower one — with an FHA loan than you will with conventional.
According to loan software company Ellie Mae, which processes more than 3 million loans per year, FHA loan rates averaged 4.73% in March, while conventional loans averaged 4.72%.
Another interesting stat from Ellie Mae: About 30% of all FHA loans are issued to applicants with scores below 650.
And even though these loans come with mortgage insurance, the overall monthly cost is not that much more than for conventional loans.
Check your future home payment with an FHA mortgage with this FHA loan calculator.
A little-known program, called the FHA streamline refinance, lets you convert your current FHA loan into a new one at a lower rate if rates have fallen since you received your loan.
An FHA streamline requires no W2s, pay stubs, or tax returns. And you don't need an appraisal, so current home value doesn't matter.
Learn more about the FHA streamline refinance here.
Verify your FHA loan eligibility (May 23rd, 2018)
VA mortgage rates
Homeowners with a VA loan currently are eligible for the ever-popular VA streamline refinance.
No income, asset, or appraisal documentation is required.
If you've experienced a loss of income or diminished savings, a VA streamline can get you into a lower rate and better financial situation. This is true even when you wouldn't qualify for a standard refinance.
Learn more about the VA streamline refinance here.
But don't overlook the VA loan for home buying. It requires zero down payment. That means if you have cash for closing costs, or can get them paid for by the seller, you can buy a home without raising any additional funds.
Don't overlook the VA loan for home buying. It requires zero down payment.
VA mortgages are offered by local and national lenders, not by the government directly.
This public-private partnership gives consumers the best of both worlds: strong government backing and the convenience and speed of a private company.
These loans don't require a high credit score. In fact, most lenders will accept scores down to 620, or even lower in some cases. Plus you don't pay high-interest rates for low scores.
Quite the contrary, VA loans come with the lowest rates of all loan types according to Ellie Mae. In March, 30-year VA mortgage rates averaged just 4.5% while conventional loans averaged 4.72%
Check how much you would pay for a home with this VA loan calculator.
There's incredible value in VA loans.
Verify your VA loan eligibility (May 23rd, 2018)
USDA mortgage rates
Like FHA and VA, current USDA loan holders can refinance via a "streamlined" process.
With the USDA streamline refinance, you don't need a new appraisal. You don't even have to qualify using your current income. The lender will only make sure that you are still within USDA income limits.
More about the USDA streamline refinance.
Home buyers are also learning the benefits of the USDA loan program for home buying.
No down payment is required, and rates are ultra-low.
Home payments can be even lower than rent payments, as this USDA loan calculator shows.
Qualification is easier because the government wants to spur homeownership in rural areas. Home buyers might qualify even if they've been turned down for another loan type in the past.
Verify your USDA loan eligibility (May 23rd, 2018)
Mortgage rates today
While a monthly mortgage rate forecast is helpful, it's important to know that rates change daily.
You might get 4.5% today, and 4.6% tomorrow. Many factors alter the direction of current mortgage rates.
To get a synopsis of what's happening today, visit our daily rate update. You will find live rates and lock recommendations.
Mortgage rate predictions for May 2018
There is no shortage of market-moving news in May. Developments are forming now that will impact the remainder of the year.
Verify your new rate (May 23rd, 2018)
The Fed is at it again
The Federal Reserve raised interest rates for the sixth time since the end of the Great Recession at its meeting ending March 21.
The group credits the move to a strong economic outlook.
In its meeting minutes released April 11, the group stated it would move to a less accommodative monetary policy, into a "neutral" or even "restraining" one if the economy starts overheating.
Another Fed meeting will adjourn on Wednesday, May 2.
Another Fed meeting will adjourn on Wednesday, May 2. Mortgage shoppers may want to lock in prior to the post-meeting announcement at 2:00 PM ET.
A rate hike is not expected at this meeting. But the group could clarify policy decisions for the rest of 2018 and beyond.
Any negative news could send mortgage rates skyward.
The Fed could announce that it's worried about inflation. If the economy overheats, feeding off of ultra-low rates, prices on goods and services could skyrocket.
The Fed's job is to strike a balance between economic health and stable prices. The federal funds rate is its lever of choice to control both forces.
So why do mortgage rates go up when the Federal Reserve raises its rate? Well, sometimes they don't. It's a myth that the Fed controls mortgage rates.
But markets look to the Fed like an outdoor wedding planner tunes into the weatherman. It is the foremost authority in predicting the future rate environment. When the Fed hikes rates, it means the economy is on the upswing.
Markets look to the Fed like an outdoor wedding planner tunes in to the weatherman.
A hot economy promotes higher inflation and a more profitable stock market, both of which are bad for mortgage rates.
The Fed is predicting sunny skies, so to speak, for the economy. It raised its forecast for Gross Domestic Product for 2018 from 2.5% to 2.7% and raised its 2019 expectation by an even greater amount.
Additionally, the group predicted one more rate hike between now and the end of 2019 than it had previously. Markets are getting the hint: the economy is doing well, and interest rates are rising as a result.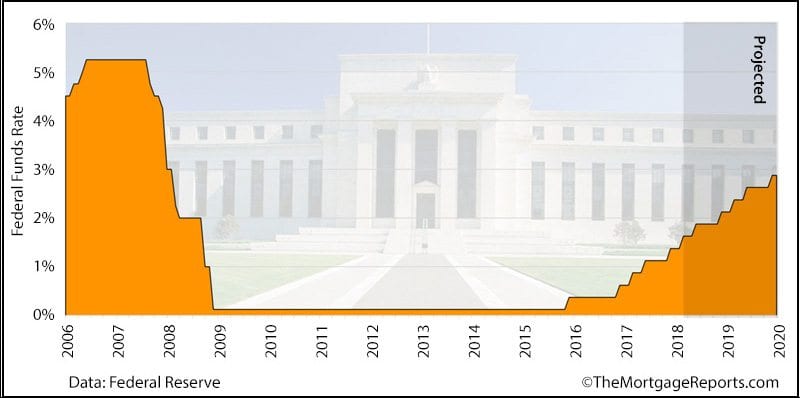 As a mortgage shopper, it could be a wise move to lock in today's rates, which are still historically low. The chances of a significant downswing are getting smaller and smaller.
Verify your new rate (May 23rd, 2018)
Wages are up. That could spark inflation. Inflation hurts mortgage rates
Americans are making more money.
And, surprisingly, there's an unexpected relationship between wages and mortgage rates.
When the economy does well, companies must pay more to retain and attract workers. That sounds good and is for most people. Except for those shopping for mortgages.
That's because higher wages mean companies pass on those costs. Prices go up on everything from milk to bulldozers. That's the definition of inflation.
Inflation is bad for mortgage rates because it eats into investor returns on fixed-rate investments like mortgage bonds. When prices rise, mortgage-backed securities become worth less and less. So interest rates on those assets must rise to keep investors buying.
Higher rates on mortgage-backed assets are passed onto the mortgage shopper.
Economists are watching recent upticks in wages as a good indicator of future inflation.
In March, wages crept up 2.7% from a year earlier. That's one of the highest yearly readings since the Great Recession and a good sign that the economy and inflation are coming back to life.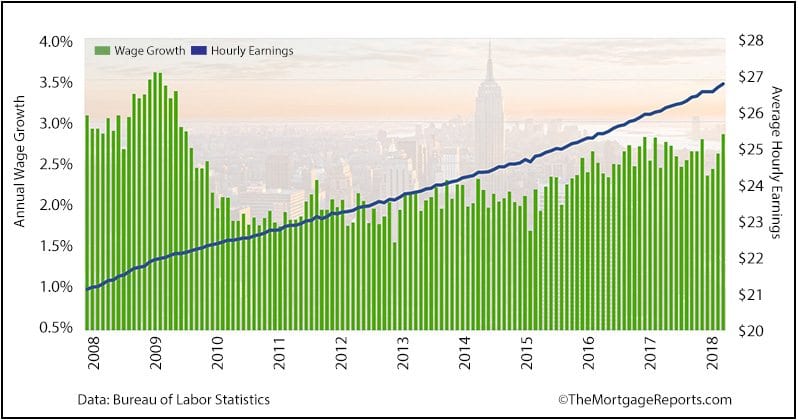 Investors have taken notice: inflation is headed higher, and interest rates on mortgage-backed assets must rise as well.
New tax law is a double-whammy for mortgage rates
Americans are seeing more in their paychecks, thanks to tax law changes implemented for the 2018 tax year.
That sounds good for the U.S. consumer and certainly will help many families across the country.
However, the new tax law hurts mortgage rates in two major ways.
First, more money in the collective American pocket will drive up prices for goods and services as consumers have more to spend. As students of mortgage rates know, inflation drives up rates.
Second, tax breaks mean less money comes into the U.S. government. More Treasury bonds will be issued to cover the shortfall. More bonds in the market lead to greater supply and less relative demand, which drives up interest rates for those bonds.
Higher rates on bonds can spill over into higher consumer mortgage rates.
Mortgage shoppers wanting to avoid even higher rates should consider locking in now.
This month's economic calendar
The next thirty days hold no shortage of market-moving news.
Wednesday, May 2: FOMC meeting adjourns
Friday, May 4: Employment Situation, wages
Thursday, May 10: Consumer Price Index (a key inflation gauge)
Wednesday, May 16: Housing Starts
Wednesday, May 23: Fed meeting minutes released
Thursday, May 24: Existing Home Sales
Wednesday, May 30: GDP
Now could be the time to lock in a rate in case these events push up rates this month.
What are today's mortgage rates?
Despite recent upticks, mortgage rates are holding historically low. Now could be the time to lock in, while rates in the mid-4s are still available.
Get a personalized mortgage rate analysis to see how much you can save.
Verify your new rate (May 23rd, 2018)
Selected sources:
https://www.mba.org/news-research-and-resources/research-and-economics/forecasts-and-commentary
https://www.realtor.com/research/2018-national-housing-forecast/
https://www.federalreserve.gov/monetarypolicy/fomcminutes20180321.htm
The information contained on The Mortgage Reports website is for informational purposes only and is not an advertisement for products offered by Full Beaker. The views and opinions expressed herein are those of the author and do not reflect the policy or position of Full Beaker, its officers, parent, or affiliates.
Try the Mortgage Calculator