Will mortgage rates go down in August 2020? Forecast and trends
Mortgage rates forecast for August 2020
Mortgage rates have hit five new all-time lows in less than three months.
But don't expect the winning streak to continue.
Our prediction: Mortgage rates will bottom out in August, then rise in anticipation of the 2020 U.S. election.
Want to capture the lowest mortgage rates of all time? Better lock in now.
Find and lock a low rate today. (Aug 15th, 2020)
In this article:
Predictions for August
August could hold new record-low mortgage rates that may puncture the psychologically significant 3% barrier.
We think this mortgage rate rally which started in early 2020 still has some steam.
Yet, there are no guarantees. There's no reason to wager on lower rates. As this is written, Freddie Mac reports a 3.03% average 30-year fixed rate. It marks the fifth time in 75 days that rates have broken a new record.
At this cadence, you would think new lows are commonplace. To the contrary, we haven't seen rates comparatively low since 2012, and before that, not once since Freddie Mac started tracking data in 1971.
Today's mortgage rates are literally the best they've ever been, and potentially the best they'll ever get.
The bottom line is that rates could go lower in August 2020 and beyond, but why would someone gamble when they could capture a best-ever rate right now?
Lock in today's rates before they rise. (Aug 15th, 2020)
Mortgage rates next 90 days
This chart shows past mortgage rate trends, plus predictions for the next 90 days based on current events and 2020 forecasts from major housing authorities.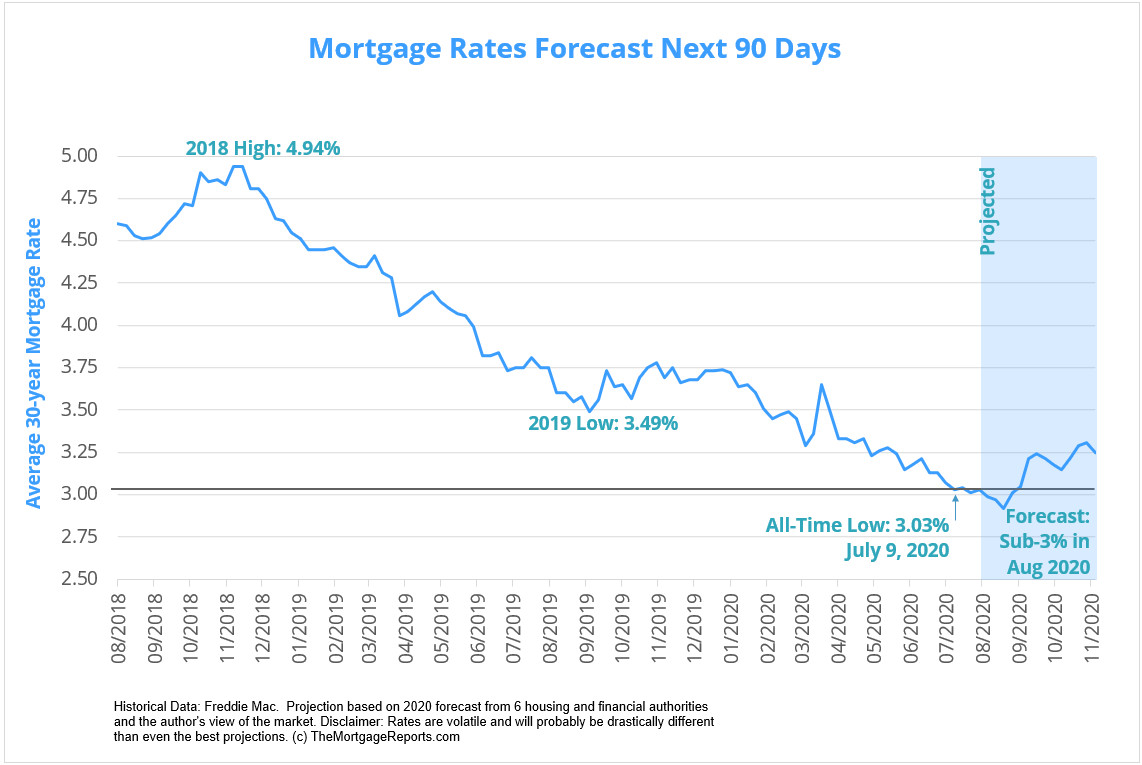 Markets will focus on COVID-19 developments
COVID-19 has painted an unexpected picture compared to what 2020 was supposed to be.
This was going to be another year of economic expansion, and along with it, higher rates.
Yet, the economy contracted faster than any time in history. Rates fell in response, as they tend to do in highly uncertain times.
But what does the future hold for rates? It depends on only one factor: COVID-19.
Mortgage rates could skyrocket back to 2018-2019 levels in mere days if a viable vaccine were announced. That appears a long way off still, though.
In fact, containing the virus by any means seems impossible, at least in the U.S. Just when we thought we were "flattening the curve," many states have reported a record number of cases upon re-opening.
California and Nevada have already reversed re-opening guidance to try to curb explosive outbreaks.
The inability to get the U.S. economy going again will all but ensure low rates for the foreseeable future. Maybe not all-time low rates past August, but significantly lower than most of history.
We're in a new reality where a 30-year mortgage rate in the 2s could become the norm.
And, while we're predicting rates for well-qualified applicants to dip into the high 2s, that's no reason to become complacent.
Our advice: capture a once-in-a-lifetime mortgage rate now. Rates are already at 50-year lows. While we see a meaningful chance that rates will drop to fresh lows, there's certainly no guarantee.
»RELATED:
Verify your new rate
Our prediction: First-ever sub-3% average mortgage rates
The markets say mortgage rates should be about 2.4% right now.
Yes, you read that right: 2.4%.
But there are a couple reasons rates aren't that low:
Lenders can't handle the volume
Investors aren't buying mortgages at the expected rate
For mortgage rates to be rock-bottom, there needs to be a huge demand from investors to purchase these ultra-low-interest mortgage bonds. Typically, investors buy mortgages as a safe-haven investment when the stock market is tanking.
But investors are hesitant because 1) they are afraid homeowners will refinance again, eliminating the earned interest and; 2) they are fearful of defaults and forbearance, as coronavirus threatens people's jobs and businesses.
But in a few months, some things could happen to bring about another round of all-time-low rates.
Compare top mortgage lenders
Refine results by loan type:
Purchase Refinance
Lenders volumes to ease
Lenders are swamped at the moment, and it could take another 60 days for them to clear pipelines of current business. But then what?
Well, then they have to keep business at a hot clip to support all the staff they just hired. Lenders will have no choice but to get competitive again, and another refinance boom will be underway.
Non-bank lenders will put price pressure on the "big guys". Rate survey readings to plummet
Most of the big U.S. lenders — Bank of America, Wells Fargo, Chase, and others — are artificially keeping rates high, especially on refinance transactions.
In mid-July, Wells Fargo advertised a 3.375% (3.470% APR)*, 30-year fixed refinance rate, even though its purchase rate was 3.0% (3.093% APR)*. What's going on?
There is simply too much demand for refinances at the moment. Lenders need to slow the flow. Plus, new refi applicants could refinance again in a few months as rates drop. That means banks and investors could lose money on these newly minted loans.
But aggressive players see the mayhem as an opportunity.
A major wholesale lender is offering 2.5% 30-year fixed-rate loan for purchase and refinance transactions. This lender says that rates below 3% are available to those who have not been a customer in the last 18 months.
Furthermore, it's offering a 2.25% rate on VA loans.
We may see the "big guys" like Wells Fargo and Chase, well, "chase" these non-bank lenders to halt their market share gains. It will be a race to the bottom as aggressive lenders raise the bar — or in this case, lower it.
Reported rate averages — like those released by Freddie Mac each week — have never dipped below the 3% range. That's because the agency surveys 125 lenders across the U.S. to arrive at an average.
A solid portion of those lenders would have to offer rates in the 2s to finally bring the average down. But with aggressive players entering the market, the averages could fall below 3% for the first time ever.
2.99% rates by August?
All of the above factors could work together to bring another round of brief but available all-time-low rates in about 30 days.
But don't expect these rates to hang around for long. We'll see another round of overwhelmed lenders and spooked investors when the onslaught of applications ensues.
So what's your strategy? If you're refinancing, you may want to keep your file active and updated with your lender so you can lock and close the moment rates hit rock-bottom.
This will involve applying now, but floating until the opportune time. You may even want to supply all your income and asset documentation. However, hold off on ordering an appraisal until you lock. An appraisal is a non-refundable fee.
Lock in today's rates. Start here. (Aug 15th, 2020)
After cutting rates to near-zero, what will the Fed do next?
As recently as early February, everyone expected the Fed to maintain its federal funds rate of about 1.625% into 2021.
As COVID-19 worries gripped markets, the group slashed its rate to near-zero levels. In addition, it committed to buying unlimited amounts of Treasuries and mortgage bonds. It also started doing things it never had before, such as buying corporate debt.
You can see the drastic change in Fed forecasts comparing pre- and post-COVID-19.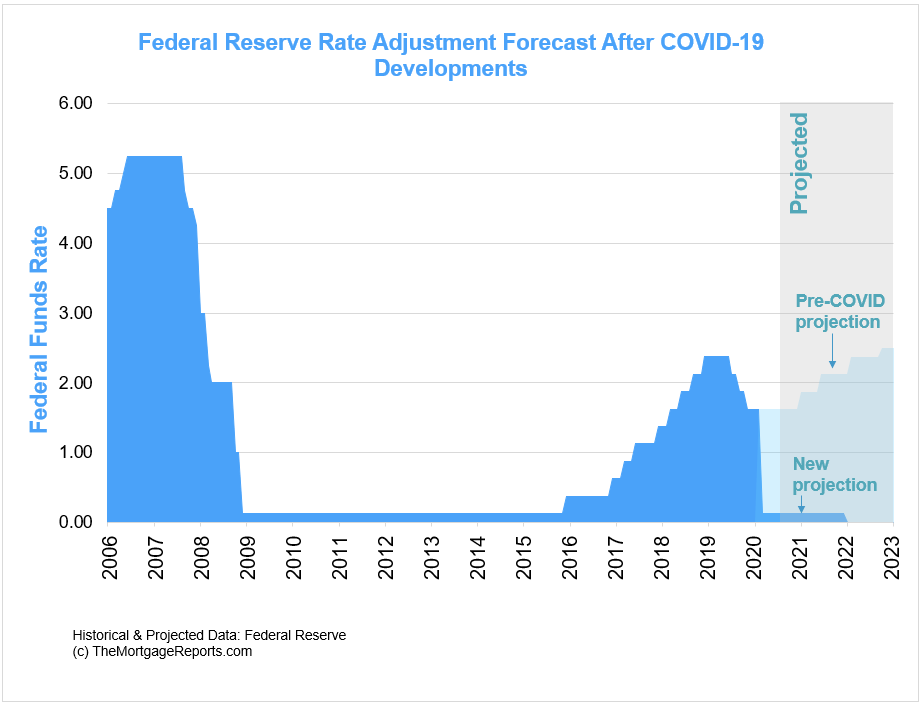 In mid-March, we predicted never-before-seen stimulus from the Fed in April. But even we were surprised to see that stimulus checks and 12-month mortgage forbearance were part of the new reality.
The Fed has broad power to keep the economy going, and it's getting more and more bold about using that power to its full extent.
Know this: the Fed will continue to support a low-rate environment. The exact form that takes could surprise us all.
Mortgage rate trends as predicted by housing authorities
Housing agencies nationwide are calling for rates in the low 3s for 2020. One major agency even calls for a sub-3% average rate by year-end.
| | |
| --- | --- |
| Agency | 30-Yr Rate Prediction |
| Wells Fargo | 2.95% |
| Fannie Mae | 3.00% |
| Freddie Mac | 3.20% |
| National Assoc. of Home Builders | 3.34% |
| Mortgage Bankers Assoc. | 3.50% |
| National Assoc. of Realtors | 3.10% |
| Average of all agencies | 3.18% |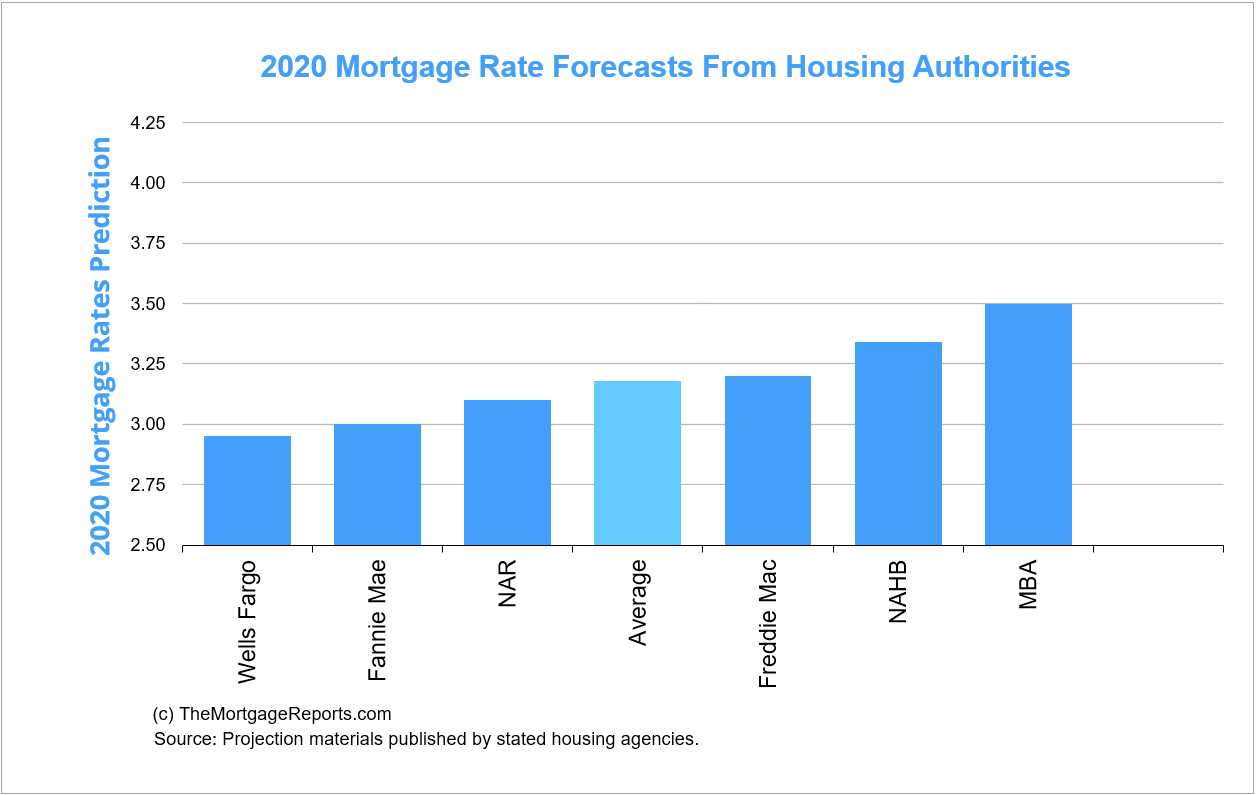 To sum it up, rate predictions vary widely. Today's rate might be as good as we'll see for years to come, or they might improve.
Mortgage strategies for August 2020
In August, be ready for continued low rates. We think rates could bottom out in August, then start rising in September as we get closer to the U.S. election.
Why? There tends to be a sense of optimism with potential new leadership — no matter the outgoing or incoming party. With optimism comes more risk-taking and less appetite for mortgage bonds — the financial instruments that drive consumer mortgage rate levels.
It's hard to predict how markets will interpret the end of the Trump era, if it occurs. They could view a Democratic president as tough on business which could keep rates low. We saw rates skyrocket after the 2016 election because markets foresaw an era of business-friendly leadership.
(And if Kanye is elected, all bets are off.)
Apply early. Most homeowners were caught off guard the last time rates plummetted. They had to scramble to apply and lock in hopes of capturing ultra-low rates that were only around for a few days.
If you want to be ready this time, apply now, and submit all the necessary documentation like pay stubs, W2s, and bank statements. Don't order an appraisal just yet. When rates bottom out in August, call your lender and lock in. Then grant permission for the lender to order the appraisal.
Your loan file will be ready to close faster, and you'll be ahead of the next wave of refinances.
Get a longer lock. Mortgage lenders are buried with business. That means it will likely take you 60 days to get through the whole process. Be sure to lock in your loan for an adequate period of time.
It's more expensive to extend a lock than to request one at the time of lock-in.
Get started on your loan application here. (Aug 15th, 2020)
Loan product rate updates
Many mortgage shoppers don't realize there are many different types of rates. But this knowledge can help home buyers and refinancing households find the best value for their situation.
Following are updates for specific loan types and their corresponding rates.
Conventional loan rates
Conventional refinance rates and those for home purchases have trended lower in 2020.
According to loan software company Ellie Mae, the 30-year mortgage rate averaged 3.42% in June (the most recent data available), down from 3.44% in May.
This is higher than Freddie Mac's 3.03% average because it factors in low credit and low-down-payment conventional loan closings, which tend to come with higher rates. Plus, it's a more delayed report, and rates have been dropping.
Lower credit score borrowers can use conventional loans, but these loans are more suited for those with decent credit and at least 3% down. Five percent down is preferable due to higher rates that come with lower down payments.
Twenty percent of equity is preferred when refinancing.
With adequate equity in the home, a conventional refinance can pay off any loan type. Got an Alt-A, subprime, or high-PMI loan? A conventional refi can take care of it.
For instance, say you purchased a home three years ago with an FHA loan at 3.5% down. Since then, home values have skyrocketed.
You now have 20% equity, so you can refinance into a conventional loan and eliminate FHA mortgage insurance.
This could be a savings of hundreds of dollars per month, even if your interest rate goes up.
Getting rid of mortgage insurance is a big deal. This mortgage calculator with PMI estimates your current mortgage insurance cost. Enter a 20% down payment to see your new payment without PMI.
Find a low conventional loan rate. Start here. (Aug 15th, 2020)
FHA mortgage rates
FHA is currently the go-to program for home buyers who may not qualify for conventional loans.
The good news is that you will get a similar rate — or even lower — with an FHA loan than you will with conventional.
Related: Read more about FHA costs and requirements on our FHA loan calculator page.
According to loan software company Ellie Mae, which processes more than 3 million loans per year, FHA loan rates averaged 3.41% in June, a bit lower than the average conventional rate.
Another interesting stat from Ellie Mae: About 20% of all FHA loans are issued to applicants with scores below 650.
FHA loans come with mortgage insurance. But the overall cost is not much more than for conventional loans.
A little-known program, called the FHA streamline refinance, lets you convert your current FHA loan into a new one at a lower rate if rates are now lower.
An FHA streamline requires no W2s, pay stubs, or tax returns. And you don't need an appraisal, so home value doesn't matter.
Learn more about the FHA streamline refinance here.
Find low FHA rates. Start here. (Aug 15th, 2020)
VA mortgage rates
Homeowners with a VA loan currently are eligible for the ever-popular VA streamline refinance.
No income, asset, or appraisal documentation is required.
If you've experienced a loss of income or diminished savings, a VA streamline can get you into a lower rate and better financial situation. This is true even when you wouldn't qualify for a standard refinance.
But don't overlook the VA loan for home buying. It requires zero down payment. That means if you have the cash for closing costs, or can get them paid for by the seller, you can buy a home without raising any additional funds.
Don't overlook the VA loan for home buying. It requires zero down payment.
VA mortgages are offered by local and national lenders, not by the government directly.
This public-private partnership offers consumers the best of both worlds: strong government backing and the convenience and speed of a private company.
Most lenders will accept scores down to 620, or even lower. Plus, you don't pay high interest rates for low scores.
Quite the contrary, VA loans come with the lowest rates of all loan types according to Ellie Mae. In June, (the most recent data available), 30-year VA mortgage rates averaged just 3.20% while conventional loans averaged 3.42%, representing a big discount if you're a veteran.
Check your monthly payment with this VA loan calculator.
There's incredible value in VA loans.
Check today's VA loan rates. Start here. (Aug 15th, 2020)
USDA mortgage rates
Like FHA and VA, current USDA loan holders can refinance via a "streamlined" process.
With the USDA streamline refinance, you don't need a new appraisal. You don't even have to qualify using your current income. The lender will only make sure that you are still within USDA income limits.
More about the USDA streamline refinance.
Home buyers are also learning the benefits of the USDA loan program for home buying.
No down payment is required, and rates are ultra-low.
Home payments can be even lower than rent payments, as this USDA loan calculator shows.
Qualification is easier because the government wants to spur homeownership in rural areas. Home buyers might qualify even if they've been turned down for another loan type in the past.
Find a lock low USDA rates. (Aug 15th, 2020)
Mortgage rates today
While a monthly mortgage rate forecast is helpful, it's important to know that rates change daily.
You might get 3.25% today, and 3.5% tomorrow. Many factors alter the direction of current mortgage rates.
To get a synopsis of what's happening today, visit our daily rate update. You will find live rates and lock recommendations.

August economic calendar
The next thirty days hold no shortage of market-moving news. In general, news that points to a strengthening economy could mean higher rates, while bad news can make rates drop.
Monday, August 3: ISM Manufacturing
Friday, August 7: Nonfarm Payrolls, wages, unemployment rate
Wednesday, August 12: Inflation Rate
Friday, August 14: Retail Sales
Monday, August 17: NAHB Housing Market Index
Tuesday, August 18: Housing Starts, Building Permits
Friday, August 21: Existing Home Sales
Thursday, August 27: Pending Home Sales
Friday, August 28: Personal Income, Personal Spending
Now could be the time to lock in a rate in case these events push up rates this month.
Mortgage rates Q&A
In this FAQ:
Below are some of the most common questions about mortgage rates.
What are the current mortgage rates today
Mortgage rates fluctuate based on market conditions and your specific situation. For instance, someone with a high credit score will get a lower rate than someone with a low score. To see average rates, go to themortgagereports.com/today or contact a lender over the phone or online here.
Will mortgage interest rates go down in 2020?
According to our survey of major housing authorities such as Fannie Mae, Freddie Mac, and the Mortgage Bankers Association, the 30-year fixed rate mortgage will average around 3.18% through 2020. Rates are hovering below this level as of August 2020. See the full forecast from housing authorities here.
Can you negotiate a better mortgage rate?
Yes. Lenders have the flexibility to drop their rates and fees. Often, you must approach a lender with a better offer in writing before they will lower their rate.
Is 3.875% a good mortgage rate?
Historically, it's a fantastic mortgage rate. The average rate since 1971 is more than 8% for a 30-year fixed mortgage. To see if 3.875% is a good rate right now and for you, get 3-4 mortgage quotes and see what other lenders offer. Rates vary greatly based on the market and your profile (credit score, down payment, and more).
Which mortgage company has the best rates?
Most companies have similar rates. However, some offer ultra-low rates to gain market share. Others have lower rates for FHA than conventional, or vice versa. The only way to know if your company is offering the lowest rate is to get quotes from various lenders. Read our report of data collected from 5.9 million loans where we rank the top 24 US lenders by rate and fees.
How much does 1 point lower your interest rate?
A point is a fee equal to 1% of your loan amount, or $1,000 for every $100,000 borrowed. Your rate could drop 0.25%-0.50% or more for each point paid, however, that can vary greatly depending on the lender, loan characteristics, and borrower profile.
How can I avoid paying closing costs?
You can 1) request a lender credit; 2) request a seller credit (if buying a home); 3) increase your mortgage rate to avoid points; 4) get a down payment gift (which can be used for closing costs); 5) get down payment assistance. Find more strategies here.
What are today's mortgage rates?
Low mortgage rates are still available. You can get a rate quote within minutes with just a few simple steps to start.
Show Me Today's Rates (Aug 15th, 2020)
Selected sources:
https://www.elliemae.com/mortgage-data/origination-insight-reports
https://tradingeconomics.com/united-states/calendar
https://www.federalreserve.gov/monetarypolicy/fomccalendars.htm
https://www.bls.gov/news.release/cpi.nr0.htm
*Accessed June 22, 2020 at https://www.wellsfargo.com/mortgage/rates/calculator/refinance-results/ $350k value/purchase price $100k equity, 760+ credit