Mortgage rates forecast for December 2018
Mortgage rates are finally catching a break.
After rising throughout 2018, rates are down more than 10 basis points (0.10%) according to popular interest rate surveys.
Rates are falling in the wake of economic turmoil abroad, tailspinning oil prices, and market uncertainty.
But will lower rates last? The dip could be temporary considering the Federal Reserve meets again in December, and could hike rates.
Want to secure your rate? You might consider acting before rates change course for the worse.
Check today's mortgage rates (Dec 11th, 2018)
Predictions for December and beyond
There is no shortage of market-moving news in December. Developments now will impact your ability to buy or refinance this month and in the remainder of the year.
Skip to:
Rate forecasts at the beginning of the year have pretty much come true. Most major housing and financial authorities predicted rates somewhere between 4.7% and 5.0% for 2018.
According to Freddie Mac, the average 30-year fixed rate for an ideal candidate jumped to 4.94% in mid-November. That's even higher than the 4.75% average prediction earlier this year from seven agencies like Realtor.com and the National Association of Home Builders.
The good news is that we are not very likely to see any more huge jumps for the remainder of the year if forecasts are accurate.
But, we are very likely to see a gradual increase going into January 2019, starting the year in the low 5s.
Been looking for a good rate on a refinance or home purchase? Now might be the time to lock.
Start the home buying or refinance lock-in process here. (Dec 11th, 2018)
---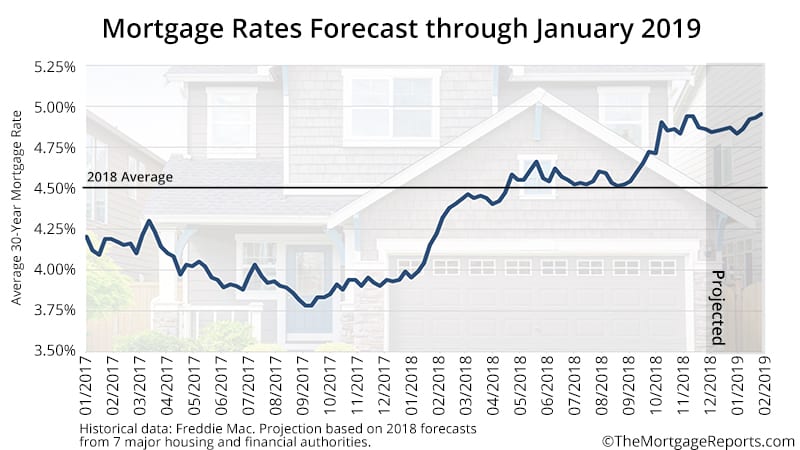 ---
The U.S. economy is roaring, driving up rates. But rates are getting help from elsewhere
A hot economy is the enemy of low rates. There's little doubt the U.S. economy is in good shape.
The U.S. unemployment rate is at 3.7% — the lowest in about 50 years. There is now less than one unemployed worker for every available job. In other words, there are more jobs than workers to fill them.
A strong jobs market creates inflationary pressure, which is bad for rates.
But economies abroad are helping the situation.
Germany and Japan reported shrinking GDP in the third quarter. Bloomberg predicts these economies are set to rebound, but the damage is done.
Markets are worried that the global economy is developing cracks.
Markets are worried that the global economy is developing cracks. Everything is connected. A faltering foreign economy could pull everyone else down.
Japan and German are the third and fourth largest economies in the world, respectively. Oh yeah, and the second biggest economy — China — is in the midst of a trade war with the U.S.
Then there's Brexit. In 2016, Britain voted to exit the European Union. To this day, the country has been working out how to chip itself off the bloc without cracking its own economy.
Back home, stocks have experienced a roller coaster ride this year. The Dow has endured no less than ten 500+ point drops in 2018 alone.
So will rates fall in December and into 2019? That's beginning to look like a real possibility.
Bottom line: Watch for warning further signs of foreign economic erosion in December and beyond. Be ready to pounce on rates if they fall.
Lock in your rate here. (Dec 11th, 2018)
Falling oil could help mortgage rates
What does the substance that powers your car and most major economies have to do with mortgage rates?
Actually, a lot.
Expensive oil causes prices for goods and services to rise, meaning inflation occurs. For example, you pay more for a gallon of milk because the truck that got it to the store had to spend more on fuel.
As this chart shows, inflation makes mortgage rates rise.
Conversely, falling oil creates less inflation pressure and, potentially, downward pressure on interest rates.
Oil is currently in a death spin of sorts.
Oil is currently in a death spin of sorts. It's down 30% from its October peak.
Inflationary pressures aside, falling oil is an economic barometer. Oil could be tanking (no pun intended) because of greater supply. Or, because of lower demand in the face of an oncoming recession.
No one knows for sure.
The fact remains, though, that mortgage rates generally do better when oil prices get hammered.
Bottom line: Be ready to lock if oil keeps slipping lower.
Lock in your rate here. (Dec 11th, 2018)

The Fed is debating a December interest rate hike
The December Federal Open Market Committee (FOMC) meeting is the first in recent memory when markets were unsure about the outcome.
According to CME group, at the time of this writing, there is just a 72% chance of the Fed raising rates at its last meeting of the year. Chances may increase as the meeting gets closer. Typically, markets are all but certain by now.
Builder confidence is down to the lowest reading in over two years
The question marks surrounding a rate hike are due to a string of lackluster economic data points that the Fed is no doubt studying.
Just one example is a report from the National Association of Home Builders. Builder confidence is down to the lowest reading in over two years, signaling worries about the overall economy.
What will the Fed do? It's a toss-up at this point. But be prepared for turbulence on December 19 at 2:00 PM ET. If there's a surprise, get ready to lock.
---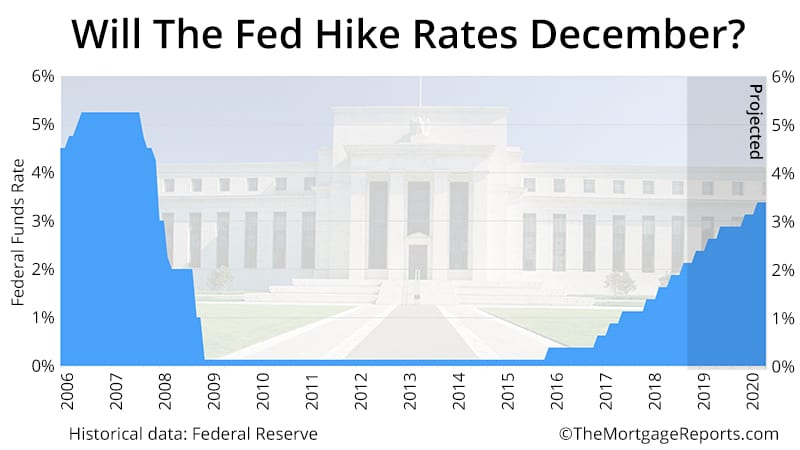 ---
When will rates start dropping again?
The Fed sees blue skies for the economy, hence its measured rate increases this year.
It could be a while before rates drop again.
However, for those who are willing to wait, many experts are predicting a recession in 2020. Half the economists surveyed in a recent poll by the National Association of Business Economics predict an oncoming recession.
Half the economists in a recent survey predict an oncoming recession.
An economic pull-back could prompt the Fed to lower the fed funds rate. The Fed could even make mortgage rates artificially low like it did in the wake of the 2008 crisis.
For homeowners who just want to refinance, a 2020 rate drop might be worth waiting for. But for a homebuyer, it could backfire. Home prices could be 10 percent higher by then, negating any rate savings.
Think you'll be buying in the next couple of years? Today's rates may be the best we see.
Verify your new rate (Dec 11th, 2018)

Mortgage rate trends as predicted by housing authorities
Mortgage rates have already surpassed predictions cast by major housing agencies. Now, the question is, what are these groups forecasting for the remainder of the year?
| | | |
| --- | --- | --- |
| Agency | 2018 Prediction | 2019 Prediction |
| Mortgage Bankers Association | 4.7% | 5.2% |
| Freddie Mac | 4.5% | 5.1% |
| Fannie Mae | 4.6% | 4.7% |
| Realtor.com | 5.0% | No forecast |
| National Association of Realtors | 4.6% | 5.0% |
| Kiplinger | 4.8% | No forecast |
| National Association of Home Builders | 4.53% | 4.88% |
To sum it up, everyone is predicting higher rates. Today's rate might be as good as we'll see for years to come.
Verify your new rate (Dec 11th, 2018)
Advice for December 2018
Knowing what will happen in December is only half the battle. As a mortgage rate shopper, now you need to know the best actions to take this month.
Get up to 4 mortgage quotes here. (Dec 11th, 2018)
Lenders are desperate. That's good news for the refinance shopper
Think rising rates have priced you out of a refinance?
That might not be the case.
Lenders are so desperate for refinance business that they are ready to make a deal with any potential applicant.
Around 40% of a lender's business today is made up of refinance transactions. Compare that with 71% in 2012. Lenders want refis more than purchase applications because they close faster and there's a better chance the applicant qualifies.
Use that knowledge to your advantage. Go into the conversation knowing how badly the lender wants your refi.
Apply with many lenders, and pit them against each other. You come out with a better rate than you thought possible.
Ready to get started on your refi? Click here. (Dec 11th, 2018)
Don't automatically dismiss a cash-out refinance
Homeowners have racked up monumental home equity in recent years. According to statistics site Statista, U.S. homeowners are sitting on more than $14 trillion in equity.
But they are struggling with how to tap into that equity.
A home equity line of credit (HELOC) is fast, convenient, and comes with low closing costs. Most importantly, you don't have to touch your first mortgage to get one.
A cash-out refinance, though, replaces your first mortgage and gives you cash back for the new loan amount that exceeds your old one. That gives you a potentially higher rate, plus additional closing costs.
But a cash-out refi limits your exposure to a Federal Reserve that is determined to raise rates. Home equity rates are adjustable and rise every time the Fed hikes rates. A 30-year fixed cash-out loan payment never changes.
Consider a scenario where a homeowner needs $50,000 in cash. Shortly after taking the HELOC, the Fed hikes rates to 2007 levels.
| | | | |
| --- | --- | --- | --- |
| | Cash-out Refi | HELOC at 9% | HELOC – 10 Yr Payoff |
| First Mortgage | $273,000 | $220,000 | $220,000 |
| HELOC | N/A | $50,500 | $50,500 |
| 1st Mortgage Payment | $1,420 (@4.75%) | $1,200 (@3.75%) | $1,200 (@3.75%) |
| HELOC Payment | N/A | $380 (@9% interest only payment) | $680 (@9%, fully amortized 10-yr period) |
| Total Mortgage Payment | $1,420 | $1,580 | $1,880 |
To make matters worse, HELOCs eventually turn into "fully amortizing" loans. When they begin, they often require that only interest is paid.
The principal-plus-interest payment at 9% gets pretty steep.
But with a cash-out loan, you avoid that risk. You lock in at a certain rate and stay there as long as you keep the loan.
So, a HELOC may not be the best home equity tool, after all.
Get a cash-out rate quote here. (Dec 11th, 2018)

Loan product rate updates
Many mortgage shoppers don't realize there are many different types of mortgage rates. But this knowledge can help home buyers and refinancing households find the best value for their situation.
Following are updates for specific loan types and their corresponding rates.
Conventional loan rates
Conventional refinance rates and those for home purchases are still low despite recent increases.
According to loan software company Ellie Mae, the 30-year mortgage rate averaged 4.93% in September, the most recent data available.
This is slightly higher than Freddie Mac's 4.86% average because it factors in low credit and low-down-payment conventional loan closings, which tend to come with higher rates.
Lower credit score borrowers can use conventional loans, but these loans are more suited for those with decent credit and at least 3% down. Five percent down is preferable due to higher rates that come with lower down payments.
Twenty percent of equity is preferred when refinancing.
With adequate equity in the home, a conventional refinance can pay off any loan type. Got an Alt-A, subprime, or high-PMI loan? A conventional refi can take care of it.
For instance, say you purchased a home three years ago with an FHA loan at 3.5% down. Since then, home values have skyrocketed.
You refinance into a conventional loan (because you now have 20% equity) and eliminate FHA mortgage insurance.
This could be a savings of hundreds of dollars per month, even if your interest rate goes up.
Getting rid of mortgage insurance is a big deal. This mortgage calculator with PMI estimates your current mortgage insurance cost. Enter 20% down to see your new payment without PMI.
Verify your conventional loan eligibility (Dec 11th, 2018)
FHA mortgage rates
FHA is currently the go-to program for home buyers who may not qualify for conventional loans.
The good news is that you will get a similar rate — or even lower one — with an FHA loan than you will with conventional.
Related: Read more about FHA costs and requirements on our FHA loan calculator page.
According to loan software company Ellie Mae, which processes more than 3 million loans per year, FHA loan rates averaged 4.95% in September, while conventional loans averaged 4.93%.
Another interesting stat from Ellie Mae: About 30% of all FHA loans are issued to applicants with scores below 650.
FHA loans come with mortgage insurance. But the overall cost is not much more than for conventional loans.
A little-known program, called the FHA streamline refinance, lets you convert your current FHA loan into a new one at a lower rate if rates are now lower.
An FHA streamline requires no W2s, pay stubs, or tax returns. And you don't need an appraisal, so home value doesn't matter.
Learn more about the FHA streamline refinance here.
Verify your FHA loan eligibility (Dec 11th, 2018)
VA mortgage rates
Homeowners with a VA loan currently are eligible for the ever-popular VA streamline refinance.
No income, asset, or appraisal documentation is required.
If you've experienced a loss of income or diminished savings, a VA streamline can get you into a lower rate and better financial situation. This is true even when you wouldn't qualify for a standard refinance.
But don't overlook the VA loan for home buying. It requires zero down payment. That means if you have the cash for closing costs, or can get them paid for by the seller, you can buy a home without raising any additional funds.
"Don't overlook the VA loan for home buying. It requires zero down payment."
VA mortgages are offered by local and national lenders, not by the government directly.
This public-private partnership offers consumers the best of both worlds: strong government backing and the convenience and speed of a private company.
Most lenders will accept scores down to 620, or even lower. Plus, you don't pay high-interest rates for low scores.
Quite the contrary, VA loans come with the lowest rates of all loan types according to Ellie Mae. In August, 30-year VA mortgage rates averaged just 4.73% while conventional loans averaged 4.93%
Check your monthly payment with this VA loan calculator.
There's incredible value in VA loans.
Verify your VA loan eligibility (Dec 11th, 2018)
USDA mortgage rates
Like FHA and VA, current USDA loan holders can refinance via a "streamlined" process.
With the USDA streamline refinance, you don't need a new appraisal. You don't even have to qualify using your current income. The lender will only make sure that you are still within USDA income limits.
More about the USDA streamline refinance.
Home buyers are also learning the benefits of the USDA loan program for home buying.
No down payment is required, and rates are ultra-low.
Home payments can be even lower than rent payments, as this USDA loan calculator shows.
Qualification is easier because the government wants to spur homeownership in rural areas. Home buyers might qualify even if they've been turned down for another loan type in the past.
Verify your USDA loan eligibility (Dec 11th, 2018)
Mortgage rates today
While a monthly mortgage rate forecast is helpful, it's important to know that rates change daily.
You might get 4.8% today, and 4.9% tomorrow. Many factors alter the direction of current mortgage rates.
To get a synopsis of what's happening today, visit our daily rate update. You will find live rates and lock recommendations.

This month's economic calendar
The next thirty days hold no shortage of market-moving news. In general, news that points to a strengthening economy could mean higher rates, while bad news can make rates drop.
Monday, December 3: ISM Manufacturing Index
Wednesday, December 5: Fed Chair Jerome Powell speaks
Friday, December 7: Nonfarm Payrolls, wages, unemployment rate
Wednesday, December 12: Consumer Price Index (a key inflation gauge)
Friday, December 14: Retail Sales
Tuesday, December 18: Housing Starts
Wednesday, December 19: Fed Meeting adjourns
Friday, December 21: GDP
Thursday, December 27: New Home Sales
Now could be the time to lock in a rate in case these events push up rates this month.
What are today's mortgage rates?
Despite recent upticks, low mortgage rates are still available. You can get a rate quote within minutes over the phone or online, with just a few simple steps to start.
Verify your new rate (Dec 11th, 2018)
Selected sources:
https://www.bloomberg.com/news/articles/2018-11-14/japan-german-contractions-open-cracks-in-global-economy
https://www.marketwatch.com/story/a-death-cross-is-forming-in-us-oil-underlining-the-unraveling-of-crude-prices-2018-11-20
https://www.cmegroup.com/trading/interest-rates/countdown-to-fomc.html