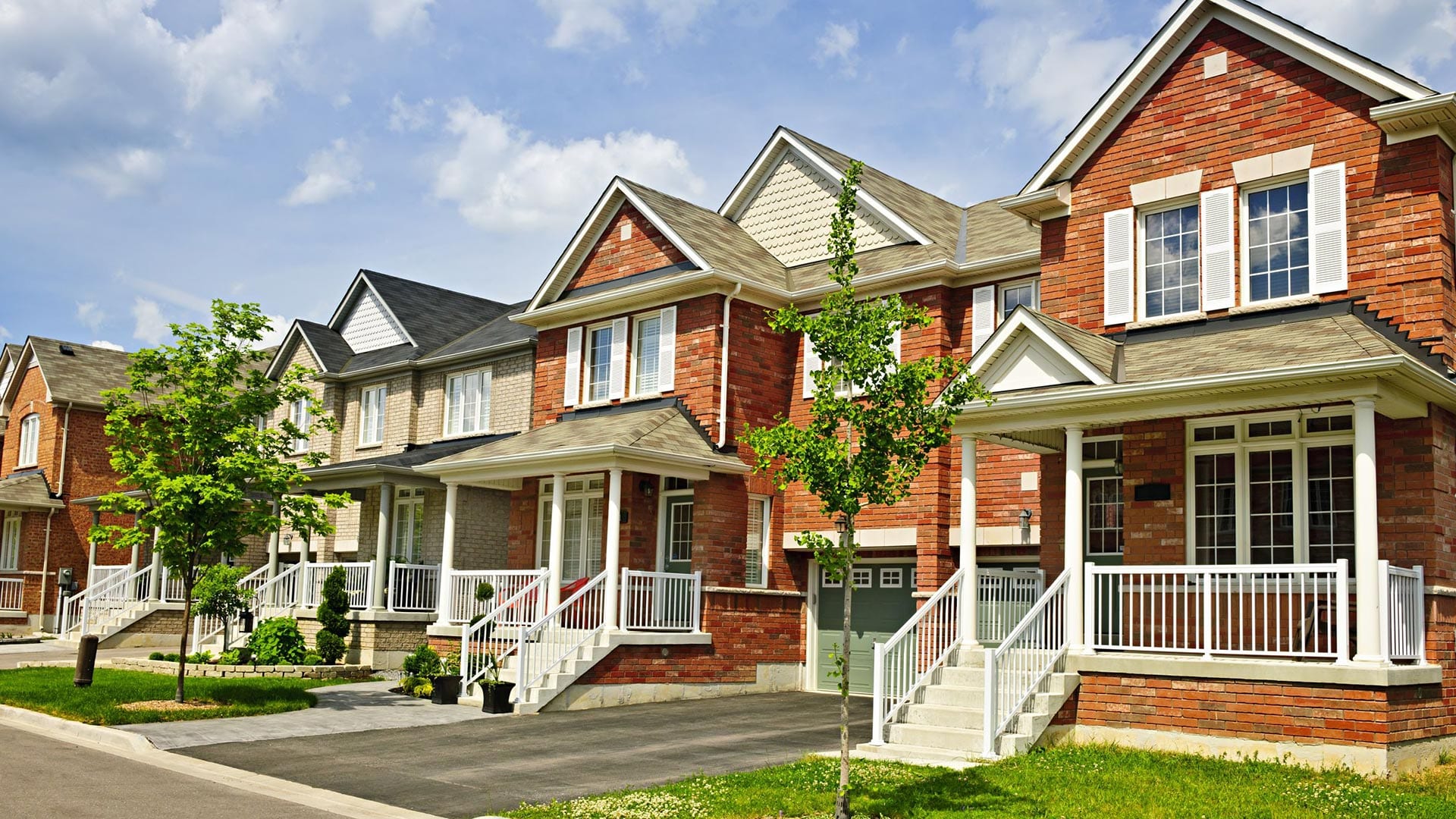 Will mortgage rates go down in December 2020? Forecast and trends
Mortgage rates forecast for December 2020
Mortgage rates hit new record lows 12 times in 2020, but that luck may not last.
Market optimism after Biden's election win paired with promising vaccine news is putting serious pressure on mortgage rates.
Rates have already ticked up from record lows, but it's not too late to get a mortgage rate below 3%, says Freddie Mac.
If you're in the market to buy or refi a home, it's time to seriously consider locking.
Find and lock a low rate today. (Dec 3rd, 2020)
---
In this article (Skip to…)
---
Vaccine, election cause mortgage rate increases
Rates are climbing in response to the one-two punch Joe Biden's successful bid for the White House and a promising COVID vaccine.
Read on for what these develpments mean for home buyers and refinancing homeowners.
Lock in today's rates before they rise. (Dec 3rd, 2020)
Related
Mortgage rates next 90 days
This chart shows past mortgage rate trends, plus predictions for the next 90 days based on current events and 2021 forecasts from major housing authorities.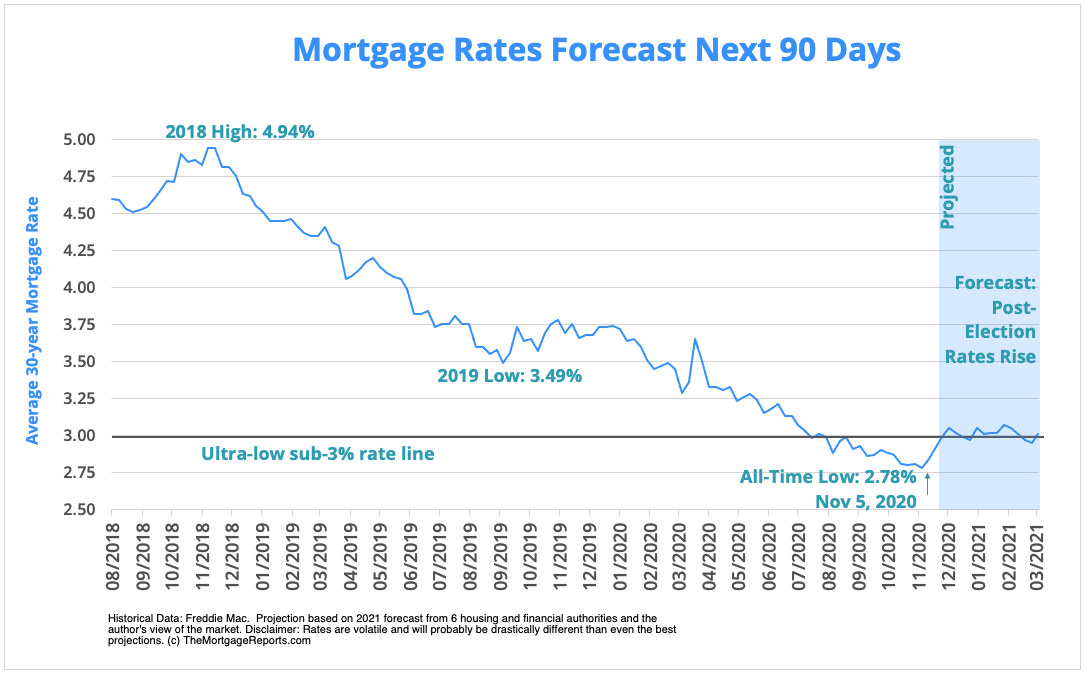 Predictions for December 2020
Here are trends we see on the horizon in the upcoming month.
Biden win will drive the stock market, mortgage rates higher
Markets seemed to welcome the news that Joe Biden will be the 46th President of the United States.
Stocks rallied in the early days of November as the 2020 election winner became clear.
We expect continued optimism in the stock market through December and into 2021. Money will flow into stocks, which typically hurts mortgage rates. Investors take money out of safer investments like mortgage-backed securities and into riskier assets where they can earn a higher return.
Mortgage rates will continue to rise on positive COVID vaccine news
The coronavirus is solely responsible for 2020's steady interest rate declines. Worldwide economies are struggling with the new socially-distant reality.
That's why a vaccine spells big trouble for mortgage rates.
Society could go "back to normal" which could shock dying industries back to life and spur massive consumer spending.
This would be good news overall, but could put mortgage rates back to where they were in early 2020, in the mid- to high-3s. Those would still be very low rates, but nothing like the ridiculous mid- to high-2s that we are seeing now.
Markets rallied and mortgage rates rose the second week of November on news that drug company Pfizer had developed a seemingly effective COVID vaccine. Hopes for a vaccine are stronger than ever.
If you're in the market to buy or refinance a house, it might be wise to secure a low rate while it's available. Additional promising vaccine developments could permanently hurt rates.
Lock in today's rates. Start here. (Dec 3rd, 2020)
Fed: We're committed to low rates until 2023
Despite all the risk to rates these days, the Federal Reserve will do what it can to keep rates low.
The group recently reinforced its long-term strategy of suppressing rates for years — until at least 2023.
The rate-friendly stance is a boon for mortgage shoppers.
While the Fed doesn't affect mortgage rates directly, its sentiment permeates the entire economy and suppresses interest rates.
This "new Fed" has a very different philosophy compared to the Fed of early 2020, despite no change in leadership. The coronavirus pandemic made the group ultra-accommodative to low-rate policies to help boost the blind-sided economy.
The Fed is willing to let its policies drive inflation above 2 percent for extended periods — a break from its staunch 2-percent-max goal. That means it will keep rates low even after its economists see solid signs of inflation.
The group has transformed from an inflation-fearing body to a recession-fearing one.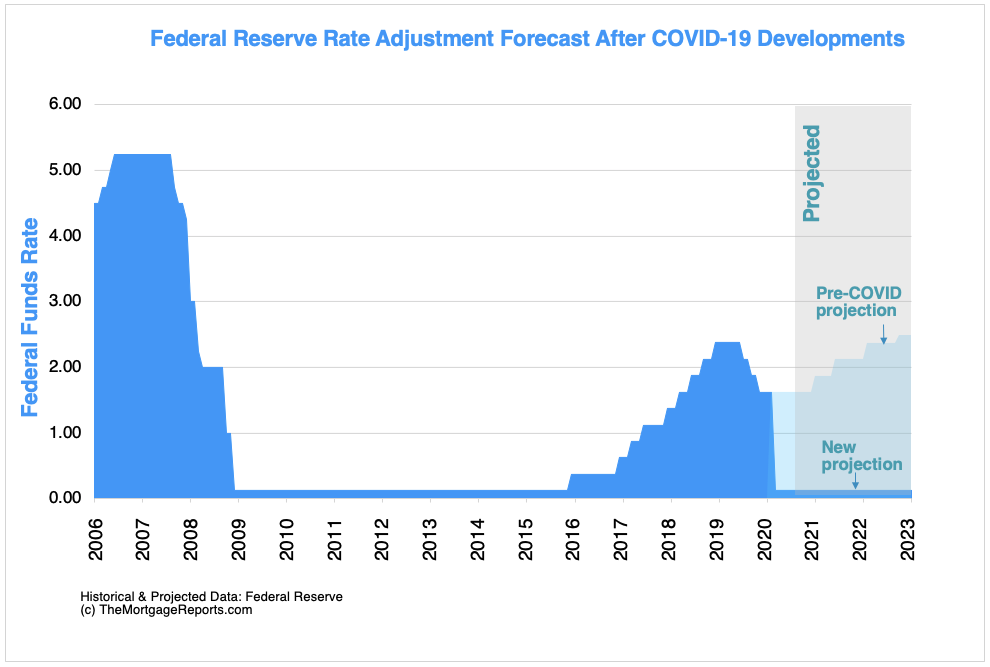 What does this mean for the personal finances of the average American consumer?
It means you'll likely have access to ultra-low rates for years. Perhaps not as low as they are now, but very low from a historical standpoint.
If you're ready, it's a fantastic time to lock in.
Mortgage rate trends as predicted by housing authorities
Housing agencies nationwide are calling for rates in the high 2s and low 3s for 2021.
| | |
| --- | --- |
| Agency | 30-Yr Rate Prediction |
| Fannie Mae | 2.80% |
| Wells Fargo | 2.89% |
| Freddie Mac | 3.00% |
| National Assoc. of Home Builders | 3.00% |
| National Assoc. of Realtors | 3.20% |
| Mortgage Bankers Assoc. | 3.30% |
| Average of all agencies | 3.03% |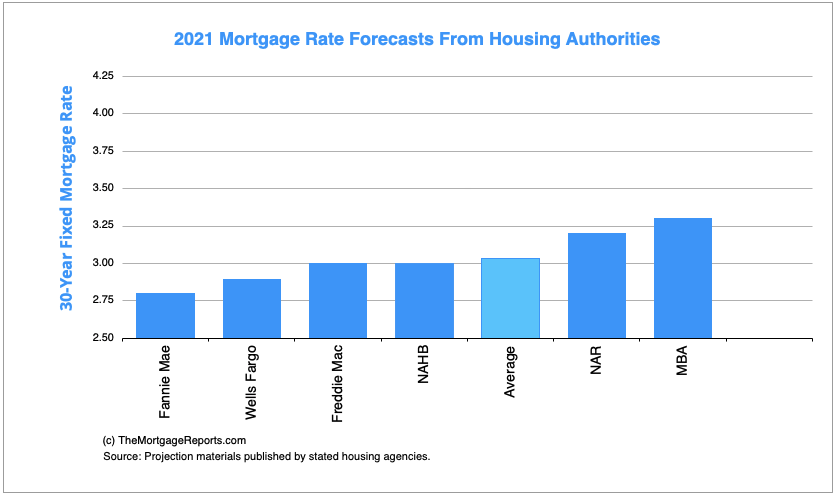 To sum it up, rate predictions vary widely. Today's rate might be as good as we'll see for years to come, or they might improve.
Mortgage strategies for December 2020
Lock as soon as you can
Mortgage rates will become more volatile as we enter 2021.
Despite initial optimism for the Biden Administration, it will be a big shift from what's been in place for four years.
Markets will predict new policies and how they affect risk, inflation, and everything else. But markets are often wrong at first. Expect wild shifts until official policies start coming from the new Administration after January 20, 2021.
Luckily, rates are holding low — very low — still in the high-2s. Now is your chance to grab a historic rate before they rise to the low-3s as predicted by several major housing agencies.
2021 will hold the perfect opportunity to get rid of mortgage insurance
Home values are skyrocketing in 2020. As we enter December, and well into 2021, homeowners will enjoy the dual blessing of rising home values and low rates.
Most homeowners don't put down 20% when they buy a home. The average is more like 6%. But that means most first-time home buyers are paying some kind of mortgage insurance.
Mortgage insurance is not bad, but it's not fun to pay, either.
Luckily, many homeowners now have 20% equity despite putting only 5-10% down not that long ago.
These homeowners can refinance into a conventional loan and get rid of mortgage insurance altogether.
This is true for those with private mortgage insurance (PMI) or FHA mortgage insurance (MIP).
It could save you hundreds of dollars per month.
If your home equity has skyrocketed in the last 12-24 months, it's worth talking to a lender, who can let you know your chances of refinancing out of your mortgage insurance for good.
Get started on your loan application here. (Dec 3rd, 2020)
Loan product rate updates
Many mortgage shoppers don't realize there are many different types of rates in today's mortgage market.
But this knowledge can help home buyers and refinancing households find the best value for their situation.
Following are updates for specific loan types and their corresponding rates.
Conventional loan rates
Conventional refinance rates and those for home purchases have trended lower in 2020.
According to loan software company Ellie Mae, the 30-year mortgage rate averaged 3.02% in September (the most recent data available), down from 3.12% in August.
This is higher than Freddie Mac's 2.84% weekly average because it factors in low credit and low-down-payment conventional loan closings, which tend to come with higher rates.
Plus, it's a more delayed report, and interest rates have been dropping.
Lower credit score borrowers can use conventional loans, but these loans are more suited for those with decent credit and at least 3 percent down.
Five percent down is preferable due to higher rates that come with lower down payments.
Twenty percent of equity is preferred when refinancing.
With adequate equity in the home, a conventional refinance can pay off any loan type. Got an Alt-A, subprime, or high-PMI loan? A conventional refi can take care of it.
For instance, say you purchased a home three years ago with an FHA loan at 3.5 percent down. Since then, home prices have skyrocketed.
Because of your higher home value, you now have 20 percent equity, which means you could refinance into a conventional loan and eliminate FHA mortgage insurance.
This could be a savings of hundreds of dollars per month, even if your interest rate goes up.
Getting rid of mortgage insurance is a big deal in any mortgage market. This mortgage calculator with PMI estimates your current mortgage insurance cost. Enter a 20 percent down payment to see your new payment without PMI.
Find a low conventional loan rate. Start here. (Dec 3rd, 2020)
FHA mortgage rates
FHA is currently the go-to program for home buyers who may not qualify for conventional loans.
The good news is that you will get a similar rate — or even lower — with an FHA mortgage loan than you would with conventional.
Related: Read more about FHA costs and requirements on our FHA loan calculator page.
According to loan software company Ellie Mae, which processes more than 3 million loans per year, FHA loan rates averaged 3.01% in September, a bit lower than the average conventional rate.
Another interesting stat from Ellie Mae: About 20 percent of all FHA loans are issued to applicants with credit scores below 650.
FHA loans come with mortgage insurance. But the overall cost is not much more than for conventional loans.
A little-known program, called the FHA streamline refinance, lets you convert your current FHA loan into a new one at a lower rate if rates are now lower.
An FHA streamline mortgage application requires no W2s, pay stubs, or tax returns. And you don't need an appraisal, so home value doesn't matter.
Find low FHA rates. Start here. (Dec 3rd, 2020)
VA mortgage rates
Homeowners with a VA loan currently are eligible for the ever-popular VA streamline refinance.
No income, asset, or appraisal documentation is required.
If you've experienced a loss of income or diminished savings, a VA streamline can get you into a lower rate and better financial situation. This is true even when you wouldn't qualify for a standard refinance.
But don't overlook the VA loan for home buying. It requires zero down payment.
That means if you have the cash for closing costs, or can get them paid for by the seller, you can buy a home without raising any additional funds.
Don't overlook the VA loan for home buying. It requires zero down payment.
VA mortgages are offered by local and national lenders, not by the government directly. Most active-duty members or veterans of the United States military can qualify.
This public-private partnership offers consumers the best of both worlds: strong government backing and the convenience and speed of a private company.
Most lenders will accept credit scores down to 620, or even lower. Plus, you don't pay high interest rates for low scores.
Quite the contrary, VA loans come with the lowest rates of all loan types according to Ellie Mae.
In September, (the most recent data available), 30-year VA mortgage rates averaged just 2.78% while conventional loans averaged 3.02%, representing a big discount if you're a veteran.
Check your monthly payment with this VA loan calculator.
There's incredible value in VA loans.
Check today's VA loan rates. Start here. (Dec 3rd, 2020)
USDA mortgage rates
Like FHA and VA, current USDA loan holders can refinance via a "streamlined" process.
With the USDA streamline refinance, you don't need a new appraisal. You don't even have to qualify using your current income. The lender will only make sure that you are still within USDA income limits.
Home buyers are also learning the benefits of the USDA loan program for home buying.
No down payment is required, and rates are ultra-low.
Home payments can be even lower than rent payments, as this USDA loan calculator shows.
Qualification is easier because the government wants to spur homeownership in rural areas. Home buyers might qualify even if they've been turned down for another loan type in the past.
Like FHA and VA loans, the USDA program is for people who want to buy or refinance a primary residence; these loan programs aren't for real estate developers.
Find a lock low USDA rates. (Dec 3rd, 2020)
Mortgage rates today
While tracking monthly mortgage rate forecasts and weekly averages are helpful, it's important to know that rates change daily.
You might get 3.00% today, and 3.125% tomorrow. Many factors alter the direction of current mortgage rates.
To get a synopsis of what's happening today, visit our daily rate update. You will find live rates and lock recommendations.

November-December economic calendar
The next 30 days hold no shortage of market-moving news. In general, news that points to a strengthening economy could mean higher rates, while bad news from economists can make rates drop.
Tuesday, December 1: ISM Manufacturing
Friday, December 4: Nonfarm Payrolls, wages, unemployment rate
Wednesday, December 16: Fed funds rate, FOMC announcement
Wednesday, December 16: Retail Sales
Wednesday, December 16: NAHB Housing Market Index
Thursday, December 17: Housing Starts, Building Permits
Tuesday, December 22: Existing Home Sales
Wednesday, December 30: Pending Home Sales
Now could be the time to lock in a rate in case these events push up rates this month.
Mortgage rates Q&A
Below are some of the most common questions about mortgage rates.
What are current mortgage rates today?
Mortgage rates fluctuate based on market conditions and your specific situation. For instance, someone with a high credit score will get a lower rate than someone with a low score.
Will mortgage interest rates go down in 2021?
According to our survey of major housing authorities such as Fannie Mae, Freddie Mac, and the Mortgage Bankers Association, the 30-year fixed rate mortgage will average around 3.03% through 2021. Rates are hovering below this level as of November 2020.
Can you negotiate a better mortgage rate?
Yes. Lenders have the flexibility to drop their rates and fees. Often, you must approach a lender with a better offer in writing before they will lower their rate.
Is 3.875% a good mortgage rate?
Historically, it's a fantastic mortgage rate. But, rates are currently hovering lower than this for well-qualified applicants. The average rate since 1971 is more than 8% for a 30-year fixed mortgage. To see if 3.875% is a good rate right now and for you, get 3-4 mortgage quotes and see what other lenders offer. Rates vary greatly based on the market and your profile (credit score, down payment, and more).
Which mortgage company has the best rates?
Most companies have similar rates. However, some offer ultra-low rates to gain market share. Others have lower rates for FHA than conventional, or vice versa. The only way to know if your company is offering the lowest rate is to get quotes from various lenders.
How much does 1 point lower your interest rate?
A point is a fee equal to 1 percent of your loan amount, or $1,000 for every $100,000 borrowed. Your interest rate could drop a quarter to a half a percentage point or more for each point paid. However, that can vary depending on the lender, loan characteristics, and borrower profile.
How can I avoid paying closing costs?
You can 1) request a lender credit; 2) request a seller credit (if buying a home); 3) increase your mortgage rate to avoid points; 4) get a down payment gift (which can be used for closing costs); 5) get down payment assistance.
What do 10-year Treasury bond yields have to do with mortgage interest rates?
Treasury yields and mortgage rates are not directly linked, but they are strongly correlated. 10-year Treasury yields and 30-year fixed mortgage interest rates tend to move in lock step with one another. That's because both products are bought on the secondary market by the same types of investors.

Mortgage rates are higher than Treasury yields because mortgages are inherently more risky. Interest rates for mortgages are based on prices for mortgage-backed securities (MBS). The same factors that drive MBS up or down usually drive Treasuries up or down, hence the common misconception that Treasuries drive mortgage rates.
Why do interest rates decrease during times of economic volatility?
The Fed doesn't set mortgage rates, but its economic policies influence mortgage markets. In times of economic uncertainty, the Fed promotes lower interest rates to encourage more borrowing which helps stimulate the economy. Lower rates can also raise home values which bolsters many Americans' net worth.
Can I refinance even if my home is in forbearance?
If you entered into mortgage forbearance because of the coronavirus pandemic, you may be able to qualify for a refinance after exiting your forbearance plan. If you missed payments during forbearance, you'll have to make three consecutive on-time payments before qualifying for a conventional refinance, according to FHFA's rules.
What are today's mortgage rates?
Low mortgage rates are still available. You can get a rate quote within minutes with just a few simple steps to start.
Show Me Today's Rates (Dec 3rd, 2020)
Selected sources:
https://www.elliemae.com/mortgage-data/origination-insight-reports
https://tradingeconomics.com/united-states/calendar
https://www.federalreserve.gov/monetarypolicy/fomccalendars.htm
https://www.blackknightinc.com/blog-posts/cnbc-on-black-knight-data-record-19-3m-refinance-candidates/