Get A No-Closing-Cost Mortgage And A Low Rate, Too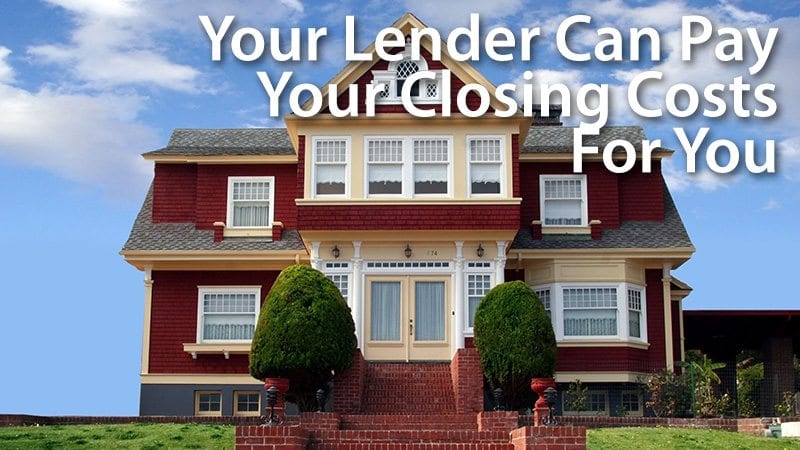 Out-Of-Pocket Mortgage Fees Are Optional
Mortgages always have a cost. Always.
Who pays those costs depend on the loan type, your lender, the mortgage rate, and your negotiating skills.
You don't have to pay your own mortgage closing costs if you don't want to. At least, you don't have to pay them out-of-pocket.
With a few minutes of education on how rates and mortgage fees work, you can keep more money in-hand, and let the lender pay your costs for you via a slightly higher rate.
Or, you can pay costs out-of-pocket and take a slightly lower rate.
Either way, you have access to today's ultra-low mortgage rates that are hitting levels no one expected.
Rates are so low, in fact, that rate shoppers can often obtain a low rate and get the lender to pay their loan fees.
Verify your no closing cost mortgage eligibility (Jun 21st, 2018)
How Much Are Mortgage Closing Costs?
Closing costs can vary widely. The final dollar amount depends largely on your home's value and the loan amount. As can be expected, higher loan amounts come with higher closing costs.
Closing costs can also vary by where you live. According to a recent study, Ohio had the lowest average closing costs, and Hawaii had the highest.
Wherever you live, these types of fees make up your total closing costs:
lender fees
third party charges for title insurance, escrow services and appraisals
pre-paid items like property taxes and homeowner's insurance
They can add up to two percent and up to five percent of the loan amount. It's understandable, then, that home buyers and refinance shoppers pay attention to so-called "no cost" mortgages.
Verify your no closing cost mortgage eligibility (Jun 21st, 2018)
Compare No-Cost Mortgages The Right Way
There are several ways to structure any loan. To compare no-cost offers, make sure each lender covers the same items. For example:
The mortgage lender covers the lender fees but not the third-party or prepaid expenses
The lender covers all fees and third-party charges, but not prepaid items
The mortgage lender absorbs everything, including loan costs and prepaid expenses
A lender who covers all three parts of your closing costs will likely charge a higher rate. Conversely, a lender who charges a lower rate is likely only covering its own fees, not fees from the appraiser, title company, or escrow service.
No lender works for free. To be able to pay your closing costs, lenders increase your interest rate and use the extra profit from the loan to pay your costs.
It's up to you to decide if the upfront savings are worth the higher interest rate and payment.
Getting A Zero-Closing-Cost Loan From A Mortgage Broker
Mortgage brokers collect a yield spread premium, or YSP, as payment to work on your loan.
The end lender pays this fee to the mortgage broker for delivering your loan. The YSP is the mortgage broker's profit.
Knowing this, you can request that the broker use the YSP to engineer your no-cost home loan.
For instance, a broker getting paid a one percent YSP by the lender need not charge the borrower an origination fee. In this case, the YSP can save you one percent of your loan amount in out-of-pocket costs.
A broker getting two percent YSP can cover even more of your closing costs.
Your various rate and fee options might look like this:
0.750 percent rate: borrower pays lender fees, third party fees, and prepaid costs
0.875 percent rate: borrower pays no lender fees, but pay third party costs and prepaid costs
0.250 percent rate: borrower pays no lender or third party charges, only prepaid costs
0.500 percent rate: borrower pays nothing out-of-pocket whatsoever
None of these options are good or bad. Borrowers should understand that lower rates cost more upfront, and higher rates cost less upfront.
Lender-Paid Closing Costs And A Low Rate, Too
Good news, however. Today's market rates are so low that consumers can have the lender pay their costs, and still receive a very low rate.
The 30-year mortgage rate averaged 4.17% in 2014 according to Freddie Mac. Rates are currently in the mid-3s. That means you can get most or all your closing costs paid for, and still have the full-closing-cost loan rate from just two years ago.
In 2016, home loan applicants have a disappearing opportunity for low rates and mortgage fees.
Verify your no closing cost mortgage eligibility (Jun 21st, 2018)
No-Cost Mortgage From A Mortgage Banker
Mortgage bankers don't get YSPs, but they also create no-cost deals by increasing the interest rate.
They might refer to this as "rebate pricing." The income of the loan with the higher rate allows mortgage banks to absorb the borrower's costs
When comparing no cost loans between bankers or brokers, ask for the same structure from each.
In other words, ask them all for offers with no lender fees. Third party costs like appraisal, credit report, title and escrow and recording fees, should be fairly similar. Your taxes and insurance should be the same regardless of which lender you choose.
This allows you to look at just one variable – the interest rate.
No-Cash Refinance Loans
Raising your mortgage rate is not the only way to eliminate out-of-pocket costs.
Most types of refinance loans allow the borrower to wrap loan costs into the new loan amount. For example, the popular HARP refinance and the VA streamline loan allow the refinancing borrower to increase their loan amount to pay for fees.
These loans are still considered "rate and term" refinances, which come with lower rates than cash-out refinances.
The upside to wrapping closing costs into the new loan is that you get a lower interest rate than if you were to raise your rate to pay for costs.
The downside is that you lose home equity when you include closing costs in your refinance loan. In addition, because the costs are being financed, you'll pay interest on them.
What Are Today's Rates?
Mortgage rates are low enough for consumers to get most or all their costs paid for, and still obtain a very low rate.
Get a rate quote, and request multiple scenarios, from paying your full closing costs upfront to having the lender cover them all. Quotes take only minutes, and you can get started now.
Verify your no closing cost mortgage eligibility (Jun 21st, 2018)
The information contained on The Mortgage Reports website is for informational purposes only and is not an advertisement for products offered by Full Beaker. The views and opinions expressed herein are those of the author and do not reflect the policy or position of Full Beaker, its officers, parent, or affiliates.
Try the Mortgage Calculator