Home prices may be promising in Houston
Most people buying a house wouldn't dream of looking in areas recently battered by Mother Nature. But deals and preferred home prices can often be had in markets recovering from a natural disaster.
By researching your options carefully and shopping around, you may find a bargain in a distressed zone. But first you have to be willing to take a closer look in an area you'd least expect to consider.
Buying a house in Houston: what the research found
Hurricane Harvey pummeled Houston and left many homes with flood damage. Yet new data point to a quick rebound in buyer and seller activity there.
A new report by Redfin shows that the housing market in Houston is bouncing back fast in the wake of Harvey. Redfin tour requests quickly decreased right after the storm. But they rallied back a bit by Labor Day weekend.
"Redfin agents reported rebounding buyer interest, tours and offers," says Alina Ptaszynski, spokesperson for Redfin. "In fact, Redfin agents were touring homes and writing offers for clients the week after the storm. Since then, the number of calls Redfin agents received from real estate investors has quadrupled."
She says neighborhoods on higher ground and unflooded homes are seeing greater demand.
"Most of the flooded homes have been pulled from the market while owners make repairs. But unflooded homes are being advertised as such and seeing solid buyer interest," she notes.
How to buy a house in a hot market: safely making a sight-unseen offer
Make no mistake: Harvey put a big dent in the Houston market last month. Year over year, August home sales fell 29 percent and new listings dropped 12.2 percent. Yet inventory was up 5.7 percent.
"Most markets in the country have had inventory shortages. But Houston has had year-over-year inventory increases for 32 months in a row. This is largely due to its strong new construction market," says Ptaszynski.
How to interpret the data
As terrible as the flood was, it served as a reset button for the Houston market.
Why flood insurance is so important: lessons from Harvey
"Sellers of homes that were not flooded now think their homes are worth more than they were a month ago. Some sellers are asking high prices for those properties," she adds.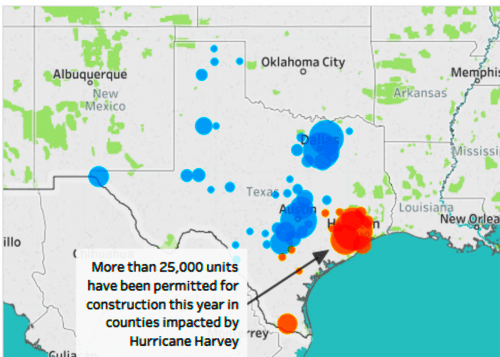 Also, "Some buyers whose homes were badly damaged or destroyed want to find a new home quickly. They may be willing to pay a premium to get a home under contract and know they'll have a place to move to," Ptaszynski says.
"Others will repair their homes and relist. And some damaged homes will be listed as-is at a discount or for lot value."
Kevin J. Boyle, professor and director of the Program in Real Estate at Virginia Tech, says the surge in interest in Houston homes doesn't surprise him.
"Those displaced who cannot return to their homes or do not want to undertake the rehab process will be in the market for new homes. This is because their employment and community connections are in the affected areas," says Boyle.
"Also, investors see these damaged homes as an investment opportunity. With strong market conditions, there are a large number of investors with cash to invest."
Don't write off a stricken area
And therein lies an opportunity. Smart shoppers may be able to land a deal on a damaged home they can repair or rebuild and resell at a profit. Rebuilding one higher and larger than before—to protect against future flood threats—could fetch a nice price.
"Economic conditions are good for investors to purchase damaged homes. They have a reasonable expectation of the ability to resell these homes," says Boyle.
What Hurricane Harvey did to home prices and mortgage rates
Ptaszynski says Houston serves as a good example of a market that shouldn't be dismissed prematurely just because it suffered a housing disaster.
"Houston is a thriving community," she says. "It's been one of those rare cities with strong job growth and relatively affordable housing. Most natives still believe it's is a great place to live, and this storm hasn't changed that."
Action plan
Buying a house in a damaged area? Try these tips:
Research the natural hazards in any area you're looking at. Learn about risks and likelihood of hurricanes, flooding, earthquakes, tornadoes, mudslides and other extreme events. "Buyers in coastal or low-lying areas should consider the flood risk for their properties and the cost of flood insurance," says Ptaszynski.
Pay attention to zoning and environmental regulations. "Houston had affordable housing in part because of lax zoning and environmental regulations. But this may have contributed to some of the flooding," she says.
Do your homework on any rehabbed or rebuilt homes. "Ask for records on the home rehab, including contractors used and actions taken," says Boyle.
Be prepared to wait things out. In the days and weeks after a disaster, prices will likely increase. "But they can be expected to adjust downward" eventually, says Boyle.
Avoid overpaying. "Don't pay more than you can afford in the long run," Boyle adds. After an immediate shortage in housing triggers an initial buyer surge, "prices will likely decline."
Be sympathetic. "The situation in Houston is tragic. Many people lost their homes and businesses," Ptaszynski says. So use tact and show respect when hunting for a home in a market healing from disaster.
Lastly, remember that every disaster is different. That means the impact on the affected real estate market will be different, too.
Home prices: How to get the best deal on a flip
"The nature of the flooding in Houston was unique. It hit neighborhoods across the city, expensive homes and affordable homes alike. It was also an extreme event, the likes of which we hope they won't experience again," she says.
What are today's mortgage rates?
Wherever you're buying a house, mortgage rates are still extremely affordable. And thanks to recent natural disasters, home prices in some areas have come down.
To get your best rate and terms, shop several lenders and compare offers before making a commitment.