Bank statement mortgages for self-employed, contract, or freelance workers
No tax returns? No problem
Mortgage companies need to verify your income before they'll approve you for a home loan. They usually do this by looking at W2 tax forms.
That can be a problem if you work for yourself.
Business owners, freelancers, contractors, and seasonal or gig workers likely won't have the tax forms needed for a traditional mortgage.
But if you have non-traditional income, you might be able to get a "bank statement mortgage."
That means you simply prove your income by showing one or two years of regular bank deposits.
Find a bank statement loan (Apr 21st, 2021)
---
In this article (Skip to…)
---
How lenders determine your income
When going through the process of buying or refinancing a home, there are specific steps to undergo.
One such step requires documenting your income. That including savings, retirement, investment balances, and debts.
This can be challenging for self-employed mortgage applicants. These folks often have hard-to-document income and/or business expenses.
For instance, a self-employed worker might say they earn $7,000 a month. But after business write-offs, their taxable income might only be $5,000 a month.
This could reduce their home buying budget by more than $150,000.
| | | |
| --- | --- | --- |
| Documented monthly income | $7,000 | $5,000 |
| Qualified monthly mortgage payment | $2,020 | $1,300 |
| Qualified home buying budget | $443,900 | $285,700 |
Loan assumptions: Example assumes a 30-year, fixed-rate mortgage with 3.75% interest and 10% down on a home located in Washington. Your own rate and monthly payments will be different
How to get a mortgage when you're self-employed or freelance
So, you're self-employed. You have a strong credit score and a solid financial track record. But you're having trouble qualifying for a mortgage because you don't have traditional W2s.
Fortunately, a bank statement loan program may be an ideal solution.
Here we explain how bank statement loans work and how to find out if you'll qualify for one.
Check your eligibility for a bank statement loan (Apr 21st, 2021)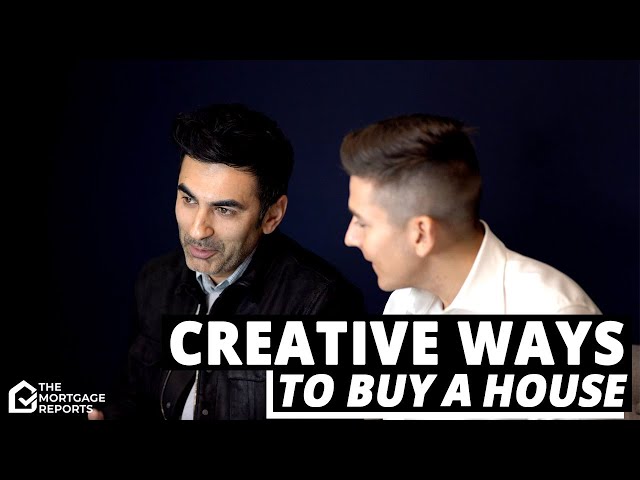 What is a bank statement mortgage?
A bank statement mortgage allows you to verify your income on a mortgage application using documented bank deposits in place of tax forms.
Traditional mortgage loans involve providing tax returns, W-2s and paycheck stubs in order to verify monthly income.
But providing those documents might be difficult for some people.
Instead, mortgage applicants may opt for a bank statement loan. Using bank statements to qualify for a mortgage instead of W2s might be a good idea if:
You don't have traditional tax documents to verify your income
You have tax documents, but due to write-offs, your income looks smaller than it really is
Before the housing downturn of last decade, stated income loans were one of the more common programs for applicants who couldn't prove or verify their income. Those went away after the mortgage crisis in favor of stricter mortgage laws.
But today, bank statement loans have become increasingly popular over stated income loans because they offer less risk to lenders.
That's because borrowers don't simply "state" their income.
Via bank statement loans, applicants must use documented monthly deposits in order to qualify.
Who should get a bank statement loan?
If you're a business owner or an independent contractor without a salaried income, getting qualified for a traditional home loan can be difficult.
A bank statement loan can help. Bank statement mortgages are typically used by:
Self-employed applicants
Independent contractors
Workers with seasonal income
Gig workers or freelancers
Other earners with irregular income streams
Self-employed applicants are the most common folks to benefit from bank statement loans.
A bank statement loan can help these people get a loan relatively easily, and even qualify for a bigger home than they would with a traditional mortgage.
Check your eligibility for a bank statement loan (Apr 21st, 2021)
Types of bank statement loans
Depending on the lender and your specific situation, there are different bank statement programs available.
While most lenders require a minimum of 12 months of bank statements, some lenders may require less. Although not always required, if applicants can provide 24 months of statements, they may qualify for better rates and terms.
Most lenders require 12 months worth of bank statements. But you might qualify for a better rate and terms if you can show a 24-month history.
In addition, some lenders may want you to use business bank statements as opposed to personal.
If you don't have business bank statements, you may still be able to use your personal statements with those lenders. However, they might use a smaller percentage of your deposits for qualifying purposes.
In some cases borrowers also may be required to provide a profit and loss (P&L) statement for their business prepared by a tax professional.
Potential drawbacks to bank statement loans
Fortunately for homeowners that can't provide the usual income verification, bank statement loans are becoming increasingly common.
But they're still considered a little higher risk than "traditional" mortgages. And that means there's a trade-off between lenders and borrowers.
The trade-off typically comes in terms of a higher interest rate and higher down payment requirements.
Bank statement loans typically have a higher interest rate and bigger down payment requirements.
These are meant to offset the risk associated with not being able to show income via traditional methods.
The exact rate and necessary down payment for bank statement loans are usually based on credit scores.
Remember, rates and terms vary a lot by company. Talk with more than one mortgage lender to see who has the lowest rates and best terms on the loan you need.
Connect with top lenders here (Apr 21st, 2021)
How to find a bank statement mortgage
Bank statement mortgages are categorized as "non-qualified mortgages" (Non-QM) since they don't conform to conventional lending standards.
Since they're considered to be Non-QM, not all lenders offer bank statement mortgages. In fact, many banks and credit unions choose not to offer these types of loans.
You might have better luck with a company that exclusively does mortgage lending.
If you don't qualify for traditional mortgage financing, contact several lenders to determine if they offer bank statement programs or other programs for self-employed applicants.
Be sure to ask about the lender's requirements for personal vs. business statements. You should also inquire as to how many months of statements are necessary.
And don't forget to ask about down payment requirements and interest rates.
What are today's mortgage rates?
Are you self-employed? Do you earn seasonal income? Are you a consultant, promoter, tax-preparer, freelancer, artist or other professional with an irregular income stream?
If so, a bank statement loan program may be perfect for you.
Rates and down payment requirements vary from one lender to the next. It's always good to shop around the find the lowest rate possible.
You can get started right here.
Verify your new rate (Apr 21st, 2021)