New "Credit Card" Rule Makes Mortgage Qualification Easier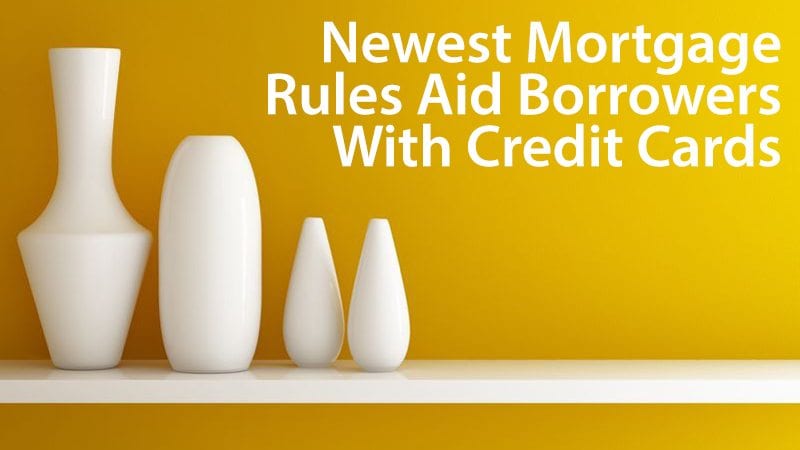 New Rules For Credit Card Debt
It's getting easier to get approved for a mortgage.
According to the Federal Reserve, banks are loosening mortgage standards nationwide; and, lenders are now approving more applications than during any period this decade.
The banks aren't getting reckless, though -- they're just coming to realize that standards may have toughened too much after last decade's losses.
"The Pendulum", as some in the business say, is swinging back to common sense. As a result, lenders now treat credit card debt completely differently then they have in the past, which is helping first-time home buyers and refinancing households.
If you've been turned for a mortgage in the recent past, it's a good idea to re-apply. You may get approved today.
Click to see today's rates (Jul 25th, 2017)
How To Qualify For A Mortgage
Qualifying for a mortgage is simpler than it used to be. Not only have mortgage approval standards loosened since the start of the decade, but consumers have greater access to mortgage lenders than during any point in history.
Brick-and-mortgage banks are seemingly everywhere and, for consumers with existing banking relationship, branches can be an excellent place to give a mortgage applications for a conventional loan, FHA loan, VA loan, or USDA loan.
Examples of retail banks include Wells Fargo, Bank of America, US Bank, and JPMorgan Chase.
Or, for consumers who prefer to shop with non-bank lenders, there's a bevy of online lenders with which to work. Quicken Loans, for example, is now a top national lender in terms of volume; and relocation lenders such as PHH Mortgage are sizable, too.
But, the first step in getting approved for a mortgage is to inquire about one. That can be as simple as walking into a branch, or even asking for today's mortgage rates online.
As part of the conversation, you will be asked about your income, your bank accounts, and your housing history. If you're a renter with no history of homeownership, expect to be asked about your last several places of residence.
The mortgage application process will also include questions about your citizenship and employment history, as well as your current debtor obligations.
Debtor obligations are discovered using a current credit report which your lender will ask you to provide.
It's at your discretion whether you want to give access to your credit, but remember that your lender can't give an accurate rate quote without knowing your exact credit score; and that having a lender check your FICO does very little damage to your score.
After reviewing your information and feeding it into a software program known as a "decisioning engine", your lender can tell you whether your loan is approved as-is, or with changes to your requested loan size.
Click to see today's rates (Jul 25th, 2017)
New: You Can Pay Off Credit Cards To Qualify
Nearly two-thirds of loan applications are approved by today's mortgage lenders. Going forward, though, that number is expected to increase. This is because lenders are changing the way they calculate an applicant's debt.
The change will benefit applicants who use credit cards monthly, and both home buyers and homeowners looking to refinance will benefit.
Under the new rules, which apply to conforming mortgages, credit card debt is treated differently.
For credit cards which are paid in full at closing, lenders are no longer required to "close" the credit card in order to exclude it from the applicant's debt-to-income (DTI) calculation.
A credit card paid-in-full no longer counts against an applicant's DTI.
There are several groups of consumers this change will benefit. The first group is credit card holders who pay their monthly balances in full each month.
Previously, lenders used whatever mid-statement balance a credit card reported to the credit bureaus -- TransUnion, Equifax, and Experian -- then multiplied that figure by 0.05 to determine the card's "monthly obligation".
A $10,000 American Express balance would add $500 to a consumer's obligations, for example.
Now, under the new rules, that American Express card's monthly debt is $0, which lowers the applicant's debt-to-income and makes it easier to get mortgage-qualified.
The second consumer group which benefits from the DTI rule change is existing homeowners doing a debt consolidation; refinancing and using home equity to pay down credit cards.
Under the new mortgage rules, credit cards paid off at closing via a debt consolidation no longer count against a person's DTI. Previously, cards were required to be paid and closed. Closing cards is no longer required.
The third group is comprised of home buyers and refinance applicants who find themselves close to qualifying, but whose debt-to-income levels fall just outside today's requirements.
For applicants on the brink of qualifying, cash in the bank can be used to pay down cards at closing, in order to lower DTI and get approved.
Even for cards with a balance of $250 or less, this can mean the difference between getting approved and getting turned down. Your lender can help you determine which cards should be paid down to help you get approved.
What Are Today's Mortgage Rates?
Mortgage approval rates are at their highest levels this decade and, with changes meant to help today's borrowers, approval rates are expected to climb into 2017.
Get started with a live rate quote now. Rates are available with no social security number required to get started, and with instant access to your live mortgage credit scores.
Click to see today's rates (Jul 25th, 2017)
The information contained on The Mortgage Reports website is for informational purposes only and is not an advertisement for products offered by Full Beaker. The views and opinions expressed herein are those of the author and do not reflect the policy or position of Full Beaker, its officers, parent, or affiliates.
Try the Mortgage Calculator