"Special" mortgages for teachers and other professions: real deal or marketing gimmick?
Teachers deserve special treatment. Are they getting it?
If you're an educator, you'll likely have heard about "special" mortgages for teachers. But just how special are they? And will you qualify for one?
Some of these programs are genuine offers of help, mostly from municipalities that have a hard time retaining teachers because of their housing markets. But others may just be marketing gimmicks. Here's what you need to know.
Check your home buying eligibility. (Jan 24th, 2020)
Not just special mortgages for teachers
But before we get on to mortgages, we should take a detour. Because educators who want to be homeowners can get some seriously valuable help.
Good Neighbor Next Door
Perhaps the most valuable of all potentially is the Good Neighbor Next Door program, which helps law enforcement officers, firefighters and EMTs as well as teachers. And the U.S. Department of Housing and Urban Development (HUD) runs that. So you should be able to trust it.
You could get 50 percent off the list price of a HUD foreclosure home. However, that applies only if you want to buy in a "revitalization area," as defined by HUD.
To qualify as an educator, you need to be a pre-Kindergarten through 12th-grade teacher. And you must agree to live in the home for at least 36 months.
Want to find homes that are currently available within the program in your area? Use HUD's look-up tool.
Other homeownership assistance programs
Meanwhile, lots of other organizations offer assistance to those who want to be homeowners. They are often run by federal, state and local governments, charities and non-profits.
And they often give grants or preferential loans for your down payment and closing costs. As importantly, they typically provide advice and practical assistance in other ways. So check out:
Keystone Challenge Fund
State Housing Initiative Program
Additionally, use HUD's list of local homebuying programs by state to find support in your area. And read our "Complete guide to down payment assistance programs."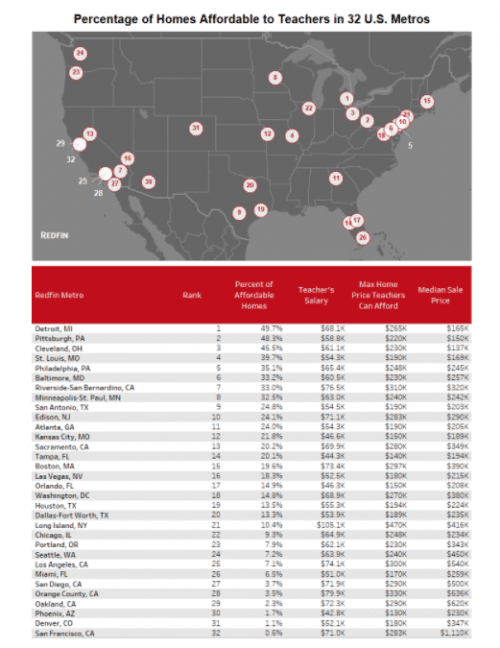 (Source: Redfin)
You may not need a special mortgage
Many educators feel undervalued in 21st-century America. And that might make you want a mortgage that provides privileges just for teachers. But sometimes a less specialist loan can turn out better for you.
VA and USDA l0ans
For example, if you're a veteran, a VA loan is hard to beat.  You won't need a down payment. And you're likely to get a great mortgage rate.
Complete guide to VA home loans
Similarly, a mortgage backed by the United States Department of Agriculture (a USDA loan) can be perfect.
For one of those, eligibility depends on where you're buying: it needs to be somewhere rural or often suburban. But that's roughly 97 percent of the landmass of the United States. Again, you won't typically need a down payment and could get a competitive rate.
Other "standard" mortgages
Even if you don't qualify for a USDA or VA loan, you may find you get the best overall deal with a standard mortgage. Explore ones backed by the Federal Housing Administration (an FHA loan) or Freddie Mac or Fannie Mae (a conventional loan).
FHA loan with 3.5% down vs conventional 97 with 3% down
Those percentages (3.5 percent and 3.0 percent) refer to the size of the down payment you need for each. So these are relatively affordable.
You need to compare the total costs of these with special mortgages marketed to educators. And those are coming up next …
Special mortgages for teachers
Most of the "special" mortgages for teachers aren't actually special mortgages. Instead, they're often deals that help you out with some of your fees and other closing costs. And some of the biggest of these programs are:
Homes for Heroes — Teachers can get 25 percent off the sale or purchase fees charged by their Realtor or broker, providing he or she participates in the program
Educator Mortgage Program — Save up to $800 in fees and closing costs. And get a $400 donation for the school of your choice
Union Assist Program — Members of the United Federation of Teachers might be eligible for a reduced mortgage interest rate or lower closing costs
As mentioned above, teachers may also be eligible for help with closing costs at a state, city or county level. So click through on that HUD listing to find programs that apply to you.
Learning to save
The only way to be sure you have the best mortgage deal is first to get competitive quotes from multiple lenders. Then go through them, comparing each with the others.
Of course, your aim usually is to find the one with the lowest total cost of borrowing: the one that sees you pay least over the lifetime of your loan. But it's perfectly legitimate to pick one that suits your needs better now.
How to shop for a lower mortgage rate
So, if your priority is to get on the homeownership ladder quickly, you might prefer to pay a bit more in the long run for lower upfront costs. Maybe you need a low down payment. Or to save on closing costs.
Perhaps you'll find a "special" mortgage, designed for educators, is best for you. But don't assume one of those will be. Just rely on the math.
Check your eligibility
Qualifying for a home loan isn't as difficult as many teachers and other professionals think.
As mentioned, you may not even need a "special" program to buy a home.
Start your mortgage eligibility check here. There's no obligation, and getting started takes just a few minutes.
Verify your new rate (Jan 24th, 2020)