FHA Announces Four "Immediate Actions" Which Raise Costs, Lower Defaults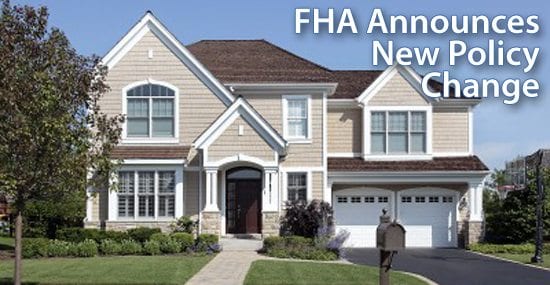 The Federal Housing Administration (FHA) is readying to raise its mortgage qualification standards.
In a letter sent to U.S. Senator Bob Corker, FHA Commissioner Carol Galante outlined the agency's plans to rebuild its dwindling reserves, and to shrink the FHA's share of the overall mortgage market. The FHA is acting on that letter.
Commissioner Galante committed to "aggressive action", including raising minimum credit score requirements, raising downpayment requirements on jumbo-sized loans, and restricting access to FHA mortgages after a foreclosure.
The FHA changes may impede your ability to get a loan beginning April 1, 2013.
Click here for today's FHA mortgage rates (May 27th, 2017).
About The FHA
The Federal Housing Administration is not a mortgage lender. Rather, it's an insurer of mortgages. Much like an issuer of homeowners insurance, the FHA pays claims to mortgage lenders when damage (i.e. loss) occurs. With respect to FHA lending, a loss occurs when a loan goes into default.
The Federal Housing Administration was formed in 1934 by congressional mandate. It was meant to aid an ailing housing market. At the time, lenders offered very little in the way of affordable housing options. Most mortgages were "balloon mortgages"  of three or five years; and required a downpayment of 50% or more.
Via the FHA, better loan terms became available.
The agency published -- and continues to publish -- a set of "approvable" loan traits which, collectively, are known as mortgage guidelines. So long as a loan meets these minimum requirements, the FHA will provides insurance to the lender making the loan.
Since 1934, FHA mortgage guidelines have morphed, loosening in some areas and tightening in others such that today's FHA approval standards likely have little resemblance to those of 80 years ago. However, the Federal Housing Administration's purpose is the same -- to help promote affordable housing options nationwide.
Oh, and one more thing : The FHA was formed to be taxpayer-independent.
The Federal Housing Administration self-funds via generated income and it's the only government agency that can make that claim. Unfortunately for today's home buyers, in order to remain taxpayer-independent, the agency has said it will change its guidelines.
Click here for today's FHA mortgage rates (May 27th, 2017).
The FHA's 4 Immediate Actions
The Federal Housing Administration is self-funded via its Mutual Mortgage Insurance (MMI) fund. These are the reserves from which FHA loan default claims are paid, and into which FHA mortgage insurance premiums (MIP) are paid.
By law, the Federal Housing Administration is required to keep $2 in its Mutual Mortgage Insurance fund reserve account for ever $100 insured. For many years, this was not a problem and the agency carried surplus reserves. This surplus spurred a gradual loosening of FHA guidelines because the agency's risk tolerance grew -- specifically throughout periods during which loans were defaulting at historically-low rates.
2006-2009 was not one of those periods, though. The FHA was not prepared for it.
Reserve ratios fell sharply. In 2007, the FHA held $6.40 for every $100 insured, and then the foreclosures began. Losses mounted and claims were paid en masse. By 2009, the FHA's reserve ratio dropped below the mandatory 2% threshold. By 2011, it was down to $0.24 per $100 insured.
The most recent Federal Housing Administration audit shows the group's reserves in negative territory.
And, this was the backdrop for Commissioner Galante's letter.
To help assuage its critics, the FHA announced four "immediate actions" it planned to undertake in order to restore its financial health. None of them are particularly good for buyers, nor are they good for would-be refinancing households using the FHA Streamline Refinance.
The changes are highlighted below.
Minimum Credit Score For New FHA Loans
The Federal Housing Administration has now established a minimum credit requirement of 620 for borrowers whose debt-to-income (DTI) exceeds 43 percent. According to the FHA, this will reduce the number of claims by 20 percent or more and the directive will apply to FHA loans of all types, including FHA Streamline Refinance and the FHA 203k home construction program.
Loans with FICO scores under 620 will remain FHA-eligible, but lenders must show evidence of "compensating factors"; reasons why the loan should be approved even though it fails to meet Federal Housing Administration standards. Common compensating factors include large downpayment or equity position, or higher levels of reserves.
Click here for today's FHA mortgage rates (May 27th, 2017).
Higher MIP, Bigger Downpayment Standards
The FHA is raising its mortgage insurance premiums effective April 1, 2013. MIP for loans for less than $625,000 will be augmented by 10 basis points per year. Loans above $625,500 will be augmented by 5 basis points per year. The changes apply to 30-year and 15-year loan terms.
In addition, beginning June 3, 2013, the FHA will begin charging 45 basis points of annual MIP for 15-year loans where the loan-to-value is less than or equal to 78%. Currently, there is no MIP assigned to loans with these characteristics.
On this date, the FHA will also change the minimum number of years it will assess annual MIP.
Loans with LTV of 90% or less : MIP must be paid for 11 years, at minimum
Loans with LTV above 90% : MIP must be paid for the life of the loan
And, finally, the Federal Housing Administration will make "jumbo lending" expensive.
Currently, the FHA is only federal agency allowed to insure single-family homes for more than $625,500. The FHA now aims to "redirect this business to the private market" which, in plain English, means that group wants to make jumbo FHA loans look ugly as compared to portfolio bank loans and other private money.
To this end, the FHA is raising its minimum downpayment requirements for loans over $625,500 to 5 percent. The agency has already raised its jumbo mortgage insurance premiums to 1.55% annually. The combination of larger downpayments with higher MIP will render jumbo FHA loans, which are available in high-cost areas such as Los Angeles, California; Washington, D.C.; and New York City, New York more expensive. 
By comparison, today's non-jumbo FHA mortgages require just 3.5% down and MIP as low as 1.20%.
Click here for today's FHA mortgage rates (May 27th, 2017).
Moratorium On Full Draw HECM Reverse Mortgage Program
The Home Equity Conversion Mortgage (HECM) is an FHA-insured reserve mortgage; the only reverse mortgage insured by the federal government. However, the program's fixed rate options, when combined with declining home values and the greater longevity of seniors, has fueled losses for the Federal Housing Administration.
As a result, the Standard Fixed Rate HECM product is discontinued and new HECM loans will be shifted to the Saver product, which is characterized by fixed or variable mortgage rates, lower loan fees, and lower equity withdrawals. The Federal Housing Administration will also establish formal "set-aside" guidelines for real estate taxes and insurance for reverse mortgage borrowers.
Click here for today's FHA mortgage rates (May 27th, 2017).
Access To An FHA Mortgage After A Foreclosure
Currently, U.S. home buyers can access FHA-insured financed three years after a foreclosure-related event. The agency will change this policy, restricting program access to borrowers who (1) have re-established credit, and (2) can provide a fully-documented loan application.
Furthermore, the group will examine the cause of the foreclosure to determine whether it was a one-time event, such as loss of employment, which may be a predictor of future loan performance.
Notably, the FHA has not ruled out waiving its 3-year foreclosure waiting period.
For How Much Can You Qualify Using FHA Financing
The Federal Housing Administration has raised its mortgage insurance premiums 5 times in five years, all while introducing a series of new guidelines designed to reduce future foreclosures.
FHA loans require more hurdles as compared to last decade, and the FHA is intent on raising those hurdles higher -- FHA Commissioner Galante has shown that. The good news, though, is that FHA mortgage rates remain ultra-low nationwide.
If you're a first-time or move-up buyer, see how much home you can afford with an FHA mortgage. Get today's mortgage rates and start to build your budget. Or, for households with an existing FHA-insured mortgage, compare your costs to today's FHA Streamline Refinance mortgage rates. The savings wil likely be large.
Click here for today's FHA mortgage rates (May 27th, 2017).
The information contained on The Mortgage Reports website is for informational purposes only and is not an advertisement for products offered by Full Beaker. The views and opinions expressed herein are those of the author and do not reflect the policy or position of Full Beaker, its officers, parent, or affiliates.
Try the Mortgage Calculator