Manufactured home loans can be a smart choice for buyers
Getting a manufactured home mortgage isn't quite the same as getting a regular mortgage for a traditional, stick-built home.
While not every lender offers these types of loans, you do have a decent range of options to pick from. Some manufactured homes can be purchased with conventional mortgages, and government-backed loans like FHA, USDA, and VA loans are also on the table when you're thinking about financing a mobile home.
The best manufactured home loan for your journey will depend on your eligibility as a borrower, the age and type of home you're buying, and whether your new home is considered "real property" or "personal property."
Find out if you qualify for a mortgage. Start here
---
In this article (Skip to...)
---
What is the difference between manufactured homes, mobile homes, and modular homes?
When discussing these types of homes, the terms mobile, manufactured, and modular frequently get tossed around as if they're synonymous. However, each comes with its own unique characteristics and advantages.
As you weigh your options, it's worth considering the distinctions between these three housing types, particularly when you're evaluating the best manufactured home mortgage or other financing solutions for your situation.
Manufactured homes
Since their inception, manufactured homes, formerly known as "mobile homes," have undergone significant evolution and improvement. These homes are factory-built and then transported to the site. The HUD (U.S. Department of Housing and Urban Development) has been regulating their construction and safety standards since 1976. Here are some key features:
Regulation: Manufactured homes were built after 1976. Unlike their earlier counterparts, today's manufactured homes comply with stringent HUD Code requirements. This code sets safety and quality standards related to design, construction, energy efficiency, and installation.
Construction: Manufactured homes are built on a non-removable steel chassis. Sections are transported to the site and then assembled. These homes are typically single-story and can come in a variety of sizes and floor plans.
Ownership: The ownership of manufactured homes can be either on leased land (like a mobile home park), on privately owned land, or on land that is purchased along with the home.
Affordability: Manufactured homes generally offer a more affordable housing option compared to traditional, site-built homes.
Manufactured homes built to HUD's safety standards usually have a "HUD tag" attached to them.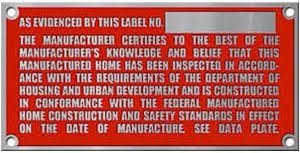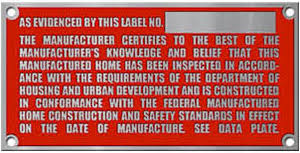 Check your manufactured home mortgage loan options. Start here
But even if the manufactured home you're buying was built to HUD's standards, it may not qualify for a traditional mortgage. If the home can't clear a few more qualifying hurdles, you may need an alternative form of manufactured home financing. We explore these requirements in more detail below.
Mobile homes
Mobile homes, a term often used interchangeably with manufactured homes, primarily refer to homes built before the HUD Code came into effect in 1976. This is when the National Manufactured Housing Construction and Safety Standards Act was enacted to set new, more rigorous standards for the construction and safety of these types of homes.
Even though the words are often used interchangeably, knowing what makes these homes different will help you tell the difference.
Regulation: Because they were factory-built before June 15, 1976, mobile homes were not subjected to the strict safety and construction standards that modern manufactured homes adhere to. This lack of regulation can affect the quality, safety, and durability of these homes.
Construction: Mobile homes are constructed on a movable chassis, allowing them to be moved after initial placement. However, most mobile homes tend to stay in one location for the majority of their lifespan.
Ownership: Similar to manufactured homes, mobile homes can be located on leased or privately owned land.
Affordability: Mobile homes can often be an affordable housing option, but it's important to consider the potential maintenance and energy efficiency costs, which might be higher due to the lack of regulated construction standards.
Check your mobile home loan options. Start here
Modular homes
Modular homes, also known as prefabricated homes, are built in factories like manufactured and mobile homes. However, there are differences in their construction, regulation, and overall design.
Regulation: Modular homes must meet local, state, or regional building codes, depending on the location of the property. These standards typically mirror those of site-built homes, leading to comparable quality and lifespan.
Construction: While these homes are constructed in sections (or modules) in a factory, they are assembled on a permanent foundation at the site, much like a traditional home. Modular homes can be multiple stories and offer a high degree of customization in design and layout.
Ownership: Modular homes are generally treated like site-built homes for financing and property value. The land on which they are placed is typically owned, not leased.
Investment Value: As modular homes are virtually indistinguishable from site-built homes once completed, they tend to appreciate in value over time, making them a solid long-term investment.
You can use the same types of loans to finance a modular home as you would a traditional, site-built home. This is one of the key advantages of modular homes. Because they are typically installed on a permanent foundation and are often indistinguishable from site-built homes once completed, they are treated similarly by most lenders.
How to qualify for a manufactured home mortgage loan
To get a mortgage loan for a manufactured home, you'll have to qualify as a borrower by meeting the minimum credit score, income, and down payment requirements, just like you would if you were buying a site-built home.
Check your loan options. Start here
The manufactured home will also have to qualify for the mortgage. Along with following HUD's post-June 15, 1976, safety regulations, the home must:
Be "real property" and not "personal property"
Have at least 400 square feet of living space
Be permanently attached to a foundation and on land that you also own
Let's look at these criteria a little more closely before you start making loan applications.
Real property versus personal property
"Real property" must include land as well as property that cannot be quickly or easily removed from the land, such as a house, an in-ground pool, or a paved driveway. Personal property is anything that can be moved and used elsewhere, such as a car, a boat, or a true mobile home.
How do you know if an existing manufactured home is real or personal property? By determining how the current owner pays taxes.
If the taxes go to the DMV, the home is considered personal property. In addition, a home on leased land won't be considered real property. If you're buying a new home from a dealer, you'll need to place the home on land you own or land you're buying.
Verify your mortgage eligibility. Start here
Minimum square footage for a manufactured home loan
The home you're buying must have at least 400 square feet of living space to qualify for a manufactured home loan.
Most manufactured homes, especially double-wide or modular homes, easily meet this requirement.
But some types of loans for manufactured homes require more space. Fannie Mae's conventional loan for manufactured homes, for example, requires the home to have at least 600 square feet of living space.
Foundations and land requirements
Manufactured homes can arrive in pieces and be assembled on site. Or they can be built off-site and towed to their permanent location.
In either case, upon arrival, the home will need to be attached to a permanent foundation before it qualifies for a conventional loan or for most government-backed loans.
Also, the home can't be located in a mobile home park or on land someone else already owns and won't be selling to you.
Manufactured home mortgage loans
If your manufactured house meets the guidelines above, you may be able to finance it with a traditional home mortgage. Most likely, that's a Fannie Mae, Freddie Mac, or government-backed mortgage program.
Verify your mortgage eligibility. Start here
The loans work almost exactly the same as financing for traditional "stick-built" houses, though you can expect to pay higher interest rates.
Conventional loans
Government-sponsored enterprises (GSEs), Freddie Mac and Fannie Mae, both offer loan programs specifically designed for manufactured homes. These programs aim to make home ownership more accessible by providing affordable housing solutions.
With Fannie Mae and Freddie Mac conventional loans, you can put as little as 3% down. There are extra risk-based fees for manufactured home loans, so rates are slightly higher. Here's what you can expect.
Freddie Mac: Manufactured Home Loans
Freddie Mac's manufactured home loan program, part of its "Duty to Serve" plan, provides increased financing options for manufactured homes. Key features of this program include:
Real Property Loans: The manufactured home must be classified as real property, meaning it must be permanently affixed to the land that the borrower owns
MH Advantage: MH Advantage is a mortgage program for manufactured homes that meet specific construction requirements, including being built on a permanent chassis and having a minimum of 400 square feet. Homes that qualify for MH Advantage can receive financing similar to that for site-built homes, with potentially lower down payments and longer loan terms
Check your Freddie Mac eligibility. Start here
Fannie Mae: MH Advantage and HomeReady
Fannie Mae offers two main programs:
MH Advantage: Similar to Freddie Mac's program of the same name, Fannie Mae's MH Advantage program provides manufactured home financing for properties that have certain features, such as being a minimum of 12 feet in width with at least 600 square feet. Advantages can include down payments as low as 3%, interest rates closer to those of site-built homes, and potentially longer loan terms.
HomeReady: The HomeReady program is designed to help low- to moderate-income buyers with limited cash for a down payment to purchase a home. It covers manufactured homes, offering reduced mortgage insurance costs, interest rate reductions, and other benefits to eligible borrowers.
Review your Fannie Mae home buying options. Start here
Remember that while Fannie Mae and Freddie Mac create these programs, you'll typically work with a bank or other lender during the actual loan application process. It's always important to shop around and compare different lenders and programs to see which best fits your needs and financial situation.
FHA loans
The Federal Housing Administration (FHA) offers two loan programs specifically designed for manufactured homes: the Title I program and the Title II program. Each provides unique benefits, depending on whether the borrower plans to buy a manufactured home only, a lot, or both.
The FHA insures the financing, allowing borrowers with credit scores as low as 580 to obtain loans with 3.5% down. You'd need to use the home as your primary residence.
FHA Title I loans
The Title I program guarantees loans made by approved lenders to finance the purchase of a new or used manufactured home, a lot for a manufactured home, or both. This type of loan can also be used to refinance your existing mortgage. It's designed to help individuals and families who might not otherwise qualify for traditional financing. Here are your different options:
Home only: This loan applies to the purchase of a manufactured home only. It's the type of loan you'd use if you planned to rent a lot in a manufactured home community. The maximum loan term is 20 years for a manufactured home or a single-section manufactured home and lot
Lot only: The Title I program also covers loans for lots. If you're purchasing land for your manufactured home, this loan may be appropriate. The maximum loan term is 15 years for a lot only
Combination loan: If you're buying both a manufactured home and a lot to put it on, you can finance it with a combination loan under the Title I program. The maximum loan term is 25 years for a loan on a manufactured home lot and 25 years for a loan on a multi-section manufactured home and lot
The Title I program doesn't require the borrower to own the land on which the manufactured home will be placed. However, the home must be used as the primary residence of the borrower.
FHA Title II loans
If you're buying a manufactured home, check out the FHA's Title II program. This program resembles the FHA's traditional mortgage for site-built homes.
While the Title I program covers manufactured homes and lots, the Title II program guarantees mortgages on homes that meet specific standards and are classified as real property. Here are its main features:
Real property requirement: In order to qualify for financing through the Title II program, the manufactured home must be permanently fixed to a foundation on land that the borrower owns and conform to HUD's post-1976 safety rules as well as local and regional building codes. This includes having a minimum floor area of 400 square feet
Home and land financing: Title II loans finance the purchase of the home and the land it sits on. The maximum loan term is 30 years.
Appreciation and equity: Because these homes are considered real property, they're more likely to appreciate in value over time, building equity for the homeowner.
The FHA can also help you buy the plot of land for your new manufactured home through a process that resembles a construction loan.
Most private lenders offer loans backed by the FHA. As with Freddie and Fannie loans, you may need to shop around to find a lender that underwrites FHA Title II manufactured home loans.
Verify your FHA loan eligibility. Start here
VA loans
The U.S. Department of Veterans Affairs insures loans for veterans and active-duty military members.
The VA loan program includes financing for manufactured homes. Buyers must put 5% down, and the loan terms are shorter: between 20 and 25 years, depending on the property.
The VA can help eligible veterans buy land as well as manufactured homes.
Most private lenders offer VA loans, which offer some of the most competitive rates and lowest fees in the market.
Check your VA loan eligibility. Start here
USDA loans
You may be eligible for a USDA Single Family Housing Guaranteed Loan (SFHGLP) if you're a rural home buyer who wants to finance a manufactured home or a home and lot.
Low-income home buyers (who earn 80% or less of their area's median income) can get loans directly from the USDA.
Moderate-income buyers (incomes of 115% or less of their area's median) can use USDA Guaranteed Loans, which come from private lenders.
USDA Rural Housing loans require no down payment. This loan program is friendly to manufactured home buyers as long as the home is brand new. The home will also have to be permanently attached to its foundation, built to HUD's post-1976 standards, and be at least 400 square feet.
Like all USDA loans, USDA manufactured home loans work only in rural and suburban areas and only for buyers who fall within income limits.
Verify your USDA loan eligibility. Start here
Options for mobile home loans
Unless your manufactured home qualifies as real estate, you won't be able to finance the home purchase with a conventional or government-backed mortgage program.
Check your loan options. Start here
That's OK, though. These homes can still be financed, just not with home mortgages.
There are a few different loan options if you can't get traditional mortgage financing for your mobile home.
FHA Title I loans
We already mentioned the FHA's Title II loan for manufactured homes that qualify as real estate. The FHA also offers Title I loans for personal property, which includes homes that are not classified as real estate.
You'd need to put 5% down. Annual percentage rates will be higher than loan rates for traditional homes, but the rate should be lower than personal loan rates.
The interest rate is fixed for the entire loan term, and there are maximum loan amounts based on whether you're financing a home purchase, buying the land for the home site, or both.
Current FHA Title I loan limits:
Manufactured home: $69,678
Manufactured home lot: $23,226
Manufactured home and lot: $92,904
There are also maximum loan terms:
20 years for a manufactured home or a single-wide home and lot
15 years for a manufactured home lot loan
25 years for a loan on a multi-wide manufactured home and lot
An FHA Title I loan can be used for refinancing a manufactured home as well as purchasing one.
Not all lenders offer this program, so you'll need to call around or search online for lenders who offer FHA Title I financing.
Verify your FHA loan eligibility. Start here
Chattel loans
A chattel loan offers an in-between option for mobile home financing. This loan resembles an auto loan in that the home serves as collateral for the loan.
You may be able to get a chattel loan if you don't plan to buy the home site, which is often the case in a mobile home community.
And you'd need at least 5% down to get financing. Because the home's value provides security for a chattel loan, these loans are less risky than personal loans and can offer more competitive rates.
However, rates will still be several percentage points higher than a traditional fixed-rate mortgage. That, combined with a chattel loan's shorter loan term, often results in higher monthly payments.
Use existing home equity
If you already own a home, you could leverage your home equity to pay for a manufactured home to use as a second home or rental property.
Equity is the part of your home's value that you've paid off. If your home is worth $300,000 but you owe only $150,000, you'd have $150,000 in equity.
Check your HELOC options. Start here
You can borrow against your equity by getting:
A cash-out refinance: This kind of loan replaces your existing mortgage with a larger one, generating extra cash. It's a good idea if you need a new primary mortgage and want to cash out for a big purchase
A home equity loan or line of credit: With these loans, you'd keep your primary mortgage in place and add a second mortgage. Home equity loans provide a lump sum of cash; home equity lines of credit (HELOCs) let you borrow from your equity as needed
Since the value of your home serves as security for these loans, interest rates are reasonable, especially if you have good credit and enough equity to comply with your lender's loan-to-value requirements.
But these loans also require a lien on your home, which means you could lose the home if you fail to make payments.
Personal loans
If your manufactured home is still on wheels or is not financeable for some other reason, personal loans could be worth looking into.
The most attractive thing about personal loans is that there is absolutely no property approval involved.
The loan is based on you, not the property. Even if the mobile home is in poor shape or too old to finance, you could still be approved based on your credit history and debt-to-income ratio.
This kind of financing is also fast. In a week or less, you can have the funds to help purchase a home.
But there's a catch: Personal loan annual percentage rates will be a lot higher than rates for secured loans like mortgages or chattel loans. Your rate could even be as high as your credit card rate if you have shaky credit.
And some lenders charge origination fees as high as 6% to 7%—higher than the average mortgage loan's closing costs.
Manufactured and mobile home mortgage rates
Unlike traditional home loans, the mortgage rates for manufactured homes can be a bit different and, sometimes, a bit higher. But don't let that spook you — knowing how these rates work can actually put you in a position to get a better deal.
Manufactured home mortgage rates vary based on several factors, including your credit score, the size and condition of the home, and the terms of the loan. Some lenders might also offer promotional rates for first-time home buyers, which is a great perk if you're new to this.
Check your manufactured home mortgage options. Start here
While you're shopping around, keep an eye out for both fixed-rate and adjustable-rate mortgages. A fixed rate means your interest rate will stay the same throughout the life of the loan. Adjustable-rate mortgage loans, on the other hand, could fluctuate over time, which might either benefit or hurt you depending on market conditions.
Don't forget to compare lenders and get multiple quotes. Rates can vary significantly from one lender to another, and a small difference in the percentage can mean big savings — or costs — over time.
How to apply for manufactured home loans
Securing a manufactured home mortgage is a process that, while similar to obtaining a traditional home mortgage, has its own distinct features.
It's important to note that the eligibility criteria and application process will differ depending on the type of loan you're applying for, whether it's an FHA, VA, conventional, or chattel loan.
Research your mortgage options. Based on your financial situation, credit score, and the specifics of the manufactured home (such as its age and whether it's permanently affixed to a piece of property), you may find that one type of loan is a better fit for your needs than others
Decide whether you're buying land. Compared to those who intend to buy the land on which their home will be built, those who plan on renting a plot for their residence will have fewer loan options available to them. If you own the land and have taken the axle and wheels off your mobile home, it's less likely that you'll move it. This may make more lenders willing to finance you
Assemble your application materials. This will typically include proof of income, employment verification, a list of your assets and liabilities, and a credit report. If you're applying for an FHA or VA loan, there will be additional documentation requirements
Get rate quotes from several lenders. Even for the same type of loan, different lenders can have very different terms and rates. So you should look around for the best deal. Keep in mind, though, that each lender will pull your credit report, and too many hard inquiries can negatively impact your credit score. To mitigate this, try to do all your rate shopping within a short period of time, typically 14 to 45 days
Lastly, submit your application and wait for a response from the lender. Before approving your loan, they will consider your creditworthiness, the value of the manufactured home, and your proposed down payment.
Tips for getting a manufactured home mortgage
The prospect of obtaining a mortgage can be daunting, particularly when it comes to financing a manufactured home. However, there are strategies that can increase your chances of approval and help you secure the best possible loan terms.
Improve your credit score
Your first goal should be to raise your credit score. Your credit score is a big part of whether or not you can get a mortgage and how much interest you'll be charged. You can increase your credit score over time if you pay your bills on time, pay down your debt, and check your credit report for mistakes.
Shop around for the best rates
Next, compare your loan options carefully. Shop around to make sure you're getting the best deal, just like you would when buying a car or a piece of furniture. Interest rates, fees, and loan terms may be different from one lender to the next. Make sure to think about these things when making a decision.
Assess the condition of your home
Think about the age and condition of the manufactured home you want to finance. Lenders usually have strict rules about these things. A loan is more likely to be given for a home that is in good shape and not too old.
For example, some lenders may not approve your loan application if you want to buy a manufactured home that is 20 years old and in bad shape. But if you find a lender who specializes in financing older homes and is willing to work with you, they may charge higher interest rates or ask for a bigger down payment.
Before choosing a loan option, it's important to think about all of these things.
Last, be honest and give lenders all the information they need. If information is missing or wrong, your application could be delayed or even turned down.
Compare quotes for manufactured home mortgages. Start here
Pros and cons of manufactured home mortgages
Even though manufactured home mortgages can make it easier to become a homeowner, it's important to think about both their pros and cons before moving forward.
Pros of manufactured home loans
Among the benefits, manufactured homes tend to be more affordable than traditional stick-built homes, which can make homeownership achievable for individuals who may not otherwise be able to afford it.
Another advantage is that there are multiple loan options available, including those specifically designed for manufactured homes. These loans often have competitive interest rates and more flexible credit requirements than conventional mortgages.
Manufactured home mortgages also offer flexibility in terms of home placement. Whether you own the land on which the home will be placed or choose to rent a lot in a manufactured home community, there are financing options available.
Cons of manufactured home loans
On the other hand, there are some downsides to consider. One major drawback is that manufactured homes can depreciate in value over time, unlike traditional homes, which typically appreciate. This can make it more challenging to build equity or sell the home for a profit in the future.
Additionally, some lenders perceive manufactured homes as riskier than traditional homes, which can lead to higher interest rates and more stringent credit requirements.
Finally, zoning regulations and homeowners' association rules can sometimes limit where you can place a manufactured home, which could restrict your options for home placement.
Despite these potential drawbacks, many people find that the benefits of owning a manufactured home, such as affordability and flexibility, outweigh the disadvantages. However, it's crucial to consider your individual circumstances and long-term goals before deciding.
FAQ: Manufactured home mortgage loans
Verify your mortgage eligibility. Start here
How to buy a mobile home with no money down?
Buying a mobile home with no money down can be challenging, but certain programs may allow it. For example, VA loans often require no down payment and are available to service members, veterans, and eligible surviving spouses. Also, USDA loans, designed for rural and suburban homebuyers, may offer no-down payment options. Eligibility for these programs is subject to specific requirements, and availability can vary.
Can you get a conventional loan on a mobile home?
Getting a conventional loan for a mobile home can be difficult. Most conventional lenders require the home to be on a permanent foundation and classified as real property, not personal property. Some lenders may offer conventional loans for manufactured homes if they meet certain standards, like Fannie Mae's MH Advantage program.
Are there banks that finance mobile homes with land?
Yes, many banks and credit unions finance mobile homes on land. These are usually considered real property loans. Some government-backed loan programs, like FHA Title II loans and certain VA loans, also allow for the financing of mobile homes along with the land they sit on.
Does Rocket Mortgage refinance manufactured homes?
Rocket Mortgage provides financing for manufactured homes that are built on permanent foundations. However, Rocket Mortgage does not provide financing for manufactured homes without a permanent foundation or for true mobile homes, which are those constructed before June 15, 1976.
Can you get a mortgage on a manufactured home?
Yes, you can get a mortgage on a manufactured home. There are several options, including FHA loans, VA loans, and certain conventional loans. The home usually needs to meet specific requirements, such as being on a permanent foundation and classified as real property.
Can you get a reverse mortgage on a manufactured home?
Yes, you can get a reverse mortgage on a manufactured home under certain conditions. The home must meet the FHA's property eligibility requirements, be built after June 1976, be on a permanent foundation, and be taxed as real estate. You must also own the land the home is on. The reverse mortgage program most commonly used for this purpose is the FHA's Home Equity Conversion Mortgage (HECM) program. Always consult with a qualified professional before making decisions on complex financial matters like reverse mortgages.
Do mobile home retailers provide financing?
Yes, a manufactured home dealer may offer financing just like a car dealer does. However, you should do your own home financing research. The FHA Title I program could offer lower monthly payments through a lower interest rate and/or a longer loan term.
Do mobile home loans require mortgage insurance?
You must purchase mortgage insurance if you obtain a conventional mortgage with less than a 20% down payment or an FHA or USDA-backed loan. This coverage protects the lender in case you default on the loan. Mortgage insurance premiums will add to your monthly payments and upfront costs. These premiums also lower your interest rate, so they may save you money.
What are today's manufactured home loan rates?
With mortgage rates climbing back to their historical norms, people are realizing they have to pay more than what was typical in 2020 and 2021.
In order to save money, some prospective homeowners are looking into manufactured homes. When seeking the most advantageous manufactured home mortgage rates, it's a good idea to target homes that are eligible for a standard mortgage.
Additionally, you'll benefit from comparing offers from at least three distinct lenders to ensure you're making the most financially sound choice.
Time to make a move? Let us find the right mortgage for you