Getting A Loan On A Manufactured Home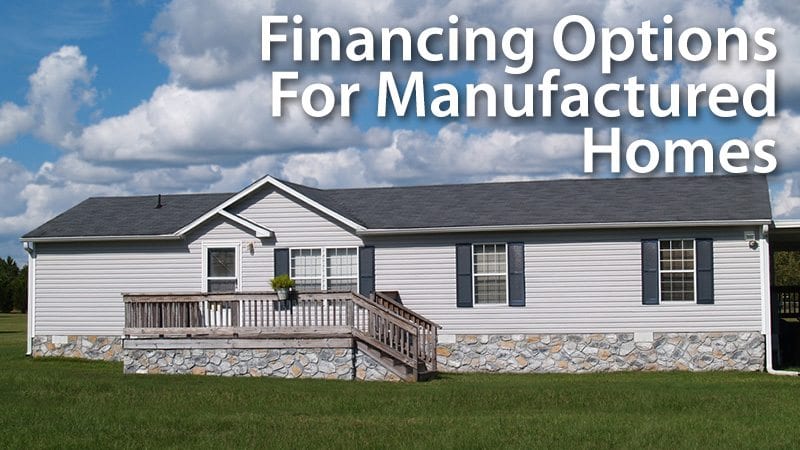 Financing Your Manufactured Home
Is it hard to get a mortgage for a mobile or manufactured home?
No, but it is different.
Loans for manufactured homes come from Fannie Mae and Freddie Mac, two agencies that write the rules for conforming mortgages.
FHA loans, plus financing from USDA and VA, are other avenues to finance a manufactured home. Personal loans can work, too.
What's available to you depends on your eligibility as a borrower, the type and age of the structure, and whether it's considered real or personal property.
Here's how to find the best financing for your manufactured house.
Verify your home buying eligibility (Jun 17th, 2018)
Is The Home "Real" Or "Personal" Property?
Not all manufactured housing is considered real estate, which is a requirement to qualify for a traditional home loan.
If your mobile home is at least 400 square feet, on an approved foundation and taxed as real property, you can apply for conventional or government-backed mortgages.
If you pay annual fees to the DMV, or the building is still on wheels, however, you're technically living in a vehicle, not a house.
That's okay, though. Moveable mobile homes can still be financed, just not with home mortgages.
Financing For Moveable Homes
Manufactured housing loans for personal property — homes that are not classified as real estate — are readily available if you have at least five percent down and the home is reasonably new.
Interest rates are higher than mortgage rates because loans for movable property are riskier for lenders.
The FHA backs loans for mobile home vehicles with its Title I program. Interest rates are negotiated between borrowers and private lenders offering this loan type. Keep in mind that the typical home lender might not offer this type of loan.
The interest rate is fixed for the entire loan term, and there are maximum loan amounts:
Manufactured home: $69,678
Manufactured home lot: $23,226
Manufactured home & lot: $92,904
There are also maximum loan terms.
20 years for a manufactured home or a single-wide home and lot
15 years for a manufactured home lot loan
25 years for a loan on a multi-wide manufactured home and lot
Call around, and perform online searches for lenders who offer FHA Title I financing.
Financing For Foundation-Secured "Real" Property
If your manufactured house is classified as real property, you can finance it with a mortgage. Most likely, that's a Fannie Mae, Freddie Mac or government-backed mortgage.
The loans work almost exactly the same as financing for traditional "stick-built" houses.
With Fannie and Freddie loans, you can put as little as five percent down. There are extra risk-based loan fees for manufactured housing, so rates are slightly higher.
FHA loans work the same way for manufactured or traditional homes: the required down payment is 3.5 percent if your FICO score is 580 or higher, and ten percent if it's between 500 and 579. The home must have been built after June 15, 1976, and it cannot be in a flood zone.
The VA loan program for manufactured housing requires five percent down, and the loan terms are shorter – between 20 and 25 years, depending on the property.
USDA (Rural Housing) loans require no down payment, but the manufactured home must be brand new and borrowers must meet income-eligibility guidelines.
Verify your home buying eligibility (Jun 17th, 2018)
Getting A Personal Loan On Your Manufactured Home
Many manufactured home loan programs have some pretty strict guidelines about the property condition and age. That's because manufactured housing tends to depreciate, while traditional home values tend to increase over time.
If you're set on purchasing a home that doesn't meet lender requirements, there are always personal loans.
You'll need excellent credit to get an unsecured personal loan, because it's not attached to your property. If you can't pay your loan, the lender won't foreclose on your home, but they might pursue payment by other means.
Expect to pay a higher interest rate — at least three-to-four percent more than current mortgage rates.
Manufactured housing allows many to buy homes who could not otherwise afford homeownership. Fortunately, there are many available options for financing these purchases.
What Are Today's Rates?
Today's rates are low, and that's helping more renters become homeowners. Manufactured housing is an affordable first step to get into the housing market.
Get a rate quote for your home loan. No social security number is required to start, and all quotes come with access to your live credit scores.
Verify your home buying eligibility (Jun 17th, 2018)
The information contained on The Mortgage Reports website is for informational purposes only and is not an advertisement for products offered by Full Beaker. The views and opinions expressed herein are those of the author and do not reflect the policy or position of Full Beaker, its officers, parent, or affiliates.
Try the Mortgage Calculator