Complete guide to building a house
In this article:
Many housing markets are tight and prices are rising. You might be considering building vs buying a home.
Cost of building vs buying a home — you may be able to acquire instant equity by building
Timing — it can take a few months to over a year to complete your build
Stress — 12 percent of couples surveyed by Houzz claimed that home construction caused separation or divorce
While cost is only one factor, it's still a major factor. That's what we'll focus on here.
Verify your new rate (May 7th, 2021)
Cost to buy versus cost to build
The idea of building a new home might scare you, because you believe it's the pricier option. But, depending on location and home features, the cost of building a house is comparable to buying an existing home.
Lot loans: everything you need to know
Costs range between $151,987 – $422,025, averaging $286,075. Based on September 2017 numbers, the average resale price of a home is $287,700. Keep in mind the fact that existing or "used" homes may have some wear and lack the latest conveniences and efficiencies.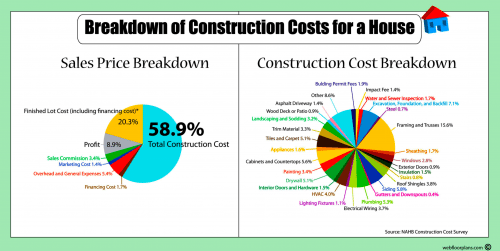 Costs of building a house
You control the out-of-pocket costs for building a house by creating an affordable budget. Once you know what you can spend, work with a reputable builder who knows the area and who can tell you what you can and can't afford to include in your new house.
The Mortgage Reports has a nice loan calculator you can use to discover how a monthly payment translates to a loan amount, or how much home you can afford, given your earnings and current expenses.
Try the mortgage calculator now
Begin with the basic essentials, adding a ten percent cushion for cost overruns. If you can afford additional amenities, add them in. The builder should include a description of materials and a cost breakdown, which you'll need when you apply for a construction loan.
Budget with resale in mind to keep costs of building a house consistent with resale prices in your intended community. That's possible if you resist the urge to overbuild or add upgrades and amenities neighboring homes don't have.
You'll avoid losing money when it's time to sell if you don't build a house too pricey for that neighborhood.
Construction costs can escalate, so it's smart to budget for this.  For this reason, lenders often build in 5 percent to 10 percent for contingencies. If you plan to spend $200,000 building, you may have to qualify for a $220,000 loan.
Existing home versus new
Depending on its age, purchasing an existing home means buying all of its problems. Older houses have more wear and tear, often are less energy-efficient, and can sometimes require expensive maintenance. How much those are and when they're necessary hinges on the home's age.
About 50 percent of the average house needs replacement during its first 30 years. A house with a heating or cooling system, appliances or a roof past half its useful lifespan means you'll probably end up replacing those items. Costs add up to thousands of dollars, depending what repair or replacement type they are and where you live.
The pros and cons of buying new construction
On the flip side, existing homes are often in established residential neighborhoods. Typically, that means they'll have mature trees and landscaping that adds substantial home value.
Mature trees and shrubbery also lower energy prices. In the summer, shade from tall tree reduces cooling costs. During the winter, mature trees and shrubs decrease heating costs by blocking winds.
By building a house, you might not have any significant maintenance costs for the first ten years. And you will probably have some sort of warranty protection. Research shows that homes built after the year 2000 save their owners 21 percent annually on energy costs.
Building a home: what can go wrong?
Home building can be complicated. It may disrupt your lifestyle. If your timing doesn't work out, for instance, if you sell your current house but there are delays on the completion of the new home, you can end up with everything in storage and your family in temporary housing.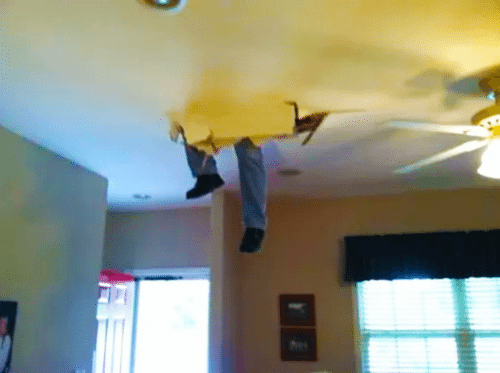 Many issues arise out of improperly structured, communicated or followed contracts, or too many homeowner changes during the build. Cost overruns are not uncommon and you may have little control. For example, following Hurricane Katrina, the cost of building materials soared — not something you'd necessarily predict.
Botched or late custom orders are not unusual. And, when a builder or subcontractor fails to follow the most recent home blueprint, the effect can be disastrous. As long as the mistake isn't something huge like improperly installed load-bearing walls, it's fixable, though not usually cost-free.
Sometimes, builders or general contractors hide or cause construction defects. There may be home warranty problems that you don't know about. You learn about these defects after pre-closing home inspection didn't reveal major issues.  If your builder or home warranty doesn't cover these defects, you'may face large costs to correct problems.
Then there are risks associated with the community. Your neighbors, ongoing construction, local amenities like stores and medical facilities and new schools affect your quality of life and home values. When there's no community track record, you could be taking a significant risk moving into an unestablished neighborhood.
Advantages of building a home
Aesthetic customization or retrofitting a residence can get pricy. A major advantage of building new is that, from layout to location, you can tailor it to your tastes and family needs.
When you build a house, you can put it where you want it, creating the environment you need. A new house also gets equipped with the latest features like energy-efficiency, technology-friendly wiring, and security systems.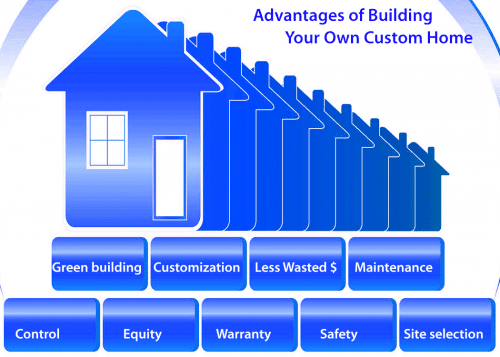 Moreover, you have almost complete control of the construction materials used in your house, as well as the cost of building a home. That means you can avoid toxins, making the interior environment safer for you and your family.
In addition to making your home eco-friendly, adding Energy Star or green appliances makes it energy-efficient, reducing those costs. You can choose to invest more in some areas of the house and less in others.
There are other financial benefits to building your own house, too. You don't pay for premium features you don't want like a cramped but finished attic or brand-new pink carpet. With new construction, you get more value for money because you get the layout you desire.
Maintenance and repair costs will be low for the first seven to ten years you live in the new build. Minor ones get covered under your home warranty, and you usually have a one- to ten-year builder warranty.
There aren't likely to be any unexpected negative surprises if you choose the right builder or contractor for your project, and get your home built properly. Your builder selection is probably the most important decision you make, so don't enter the relationship lightly.
Buying a fixer-upper
One way to split the difference between buying and building is rehabbing. That is, you buy a house with a lot and foundation, and finance your renovations right into the purchase.
Fannie Mae HomeStyle® vs FHA 203K : Choose Your Renovation Loan
You can do this with one of several products:
The FHA 203(k) loan bases your loan amount on the improved value of the property and requires only 3.5 percent down for most applicants.
Fannie Mae's HomeStyle mortgage allows you to finance second homes and rentals as well as primary residences. Put as little as  5 percent down.
If you have low-to-moderate income, the HomeReady loan can get you in the door with just 3 percent down and flexible underwriting.
Freddie Mac's Renovation Mortgages are similar to Fannie Mae's products. Guidelines do vary, though, so you might get approved for one even if you're declined for another.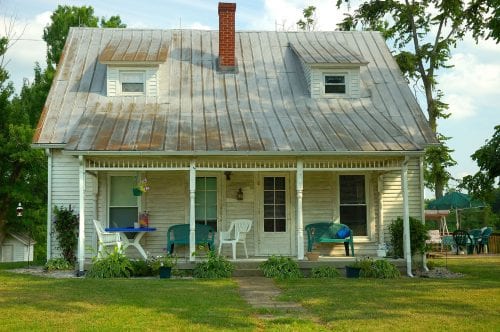 As with any mortgage, it pays to compare offers from multiple lenders.
Verify your new rate (May 7th, 2021)
The lender must approve the builder
To get the best financing for building a house, you'll need a qualified builder or general contractor. Your dream might be to be an owner-builder, but most banks won't fund a do-it-yourself home building project.
Condo or house: Which should I buy?
In addition, most lenders have standards for builders, and if yours doesn't meet them, you can't finance your construction with a mortgage lender.
This can be an advantage for you — by protecting themselves from unqualified builders, lenders are also protecting you.
Choosing a builder / contractor
You can check your builder's licensing status and usually find any complaints by looking online for your state contractor's board. Or just search for your prospective contractor's name, location and the word "license" to get this information.
How to choose a home builder and get the house you want
Personally interview at least three builders or general contractors on your short list and learn all you can about how they complete construction projects. Know whether your personalities mesh, because you'll work with them almost daily for six months or longer.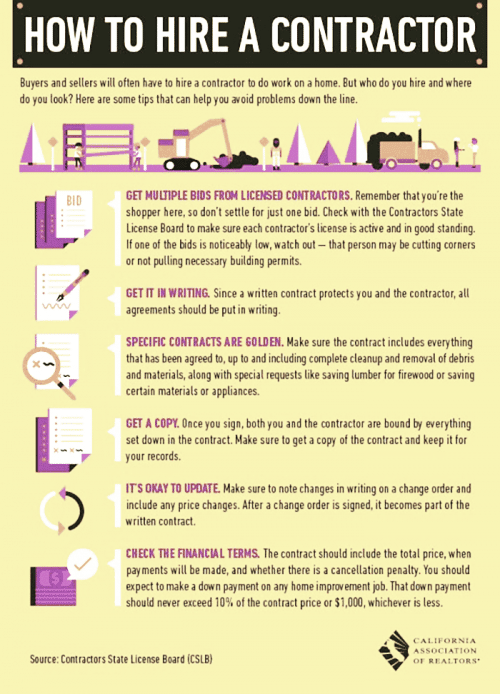 Note what's included and what's guaranteed (defects, overruns, deadlines, for instance). As with any expensive contract, don't sign off on anything you don't understand. Get a buyer's real estate agent specializing in new construction or a real estate attorney to help if you need it.
Construction financing costs
New construction is riskier for mortgage lenders. So expect to pay more for construction financing than for "permanent" or traditional home loans.
Construction loans come with higher interest rates and fees. They involve more paperwork, because the money does not get disbursed in one shot. Builders get "draws" in stages, which means someone has to verify that the work has been completed properly before lenders release the money.
New construction: Should I do a long-term mortgage rate lock?
Lenders also require lien waivers proving builders have paid their subcontractors before issuing draws. Draws can be done in stages, for example, a lender might divide the project into seven stages and release money at each stage. or they may allow builders to request money based on the percentage of completion.
In general, the more draws allowed, the nicer it is for the builder. However, every draw adds to your costs because of the admin involved.
Construction loans are short-term, usually 6-18 month loans, with variable interest rates based on prime plus a certain percentage. They're solely used to finance home construction, and in most cases, you pay interest only on what you borrow.
Some programs let you wrap the interest into the "permanent" or "take-out" financing. That can be helpful if you're also trying to pay a mortgage or rent while building your new house.
How construction financing works
When you apply for funding to build a house, you can take out two or even three loans — for instance, you might borrow to buy a lot, pay off the lot loan with your construction loan, and then pay off the construction loan with your permanent financing.
Lot loans: everything you need to know
You may be able to get the builder to finance your construction, and then you pay off that loan with a permanent loan. Or you can go with a "construction-to-permanent," aka a "one-time close" loan.
The one-time close loan is more popular because it's just easier. This loan gets underwritten to convert from construction loan to traditional mortgage once you get the certificate of occupancy (CO).
These mortgages require only one closing, and you get approved only once, alleviating the risks of two approval processes. If you get a fixed-rate mortgage, you can lock in your interest before construction begins.
The advantage of going with separate loans for each stage is that you can shop each one — the construction and the permanent — and choose the cheapest loan for each stage. One-time close loans may have higher permanent rates, so it can pay to compare.
Your construction loan amount
Lenders can calculate your construction loan amount based on either the completed value or the actual cost (acquisition). Your loan may only cover 70 to 80 percent of this.
The other financing option is a two-time-close construction loan — two separate loans. You'll get a construction loan first, and then repay it when construction ends by refinancing into a permanent mortgage. That means applying for two different loans with two closings, and all the associated closing costs for both.
Many construction lenders require that you obtain approval for permanent financing before they will release funds to you for building.
This two-loan strategy gives you flexibility if there's a construction delay requiring you to extend the construction loan term. You may have access to better refinancing choices than with a construction-to-permanent or one-time-close loan.
The process
A 90-day approval process on construction loans of both types isn't uncommon. That's because the lender must approve the project and builder, not just you.
Your builder should put together a package of information (including a description of materials and a cost breakdown) for the lender to evaluate. The lender orders an appraisal to determine the home's value on completion.
4 ways to keep your closing costs low
For most programs, you need a solid credit history, a good FICO score, and a reliable income. You may have to make loan repayments during construction. Lenders prefer that you have adequate savings for cost overruns and unexpected costs.
Most lenders are helpful in this process, even providing builder approval packages. However, approval policies, costs, and loan terms can vary significantly. So, compare construction loan costs to see what you can afford interview lenders carefully before applying for loans.
Fannie Mae construction-to-permanent loan
These "single-closing transactions" combine the construction loan and permanent mortgage into one loan for borrowers with this preference. Fannie Mae lenders provide pre-approval for these loans based on their purpose and your eligibility for the financing.
There are two loan types under this program—one for purchases and the other as limited cash-out refinances. You can't use these mortgages for manufactured housing, condos or co-ops.
Lenders manage phased disbursements or draws to builders, contractors or other authorized suppliers throughout construction. Once the house is finished and you have a Certificate of Occupancy (COE), the loan automatically converts to a permanent mortgage at the rate you established.
You make no mortgage payments while the home is under construction. The loan's repayment term starts at closing. Construction delays mean you'll need to extend the construction portion of the loan, making your whole mortgage term longer.
That means paying more interest over the now longer loan term. Moreover, some lenders might raise interest rates as a penalty if this happens.
Fannie Mae bases your down payment requirement on the lower of either the acquisition cost or the appraised completed value. So, if your acquisition costs are $200,000 and the appraised value is $250,000, an 80 percent loan would be $160,000, not $200,000.
You might get "instant equity" but lenders don't let you use it for your down payment.
You'll have to meet Fannie Mae underwriting guidelines for your permanent financing. Fortunately, most (if not all) lenders use an automated system called Desktop Underwriter (DU), which issues preliminary decisions in just minutes. You'll know pretty quickly if you qualify for this financing or not.
How long does it take to build a home?
The average time to build a house is four to 12 months. The amount of time varies with the complexity of the job, the skill of the builder, and outside forces like weather.
A small production home on a fraction of an acre lot might take four to six months. An enormous custom home on an acre or more takes 10-16 months. Labor and materials availability also influence construction completion dates.
According to Eye on Housing, average build times also depend on your location: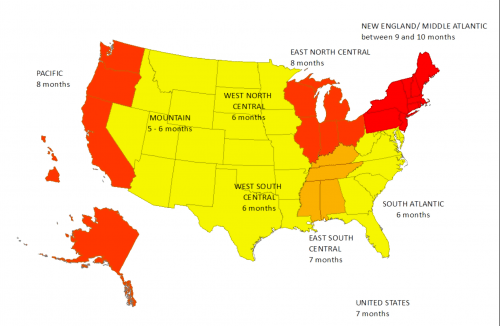 Pre-construction issues frequently slow projects down when clearing and prepping land reveals surprises, especially on large lots.
Permitting can also throw off your schedule and may be a bit political. And your municipality requires you to get permits, code inspections, and approvals throughout construction. The bigger the home you're constructing, the more patience and persistence you'll need.
Refinancing a construction loan
The beauty of a construction-to-permanent mortgage is that you avoid multiple loan applications, packages of lender fees and title charges. However, its major drawback is that it locks you in with your construction lender.
You don't always know what mortgage rate you'll be offered until the construction is complete. Or if you are locked in, rates may have dropped during the construction period, and you may be able to do better with another lender.
Never accept your lender's permanent rate without comparing current mortgage rates from its competitors. One-time-close mortgages can save money by consolidating some fees, but it's no savings if your permanent loan's interest is significantly higher than current mortgage rates.
If you plan to keep your home and mortgage for many years, it may pay to replace your construction-to-permanent loan with a better one. You may also be able to negotiate a lower rate with your construction lender if you bring in offers from other lenders.
Refinancing your straight construction loan
People who take out straight construction loans may be owner-builders who plan to act as their own contractor or do the lion's share of the building themselves. Many lenders won't work with owner-builders because they can't be certain that the house will really be a primary residence and not a "spec" deal.
If you are an owner-builder with a straight construction loan, you'll probably have to refinance to a permanent loan once construction is complete.
You may choose a straight construction loan to have more control of the permanent financing, able to shop for the lowest mortgage rate once the home becomes ready for occupation.
How to shop for a construction loan refinance
When your home nears completion, start comparing rates and interviewing lenders. Don't let your credit score drop during construction, because that will increase your interest rate and make approval harder.
Just about any program open to traditional home refinances should be available to you as well. Get several quotes from competing lenders, and try to get them on the same day so you can make an effective evaluation.
Once you have your lender, get your application approved as soon as you can. You'll not want costly delays once your home is ready to occupy.
Conclusion
Your home-building experience is likely to depend heavily on the competence, dependability and experience of your builder and lender. Put a good team together, budget conservatively, and you'll probably end up with the home you want, and pay less for it.