Increased FHA Mortgage Insurance Premiums Help To Self-Fund Agency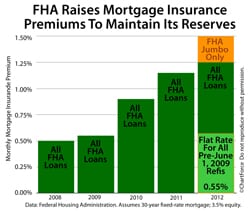 Foreclosure Crisis Taps FHA Reserves
As recently as one year ago, the Federal Housing Administration was under fire for its dangerously-low cash reserves. A sharp increase in the number of delinquent FHA mortgages and surging default claims dropped the FHA's capital ratio below its congressionally-mandated minimums.
The FHA is required to keep a 2% capital ratio. This means it must keep $2 on hand for every $100 in insurance liability. A November 2011 audit showed the FHA's capital ratio to be 0.24%, or $0.24 for every $100 in liability.
The 2011 fiscal year marks the third consecutive year for which the FHA failed meet it's 2% standard, stoking fears of a taxpayer-funded FHA bailout -- even as the Depression-era agency played an increasingly large role in the U.S. housing market. Today, those fears look misplaced.
The FHA's finances are on more solid footing today, the result of stricter lending standards and four hikes in 4 years to the FHA mortgage insurance premium schedule.
Click here to get today's mortgage rates (May 27th, 2017).
FHA Now Insures More Than $1 Trillion In Loans
The FHA loan's appeal to home buyers is basic -- the FHA will finance a purchase mortgage with just 3.5% downpayment. Contrast this to Fannie Mae and Freddie Mac which each require 5 percent at minimum, and oftentimes ten percent.
In addition, the FHA's mortgage approval standards downplay credit scoring in favor of an "overall borrower profile". This, too, is an advantage of Fannie Mae and Freddie Mac. Both of the government-sponsored entities have strict credit score requirements that can affect a borrower negatively.
It's no wonder that the FHA's market share has grown. As Fannie Mae and Freddie Mac have cut back on what each will lend, and to whom, the FHA has been expanding to help home buyers in need of financing. This is no more obvious that in "high-cost" areas nationwide -- the FHA maintains higher loan limits than its conforming mortgage counterparts.
For example, in places such as Orange County, California; Brooklyn, New York; and Alexandria, Virginia, the FHA local loan limit is $729,750. Via Fannie Mae and Freddie Mac, borrowers can't get beyond $625,500. The FHA now insures close to 7 million mortgages with a combined value of $1 trillion.
That's triple the amount from just 5 years ago.
Click here to get today's mortgage rates (May 27th, 2017).
FHA Reserves Growing, And Presumed Healthy
Despite its low capital ratio, the FHA may be well-capitalized. This is because today's new FHA-insured homeowners have stronger credit profiles than the FHA borrowers of late-last decade, and because they're paying higher MI premiums, too.
As compared to 2008, when the annual mortgage insurance premium was 0.55 percent, today's is as high as 1.50 percent. Upfront mortgage insurance premiums are higher, too, today clocking in at 1.75% of the amount borrowed. And, as FHA premiums rise, so are applications for FHA financing.
124,000 FHA mortgage applications were made in May 2012, a near 5 percent increase from the year prior. Of these applications, one-fifth were for the FHA Streamline Refinance program, a 225% increase as compared to the year prior.
The good news for the FHA and the U.S. taxpayer is that each of these new FHA-backed loans pay today's higher mortgage insurance premiums and these premiums self-fund the FHA, replenishing its reserves.
The FHA capital ratio is expected to show a substantial increase during the agency's next financial audit.
FHA Mortgage Rates Remain Low
If you plan to make a purchase with 3.5% downpayment, or have an existing FHA mortgage to refinance via the FHA Streamline Refinance program, get started with a mortgage rate quote today. FHA mortgage rates are low and home affordability is high.
Click here to get today's mortgage rates (May 27th, 2017).
The information contained on The Mortgage Reports website is for informational purposes only and is not an advertisement for products offered by Full Beaker. The views and opinions expressed herein are those of the author and do not reflect the policy or position of Full Beaker, its officers, parent, or affiliates.
Try the Mortgage Calculator