First-Time Home Buyers Guide: What Is A VA Mortgage?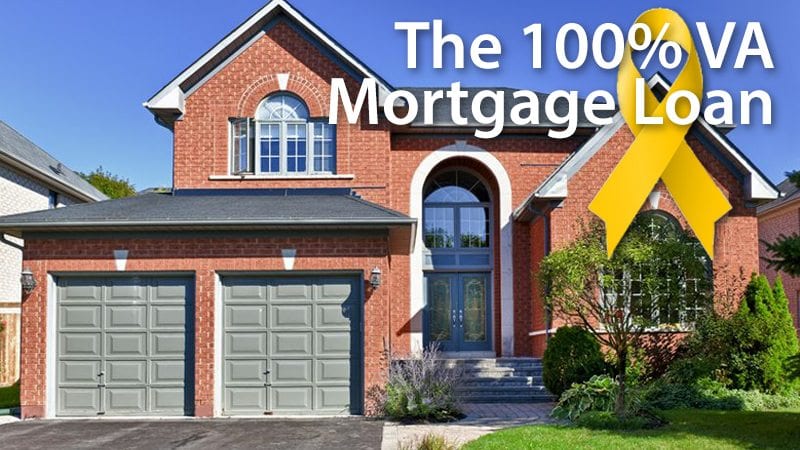 What Is A VA Mortgage?
As a first-time home buyer, the move into homeownership can seem daunting.
When you own your own place, after all, you're responsible for more than just your mortgage payment. Your home's maintenance and upkeep is up to you; and, you're required to keep your home insured against damage or loss.
However, for members of the U.S. military and veterans of the Armed Services, owning a home can be simpler than for the general civilian population.
This is because of the VA Home Loan Guaranty program.
The VA Home Loan Guaranty program, which is backed by the Department of Veterans Affairs, gives military borrowers access to mortgage loans which require no money down; at mortgage rates which beat the national average; and, with only basic mortgage qualification standards.
If you're buying a home and are eligible to use VA mortgage financing -- regardless of the size of your down payment -- it can make sense to explore your VA loan eligibility.
VA mortgage loans are among the best "deals" in mortgage lending.
Click to see your VA loan eligibility (Jul 20th, 2017)
VA Loans: Since 1944, Helping Military Borrowers
The VA Home Loan Guaranty program was started more than seventy years ago, as part of the Servicemen's Readjustment Act of 1944.
Better known as the G.I. Bill, the law provided a wide range of benefits to returning World War II veterans (who were commonly called "G.I.s").
The benefits of the G.I. Bill included access to low-interest loans to start a business; cash payments for tuition to attend university or receive vocational training; and, access to low-cost mortgages.
The G.I. Bill remains as law today and millions of active and veteran military personnel have used the VA Home Loan Guaranty program to buy their first homes.
The Department of Veterans Affairs, however, is not a mortgage lender. Rather, the agency offers guarantees to lenders which make loans under the auspices of the program.
This means that home buyers don't have to apply for VA loans with the Department of Veterans Affairs directly. You can apply for a VA loan with any VA-approved mortgage lender in the country (and there are lots of them).
Mortgage lenders like to make VA loans because the loans are protected against loss by the government, which makes them close to "risk-free".
If you, as the home buyer, are unable to make mortgage payments to the bank for whatever reason in the future, the lender can collect on the guaranty and eliminate its potential losses on your loan.
Because of the VA loan guaranty, then, mortgage rates for VA loans are typically the lowest of all commonly-used mortgage loans, including FHA loans, conventional loans, and USDA loans, too.
Even if you're planning a large down payment, the VA loan may be your best option.
Click to see your VA loan eligibility (Jul 20th, 2017)
The Benefits Of The VA Mortgage
For borrowers eligible to use the program, the VA home loan is often the best home loan choice -- without even a close competitor.
This is because the VA mortgage offers an excellent combination of low down payment, low mortgage rates, and ease of approval.
Here are some of the reasons home buyers choose VA home loans over every other type.
VA mortgage rates are often the lowest of all mortgage rates available
VA mortgage rates, because of their government guarantee, tend to be the lowest of all generally-available mortgage types.
VA mortgage rates beat conventional mortgage rates for comparable, 30-year fixed-rate loans by as much as 40 basis points (0.40%). However, for loans with a down payment of ten percent or less; and, for loans for borrowers with less-than-perfect credit, that gap can widen measurably.
For some home buyers, VA mortgage rates beat conventional rates by 100 basis points (1.00%) or more.
VA loans never require a down payment
VA loans do not require a down payment. It's your right as a borrower to make a down payment, however, the program doesn't require it.
Because there's no down payment requirement, home buyers can bring less money to closing with a VA loan than with any other loan type.
Monies saved on a down payment can be used for home repairs and improvements; for building a household emergency fund; or, for any other purpose you want.
VA loans never require mortgage insurance
VA mortgage loans, because of their guarantee, never require mortgage insurance. This makes VA loans unique among other low- and no-down payment mortgage types.
No matter how much or how little you put down on a home, when you use the VA Home Loan Guaranty program, you'll never be asked to pay mortgage insurance.
And, because VA loans don't require mortgage insurance, the monthly payments on a VA loan are often cheap as compared to comparable FHA, USDA, and conventional home loans.
VA loans are assumable
Another benefit of VA loans is that they're assumable. This means that your VA loan (and its mortgage rate) can be "assumed" by a future buyer of your home.
Assumable loans are so important when mortgage rates are dropping. However, when mortgage rates are rising, an assumable loan can add to your home's marketability.
Imagine selling your home with a 3.50% mortgage rate attached to it when the market rate is close to double that. A home with a cheap mortgage payment is likely to sell more quickly, and at a higher price.
Click to see your VA loan eligibility (Jul 20th, 2017)
Qualifying For A VA Loan
As a home buyer, you'll find that the steps to qualify for a VA loan are similar to how you'd qualify for any loan type.
After giving your mortgage loan application by phone, by internet, or by app, your lender will ask you to provide supporting documentation for the information you've shared.
This will include providing proof of income using W-2 statements, current pay stubs, and, in some cases, federal income tax returns.
You will also be asked to verify your employment and residence history of the last two years, and to provide proof of military history and a certificate of eligibility (COE).
These documents are generally available via the Web LGY. Your lender can retrieve them for you while-you-wait.
Lastly, you will be asked to verify your credit report and your residency status.
You may not use the VA Home Loan Guaranty program to purchase a vacation home or a rentals. However, you're not required to take occupancy immediately after closing, either.
Military borrowers are often permitted 60 days after closing to take residence of a new home, but exceptions exist. For example, if you're on active duty or are a single civilian working overseas, you can delay your occupancy in a new home.
The VA loan program is often forgiving in common sense-type scenarios.
Once you've made your verifications with the lender, it will review your documentation against the VA's minimum requirement standards. These standards, known as the "VA Mortgage Guidelines", determine whether your mortgage is VA loan-eligible.
Loans eligible for the VA Home Loan Guaranty program get approved and funded for closing.
What Are Today's Mortgage Rates?
For first-time home buyers with military experience, the VA loan is often the cheapest, fastest, and best way to get mortgage-approved.
Get today's live mortgage rates now. Your social security number is not required to get started, and all quotes come with access to your live mortgage credit scores.
Click to see your VA loan eligibility (Jul 20th, 2017)
The information contained on The Mortgage Reports website is for informational purposes only and is not an advertisement for products offered by Full Beaker. The views and opinions expressed herein are those of the author and do not reflect the policy or position of Full Beaker, its officers, parent, or affiliates.
Try the Mortgage Calculator