Mortgage Rates : FHA, VA, Conforming Rates Ease Lower Monday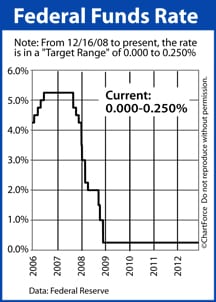 Mortgage-backed securities (MBS) improved Monday.
T
he Fannie Mae (FNMA) 3.0% coupon closed +3/32 to 105.05. Fannie Mae bonds are tied to conforming mortgage rates and conforming loan programs such as the HARP refinance for underwater homeowners.
The Ginnie Mae (GNMA) 3.0% 30-year coupon made larger gains, posting +7/32 to close at 106.23. Ginnie Mae bonds are linked to FHA and VA mortgage rates which are used in the FHA Streamline Refinance and VA Streamline Refinance programs, respectively.
Mortgage rates of all types improved Monday.
Get today's mortgage rates (Oct 23rd, 2017).
Mortgage Rates : Volatile Ahead Of FOMC
Mortgage bonds traded in positive territory for all of Monday, but remained unhinged and volatile. 
There was no economic data released to the markets
There was no sovereign debt story emerging from Europe
There was no new development in the Fiscal Cliff negotiations
So, in the absence of "news", MBS traded on expectations for the 2013 economy; expectations for the Fiscal Cliff discussion; and, expectation for the 2-day Federal Open Market Committee meeting which opens Tuesday.
Mortgage bonds carved out a wide range on the day with FHA-backed bonds briefly trading at a 4-week best.
Get today's mortgage rates (Oct 23rd, 2017).
Tuesday : Looking Ahead To The FOMC
There will no new economic data Tuesday, either, so look for the U.S. mortgage market to take cues from elsewhere.
On such story comes from Italy, where Prime Minister Mario Monti said this weekend that he would resign once the 2013 budget passes. The decision has left some investors nervous because Italy is the Eurozone's third-largest economy and the region is likely entering recession. 
Another story that could effect rates is the early-afternoon release of the Treasury 3-Year Note auction. There is no direct link between Treasury Notes and U.S. mortgage rates, but when the Treasury announces strong auction results, the MBS market typically picks up a rally.
This would be good for mortgage rates.
And, lastly, Tuesday, Wall Street will be looking ahead to the FOMC's 2-day policy meeting.
The Fed is expected to the leave the Fed Funds Rate unchanged in its target range of 0.000-0.250 percent, but that's not what will move mortgage rates. Rather, it will be the Fed's press release and the words used to describe the U.S. economy. If the Federal Reserve projects an economic growth uptick, for example, mortgage rates will likely rise and money flows from bond markets to equities.
The reverse is true, too. If the Fed sees a slowdown ahead, mortgage rates should fall.
Get today's mortgage rates (Oct 23rd, 2017).
The information contained on The Mortgage Reports website is for informational purposes only and is not an advertisement for products offered by Full Beaker. The views and opinions expressed herein are those of the author and do not reflect the policy or position of Full Beaker, its officers, parent, or affiliates.
Try the Mortgage Calculator