How The IRS Gets Paid On Your Foreclosure Short Sale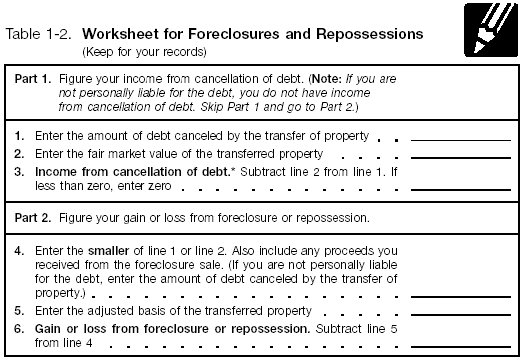 In his weekly syndicated column, Kenneth Harney pulled back the curtain on a nasty piece of IRS tax code that can penalize homeowners with foreclosures and short sales.
For those that don't know, a short sale is when a lender accepts a payoff amount that is less than the amount owed on a home. 
Author's note: If you're new to short sales, consider this to be a seminal moment. It's the first of many times you'll hear the term "short sale" bandied about over the next 12-18 months.  You heard it here first, folks.
Here's an example of a short sale. 
You owe $400,000 on your home
You are missing mortgage payments and are 90 days late to the lender
You have no assets or reserves in the bank
Your home sells for $380,000
After paying commissions and taxes, you have $365,000
The lenders realizes that you can't pay them back for everything you owe
The lender agrees to accept less than the amount owed because something is better than nothing
So, it appears that the homeowner is getting away scot-free on the $35,000 shortfall to the lender. 
Quite the contrary.
According to IRS tax code, when a creditor agrees to cancel a personal debt of $600 or more, it is required to submit a 1099-C, Cancellation of Debt form to the IRS.  And, when the IRS receives this form, it treats the canceled debt as income.
So, when the lender agrees to "forgive" the $35,000 in the short sale example above, it is required to report that write-off to the IRS.  The IRS, in turn, treats the write-off as income for the homeowner.
Assuming the 28% tax bracket, the homeowner added $9,800 ($35,000 * 0.28) of additional tax liability come April 15 -- even he never physically held the cash, or was paid the cash at all.
But the tax code related to Form 1099-C may not last forever.  Several lawmakers on Capitol Hill are trying to modify the tax code related to cancellation of debt. 
The Mortgage Cancellation Tax Relief Act of 2007 would amend the tax code to forgive debt cancellations on primary residences and is currently before the House Ways and Means Committee, the primary tax legislation body of Congress.
The information contained on The Mortgage Reports website is for informational purposes only and is not an advertisement for products offered by Full Beaker. The views and opinions expressed herein are those of the author and do not reflect the policy or position of Full Beaker, its officers, parent, or affiliates.
Try the Mortgage Calculator