Affordable housing in up-and-coming neighborhoods
If you're looking for a steal on a new home, you're not alone.
Affordable housing is in great demand today, especially among first-time buyers — and cheap homes often get snatched up quickly. That can make it frustrating to find a bargain.
But for savvy shoppers, opportunity knocks in the form of Opportunity Zones.
These government-designated areas are currently low- to moderate-income, but have been targeted for commercial development and economic investment.
Here we'll go over the pros and cons of finding affordable housing in an Opportunity Zone.
And remember, regardless of where you buy, your first step before checking listings should be to check mortgage rates and get pre-approved.
Why house hunters should pay attention to Opportunity Zones
Opportunity Zones are census-designated areas considered economically distressed and less vibrant.
However, there's a unique draw to these areas for would-be homeowners.
Fresh data reveals that the vast majority of Opportunity Zones have median home prices below the national average. That means homes in more desirable Opportunity Zones could represent a good investment for someone seeking a primary residence or investment property to rent out.
"Those same localities have turned into edgy districts of vibrancy. So clearly, some home shoppers could turn a big profit by investing in previously dangerous areas that are now considered safe and lively." —Lawrence Yun, Chief Economist, National Association of Realtors
"Those same localities have turned into edgy districts of vibrancy." —Lawrence Yun, Chief Economist, National Association of Realtors
However, cheap property in these areas can come with risks.
There's no guarantee that development efforts will pay off or the neighborhood will begin to thrive right away. For some, these potential drawbacks may outweigh the savings.
It's important to research your prospects carefully. And it's wise to consult with experts before committing to a purchase in an Opportunity Zone.
Just how cheap are these homes?
A new study by ATTOM Data Solutions revealed how affordable housing in Opportunity Zones can be.
According to the study, most homes in Opportunity Zones are priced well below the national average of $266,000.
In fact, more than 80% of these homes cost less than half the average price of their surrounding metro areas.
Here's what you should know: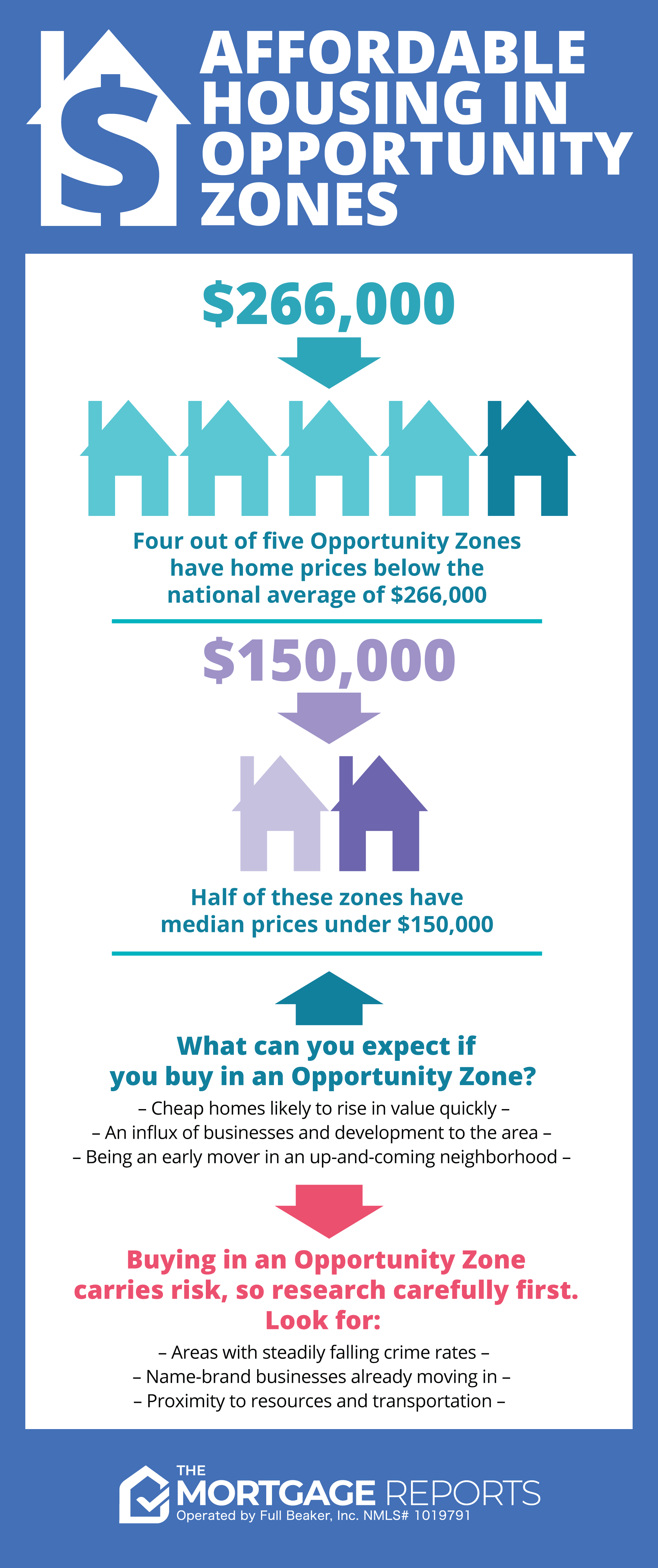 Understanding Opportunity Zones
The Tax Cuts and Jobs Act of 2017 instituted a program designed to stimulate real estate development and economically stagnant areas. These areas are commonly known as "Opportunity Zones."
Andrew Maguire, real estate attorney with McCausland Keen + Buckman, explains:
"Each U.S. state and territory had the chance to nominate certain areas for inclusion in this program. The requirement was that Opportunity Zones must be located in census areas which are designated as low or moderate income," says McGuire.
The purpose of this program is to encourage real estate development and redevelopment in economically challenged areas.
"In the best-case scenario, development of successful office, retail, or medical properties in these areas will lift the value of houses located within that same zone," Maguire continues.
Say you buy a cheap home today in an Opportunity Zone where significant commercial development is planned. There's a chance that your home's value will greatly appreciate after those real estate projects are completed.
"For example, employees who work in newly built office buildings located in an Opportunity Zone might want to live close to work. This increases the demand for and value of nearby housing," he adds.
Richard Gibble, managing director of DelCam Holdings, LLC, says the thought behind creating Opportunity Zones is simple.
"Direct investment into these affordable housing areas is hoped to holistically improve the communities," Gibble says. "This is done by growing businesses, creating jobs, cleaning up derelict properties, and removing blight."
Why buying in an Opportunity Zone may be worth it
Properties in Opportunity Zones typically carry smaller price tags than those in better neighborhoods.
"A strategic buyer can identify a home within or in close proximity to an Opportunity Zone. Or they can forecast areas that will be first to be improved by other investors," notes Gibble.
Ralph DiBugnara, president of Home Qualified, agrees.
"Some Opportunity Zones represent the chance to purchase a home in an area that will receive a new wave of funding which will promote property appreciation. These will be at lower price points than other local neighborhoods. So there will be greater chance for larger gains on your investment," says DiBugnara.
"The biggest home price growth markets in recent years have been in lower-priced areas and places considered 'on the edge,'" says Lawrence Yun, chief economist for the National Association of Realtors.
"Those same localities have turned into edgy districts of vibrancy. So clearly, some home shoppers could turn a big profit by investing in previously dangerous areas that are now considered safe and lively," Yun adds.
How to shop for affordable housing in an Opportunity Zone
Finding a worthy property in an Opportunity Zone may not be easy. You can start by searching for eligible zones.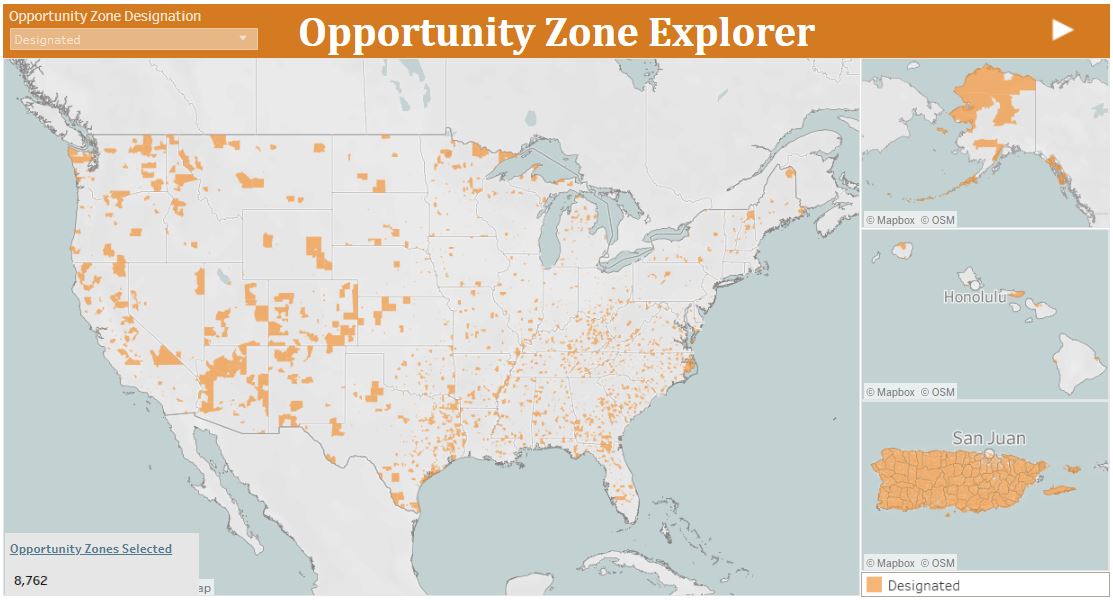 "Look for areas where crimes are falling in neighborhoods drawing national brand companies – like Starbucks, Target, or Whole Foods," recommends Yun. "These are areas were some rising millennials are seeking walkable communities and initially affordable homes."
But, Yun continues, "crime can be a killer to real estate values. So look for areas where crime has been steadily falling."
Maguire concurs.
"Research the safety of the neighborhood, how high the property taxes are, the strength of the public schools, and the distance to public transportation and shopping," says Maguire.
Affordable housing in Opportunity Zones: Pros, cons, and advice summed up
Pros of investing in Opportunity Zones:

Property prices are usually well below average
Areas are likely to see economic and commercial growth in the near future
Home and rental values could rise significantly in a short time

Potential drawbacks of investing in Opportunity Zones:

Economic improvement takes time
Program success is not guaranteed

Experts' advice on buying in Opportunity Zones:

Look for steadily falling crime rates
Look for large name brands moving in
Research neighborhood safety, property taxes, quality of public schools, and proximity to resources
Your next step toward securing affordable housing
Opportunity Zone or no, there are affordable housing options out there for shoppers who know where to look.
But before you start scheduling tours or thinking about an offer, the first step is to check mortgage rates and get prequalified for a home within your budget.
Start by comparing rates and closing costs from at least three major lenders to find the best deal on your new home.