The Holiday Shopping "Deal" That Actually Hurts Your Home's Mortgage Rate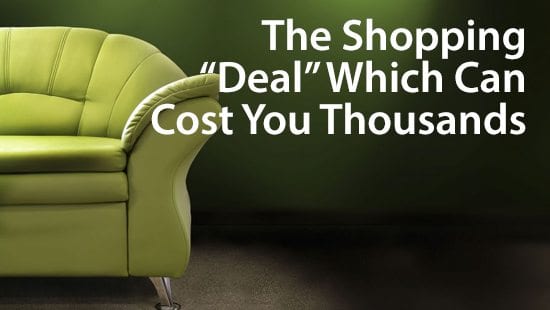 Store Charge Cards Can Hurt Your Mortgage Rate
Planning to do some shopping for the holidays? You're not alone.
According to the National Retail Federation, the typical person will spend more than $800 this holiday season, an increase from the year prior and the highest per-person spending of all-time, not adjusted for inflation.
Holiday shopping can be frenzied. Malls are typically a mass of people, and big box stores are equally crowded. Even online shopping can feel rushed and frenetic.
However, one thing to which we all give pause is "the great deal".
Clothes and electronics are often marked down -- sometimes by half or more as manufacturers get ready for next year's models; and, toys and other merchandise are sold at big discounts, too.
One deal you should think twice about, however, is the offer to open a charge card -- especially if you're planning to buy a home or refinance one in the next few months.
Opening a new store charge card can have drastic effects on the health of your credit score, and your credit score is linked to the mortgage rates available to you when you go to lock a loan.
Today's mortgage rates are low. And you likely want to keep them that way.
Click to see today's rates (Jul 20th, 2017)
Beware The "25% Off" Deal At The Register
This holiday season, like every other, businesses will compete hard for shoppers and their dollars.
In recent weeks, online advertising has become more overt and newspaper circulars have grown larger in preparation for what's expected to be the largest holiday shopping season ever.
Competition has sparked extreme discounting as well.
In addition to "Door Buster"-type deals for electronics, a bevy of "Buy One, Get One" and "Half-Off"-like deals will attempt to separate shoppers from their savings.
But one discount shoppers should consider avoiding is the "Open A Charge Card" deal.
Typically offered at the point of sale, the "Open A Charge Card" deal gives you up to 25% off your total spend when you agree to open a store card at the register.
On the average spend, as expected by the National Retail Federation, saving 25% can put $200 in your pocket and that's a "good deal".
However, the value of the deal can drop dramatically if you're a first-time home buyer or a repeat buyer in the market for a home; or, an existing home buyer planning to do a home loan refinance.
Saving $200 today could cost you $20,000 over the next 30 years.
It's all because of how credit scores are calculated and how your mortgage rate links to your score.
Click to see today's rates (Jul 20th, 2017)
"New Credit" Works Against Your FICO
Your credit score is based on a formula comprised of five parts.
One of the five parts is known as "New Credit" and, according to myFICO.com, New Credit accounts for 85 out your 850 available credit points.
The traits of the New Credit section are as follows:
The number of recently opened credit accounts
The number of recent credit inquiries
The amount of time since the recent credit inquiries
The proportion of new credit accounts to all credit accounts
Each of these traits can be positives or negatives for a FICO score.
For example, if a large number of new credit accounts were opened in the last six months; or, if a large proportion of a person's credit is linked to brand-new accounts, that would count as a negative.
Conversely, if a person's credit accounts are "aged", that would be a positive.
This is why applying for a new store card can harm your credit score and your mortgage rate. Each new in-store card application counts as "new credit" -- even if you're not approved!
And, note that the effect of opening a store charge card will be worse for borrowers without much of a history managing credit, or with few other credit accounts to their name.
A first-time home buyer, therefore, is likely to be affected more than a seasoned home buyer with an existing mortgage payment and other credit card payment to make.
Click to see today's rates (Jul 20th, 2017)
Check Your FICO Loan-Level Pricing Adjustment
It's good sense to keep your credit score high when you know you'll need a mortgage.
This is because your credit score is linked to mortgage rates. The higher your credit score, in general, the lower your mortgage rate can be.
With conventional lending, this is in-your-face and can be shown using the loan-level pricing adjustments (LLPA) table.
LLPAs are adjustments to your mortgage rate based on the traits of your loan.
They're used with loans via Fannie Mae or Freddie Mac, which account for more than half of all mortgage loans made each month.
Loan-level pricing adjustments exist for a variety of loan traits including: your loan's loan-to-value; your home's number of units; and, whether your home is a primary residence, vacation home, or rental.
There's an LLPA for credit score, too, and here's how it works.
This example assumes a twenty percent downpayment on a $300,000 conventional home loan.
740 FICO : 25 basis point (0.25%) increase in loan costs, or $750
720 FICO : 50 basis point (0.50%) increase in loan costs, or $1,500
700 FICO : 125 basis point (1.25%) increase in loan costs, or $3,750
680 FICO : 175 basis point (1.75%) increase in loan costs, or $5,250
660 FICO : 275 basis point (2.75%) increase in loan costs, or $8,250
Note that it's your choice as a mortgage applicant to convert your loan-level pricing adjustment from "cost" to "rate", which means that you can waive the LLPA costs in exchange for a higher mortgage rate from your lender.
In general, every 25 basis point increase to cost can be substituted with a 12.5 (0.125%) increase to your mortgage rate.
Having a 700 FICO score, therefore, can raise your mortgage rate 62.5 basis points (0.625%); and having a 680 FICO score can raise your mortgage rate 87.5 basis points (0.875%).
This is one reason why FHA loans are popular among borrowers with an average credit score. FHA loan to purchase a home"] can be less expensive than using a conventional one.
It's also why you should be careful when opening store credit cards during Holiday Shopping season.
Saving twenty-five percent at the register isn't really "saving" when it ends up costing you your low mortgage rate from the bank.
What Are Today's Mortgage Rates?
It may be tempting to save 25% by opening a new store charge card this season, but consider the longer-term effects. With mortgage rates low, you'll want the best quote possible. Keeping your credit score high is the best way to achieve that.
Get today's live mortgage rates now. Your social security number is not required to get started, and all quotes come with access to your live mortgage credit scores.
Click to see today's rates (Jul 20th, 2017)
The information contained on The Mortgage Reports website is for informational purposes only and is not an advertisement for products offered by Full Beaker. The views and opinions expressed herein are those of the author and do not reflect the policy or position of Full Beaker, its officers, parent, or affiliates.
Try the Mortgage Calculator