The 72.73 Percent Probability For Morning Mortgage Rate Quotes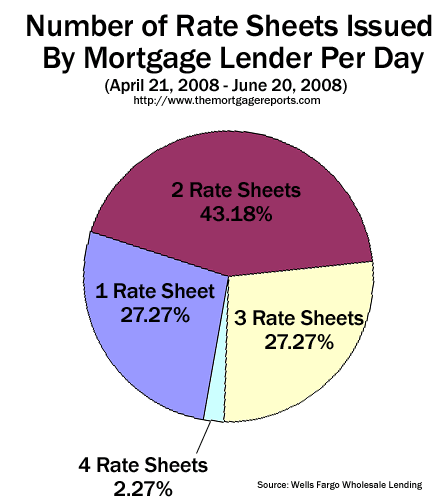 The pace at which mortgage rates change each day is quickening. This pie chart puts it in pictures.
In the last 2 months, mortgage rates changed mid-day nearly 75 percent of the time. This means that an offered rate at 9:00 A.M. is likely expired by 4:00 P.M. (and has probably even spoiled by High Noon).
One rate sheet used to last an entire day, making life supremely easy for buyers in need of a home loan. Lately? Not so much. Mortgage rates are as volatile as the stock market, plunging and soaring at any given moment and leaving confused rate shoppers in its wake.
I advise talking to multiple lenders, but doing it smartly. A few extra hours to "shop around" may end up increasing your mortgage payment because rates have ticked higher in the meanwhile.
On the other hand, if rates fall during that time, your payment could drop but for some strange reason, that sort of luck seems to be reserved for the other guy, now doesn't it?
So, we don't know what rates will do, but we know that they'll do it quickly. The best way to approach markets like this is to be ready to commit to a lender if you can lock in a comfortable monthly payment.
If rates fall after closing, after all, you can always remortgage to a lower rate later.
The information contained on The Mortgage Reports website is for informational purposes only and is not an advertisement for products offered by Full Beaker. The views and opinions expressed herein are those of the author and do not reflect the policy or position of Full Beaker, its officers, parent, or affiliates.
Try the Mortgage Calculator