FHA Institutes Risk-Based Pricing, Rewarding Owners Of Multi-Family Properties (In A Relative Way)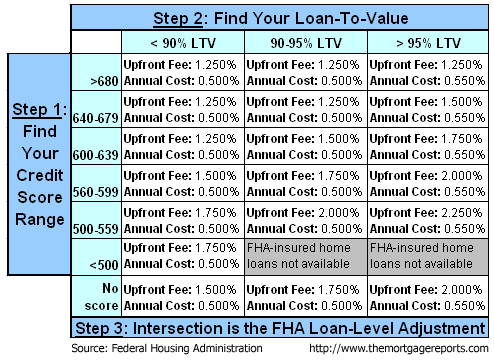 NOTE : FHA mortgage guidelines change frequently. Relevant updates are posted to http://themortgagereports.com/fha-most-recent-updates. Information below may be outdated.
The FHA rolled out risk-based mortgage pricing this week, matching steps that Fannie and Freddie took earlier this year.  In its press release, the FHA lists some exceptions including 15-year mortgages.
Prior to the risk-based changes, FHA home loans were usually accompanied by an easy-to-remember fee schedule of 1.500 percent of the loan size due at closing and an ongoing annual mortgage insurance premium equal to 0.500 percent of the original loan size.
The new fee schedule is not as straight-forward.  "Ideal" borrowers are rewarded for using using FHA-insured mortgages.  "Risky" borrowers are penalized.
Of course, rewards and penalties are relative because versus conforming mortgages -- ones guaranteed by Fannie Mae and Freddie Mac -- home buyers using FHA will generally get worse rates and pay higher fees over the long-term.  This is especially true when credit scores are low and/or downpayments are small.
One notable exception: home loans for multi-unit properties.
The FHA does not impose additional loan-level pricing adjustments for 2-unit, 3-unit or 4-unit properties.  Fannie and Freddie, by contrast, impose hefty multi-unit property fees of up to 1.000 percent.
This detail -- for the right homeowner -- could render FHA a much more attractive, even if FHA mortgage rates are slightly higher than their conforming counterpart.  As always, choosing the right mortgage product is rarely ebony and ivory.
Sometime soon, though, expect risk-based mortgage pricing will get more granular, accounting for additional details than just what's in the FICO-and-LTV Matrix shown above.
Until it does, though, bookmark this page.  It's a lot easier to make sense of the chart than it is to translate official government-speak on the FHA adjustments, that's for sure.
The information contained on The Mortgage Reports website is for informational purposes only and is not an advertisement for products offered by Full Beaker. The views and opinions expressed herein are those of the author and do not reflect the policy or position of Full Beaker, its officers, parent, or affiliates.
Try the Mortgage Calculator