Interview With First Business : New Fannie Mae and Freddie Mac Loan Fees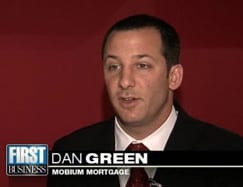 I spoke with Beejal Patel of First Business last week on Fannie Mae and Freddie Mac's new mandatory loan fees.
The story is especially timely because mortgage servicing data showed that a greater number of "prime" mortgages defaulted in July 2008 than sub-prime ones.
Now, the data is somewhat misleading because the total number of sub-prime mortgages pales next to the number of prime mortgages, but it's still important to market psychology and to Fannie and Freddie.
Fannie Mae and Freddie Mac are the primary insurers of prime mortgages. More defaults mean that it's highly likely that the two firms will raise fees again and further tighten mortgage guidelines over the near-term.
We talked about this outcome in a popular video from early-2008.
The story can't get enough press because as Fannie and Freddie tighten the spigots, it creates an uncomfortable lending situation for 2009's home buyers and for current homeowners looking to trade out of their existing mortgage -- adjustable-rate or otherwise -- in favor of a new one.
In other words, if low mortgage fees and common sense guidelines are bacon, Fannie Mae and Freddie Mac's recent changes are most definitely not bacon.
The information contained on The Mortgage Reports website is for informational purposes only and is not an advertisement for products offered by Full Beaker. The views and opinions expressed herein are those of the author and do not reflect the policy or position of Full Beaker, its officers, parent, or affiliates.
Try the Mortgage Calculator