Signs That The U.S. Foreclosure Rate May Be Cresting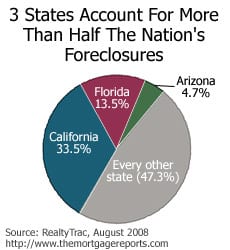 RealtyTrac released its foreclosure data for August 2008, its headline reading in the usual Armageddon-like style:
FORECLOSURE ACTIVITY INCREASES
12 PERCENT IN AUGUST
Activity Up 27 Percent From August 2007
But, as is also typical, the news isn't nearly as dire as the headline would make us believe.
Looking at the data, it appears that U.S. foreclosure rates may have already crested because states like Ohio, Michigan and Florida showed marked improvement, as have some other states.
RealtyTrac even acknowledges as much on its corporate blog.
In addition, the report also contained two choice nuggets about where these foreclosures are happening. According to the data:
Just 3 states accounted for more than half of the nation's foreclosure activity
This tells us that the "national foreclosure crisis" isn't really national. It's isolated to a few states and a few neighborhoods. Nationwide, it's closer to business as usual and homeowners are doing just fine.
National trends are relevant, however, because when lenders take losses anywhere in their portfolio, they're apt to tighten mortgage guidelines everywhere. This is a major reason why qualifying for a home loan is harder than it used to be, and why some lenders have onerous rules in states like Florida and California.
Tightening mortgage guidelines can be a preventative step.
Now, a few months doesn't make a trend, but the slowing rate of foreclosures may portend a gradual guideline loosening sometime in late-2009. If lenders are less fearful of loss, after all, they would be more inclined to take on additional risk.
Ironically, this would help slow the foreclosure rate even faster because with looser mortgage guidelines, more homeowners could refinance their way out of trouble, or out of high interest rates.
The information contained on The Mortgage Reports website is for informational purposes only and is not an advertisement for products offered by Full Beaker. The views and opinions expressed herein are those of the author and do not reflect the policy or position of Full Beaker, its officers, parent, or affiliates.
Try the Mortgage Calculator