New Home Sales Pick Up Steam; Resale Inventory Tightens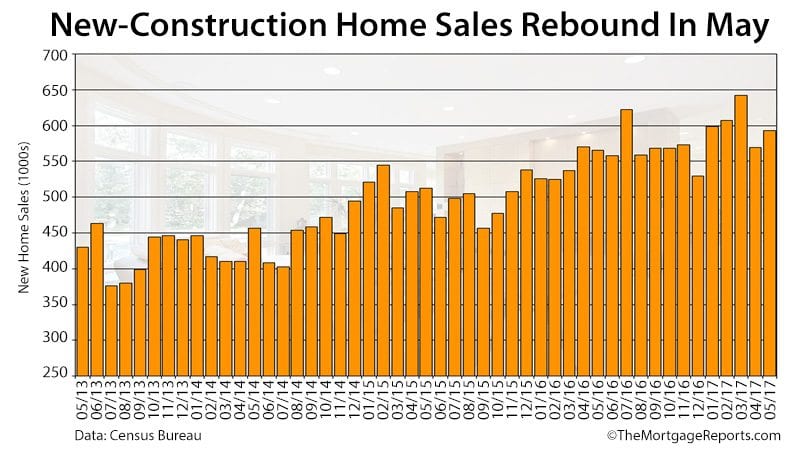 Can't Find A "Used" Home? Try Buying New
With existing homes for sale short in supply and prices rises, more buyers are turning to new construction to meet their housing needs.
Sales of newly built houses in May rose by 2.9% over April to a seasonally adjusted annual rate of 610,000 units, according to a joint release from the U.S. Census Bureau and the U.S. Department of Housing and Urban Development.
It's also a significant jump -- 8.9% -- above the May 2016 estimate of 560,000 units
More encouraging news: The joint release noted an upwardly revised April rate of sales, from a 569,000 annual pace to 593,000.
"The growth in sales continues along a positive trend for the market, which is supported by solid job growth, improving household formations, continuing favorable housing affordability conditions and tight existing-home inventory," wrote Robert Dietz, chief economist with the National Association of Home Builders, in a blog post.
In addition to a rise in sales, the median sales price of new homes was $345,800 while the average sales price was considerably higher, at $406,400. The increase in new-home prices was driven largely by gains in the West and Northeast, where homes are more expensive.
Click to see today's rates (Sep 23rd, 2017)
Shortage Of Existing Homes Bodes Well For Newly Built Sales
According to the National Association of Realtors, existing-home sales recovered slightly in May after a dip in April.
But the lack of affordable starter homes for sale is pushing buyers to look at new homes, which is one reason for the sales gain.
Another dilemma: time on market for existing homes was down to 27 days in May from 29 days in April and 32 days year-over year, NAR reported. May's time on market is the shortest timeframe since May 2011, when NAR began tracking inventory timeframes.
Needless to say, starter homes are flying off the market in less time, making it much harder for first-time home buyers and those with moderate incomes to find the right resale property.
As a result, home buyers have to compromise on their criteria for an existing home, or turn to new homes as a solution.
The lure of new construction is strong; buyers can choose the floorplan, lot, amenities and style of their home, but will have to pay steeper costs to get what they want, how they want it. Meanwhile, their existing-home options are drastically limited, and could require extensive remodeling, which adds up fast.
A slowdown in new construction due to skilled labor shortages and soaring material costs (mainly lumber) are tempering new housing starts. That could make it harder for builders to keep up with the growing demand from buyers who are either priced out of resales — or simply can't find the right one amid tighter inventory levels.
Should I Lock In My Rate For A New Home?
With mortgage rates for 30-year conventional loans still hovering below 4%, buyers who are serious about building a new home might consider a rate lock. There is a hefty cost to extend it out, though, so you'll need to weigh several factors.
A rate lock with your lender ensures you'll get today's mortgage rate when your loan closing. For resales, most rate locks are offered for 30 to 45 days.
But because building a home can take months, a rate lock for a new-construction loan could stretch out to 90 days or more, depending on what type of financing you use.
Bear in mind that rate locks cost more money the longer the lock period is in place.
The rate lock includes two key components: the interest rate and the mortgage fee, or discount points. Mortgage rates don't usually fluctuate for standard rate lock periods, but the fee will rise over time if you request multiple extensions.
To determine whether an extended rate lock is worth the expense, ask your lender to show you movements in mortgage rates in recent months for the exact loan product and terms you want.
For example, if there hasn't been much change in 30-year fixed-rate conventional loans in recent months, you might be better off without a rate lock if your home will take several months to build.
However, if there's a lot of volatility in the bond market, or if rates have been steadily increasing, the discount points you pay upfront to ensure a lower rate might be minimal compared to paying much higher interest rates for the life of your loan.
What Are Today's Mortgage Rates?
Sales of new construction homes are strong and demand for homes remains high. Thankfully, today's mortgage rates are low. Buyers have purchasing power even as builders hold leverage in negotiation.
Get today's live mortgage rates now. Your social security number is not required to get started, and all quotes come with access to your live mortgage credit scores.
Click to see today's rates (Sep 23rd, 2017)
The information contained on The Mortgage Reports website is for informational purposes only and is not an advertisement for products offered by Full Beaker. The views and opinions expressed herein are those of the author and do not reflect the policy or position of Full Beaker, its officers, parent, or affiliates.
Try the Mortgage Calculator