2009 Conforming Loan Limits : Temporary Increases And Sub-Area Snubs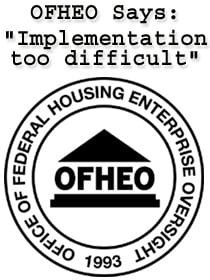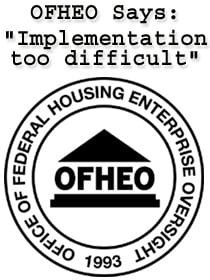 The government published its 2009 Conforming Loan Limit guidance Monday.
Listed by county, the report grants 324 parts of the country a temporary boost beyond the "normal" $417,000 Fannie Mae-bound mortgage loan limits. 
Designated "high-cost", these areas are differentiated by their local median sales price.  Temporary loan limits can range up to $729,750.
The complete "high-cost" area list is available for download.
Increasing conforming loan limits is part of the American Recovery and Reinvestment Act of 2009 and among the many ways that the government is providing economic stimulus. The change to $729,750 is meant to impact the economy two-fold:
Stimulate demand for housing with abundant supplies of cheap money.
Entice homeowners with existing jumbo and sub-prime mortgages to refinance into government-insured home loans, protecting banks and the private sector.
Considering that conforming mortgage rates are hovering near 5 percent, the change to make more homeowners eligible for Fannie Mae loans is step in the right direction.
However, all is not Peanut Butter Jelly Time.
In writing the law to extend conforming loan limits, Congress acknowledged that territories are rarely a uniform mix of high-cost -- or low-cost -- housing.  To compensate for intra-county discrepencies, therefore, it added specific language to the bill that grants the government power to designate "sub-areas" around the county to be "high-cost", even when their parent counties is specifically excluded.
As an example, sub-area status could apply to neighborhoods like Lincoln Park and Highland Park in Chicago, or Indian Hill in Cincinnati.  In these areas, homes are relatively pricey versus the whole of their respective counties.  And there are neighborhoods like this in every city, of course.
But what Congress didn't add to the stimulus bill was an explicit definition of the term "sub-area".
Is a sub-area defined by city limits? 
Is a sub-area defined by zip code?
Is a sub-area defined by census tract?
It's too bad sub-area was left undefined because that lack of defintion may be one reason why the government official empowered to grant High-Cost Treatment passed on that right, citing "implementation difficulties".  Furthermore, according to the press release, there are "no plans to use [that] discretion".
For now, all of Chicago and Cincinnati remain bound to $417,000.
Regardless, higher loan limits are a major plus for the nation.  With more homeowners qualifying for today's lower-cost conforming mortgages, two big positives emerge for the economy.
The first positive is that more Americans can buy and own their homes via government-backed funding.  This is especially important because, as second mortgage financing grows scarce(r), negating the need for HELOCs or HELOANs means more eligible applicants.  More buyers that can buy add additional buy-side demand for housing and that kind of demand is an essential ingredient in the housing recovery. 
The second positive is that more homeowners can participate in the ongoing Refi Boom.  With access to lower-cost mortgages and the ability to consolidate two liens into one, homeowners formerly relegated to Jumboland can reduce their mortgage rate, their monthly payment, and maybe even switch to a fixed-rate home loan from an ARM.
This, too, is important with respect to the economy because with smaller monthly payments, formerly-Jumbo homeowners can put additional dollars towards saving, spending, and investing.
The new loan limits apply to all mortgages originated in 2009.
The information contained on The Mortgage Reports website is for informational purposes only and is not an advertisement for products offered by Full Beaker. The views and opinions expressed herein are those of the author and do not reflect the policy or position of Full Beaker, its officers, parent, or affiliates.
Try the Mortgage Calculator