Mortgage Rates Today, April 17, 2017, Plus Lock Recommendations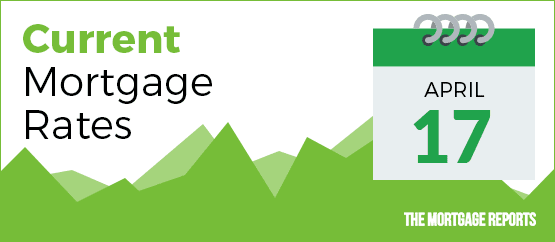 What's Driving Mortgage Rates Today?
Mortgage rates really don't have much to take their cue from this Monday. We have a mixed bag of indicators -- all three major indexes are up (nice for shareholders, less so for anyone floating an interest rate).
Yields for ten-year Treasuries are slightly down at 2.23 percent, which is quite low and a good sign for rates.
Gold prices are up slightly. This would also be a tip that investors are nervous and moving into tangible assets like gold and away from equities. That tends to go hand in hand with lower rates.
And then, oil comes along and spoils the low rate party. W're dealing with sabre-rattling in the Middle East, and potential for war (especially in that part of the world) means possible oil shortages. Which brings on inflation. Fun stuff.
Click to see today's rates (Sep 25th, 2017)
 Mortgage Rates Today
(As of 11:21 EDT)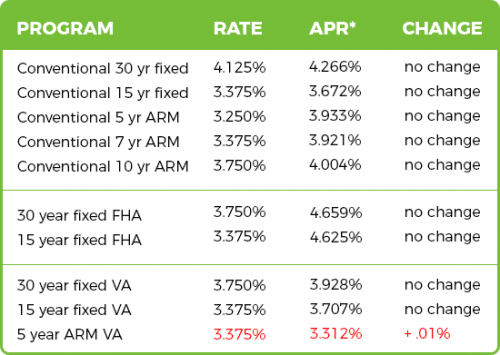 This Week
Overall, there are no major economic reports scheduled this week. So we're more vulnerable than usual to news items, global problems and political unrest.
That National Association of Home Builders releases its index, expected to drop from the previous reading of 71 to 68. Yawn..
Still, despite the lack of any "fun" reporting makes it more important than usual to stay in contact with your lender until you've nailed down a rate lock.
Rate Lock Recommendation
Not much going on. If I were floating a rate, I'd poor myself a stiff drink, call my lender and "set and forget" my loan.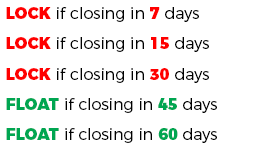 Click to see today's rates (Sep 25th, 2017)
What Causes Rates To Rise And Fall?
Mortgage interest rates depend on a great deal on the expectations of investors. Good economic news tends to be bad for interest rates, because an active economy raises concerns about inflation. Inflation causes fixed-income investments like bonds to lose value, and that causes their yields (another way of saying interest rates) to increase.
For example, suppose that two years ago, you bought a $1,000 bond paying five percent interest ($50) each year. (This is called its "coupon rate.") That's a pretty good rate today, so lots of investors want to buy it from you. You sell your $1,000 bond for $1,200.
When Rates Fall
The buyer gets the same $50 a year in interest that you were getting. However, because he paid more for the bond, his interest rate is not five percent.
Your interest rate: $50 annual interest / $1,000 = 5.0%
Your buyer's interest rate: $50 annual interest / $1,200 = 4.2%
The buyer gets an interest rate, or yield, of only 4.2 percent. And that's why, when demand for bonds increases and bond prices go up, interest rates go down.
When Rates Rise
However, when the economy heats up, the potential for inflation makes bonds less appealing. With fewer people wanting to buy bonds, their prices decrease, and then interest rates go up.
Imagine that you have your $1,000 bond, but you can't sell it for $1,000, because unemployment has dropped and stock prices are soaring. You end up getting $700. The buyer gets the same $50 a year in interest, but the yield looks like this:
$50 annual interest / $700 = 7.1% The buyer's interest rate is now slightly more than seven percent.
Click to see today's rates (Sep 25th, 2017)
The information contained on The Mortgage Reports website is for informational purposes only and is not an advertisement for products offered by Full Beaker. The views and opinions expressed herein are those of the author and do not reflect the policy or position of Full Beaker, its officers, parent, or affiliates.
Try the Mortgage Calculator