Negotiating A Better Mortgage Rate For Your Home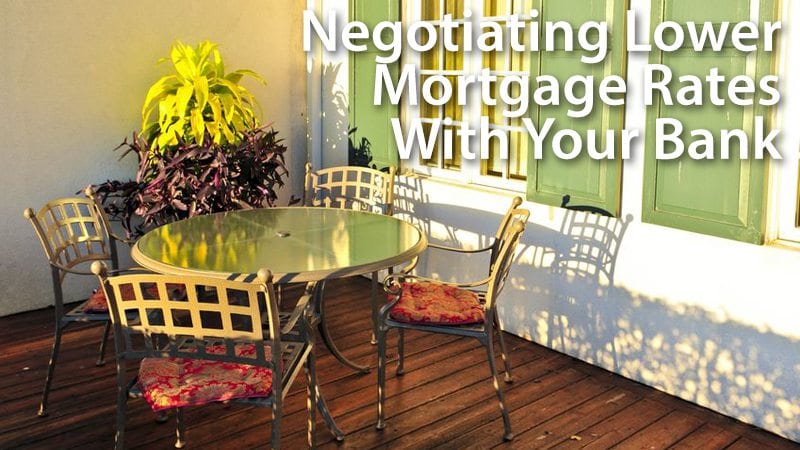 Negotiating A Better Mortgage Rate
Only recently has the mortgage lending business been tamed. For years, it operated without much oversight. Too frequently, consumers lost out.
It wouldn't have been uncommon to hear lenders joke about the Golden Rule of lending -- he who has the gold, makes the rules.
Today, mortgage consumers have more power.
Via new consumer protection laws, plus the creation of a government agency which identifies and punishes instances of lender abuse, it's easier than ever for buyers to shop for mortgage loans with both confidence and expediency.
However! In the course of writing consumer protection laws, regulators reduced a borrower's ability to negotiate for lower rates.
Nowadays, what you see is what you get (almost always).
Verify your new rate (Nov 20th, 2017)
The Old Way To Negotiate Your Mortgage Rate
In mortgage parlance, a "loan officer" is a representative of a bank or broker who "sells" your loan to you. Loan officers are typically licensed by the state, the federal government, or both.
Sometimes, loan officers are exempted from licensing, depending on where they work.
Now, it used to be that loan officers earned income based on the amount of income they generated for the bank, which is similar to how salespersons in other industries earn income.
More income meant bigger commissions which, in the mortgage business, put the loan officer in conflict with the customer.
There were only three ways for a loan officer to increase its commissions:
The loan officer could raise the customer's mortgage rate
The loan officer could raise the customer's closing costs
The loan officer could raise the customer's mortgage rate and closing costs
This is why consumers are told to "shop around" when looking for a loan.
There might always be at least one loan officer willing to work for a smaller commission, which would get you a better deal.
Verify your new rate (Nov 20th, 2017)
Realizing The System Was "Unequal"
Loan officers are salespersons and, under the old system of mortgage lending, each had incentive to offer customers the highest mortgage rates possible in order to maximize bank revenues and their own personal commission.
A closer analysis of this practice, however, revealed that customers were not treated equally.
Some customers received very high mortgage rates and some customers received very low mortgage rates. Sometimes, loan officers willingly reduced loan closing costs, and other times they did not.
Mortgage rates sometimes varied by as much as 50 basis points (0.50%) between borrowers of similar traits and characteristics.
Charging different fees to similar customers is a potential mortgage lending law violation. And, ultimately, the government levied fines on a lot of U.S. banks for their "disparate treatment" of customers.
In response, banks stopped the negotiation process.
Loan officers were to receive the exact same commission regardless of what mortgage rate or fees they charged to their customer.
Now, loan officers had no reason to raise mortgage rates for higher fees; or, to charge more points on a particularly "tough" loan. All loans were worth the same.
If you had called your lender and tried to negotiate a lower rate sometime between 2010 and 2014, you would have found it unlikely.
Mortgage lenders didn't negotiate when it could result in unfair treatment. Your rate was your rate was your rate.
Verify your new rate (Nov 20th, 2017)
The New Way To Negotiate Your Mortgage Rate
For today's mortgage borrower, it still makes sense to shop around. The rate you get from Bank A may not be the rate you get from Bank B.
However, there is some room for negotiation.
For example, lenders are allowed to credit closing costs to a borrower when delays result in a blown rate lock; or when it's necessary to be competitive.
The big caveat, though, is that the loan officer's commissionable income must not be affected by the negotiation.
A successful mortgage rate negotiation reduce income to the bank, therefore, but never to the loan officer. This keeps the loan officer's interest aligned with the customer's, and this is good.
For customers looking for the best possible mortgage rate, then, it's always good to ask.
Lenders have less flexibility to change rates or fees, but there are situations when it's possible -- especially when unforeseen events increase your loan closing costs.
What Are Today's Mortgage Rates?
Mortgage rates are cheap, but may be cheaper at some banks than others. It's always good to shop around to find the lowest rate possible.
Get today's live mortgage rates now. Your social security number is not required to get started, and all quotes come with access to your live mortgage credit scores.
Verify your new rate (Nov 20th, 2017)
The information contained on The Mortgage Reports website is for informational purposes only and is not an advertisement for products offered by Full Beaker. The views and opinions expressed herein are those of the author and do not reflect the policy or position of Full Beaker, its officers, parent, or affiliates.
Try the Mortgage Calculator