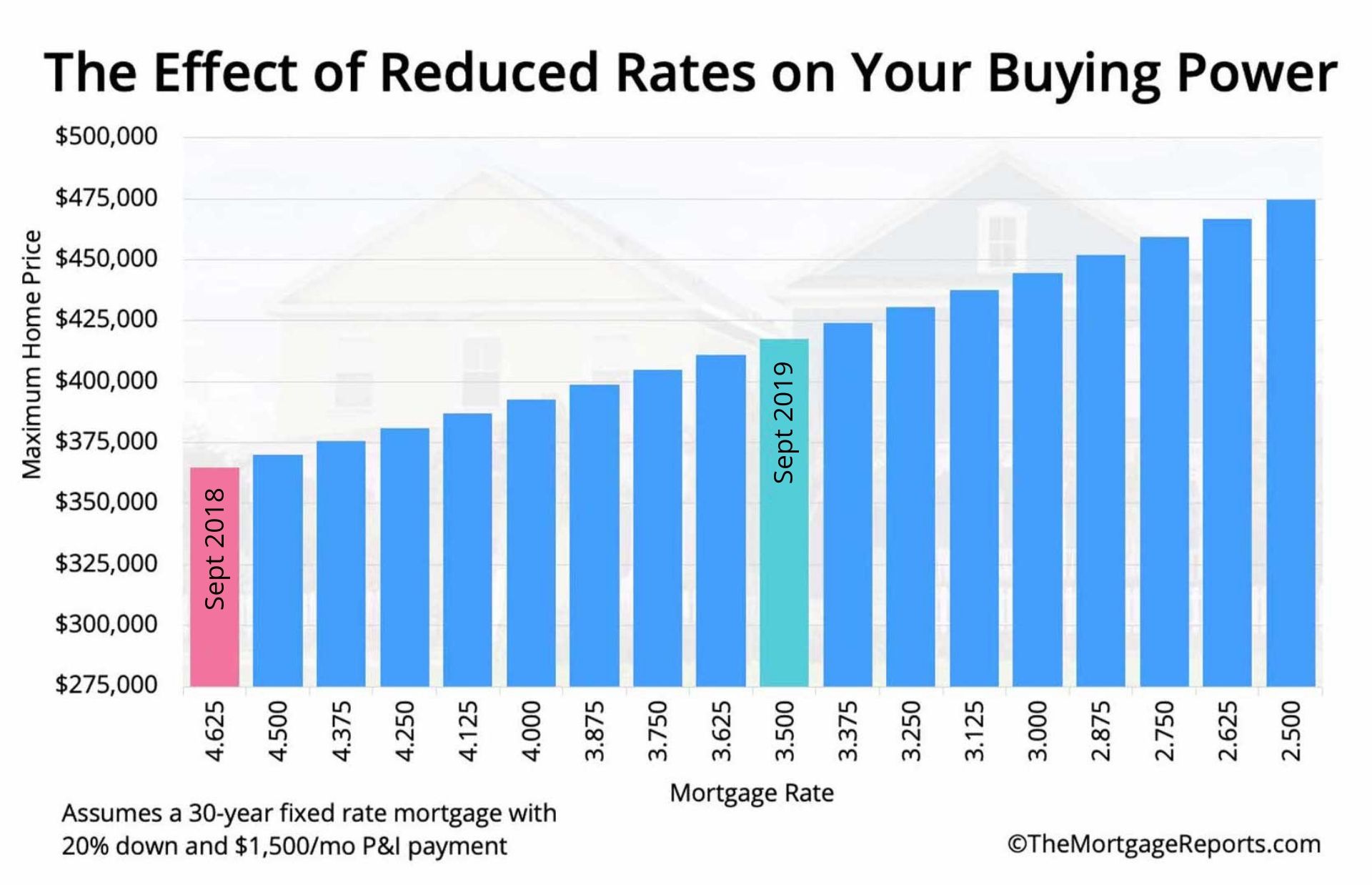 The size of your home loan is just the beginning
When shopping for a mortgage, rates matter hugely.
That's because mortgage rates affect more than just the interest you'll pay over the life of your loan.
Your fixed rate also plays a major role in determining your "home buying power" — meaning how much home you can afford.
Mortgage rates have been near record lows over the past few months. That means many prospective homebuyers can likely afford a more expensive home than they previously thought.
Curious what you could afford with today's low interest? Check personalized rates and your approved home price.
Verify your rate and buying power. Start here
How today's mortgage rates affect buying power
Mortgage rates plummeted in August and September this year, nearing all-time lows.
Related: Try our Buying Power Calculator
September's low reached 3.5% for a 30-year, fixed-rate mortgage. At that rate, it would be possible to afford a home valued at more than $400,000 and pay only about $1,500 per month (not including taxes, insurance, or HOA fees).
A year ago, when rates were over 4.6%, the same monthly payment might have gotten you a home priced less than $375,000.
In fact, with each 0.125% change in mortgage rates, your buying power can increase or decrease.
With each 0.125% change in mortgage rates, your home buying power can rise or fall.
Rates have dropped significantly since last year. Plus, housing affordability went up this summer for the first time since 2016.
If you've been on the fence about purchasing a home, you probably want to act soon. You may find that you can afford a bigger, better home than you thought – while still making reasonable monthly payments.
Verify your new rate. Start here
A 1% rate drop could add $30,000 to your budget
It's no secret that lower mortgage rates usually equate to a lower monthly payment.
"A 1% point drop in rates — such as from 4.5% to 3.5% — leads to a monthly savings of $167 on a $200,000 mortgage," says Lawrence Yun, chief economist for the National Association of Realtors.
To better illustrate this, consider the following example.
A home buyer named Steve has a monthly gross income of $5,000 and an expected total monthly debt of $2,250. His debt-to-income ratio is 45%.
Steve takes out a 30-year fixed loan of $250,000. At 4% interest, his monthly payment for principal, interest, taxes, and insurance (PITI) would be $1,193.
But say his rate was actually 3.5%.
"That rate decrease of a half percent increases Steve's purchasing power by $15,000; that assumes $1,122 is the maximum payment he can afford," says Brian Koss, executive vice president of Mortgage Network.
If Steve's rate was 3%, it would lower his monthly payment to the amazingly low sum of $1,051.
"That boosts his buying power by $30,000," Koss adds.
| | | | |
| --- | --- | --- | --- |
| Interest rate | 4% | 3.5% | 3% |
| Monthly payment* | $1,193 | $1,122 | $1,051 |
| Homebuying power |   | +$15,000 | +$30,000 |
*Monthly payments shown include principal, interest, taxes, and insurance (PITI)
Why mortgage rates are so low
Saro Vasudevan, president of Eave/Home Loans at HomeLight, explains why mortgage rates were on the decline throughout this year.
"Mortgage rates follow yields on U.S. Treasury debt. For example, rates for 30-year fixed mortgages follow the yield on the 10-year Treasury note," he says. "And yields on U.S. treasuries have an inverse relationship to U.S. Treasury bond prices, which have been rising for the past nine to 12 months."
Also, there have been growing concerns over the state of the global economy — with the exception of the United States.
"Global economists predict that yields, and mortgage rates, will continue to trend downward. That's because an economic correction is expected to occur in the near future, even in the United States," adds Vasudevan.
Indeed, interest rates around the globe have been dropping. "So mortgage rates are moving in tandem," says Koss. "Additionally, the economy is slowing due to the tariffs and other factors. So our interest climate is shifting lower."
The U.S. interest climate has also been impacted by shifting policy stances at the Federal Reserve.
"Rather than hinting of another rate increase in upcoming months, the Fed indicated stoppage to rate increases," notes Yun. In fact, the Fed recently announced an interest rate cut of 0.25%.
"So even just the change in posture by the Fed has led to big declines in mortgage rates," Yun says.
The lesson
"Mortgage rates directly affect a buyer's required monthly payment," Vasudevan says.
"Early on in a typical 30-year mortgage, more than 95% of a buyer's monthly payment goes toward interest. The lower the mortgage rate, the lower the amount of interest that needs to be paid. And the lower the monthly payment, the more affordable the home is on a month-to-month basis."
"The lower the mortgage rate, the lower the interest. The lower the interest, the more affordable the home is on a month-to-month basis." —Saro Vasudevan, president of Eave/Home Loans at HomeLight
Put another way, if you can afford a certain monthly payment based on your income, you can afford to take out a larger mortgage if interest rates are lower.
Will mortgage rates drop again soon?
Should you wait for rates to drop even lower, which would increase your purchasing power? Or should you lock in now and purchase sooner?
"There is a very small chance of any meaningful decline in mortgage rates to come. That's because the bond market has already priced in another Fed rate cut by the year's end," says Yun. "Current mortgage rates are around 3.5%. That's very close to a generational low and very favorable."
Your next steps
Yun's advice? If you can afford to buy now, and it makes sense to do so, "go for it."
Rates can rise and fall on the turn of a dime, so it's smart to lock when you get a quote that's right for you.
"If rates dropped to a level that make sense for your situation, execute immediately and don't look back," recommends Koss.
Time to make a move? Let us find the right mortgage for you