TheMortgageReports.com Interview Series: Gary Acosta, CEO, National Association of Hispanic Real Estate Professionals (NAHREP)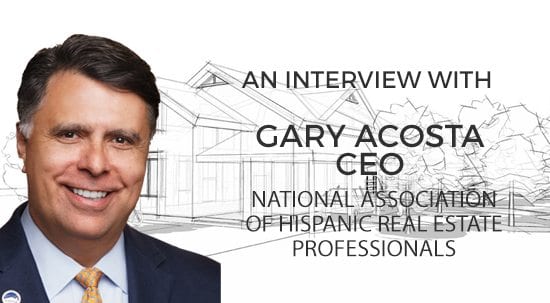 Meet Gary Acosta, CEO and Co-Founder, National Association of Hispanic Real Estate Professionals (NAHREP)
Tell us a little about yourself.
I was an independent mortgage banker for more than 20 years, spending most of my career focused on the Hispanic market.
In 1999, I conceived and co-founded NAHREP, which today has more than 20,000 professional members and 35 local chapters.
I live in San Diego, California with my wife and three children.
What does it mean to be CEO of the National Association of Hispanic Real Estate Professionals?
I am responsible for the day-to-day operations of the organization which includes managing a team of staff and consultants of 22 people; and, overseeing all of our activities and programs such as our national conferences, market reports, advocacy, communications, our consulting business, and over 200 local events each year.
Take us through your typical day.
I spend most mornings speaking with direct reports and board members about chapters activities, fundraising, and growth opportunities.
I try and spend time each afternoon writing for things like op-eds, social media, and upcoming speeches and conferences.
I spend the balance of the time reaching out to stakeholders and industry partners about initiatives and policy issues.
I also spend a great deal of time on the road meeting with chapters, elected officials, corporate partners, and attending industry events.
Homeownership rates among Hispanics are at the lowest levels in more than a decade. How is NAHREP helping to promote homeownership through the next 10 years and beyond?
Despite what appears to be a dire time for Hispanic homeownership, things are actually looking positive.
The most recent census report shows that the Hispanic homeownership rate has increased each of the last two quarters while the overall homeownership rate continues to dip. This gives us reason to be optimistic, but a great deal of work is still needed.
NAHREP is active in public policy ensuring that affordable, low down payment mortgages are accessible to hard-working, qualified families.
We also believe that we need to double the number of Hispanics in the mortgage and real estate industries to meet the coming demand, and we need more affordable housing stock that is available to first-time buyers and other working-class buyers.
NAHREP is working with government and industry leaders to insure that these issues are addressed in the coming years.
What are some of the key gateways to an increase in Hispanic homeownership levels?
Inventory is the biggest challenge right now.
First-time buyers are having a difficult time competing with investors and finding properties that are affordable and of good quality. In some markets, access to credit is the biggest challenge as many financial institutions have tightened up credit standards.
The pendulum has swung too far the other way.
Regulators need to provide lenders with more transparent guidelines and lenders need to be a little more nimble.
Hispanic buyers are ready and able to purchase more homes, but the industry needs to get better at communicating with them and providing relevant products and services to meet the demand.
What are some of the NAHREP's key policy initiatives for 2016?
Improved pricing and expanded underwriting from the GSEs: (1) Price improvements for borrowers with high LTV loans and modest credit scores; (2) Flexibility with sourcing of down payments; and, (3) Greater income flexibility for self-employed borrowers
More transparency from the FHA: (1) Anything that assist lenders to accurately assess risk; and, (2) Loan-level certifications
A plan to increase single family affordable housing: (1) Financial incentives for builders that build work force housing; (2) REO disposition strategies that favor owner occupant buyers; and, (3) Extension of the IRS exemption taxes based on gains from loan forgiveness such as short sales
What's your outlook for U.S. housing over the next five years?
Mostly positive, with Hispanics providing the largest share of first-time buyers in the market.
What are some of your favorite destinations for real estate and housing market news?
Housing Wire, the Mortgage Bankers Association website, and Mortgage Originator.
----
Gary Acosta is the co-founder and CEO of the National Association of Hispanic Real Estate Professionals (NAHREP) and a 25-year veteran of the housing industry. NAHREP is the nation's largest minority real estate trade association with over 20,000 members and 35 local chapters. Mr. Acosta also founded or co-founded several successful mortgage, real estate and technology companies including Prado Mortgage, New Vista Asset Management, CounselorMax, and RealEstateEspanol.com.  Mr. Acosta is a member of the consumer advisory board of the Consumer Financial Protection Bureau (CFPB), and served as 2014 chairman of the mortgage committee. In 2003, Realtor Magazine named him one of the 25 Most Influential People in real estate and in 2004, Hispanic Business Magazine named him one of the 100 Most Influential Hispanics in America. He is a former member of the board of directors of the Mortgage Bankers Association of America and has served on advisory boards for Fannie Mae, Freddie Mac and JP Morgan Chase. Mr. Acosta is a graduate from University of California San Diego and attended Pomona College.
----
TheMortgageReports.com is among the nation's most popular consumer-focused mortgage blogs.
Since 2004, The Mortgage Reports has published fresh mortgage-related content daily, educating U.S. and foreign consumers; and mortgage and real estate professionals nationwide.
Click here to subscribe to our newsletter.  
The information contained on The Mortgage Reports website is for informational purposes only and is not an advertisement for products offered by Full Beaker. The views and opinions expressed herein are those of the author and do not reflect the policy or position of Full Beaker, its officers, parent, or affiliates.
Try the Mortgage Calculator