Low Mortgage Rates For 2014 : The Federal Reserve May Not Be Done With QE3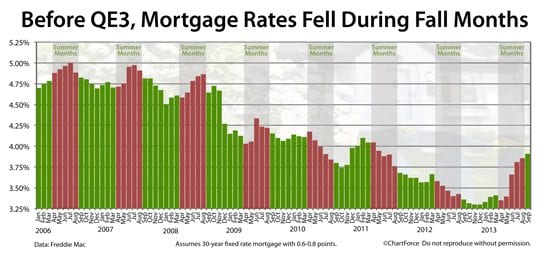 Mortgage rates bucked the seasonal trend this year, unexpectedly rising between May and August. However, as September begins and colder weather approaches, U.S. rates may revert to their pre-Fed stimulus patterns.
Mortgage rates may move toward 4% this fall, and maybe go lower. A number of factors are in play. 
Click here for today's mortgage rates (May 29th, 2017).
Are Mortgage Rates Now Trending Lower? 
Mortgage rates are unpredictable. On any given day, rates could move higher or lower, or rates can stay the same. Sometimes, mortgage rates move by a lot. Sometimes, they hardly move at all.
It can be tough to shop for "today's lowest rate" because rates are a moving target. Yet, that's what "rate shopping" is all about -- it's checking with multiple lenders for the best combination of mortgage rates-and-fees so you don't overpay on your loan.
Historically, rate shopping was simple.
For many years, mortgage rates changed once per day, if even. Furthermore, products were few. If you wanted a 30-year fixed rate mortgage, that's what you got. With 20 percent down, you went conventional. With less than 20% down, you went FHA.
Military borrowers had the additional choice to use VA financing.
In recent years, though, rate shopping has become more complicated. In addition to rapidly changing mortgage rates, there is a plethora of loan products available to today's home buyers which did not exist last century.
Today, if you're putting less than 20% down, the FHA is not your de facto loan choice.
With a 3 percent downpayment and good credit scores, you may opt for the Conventional 97 program, for example. Or, with 10% down in a healthy housing market, you may find Fannie Mae loans to be cheapest for you over the long-term.
Plus, it tough to pin down rates. This is because rates for government-backed loans -- whether through the FHA, VA, Fannie Mae or Freddie Mac or the USDA -- are based on the price of mortgage-backed securities (MBS) and mortgage-backed securities have been volatile since last decade's financial market downturn.
Banks no longer fix mortgage rates once per day. Today, rates change 5 times daily or more. It makes true "rate shopping" next-to-impossible.
Thankfully, though, home buyers can look at the market's longer-term trends to guess where rates may go next. Mortgage rates often move in cycles and, this season, rates appear headed for a fall.
Click here for today's mortgage rates (May 29th, 2017).
Is The U.S. Economy Is Weaker Than Expected?
Mortgage rates move like stock prices. When the value of mortgage-backed securities are expected to rise, prices rise and mortgage rates fall. Conversely, when the value of mortgage-backed securities are expected to drop, bond prices drop and mortgage rates rise.
This relationship is what daily mortgage rates.
There are limited ways to "monitor" the mortgage-backed securities market. MBS news is not shown on business television, nor does it appear in the papers. There are clues, however, to what's happening in the mortgage markets and rate shoppers can try to follow along at home.
For example, any of the following "news" can help mortgage rates drop :
Inflation is lower-than-expected
Key economic data misses Wall Street expectation
Heavy turmoil or economic uncertainty in a foreign trading partner
In addition, the Federal Reserve can exert influence on U.S. mortgage rates via MBS market stimulus. The Federal Reserve has done this three times since 2008. The latest round is known as QE3.
QE3 may not end as quickly as Wall Street thinks.
Click here for today's mortgage rates (May 29th, 2017).
QE3 May Not End In 2013
When April 2013 closed, the average 30-year fixed rate mortgage rate was just above 3.25% nationwide for borrowers willing to pay 0.7 discount points. It marked the lowest average mortgage rate in history, save for a brief 10-day period in November 2012.
The refinance boom was in full swing as the month came to close. Then, on May 1, the Federal Reserve announced that its latest market stimulus round -- QE3 -- may be near the end of its useful life.
Via QE3, the Fed buys $40 billion in mortgage-backed securities monthly, creating excess demand which drives rate down.
An improving economy, the Fed said, meant that the full-strength of QE3 may no longer be needed, and that the group would consider whether to increase or decrease its purchases over time. This news was unwelcome on Wall Street, which assumed that the Fed would soon "taper" its QE3 stimulus.
Between May and August, mortgage rates climbed from an all-time low to a 2-year high, adding 1.2 percentage points and affecting home affordability in all 50 states.
Yet, there's little economic evidence which suggests that QE3 is ready to end.
The U.S. jobs market is growing too slowly, according to the Fed
Consumer confidence is in retreat
Inflation is less of a threat than deflation, at this time
For these reasons, the Federal Reserve may keep its QE3 in play through the end of 2013 and into 2014. If this happens, mortgage rates would likely drop through the fall months of October, November and December.
A secondary benefit of low rates is that the HARP 3.0 mortgage program would get additional traction in the markets which need it most.  
See Today's Low Mortgage Rates
Mortgage rates remain elevated as compared to earlier this year. Historically, however, they're cheap. Getting a 30-year fixed rate mortgage rate below 5% will hold your mortgage payment low and can help with financial planning. And, although we can plan for mortgage rates to drop, it's far from guaranteed.
Rates look good today. Consider making a lock. Get started with a rate quote now.
Click here for today's mortgage rate quotes (May 29th, 2017).
The information contained on The Mortgage Reports website is for informational purposes only and is not an advertisement for products offered by Full Beaker. The views and opinions expressed herein are those of the author and do not reflect the policy or position of Full Beaker, its officers, parent, or affiliates.
Try the Mortgage Calculator