This Week : Will The Federal Reserve Finally End Its "Low Mortgage Rate" Program?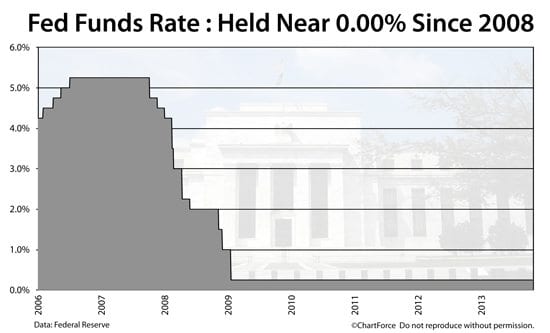 U.S. mortgage rates appear to have peaked.
After a summer spell during which the 30-year fixed rate mortgage rate rose more than 1 percentage point nationwide, mortgage rates face some headwinds and may move lower through the end of 2013 and into 2014.
The near-term mortgage rate outlook may be sealed as soon as this Wednesday as the Federal Open Market Committee (FOMC) adjourns from a pivotal two-day meeting which has Wall Street players on edge.
Mortgage rates may drop sharply Wednesday afternoon. Or, of course, they may surge.
Click to get mortgage rates before the Fed meeting.
Mortgage Rates Subject To Federal Reserve Decisions
The Federal Reserve is the U.S. central banker. It meets eight times annually to set our nation's monetary policy. Among the tools at the Fed's disposal is the Fed Funds Rate.
The Fed Funds Rate is the prescribed interest rate at which banks borrow money from each other overnight. When the Fed Funds Rate is low, banks pay less interest to each other, which frees their capital to invest in businesses and consumers.
Conversely, when the Fed Funds Rate is high, banks make larger payments of interest; and have less capital available to invest.
Since December 2008, a period of five year, the Fed Funds Rate has been in a range near zero percent. It's one of many methods by which the Federal Reserve has attempted to stimulate to the U.S. economy into measurable, sustained growth.
Another such method is a bond-buying program known as quantitative easing (QE). With quantitative easing, the Federal Reserve buys mortgage and U.S. Treasury bonds on the open market, then holds them in a portfolio, creating a supply-demand imbalance.
The Fed's QE programs help to raise bond prices up which, in turn, help to keep mortgage rates low.
Since 2008, the Fed has embarked on three rounds of quantitative easing. Its third, most recent round is commonly called QE3. QE3 launched in September 2012 and is the Federal Reserve's largest QE3 program to-date.
Not surprisingly, shortly after QE3 went live, mortgage rates fell to their lowest levels in recorded history.
The Federal Reserve's bond buys suppressed 30-year fixed rate mortgage rates to the low-3s and sent 15-year fixed rate mortgages to the 2s.
QE3 is non-permanent, however, and the program's end will be marked by higher mortgage rates across all government-backed loans. This means higher rates for conforming loans via Fannie Mae and Freddie Mac; and higher rates for USDA, VA and FHA loans via their respective government agencies.
Unfortunately, the Federal Reserve launched QE3 with no specific "end date". Instead, the group said that it will work to suppress U.S. mortgage rates for as long as the economy needs it. This "data-dependent" stance is why mortgage rates have moved at break-neck speed this quarter.
Wall Street guessing at the future of QE3 has caused mortgage rates to change at 3x their typical pace. Not since the hyper-inflation charged early-1980s have mortgage rates changed so much, so fast.
And, at least for the next few days, rates are expected to remain volatile.
The Federal Reserve begins a scheduled 2-day meeting Tuesday, it's eighth and last of the year. What the Fed says at its meeting, and what the Fed does, will have a profound impact on the next few weeks of mortgage rates.
For today's active home buyers and rate shoppers, be ready for rates to change.
Be safe. Compare today's mortgage rates before the Fed Effect.
Will The Fed Put An End To QE3?
According to Freddie Mac's survey of more than 100 U.S. lenders, the average 30-year fixed rate mortgage rate is currently 4.42% for prime borrowers willing to pay an accompanying 0.7 discount points at closing.
Beginning Wednesday afternoon, however, those rates are expected to change -- likely, by a lot.
The Federal Reserve adjourns from its two-day meeting at 2:00 PM ET and the group will issue its customary press release to the markets. Then, beginning at 2:30 PM ET, Federal Reserve Chairman Ben Bernanke will host a press conference at which he'll provide additional guidance regarding QE3 and the Fed's outlook for 2014.
Of particular concern to the Fed is its dual mandate. The Federal Reserve charter requires it to seek maximum employment and stable rates of inflation.
Currently, U.S. labor markets are in recovery with more than 7 million net new jobs created since 2010. This is a economic positive. However, inflation rates remain stubbornly below the Fed's 2% target rate.
With inflation rates low, the Fed may extend QE3 and its other stimulus policies deep into 2014. Or, it may not. This uncertainty is why low mortgage rates may be fleeting.
Mortgage rates are expected to be highly volatile between now and the end of the week, and are expected to carve a wide range. The rates you see from your lender today may be unavailable from your lender beginning tomorrow.
Protect Your Loan From The Federal Reserve
Mortgage rates are at a crossroads. With talk of a QE3 taper, mortgage rates will move higher this week. With no talk of a taper, rates may do the same.
Don't leave your rate to chance. If you're currently shopping on rates, consider locking something down. Pricing looks great today. Tomorrow, the market will change.
See mortgage rates before the Fed meeting. Click here.
The information contained on The Mortgage Reports website is for informational purposes only and is not an advertisement for products offered by Full Beaker. The views and opinions expressed herein are those of the author and do not reflect the policy or position of Full Beaker, its officers, parent, or affiliates.
Try the Mortgage Calculator