30-Year Mortgage Rates To 3.63%; Worst Start For Rates Since 1996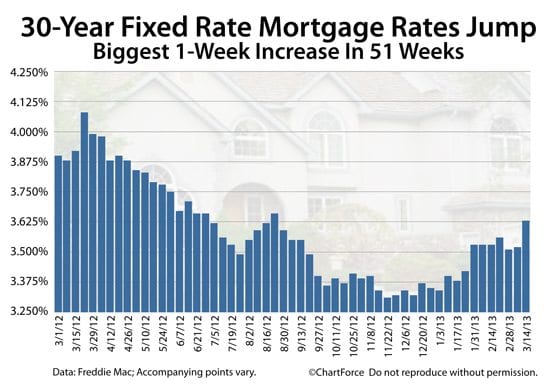 An improving housing market, a consumer spending bounceback, and 29 straight months of job growth have pushed the U.S. economy into growth mode.
It's great news for home sellers and unemployed persons looking for work. For home buyers and would-be mortgage refinancers, however, the news is untimely. Economic optimism has pushed mortgage rates to their highest point in 30 weeks, and raised homeownership costs nationwide.
Get a personalized mortgage rate quote here (Oct 23rd, 2017).
30-Year Fixed Rate Mortgage Rate Rises To 3.63%
Mortgage rates have climbed steadily since the Fiscal Cliff resolution made January 1.
At the time, the 30-year fixed rate mortgage rate was 3.34%. Today, according to government-backed mortgage securitizer Freddie Mac, the average 30-year fixed rate mortgage rate is 3.63% nationwide, a 0.11 percentage point jump from the week prior and marking the biggest one-week jump in mortgage rates in a year.
Mortgage rates have started 2013 worse than any year since 1996. 
In addition, Freddie Mac's reported rate of 3.63% is priced with an average 0.8 discount points. This means that, in order to get access to the printed 3.63% mortgage rate, a home buyer or refinancing household should expect to pay $800 in discount points per $100,000 borrowed. 
A homeowner in Orange County, California borrowing at the local conforming mortgage loan limit of $625,000, therefore, would pay more than $5,000 to get the 3.63% rate. Discount points can add big closing costs to a mortgage, which is among the reasons why many homeowners choose to waive points altogether.
Mortgage borrowers opting to pay no points are seeing rates closer to 3.875% -- and that assumes "prime" borrowing credentials. Applicants with FICO scores below 740; or with less than 30 percent equity; or with existing or new second mortgages are receiving rates above 4 percent.
The "lifetime lows" of late-last November are gone. Today's mortgage rates are reversing course.
Get a personalized mortgage rate quote here (Oct 23rd, 2017).
Chicago, San Francisco Get The Lowest Mortgage Rates
Even as mortgage rates rise, they're rising unevenly. Like much else in real estate, mortgage rates are local. Freddie Mac's survey showed the following regional breakdown :
Northeast Region : 3.64% with 0.7 discount points 
West Region : 3.60% with 0.8 discount points
Southeast Region : 3.65% with 0.8 discount points
North Central Region : 3.60% with 0.8 discount points
Southwest Region : 3.67% with 0.8 discount points
The cheapest mortgage rate-and-fee packages, therefore, are currently available to buyers and existing households in Minnesota, Illinois, Wisconsin, Michigan, and Ohio; and in California, Oregon, Washington, Nevada and Arizona.
The most costly mortgage "deals" are those currently quoted to applicants in the Southwest Region, an area which includes New Mexico and Oklahoma.
Pricing trends are similarly spread for the 15-year fixed rate mortgage. 
Get a personalized mortgage rate quote here (Oct 23rd, 2017).
Mortgage Rates Heading Past 4 Percent
The conditions that kept mortgage rates low in 2012 -- a weak economy, global uncertainty, joblessness -- are subsiding. It follows, then, that mortgage rates are rising. Wall Street no longer seeks the "safe" returns that a government-backed asset such as a mortgage bond provides.
It's time to lock a mortgage rate. If you're a HARP 2.0 candidate, give your application. If you're an FHA-backed homeowner, get your FHA Streamline Refinance underway. If you're buying a home, consider moving up your time frame.
The way that mortgage rates are going, waiting will only cost you cash. 
Get a personalized mortgage rate quote here (Oct 23rd, 2017).
The information contained on The Mortgage Reports website is for informational purposes only and is not an advertisement for products offered by Full Beaker. The views and opinions expressed herein are those of the author and do not reflect the policy or position of Full Beaker, its officers, parent, or affiliates.
Try the Mortgage Calculator