30-Year Mortgage Rates Are Not 3.59 Percent — They're Much Higher Than That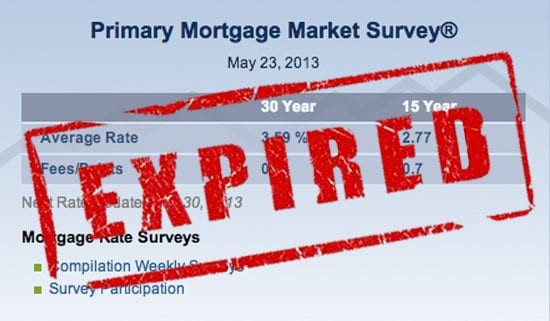 Mortgage rates at 3.59 percent? No, not really. They're actually much higher.
Mortgage rates rose more quickly this week than Freddie Mac's weekly mortgage rate survey could capture them. The government-backed securitizer of mortgage loans puts this week's 30-year fixed rate mortgage rate at 3.59%.
If you're shopping rates from a lender, though, your rate won't likely be that low. May has been a bad month for mortgage rate shoppers, in general.
Click for a free, real-time mortgage rate quote (Oct 23rd, 2017).
Freddie Mac : 30-Year Fixed Rate Rises To 3.59%
Freddie Mac's Primary Mortgage Market Market Survey (PMMS) is published weekly, listing the average U.S. mortgage rate for the conforming 30-year fixed rate mortgage; the conforming 15-year fixed rate mortgages; and the conforming 5-year ARM.
Freddie Mac's survey results are based on data from 125 banks nationwide, each of which reports their "going rate" along with any accompanying discount points which may be required at closing.
A discount point is a one-time loan fee paid at closing which may be tax-deductible. 1 discount point comes at a cost of 1 percent of your loan size. 
When issuing its survey, Freddie Mac to make certain assumptions.
First,  banks should assume an 80% loan-to-value (LTV) on the first lien mortgage with no secondary financing (e.g.; HELOC, piggyback loan).
Second, banks are to assume that the loan is being made to a prime borrower where "prime borrower" is defined as one with high credit scores, ample assets for a mortgage approval, and a debt-to-income ratio (DTI) of 40 percent or below.
Lastly, banks are to assume a 30-day mortgage closing.
This week, the Freddie Mac survey reports mortgage rates as follows :
30-year fixed rate mortgage : 3.59% plus an accompanying 0.7 discount points
15-year fixed rate mortgage : 2.77% plus an accompanying 0.7 discount points
5-year adjustable rate mortgage : 2.63% plus an accompanying 0.5 discount points
As mentioned, however, these aren't the rates you'll get from a lender. This is because Freddie Mac sends its survey to banks at the start of the week and most replies are received between Monday afternoon and Tuesday morning.
It's Thursday now and during the day in-between -- Wednesday -- mortgage markets turned in their worst one-day performance in recent memory, causing mortgage bonds to slip to their worst levels in more than a year.
As mortgage bonds sink, mortgage rates rise. Today's rates are markedly worse than what Freddie Mac reports.  
Click for a free, real-time mortgage rate quote (Oct 23rd, 2017).
Mortgage Rates React To Federal Reserve
This week's mortgage rate jump can be attributed to Wall Street and its changing expectations of the future of Fed stimulus. It's also the reason why mortgage rates have climbed through most of May; the Federal Reserve's last meeting concluded May 1, 2013.
In the Fed's post-meeting press release, it said that the group's third round of quantitative easing (QE3) would continue into the foreseeable future, but that the Fed may increase or decrease its pace of purchases as warranted by economic growth.
To Wall Street, this means that signals of U.S. economic growth are cues to sell mortgage-backed securities (MBS). It's a way to get ahead of the Fed's "tapering" of purchases, which is expected to lead bond prices down.
When bonds prices fall, mortgage rates rise.
Meanwhile, Wednesday, mortgage rates were smacked with a double-whammy. 
First, in the morning, in testimony to Congress, Federal Reserve Chairman Ben Bernanke said that the U.S. economy may stall if economic stimulus is lifted prematurely. Many took that to mean that the Fed would leave its QE3 program untouched -- at least for a number of quarters.
In a follow-up clarification, though, Bernanke added that the Fed has not ruled out a cut to QE3 before summer's end.
The remarks sent mortgage markets reeling. Wall Street shifted bets, pushing mortgage rates up.
If you were shopping for a loan, you would have recognized this change in the form of higher discount points. A morning quote of 3.59% with 0.7 discount points would have jumped to 3.59% with 1.2 discount points by noon.
The deterioration continued into the afternoon.
At 2:00 PM ET, the Federal Reserve released the minutes from its April 30 - May 1, 2013 Federal Open Market Committee (FOMC) meeting.
The minutes revealed that several Fed members expressed a willingness to reduce the group's $85 billion monthly bond purchases as soon as June 2013 -- well ahead of Wall Street's expectation for a cutback, and even more quickly than hinted by Chairman Bernanke earlier in the day.
The release of the Fed Minutes sent mortgage rates higher for the second time of the day and, by market closing, required discount points had climbed another half-percentage point.
The same 3.59% rate now requires 1.7 discount points -- an additional $4,170 due at settlement for loans made at the national conforming loan limit of $417,000.
Will Mortgage Rates Keep Rising?
The future of mortgage rates is uncertain by nature.
Some days, mortgage rates rise. Some days, mortgage rates fall. However, if you're looking to buy a home, or refinance one, today may be a wise time to lock something in. Although rates are higher as compared to last month, they remain ultra-low.
Before rates trend higher, consider getting your loan in-process.
Click for a free, real-time mortgage rate quote (Oct 23rd, 2017).
The information contained on The Mortgage Reports website is for informational purposes only and is not an advertisement for products offered by Full Beaker. The views and opinions expressed herein are those of the author and do not reflect the policy or position of Full Beaker, its officers, parent, or affiliates.
Try the Mortgage Calculator