Mortgage Rates : Existing Home Sales Surpass Expectations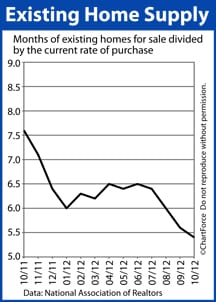 Mortgage-backed securities (MBS) worsened Monday, kicking off the Thanksgiving-shortened trading week with a loss.
The FNMA 3.0% 30-year coupon fell -4/32 to 104.30, and the GNMA 3.0% 30-year coupon closed down -4/32 to 106.14.
FNMA mortgage bonds are linked to conforming mortgage rates. GNMA mortgage bonds are linked to FHA and VA mortgage rates. Rates for all three loans types climbed Monday.
Jumbo mortgage rates worsened, too.
Get today's mortgage rates (Oct 23rd, 2017).
Existing Home Sales Thumps Projections
Monday, the National Association of REALTORS® released its Existing Home Sales report for October 2012. It showed an increase to 4.79 million homes sold on a seasonally-adjusted, annualized basis, a 11% improvement as compared to one year ago.
The October Existing Home Sales report marks the 16th straight month of year-to-year growth, and suggests that the housing market bottomed sometime last year.
Today's home buyers may agree. With a scant 2.14 million homes for sale nationwide, competition for homes remains fierce -- a force which has resulted in higher median home prices in many U.S. markets.
At today's sales pace, the entire For Sale stock of U.S. homes would be gone in just 5.4 months. Not since February 2006 has supply been as scarce.
Get today's mortgage rates (Oct 23rd, 2017).
Homebuilder Confidence Rises To 6-Year High
Along with rising sales in the resale market, new construction has fared well, too. It's no surprise, then, that home builder confidence has reached a 6-year high.
According to the National Association of Home Builders (NAHB), steady buyer foot traffic and a sharp increase in sales projection have moved its November Housing Market Index to 46 -- a 5-point increase from October and the highest reading since May 2006.
Readings below 50 suggest that more home builders view the single-family new construction market as "poor" than as "good", but just one ago, the HMI read 19.
New home sales comprise roughly 10 percent of the overall housing market.
Get today's mortgage rates (Oct 23rd, 2017).
Mortgage Rates : Ready To Rise Tuesday
In each of the last few years, mortgage rates have moved higher from December through April. The combination of improving economic data and year-end profit-taking have stymied would-be home buyers and refinancers attempting to capitalize on low rates.
Mortgage markets can be unusually sensitive to economic data at this time of year and, with Tuesday's release of the October Housing Starts report, mortgage rates may move again. If data is stronger-than-expected, as for the Existing Home Sales figures, mortgage rates may climb again.
The time is right to lock a rate. Get started with a rate quote online.
Get today's mortgage rates (Oct 23rd, 2017).
The information contained on The Mortgage Reports website is for informational purposes only and is not an advertisement for products offered by Full Beaker. The views and opinions expressed herein are those of the author and do not reflect the policy or position of Full Beaker, its officers, parent, or affiliates.
Try the Mortgage Calculator