Mortgage Rates : Improve On Housing, No Quick Fix In Spain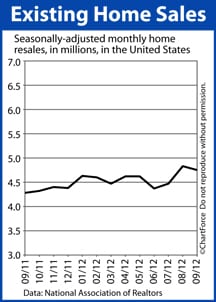 Mortgage-backed securities (MBS) improved Friday, breaking a 4-day losing streak. The FNMA 3.0 coupon climbed -12/32 to close at 104.19. The GNMA 3.0 coupon rose +11/32 to close at 106.01.
Mortgage rates of all types improved Friday. Conforming mortgage rates returned to mid-week levels, and FHA and VA mortgage rates lowered, too.
Jumbo mortgage rates showed little change Friday.
Click here for today's mortgage rates (Jul 22nd, 2017).
Mortgage Rates Ease On Housing Data, Eurozone
Mortgage markets took a wild ride this week, with pricing worsening significantly. Most of the action can be sourced to better-than-expected U.S. economic data and hope for a swift finale to the Eurozone's troubles.
Friday, both were given a stay.
The National Association of REALTORS® reported that September's Existing Home Sales registered 4.75 million units on a seasonally-adjusted, annualized basis. This number marks a small decline from August and met Wall Street expectations.
The Existing Home Sales report marks this month's first housing report which failed to best expectations. This was good for today's rate shoppers. Mortgage rates reacted positively to the news.
Mortgage rates also improved after the most recent EU summit ended with no unexpected development, save for an announcement that there will be one regulator assigned to all Eurozone banks. Few details were provided, and the plan is expected to go into effect in 2013.
No details emerged regarding Spain and its way forward from recession. The nation is fighting high unemployment levels and massive government debt. Early in the week, investors hoped Spain would accept bailout out, or at least, that terms for a bailout would be set. This did not occur. 
Mortgage rates moved lower post-EU summit.
Click here for today's mortgage rates (Jul 22nd, 2017).
Mortgage Refinance Remains In-Demand
With mortgage rates low, refinance demand remains high and homeowners use whichever programs are available to them.
And, of course, conforming mortgage homeowners have access to the HARP Refinance program, and "regular" refinance at today's low rates.
If you've been watching mortgage rates drop and wonder when to refinance, now is a terrific time. Rates are favorable to nearly everyone.
Click here for today's mortgage rates (Jul 22nd, 2017).
The information contained on The Mortgage Reports website is for informational purposes only and is not an advertisement for products offered by Full Beaker. The views and opinions expressed herein are those of the author and do not reflect the policy or position of Full Beaker, its officers, parent, or affiliates.
Try the Mortgage Calculator