When Should I Lock My Mortgage Rate?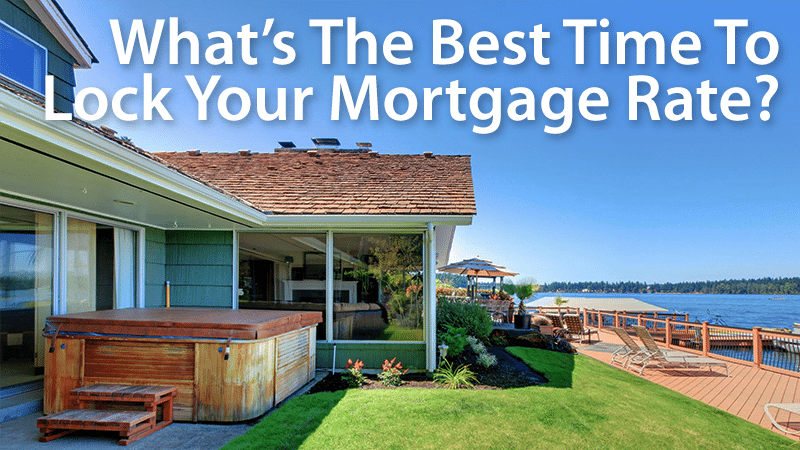 The Rate Mortgage Rate Lock Decision
The decision to lock or float an interest rate can create a high-stress situation for many people — after all, few of us take out more than a handful of mortgages during our lifetimes. "When should I lock my mortgage rate?" is a legitimate question, and we'll answer it here.
Verify your new rate (Jul 21st, 2018)
You Need a Property Address to Lock a Mortgage Rate
If you're a home buyer, you might be surprised to find out that you can't lock a rate when you get pre-approved.
The lender will quickly tell you that you need to find a house, make an offer, and get that offer accepted before you lock.
You also need an accepted offer to truly shop for mortgage rates. You might have a pre-approval from a certain lender, but it doesn't mean you have to go with them. You can — and should — shop around after you've decided on a home to buy.
Shorter Lock Periods Equal Lower Mortgage Rates
The answer to the question, "When should I lock my mortgage?" depends on the closing date of your home purchase. When you choose the term of your mortgage rate lock, the shorter the term, the lower the rate.
For instance, your lock choices might look like this for a 30-year fixed loan at 4.75 percent:
7-day lock: Free
15-day lock: 0.125% of the loan amount
30-day lock: 0.25% of the loan amount
45-day lock: 0.375% of the loan amount
60-day lock: 0.5% of the loan amount
You don't want a super-long long. That's costly. So, let's say you have a 60-day time frame from signing the purchase agreement to closing. You may want to wait 30 days to lock in at a lower rate.
Your lock expiration date must be on, or preferably after, your closing date.
How Do I Pick The Best Time To Lock My Mortgage?
The best time to lock your mortgage depends on a few things.
The agreed-on closing date of your purchase
Whether you think there's a chance the purchase may extend past the closing date
What rates are doing at the time you are looking for a house
If rates are rising, you may want to lock in a rate as soon as you have a signed purchase agreement. If rates are steady, you might wait until 10-15 days of closing to lock in.
There are risks with each choice. But we advise that you lock as soon as you have a signed purchase contract in-hand. There's always a chance rates could rise before closing, which may jeopardize your loan approval.
How Do I Lock My Mortgage Rate?
Mortgage rate locks should be executed in writing. The rate lock form should indicate the interest rate, the number of days you'll be locked, and the points charged.
You complete the form and get it to your lender. Some borrowers request a rate lock via phone and get the paper confirmation later. Just make sure you get a written copy of the lock so there are no ugly surprises at closing.
New Construction: Should I Do A Long-Term Rate Lock?
Once you are locked in, that's the rate you get — as long as you close before your rate lock expires.
Note that you cannot lock in a rate for a property To Be Determined (TBD). A rate lock must have a corresponding address to be valid.
You Need to Lock to Finalize Your Loan
Locking in a loan means you commit to accepting a specified rate, even if the market moves lower. The lender, for its part, commits to funding your loan at a specified rate, even if the market moves higher. Both you and the lender take on risk when you lock.
Your mortgage rate lock expires in a certain number of days — seven, for example, or 15, 30, 45, 60 or longer. If your lock expires, you have to re-lock or extend your lock before you can close.
Best Day Of The Week To Lock A Mortgage
Your mortgage rate must be locked before your lender can draw up your loan documents. Your loan can't close until its interest rate and costs are established, and that happens only when you lock.
What Happens If My Mortgage Rate Lock Expires?
Most of the time, mortgages close on time and while the borrower is locked in.
But sometimes, the loan does not close on time. Your rate lock agreement should tell you what the consequences are for "blowing a lock," and how you'll deal with them.
For example, here's what typically happens when you blow a lock, and:
Mortgage interest rates have dropped: you relock the higher rate that you already had
Rates have increased: you can relock at the new, higher rate, or pay a fee to extend the lock you already have
Rates are unchanged: you relock at the same rate
The only really bad outcome occurs if rates increase while you are locked. Fortunately, interest rates rarely make sudden, huge leaps that would explode the cost of your home.
It Just So Happens, Mortgage Rates Don't Rise And Fall Like "They" Say
For example, one of the largest sudden increases in mortgage rates occurred after the 2016 US Presidential Election — 37 basis points, or .37 percent in one week. For a $200,000 mortgage, the difference between a loan at 3.5 percent and one at 3.87 percent is $42 a month. Not enough to derail most mortgage applications.
Resurrecting A Dead Lock
You can extend your rate lock, usually at a cost for a certain number of days. You may be able to get a day or two for free, and then pay a fee, for instance, .25 points, for a seven-day extension.
Your other option is relocking. That means locking in your loan for an additional number of days. If rates have fallen since you locked in, you don't get the benefit of that drop. And if they have risen, you get the higher rate — sort of "heads you win, tails I lose."
Mortgage Disclosures: Do You Have To Read Everything?
If you hate the heads-you-win=tails-I-lose situation, you have another option: the "float-down."
What's A "Float-Down?"
A "float-down" is an option you can add to your rate lock — at a cost. It allows you to lock in an interest rate today. If, however, rates drop during your escrow, you'd close at the lower rate.
Float-downs don't all have the same parameters, so you'll want to read the fine print. For instance, your agreement might let you re-lock once during your escrow. Another lender might not let you re-lock, but will instead give you a better deal only if rates happen to be lower on the day your lender draws your documents.
Finally, some float-downs only give you the lower rate if it's a certain percent lower than the rate you locked. A .25 percent minimum is common. So, if you lock in 3.75 percent, and your lender is offering 3.625 percent to new borrowers, you won't usually get a lower rate. If you lender is offering new borrowers 3.5 percent, that's at least a .25 percent difference — you'll get the lower rate.
What Are Today's Mortgage Rates?
Mortgage rates today are amazingly low. They had been trending up, and then they fell back down. To get your best rate, contact several lenders and compare. Choose the one with the best deal for you.
Verify your new rate (Jul 21st, 2018)
The information contained on The Mortgage Reports website is for informational purposes only and is not an advertisement for products offered by Full Beaker. The views and opinions expressed herein are those of the author and do not reflect the policy or position of Full Beaker, its officers, parent, or affiliates.
Try the Mortgage Calculator