It Just So Happens, Mortgage Rates Don't Rise And Fall Like "They" Say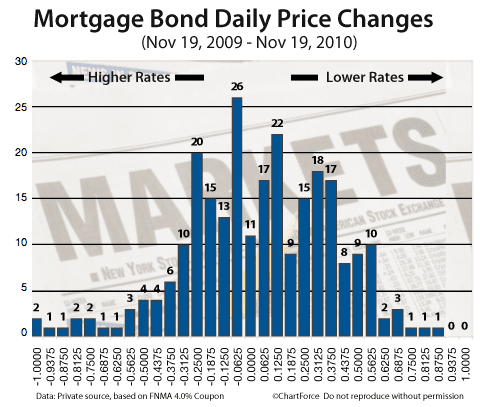 There's an old adage in the mortgage business: "Rates take the stairs down, and the elevator up."  It's supposed to mean that mortgage rates go up faster than they come down, and it's practically gospel among the older crowd.
As it turns out, it's completely false.
Defining A Methodology (And Ignoring The Refi Boom)
To study the hypothesis that mortgage rates rise faster than they fall, we'll use the Fannie Mae 4.0% coupon's daily pricing, going back 12 months. Since last November, it's been a basis of mortgage pricing and, for purposes of this analysis, it's suitable.
Now, I want you to discount the notion that "we're in the middle of a Refi Boom so the data is skewed." The Refi Boom is irrelevant.  Here's why.
First, although mortgage rates fell in 20 of the 27 weeks between starting in April 2010, if we look back at the entire 52 weeks, pricing wasn't nearly so imbalanced. Rates fell in 58% of the weeks.
Second, it's not even like that weekly data matters that much -- we're looking at daily changes here and, on a daily basis, rates fell on just 54% of the days -- practically down the middle.
And, lastly, we're interested in the intensity of rate changes, not the cumulative effect. The Refi Boom's longevity is irrelevant. We're more interested in how quickly rates get better, or worse, over time.
The 4 Zones Of Mortgage Pricing; How They Change Rates
Mortgage pricing changes each day. The changes can grouped into 4 distinct categories, based on their impact on the actual mortgage rates banks offer to homeowners.
Changes of less than 25 basis points often lead to no change in mortgage rates
Changes of 25-37.5 basis points often lead to a 0.125% change in mortgage rates
Changes of 37.5-75 basis points often lead to a 0.250% change in mortgage rates
Changes of 75+ basis points often lead to a 0.375% change in mortgage rates
So, if we compare these groupings to the last year's actual, daily price changes, and we see an interesting pattern emerge for rate shoppers.
Days of no change in rates : 65 days trending worse, 63 days trending better
Days of 0.125% change : 36 days of higher rates, 50 days of lower rates
Days of 0.250% change : 21 days of higher rates, 50 days of lower rates
Days of 0.375% change : 6 days of higher rates, 3 days of lower rates
In other words, mortgage rates were unchanged for nearly half of the last 12 months. For the other half, they overwhelmingly moved toward "improvement".
Now, we should throw out 0.125% changes because they're somewhat "ordinary"; it's just one tick higher or lower in rates. Instead, let's focus on big shifts in pricing which, in turn, lead to big shifts in rates.  That's where we see the myth debunked, specifically.
On days with big rate changes -- 1/4 percent or more -- decreases in rates outnumber increases by a 2:1 margin. That's a huge difference.
The Psychology Of Rising Rates And Why You Should Lock
Mortgage rates move all day, every day. "Playing the market" gives some people joy, and most people heartburn. It's too hard to predict what the market's going to do next, but here's a good test for how you should play it.
Ask yourself 2 questions: (1) How will I feel if mortgage rates fall 1/8 percent? (2) How will I feel if mortgage rates rise 1/8 percent?  If you would be angry about the increase but not ecstatic about the drop, it's clear you should be locking your rate. You have a greater fear of loss than a desire for gain. Most people are like that.
To lock a mortgage rate or to see what rates are doing, with the basics of what you're trying to do. No novels -- just some bullet points. I'll email you back with some numbers and we can take it from there.
The information contained on The Mortgage Reports website is for informational purposes only and is not an advertisement for products offered by Full Beaker. The views and opinions expressed herein are those of the author and do not reflect the policy or position of Full Beaker, its officers, parent, or affiliates.
Try the Mortgage Calculator