How An FHA Appraisal Works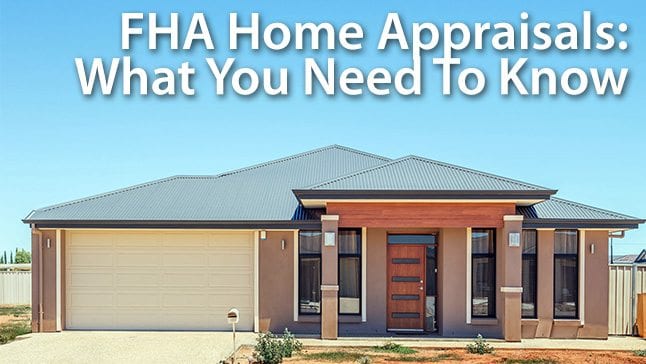 FHA Mortgages Require An FHA Appraisal
If you buy a home with an FHA loan, you need an FHA appraisal. The FHA appraisal is different from a standard appraisal in several ways.
It comes with stricter requirements, because FHA home loans are backed by the government, and the government wants to make sure that you get a safe place to live, and that it (and taxpayers) back safe, livable homes.
Verify your FHA loan eligibility (Jul 16th, 2018)
FHA Loans
The Federal Housing Administration offers mortgage financing to homeowners with just 3.5 percent down.
The down payment, and even the closing costs, can come in the form of a cash gift, approved down payment assistance program, or an approved loan. This essentially makes the FHA loan a zero-down mortgage if you play your cards right.
While many lenders require higher credit scores, home buyers with scores as low as 580 can qualify for FHA financing.
This is due to their lower down payment requirements, higher debt ratio allowances and more relaxed credit standards.
Different Loan Programs Require Different Appraisals
Almost every mortgage program requires an appraisal for a property purchase.
Lenders use appraisals to determine a home's value. This is one way lenders protect their investment in your house.
It's important to note, however, when it comes to home appraisals, one size does not fit all.
Home appraisals come in different varieties based on the type of financing used when purchasing the home.
If you apply for a VA home loan, for instance, you use a VA-certified appraiser for your VA mortgage appraisal.
Not only must the appraiser be certified by the VA, the appraisal ordering process is entirely different for your lender, and often takes longer than other standard appraisals.
If you use FHA financing, you will need an FHA appraisal. This means a HUD-approved home appraiser must inspect and appraise the property.
It should be noted that different geographic locations can create different requirements for FHA appraisals. For example, if the property is in an area known to have water problems, you may have to get a well test.
How FHA Appraisals Are Different
FHA mortgages make it easier for homebuyers to purchase a home. As such, it's helpful to understand FHA appraisal requirements.
The Department of Housing and Urban Development (HUD) created minimum property standards that FHA appraisers must consider. These areas include safety, security & soundness.
This makes the FHA appraisal more expensive, but provides more protection for the homebuyer.
The basic concept of meeting FHA minimum requirements is that everything in the home must work as it was designed to work.
FHA appraisal guidelines include detailed instructions for inspecting the property, which is different from a standard appraisal.
Some items they look for include:
Lead paint — this can be hazardous, especially to children.
Earth-to-wood contact, which can leave the property vulnerable to termites.
Railings — for safety, railings must be installed on decks, patios, porches and balconies.
Windows must be intact.
Roof — must not leak.
Water supply — must be adequate.
However, the FHA appraisal is not an inspection. The FHA strongly urges homebuyers to get a home inspection before purchasing property for their own protection. FHA discloses that it does not guarantee the condition of the property.
Verify your FHA loan eligibility (Jul 16th, 2018)
"Subject To" Appraisal
Should the appraiser find issues like loose handrails or cracked window glass, he or she will "flag" them. The FHA may require the buyer or seller to correct problems prior to closing.
Appraisers will often indicate that the property is "Subject To."
A Subject To appraisal is one in which the value is based on what a home's value will be after certain repairs or improvements are made.
An FHA appraisal that is Subject To can potentially delay closing. However, catching these issues prior to closing could save you thousands of dollars.
FHA Appraisal Side Effects And Misconceptions
Due to the extra work involved, be prepared to pay more for an FHA appraisal.
Although FHA loans can be great for homebuyers, in multiple offer scenarios, some sellers may be more inclined to accept an offer made by a conventional buyer.
This is especially true if the seller is aware of certain defects on their property. If they know it won't pass inspection, they won't want to deal with an FHA appraisal.
However, sellers should be aware of the common misconceptions about FHA appraisals.
Many times, sellers and even agents perceive FHA appraisals as unnecessarily strict, and that FHA appraised values come in lower than standard appraisals.
They should not worry. Often, when appraisers flag items on the home, they aren't "deal breakers".
Minor safety issues flagged on an FHA appraisal are often easily correctable, and at minimal cost.
What Are Today's Mortgage Rates?
Today's FHA mortgage rates are very attractive, thanks to current economic conditions. However, to get an FHA mortgage, you will need an FHA appraisal.
As a seller, you can prepare your home to be "FHA ready". As a buyer, you can rest assured knowing an FHA appraisal is not only going to help determine the value of your home, but will also look out for your health and safety.
To get the best FHA mortgage rates, compare the interest rate and loan costs (including appraisal fees) from several lenders, and choose the one that works best for you.
Verify your FHA loan eligibility (Jul 16th, 2018)
The information contained on The Mortgage Reports website is for informational purposes only and is not an advertisement for products offered by Full Beaker. The views and opinions expressed herein are those of the author and do not reflect the policy or position of Full Beaker, its officers, parent, or affiliates.
Try the Mortgage Calculator