This Is Why Trump's Healthcare Drama Is Bringing Down Mortgage Rates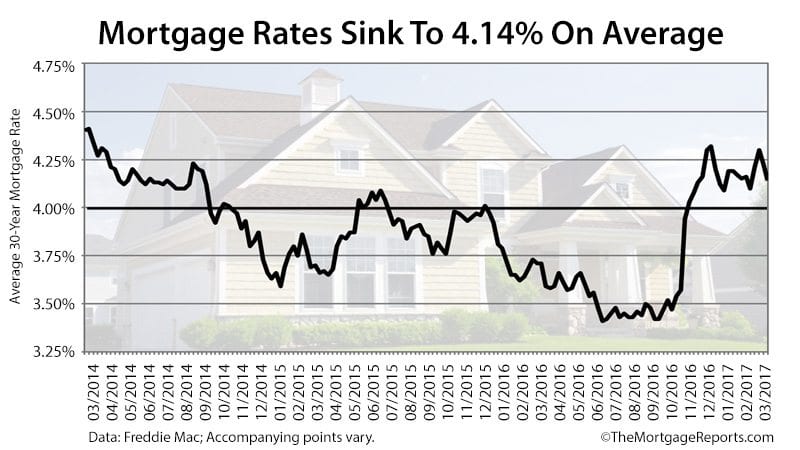 Mortgage Rates Fall From Recent Highs
Mortgage rates are coming down on rate-friendly news.
Freddie Mac, in its weekly survey of more than 100 lenders nationwide, reported the average thirty-year rate dropped 9 basis points (0.09%) to 4.14% this week.
This marks a welcome four-week low.
Last week, Trump rolled out a healthcare bill that wasn't well-received in Congress. This helped rates because it could mean Trump will have a hard time passing future bills -- ones that were supposed to pump up the economy and therefore mortgage rates.
For now, mortgage rate shoppers have a window with which to lock in one of the lowest rates of 2017 thus far.
Click to see today's rates (May 29th, 2017)
How Freddie Mac Finds Its Weekly Average Rate
Each week, mortgage agency Freddie Mac surveys 125 lenders nationwide for its Primary Mortgage Market Survey (PMMS), a snapshot of current mortgage interest rates.
It asks mortgage companies, banks, and credit unions, and other lenders their current rate for a well-qualified borrower putting 20% down, and paying "discount points," or extra fees that directly reduce the rate.
The weekly Freddie Mac report is great for watching mortgage rate trends. The organization has been conducting the survey for 45 years. So, the weekly average rate tells us where rates are historically. By that measurement, rates are fantastic. About one-half their historical average in fact.
But as a mortgage rate consumer who needs a truly current rate, Freddie Mac's survey isn't very useful. They poll lenders Monday through Wednesday for the Thursday release. By publish time, their rate is already outdated.
Mortgage rates change by the minute.
Plus, Freddie's rates are based on a mythical homeowner. You might receive a better quote than Freddie Mac suggests, but you might receive a worse one, too. The only way to know is to contact a reputable lender and request a rate quote.
Shameless plug here, but you can do that at this link. If you'd like. No pressure.
Click to see today's rates (May 29th, 2017)
Trump, Healthcare, And Mortgage Rates
Two things that don't seem to have any correlation are healthcare and mortgage rates.
But in this case, they are inextricably joined.
Last Friday, Republican leaders presented their replacement of the Affordable Care Act, a.k.a. "Obamacare", to Congress. The bill had little support and was pulled before a vote. This helped mortgage rates.
The market interpreted this as a bad omen for the rest of Trump's policies -- the ones that were supposed to goose the economy and kick inflation in gear.
Trump campaigned on lower taxes, a $1 trillion infrastructure spending plan, and deregulation. But these plans are only as good as Congress says they are.
Right now, Congress isn't too impressed.
If the healthcare bill didn't pass, the logic goes, neither will pro-economic (but rate-unfriendly) ones.
Since the election, mortgage rates have climbed. But after the healthcare bill outcome, they are falling.
Click to see today's rates (May 29th, 2017)
Mortgage Types Offer Different Rates
Freddie Mac requests conventional/conforming loan rates to arrive at its national average rate.
But it leaves out mortgage rates for government-sponsored programs that could come with even lower costs.
In today's rising rate environment, a non-conventional loan could be the right decision for some homeowners.
Three loan programs in particular -- the USDA home loan, VA mortgage, and FHA loan -- are government-backed mortgages with rates in the 3s.
The USDA loan is available in less dense neighborhoods across the U.S. It offers zero down payment and lenient credit score minimums.
Eligibility is based, in part, on location of the home. Ninety-seven percent of U.S. land mass is eligible for a USDA loan, so homebuyers looking for housing outside of major metropolitan areas should check this option.
The zero-down VA home loan program comes with lower-than-conventional rates, according to loan software provider Ellie Mae, undercutting conventional loan rates by an impressive 25 basis points (0.25%).
Veterans with as little as 90 days of service history could be eligible for a VA loan.
With rates falling, the FHA loan rates are dipping into the high-3s. About forty percent of home buyers under the age of 37 buy their first home with FHA.
It's no surprise.
FHA requires just 3.5% down and is very lenient about credit scores. According to a report released by Ellie Mae this month, 56% of FHA borrowers had a credit score between 600 and 699.
Only 16% of conventional loan applicants had similar scores.
The FHA home loan is the go-to program for home buyers without perfect credit profiles, little cash to put down, and the desire to become a homeowner as soon as possible.
Many lenders are offering these loan types at rates in the 3s, even as conventional rates are solidly above 4%.
What Are Today's Mortgage Rates?
Today's interest rates are low, despite the post-election jump. Historically any rate in the 4% range was considered "too good to be true." But those rates are still available.
Get today's live mortgage rates now. Your social security number is not required to get started, and all quotes come with access to your live mortgage credit scores.
Click to see today's rates (May 29th, 2017)
The information contained on The Mortgage Reports website is for informational purposes only and is not an advertisement for products offered by Full Beaker. The views and opinions expressed herein are those of the author and do not reflect the policy or position of Full Beaker, its officers, parent, or affiliates.
Try the Mortgage Calculator