Mortgage Rates Today, March 16, 2017, Plus Lock Recommendations
What's Driving Mortgage Rates Today?
Mortgage rates dropped yesterday afternoon following the Fed's announcement that it was raising  mortgage interest rates. Yes, mortgage rates today are lower than they would have otherwise been because of an increase in the Fed's overnight interest rates.
The economy is becoming increasingly hotter, with unemployment down, stocks up, and government policies designed to fuel the fire -- less regulation, proposed tax cuts, etc. These things are likely to cause inflation if the Fed can't cool things down by tightening up the money supply -- raising the interest rate banks charge each other for overnight loans.
What's Inflation, Anyway?
Inflation occurs when people have more money to spend, but supplies of the resources they buy remain the same. For instance, oil. In fact, the price of oil is up this morning. More money competing for the same, finite resources means the price of those resources increases.
That's inflation.
Today's Mortgage Rates
** FHA APRs include government-mandated mortgage insurance premiums (MIP). 
These rates are averages, and your rate could be lower.
Request a personalized quote from a licensed, reputable lender here.
So Why Did Mortgage Rates Go Down?
Everyone and their dogs knew that the Fed was going to raise rates. There were just too many signs of economic activity to ignore. So bond prices had reacted to this probably event days ago. In fact, it over-reacted.
When the Fed announced that its members did not believe that the Fed Funds rate would be higher by year end than previously forecast, markets experienced a correction. In other words, investors expected the Fed to announce more and bigger hikes for the rest of this year, and that did not pan out. So, rates calmed down quickly, falling an average .125 percent late yesterday.
Which brings us to this morning.
This Morning
Today's weekly Jobless Claims report came in with 241,000 new claims for unemployment benefits, right in line with the expected 240,000. That won't do much to change mortgage rates.
Next, the Commerce Depart announced that there were 1.29 million Housing Starts in February. Analysts believed that 1.27 million homes were started in February, so this news is positive for the economy and potentially bad for mortgage rates.
Tomorrow
Tomorrow brings the Industrial Production report and the preliminary highly-important Consumer Sentiment report for March. If either of these come in stronger than forecase, it could ush rates up. The opposite is also true.
Industrial production is expected to have fallen by .3 percent, while analysts believe that the Consumer Sentiment index rose sharply from 96.3 to 97.5.
Rate Lock Recommendation
This is a good time to take advantage of the drop in pricing.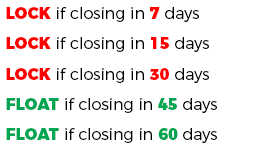 Note that this is what I would do if I had a mortgage in process today. Your own goals and tolerance for risk may differ. 
>>Ready to lock? Click here.<<
What Causes Rates To Rise And Fall?
Mortgage interest rates depend on a great deal on the expectations of investors. Good economic news tends to be bad for interest rates, because an active economy raises concerns about inflation. Inflation causes fixed-income investments like bonds to lose value, and that causes their yields (another way of saying interest rates) to increase.
For example, suppose that two years ago, you bought a $1,000 bond paying five percent interest ($50) each year. (This is called its "coupon rate.") That's a pretty good rate today, so lots of investors want to buy it from you. You sell your $1,000 bond for $1,200.
When Rates Fall
The buyer gets the same $50 a year in interest that you were getting. However, because he paid more for the bond, his interest rate is not five percent.
Your interest rate: $50 annual interest / $1,000 = 5.0%
Your buyer's interest rate: $50 annual interest / $1,200 = 4.2%
Your buyer gets an interest rate, or yield, of only 4.2 percent. And that's why, when demand for bonds increases and bond prices go up, interest rates go down.
When Rates Rise
However, when the economy heats up, the potential for inflation makes bonds less appealing. With fewer people wanting to buy bonds, their prices decrease, and then interest rates go up.
Imagine that you have your $1,000 bond, but you can't sell it for $1,000, because unemployment has dropped and stock prices are soaring. You end up getting $700. The buyer gets the same $50 a year in interest, but the yield looks like this:
$50 annual interest / $700 = 7.1% The buyer's interest rate is now slightly more than seven percent.
Click to see today's rates (Jul 25th, 2017)
The information contained on The Mortgage Reports website is for informational purposes only and is not an advertisement for products offered by Full Beaker. The views and opinions expressed herein are those of the author and do not reflect the policy or position of Full Beaker, its officers, parent, or affiliates.
Try the Mortgage Calculator