Should You Rent A Home Or Buy One?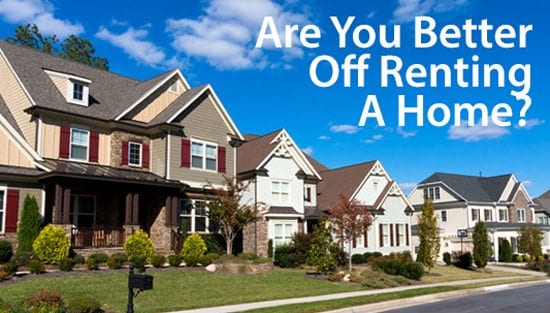 Renting Isn't Always "Throwing Your Money Away"
Which is smarter: renting a home or buying a home?
With today's mortgage rates below 4 percent and rents rising in many U.S. cities, there's a good case to be made for buying a home -- purchasing power is high and mortgage payments are low.
Despite the cliché, though, renting a home isn't always "throwing your money away"; and, buying a home isn't always "a good investment."
Some renters are better off renting for another year, and some renters should be looking to purchase immediately.
As you're trying to decide for yourself -- should I rent or should I buy -- ask yourself a few questions. The answers will point you forward.
Click to see today's rates (Jul 20th, 2017)
"Should I Rent Or Should I Buy?"
When mortgage rates are low, it can be cheaper to make monthly mortgage payments than to make monthly rent.
However, the decision between whether to rent a home or to buy one is about more than just the monthly payment. There are benefits to homeownership, just as their are benefits with renting.
In order to determine which path is best for you, consider your answers to the questions below and add this mortgage calculator to your bucket of research tools.
You may find that homeownership is your best way forward; or, that you're better off waiting to buy.
Is your income stable?
Mortgages are available with part-time income and income derived from tips, but having a steady, somewhat-predictable income can make the month-in, month-out regularity of paying a mortgage less stressful.
Before buying a home, you should also have cash reserves to tap in case of an emergency. Your reserve fund should be able to cover no less than six months of your total monthly debt obligations.
Renters who lack emergency savings, or who rely on overtime checks and tips to make ends meet should consider another year of renting, at least.
Click to see today's rates (Jul 20th, 2017)
Is your family status changing?
For home buyers who plan to get married within the next few years, or who plan to have children, buying a home can be premature. It's too soon to know what your housing needs will be, exactly.
You don't want to be live in home that's too small for your family's needs, for example, and you wouldn't want to buy a home that's bigger than what you need, either. What if you have twins? Or, triplets?
Life rarely pans out as expected, so when you're anticipating changes in family status, it can make sense to remain a renter for, at least, the short-term.
How long do you want to stay?
When you buy a home, it's customary for the home seller to pay the commissions due to the real estate agent(s). Therefore, if you're already planning your next change of scenery, it's smart to consider the cost of selling of your home.
According to the Federal Housing Finance Agency (FHFA), homes are appreciating at a rate of roughly 5% per year. This is also close to the average commission paid to sell a home.
Therefore, selling your home within 1-2 years of purchase may result in your "profit" getting used on your agent. You may also lose tax benefits associated with owning a home for such a short period of time.
Consider renting if you plan to move or sell within 24 months of purchase.
Do you have a down payment?
Unless you qualify for a VA loan or 100% USDA loan, expect to have at least 3.5 percent of the home's sale price available for a down payment. There are three percent down payment programs available to you, too, but unless your credit score is over 740, you may be assigned a high mortgage rate in order to use it.
Making low downpayments, though, means that you're borrowing more money. And, although today's mortgage rates are below 4%, payments can be high.
There is a trade-off that every home buyer makes between down payment and monthly payment. If you don't have much to put down and don't have much to make payments, consider renting for another year.
Will buying make you "house-poor"?
There are more costs to owning a home than just your monthly mortgage payment. Different from renters, homeowners are responsible for making repairs to the home when damage occurs or appliance break.
For example, a leaky dishwasher or broken HVAC can costs hundreds or thousands of dollars to repair. Fixing a roof can cost even more.
If you've spent everything you have on buying the home, and tied up your paycheck in your mortgage, you're what's known as "house-poor" -- all of your wealth is locked up in your home.
Don't be house-poor. If you can't set aside two percent of your home's value per year for home repairs and maintenance, consider renting another year.
Rent Or Buy? Decide What's Right For You.
For all renters considering whether to buy a home or rent for another year, the answer will be a personal one. Mortgage calculators can assist with the decision, but your lifestyle and your tolerance for risk is what's most important.
Take a look at today's real mortgage rates now. Your social security number is not required to get started, and all quotes come with instant access to your live credit scores.
Click to see today's rates (Jul 20th, 2017)
The information contained on The Mortgage Reports website is for informational purposes only and is not an advertisement for products offered by Full Beaker. The views and opinions expressed herein are those of the author and do not reflect the policy or position of Full Beaker, its officers, parent, or affiliates.
Try the Mortgage Calculator