Will You Be The Last U.S. Homeowner To Refinance?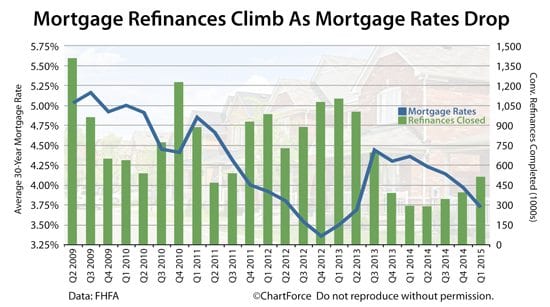 Refinance Loans In High Demand
Refinance loans are popular with U.S. homeowners this year.
With mortgage rates down 60 basis points (0.60%) as compared to the start of 2014, and with sub-4 percent rates available nationwide, refinance activity is strong.
Federal Housing Finance Agency (FHFA) data shows a huge spike in closed refinance loans through the first two quarters of this year.
And, with mortgage rates still low, third quarter refinance volume is expected to remain high.
There are an estimated 6.5 million U.S. households eligible for refinance, which includes eligibility for the Home Affordable Refinance Program (HARP).
HARP is a loan program for homeowners whose homes have lost value since purchase. The program is only available through December 2016.
Verify your refinance eligibility (Nov 23rd, 2017)
Mortgage Rates Still Beneath 4%
Mortgage rates are stubbornly low.
According to Freddie Mac's weekly survey of more than 100 lenders, 30-year mortgage rates now average 3.94% nationwide, marking the third straight week in which rates average less than four percent.
Not surprisingly, today's low rates have stoked refinance requests.
Approximately 962,000 conventional mortgage refinances closed during the first five months of the year; along with hundreds of thousands of FHA, VA, USDA, and jumbo refinance loans. And, total refinance units may cross 3 million nationwide before the year is out.
Contrast this to last year in which only 1.5 million conventional refinances were closed. Clearly, this year is a good one to get a lower rate.
Meanwhile, it's more than today's rates which are helping to drive refinance volume -- rising home values are contributing, too, replenishing lost home equity from last decade.
LTVs are lower, which makes it easier for homeowners to qualify at today's lowest rates.
Rising values have also reduced the reach of HARP. With fewer homeowners underwater, there's less need for the FHFA's streamlined refinance program.
So far this year, fewer than 6% of conventional refis have been closed using the Home Affordable Refinance Program.
At its peak, HARP loans held 40% market share.
Verify your refinance eligibility (Nov 23rd, 2017)
Most Common Home Loan Refinances
Lenders are on pace to close more conventional mortgage refinances this quarter than during any quarter since 2013.
There are a lot of reasons to refinance in today's low-rate environment.
Reduce Interest Rate Or Monthly Payment
The most common reason to refinance is to get a lower mortgage rate. Known as the "rate-and-term" refinance, this mainstay mortgage accounts for the majority of closed loans.
Rate-and-term refinances are characterized by a reduction in mortgage rate, a reduction in loan length, or both. According to Freddie Mac, the typical rate-and-term refinance lowers a homeowner's mortgage by more than 150 basis points (1.5%) and reduces payment by about one-third.
Loans from 2012-2014 will realize smaller monthly savings, but strong savings nonetheless. Current mortgage rates are down more than 100 basis points (1.0%) from the rates of just a few years ago.
Reduce Loan Term To 15 Years
Another use of the rate-and-term refinance is to reduce the number of years remaining on your loan. With 15-year mortgage rates in the 2s, the switch from thirty-year to 15 has been more common.
At today's interest rates, homeowners with a 15-year mortgage will pay nearly 65% less mortgage interest over the life of a loan as compared to a 30-year fixed.
Refinance Out Of FHA MIP
Earlier this year, the Federal Housing Administration (FHA) reduced mortgage insurance premiums (MIP) on all new 30-year loans.
Combined with the lowest mortgage rates in two years, the FHA MIP change lowered "effective" FHA rates to their lowest in history. Not everyone wants to pay FHA mortgage insurance, though, and homeowners have figured out that they can cancel FHA MIP using a refinance.
With even five percent equity in your home, it can make sense to refinance your FHA loan into something conventional.
Refinance For Cash-Out
Since late-2011, home values are higher in most U.S. cities. As values have climbed, so has the collective equity homeowners have in their homes.
Via the cash out refinance, refinancing homeowners can "get" this equity handed to them as cash, which can be used to consolidate bills, finance home improvement, or anything else.
Cash-out refinances are available as fixed-rate mortgages or ARMs.
Streamline Refinance To Monthly Lower Payments
Homeowners with an existing FHA loan, VA loan, or USDA loan get access to special loan programs known as streamlined refinances.
Streamline refinance are characterized by a reduction in required paperwork and time required to process. Typically, they waive the need for an appraisal and do very few verifications.
There are three main streamline refinance programs -- the FHA Streamline Refinance, the VA Streamline Refinance, and the USDA Streamline Refinance.
Each can be shopped online with rates compared between lenders.
What Are Today's Mortgage Rates?
With mortgage rates low, it's a good time to take a look at your refinance possibilities. Low rates can't last forever, and today's could be the bottom.
Verify your refinance eligibility (Nov 23rd, 2017)
The information contained on The Mortgage Reports website is for informational purposes only and is not an advertisement for products offered by Full Beaker. The views and opinions expressed herein are those of the author and do not reflect the policy or position of Full Beaker, its officers, parent, or affiliates.
Try the Mortgage Calculator