Mortgage Rates : Low Mortgage Rates Pump 11% Gain In Purchasing Power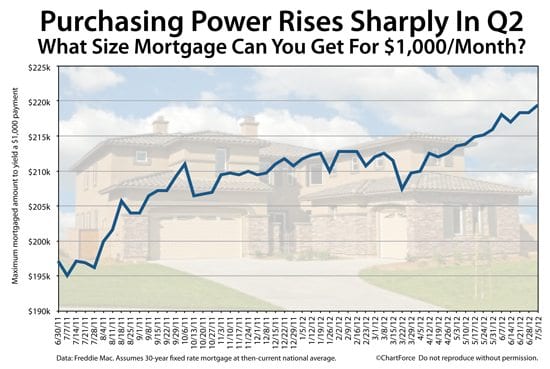 For today's refinancing households -- whether via HARP, FHA Streamline Refinance, VA Streamline Refinance, or otherwise --  falling mortgage rates can lower monthly mortgage payments by a ton, adding money to household budgets and bank ledgers.
For home buyers, however, falling rates do something more.
Falling mortgage rates raise maximum purchase prices. In some cases, by a lot. Your mortgage dollar goes a lot farther than it used to.
Click here to get today's mortgage rates (Jul 20th, 2017).
For Home Buyers, Mortgage Rates On Sale
Home affordability is at an all-time high nationwide.
According to Freddie Mac's most recent mortgage rate survey, the average 30-year fixed rate mortgage fell to 3.62% last week, down from 4.08% in March 2012, and down from 4.60% from one year ago.
And, this week, rates have moved lower still. From Marin County, California to Bethesda, Maryland to Miami, Florida, mortgage rates are easing and poised to register a new, all-time low for the third consecutive week. Mortgage rates have been down over consecutive days dating back to last week.
It's a great time to be a buyer.
Purchasing Power Up 11% Since Last Year
Rapidly changing mortgage rates make for interesting personal economics. It can't help but change the way a buyer looks at properties.
In a falling mortgage rate environment such as this one, it can make for a heady home shopping experience. Buyers can set their sights on a price range for a home, then watch as their corresponding monthly mortgage payment drops with the rates.
Or, buyers can go the other way.
For a buyer who's set his monthly housing payment  as mortgage rates drop, home purchasing power goes up.
Since July 2011, that increase has been significant.
Assuming a principal + interest mortgage payment of $1,000 per month on a 30-year term, today's home buyers can buy 11% "more home" as compared to 12 months ago.
July 2011 : Each $1,000 payment affords a maximum loan size of $197,130
July 2012 : Each $1,000 payment affords a maximum loan size of $219,409
That extra 11% can mean a lot of things. It can be an extra bathroom; an extra bedroom; a series of upgraded finishes. It could even mean a home on a different street, or with a different-sized lot.
The 11% increase in purchasing power can mean anything you want it to mean. It's just great to have it available. There has never been a more affordable time to be a home owner.
From Washington State to Washington, D.C., homeownership is on sale.
Click here to get today's mortgage rates (Jul 20th, 2017).
Home Affordability : Tied To Low Mortgage Rates
Unfortunately, today's buyer-friendly environment can't last forever. Home prices have already started to rise nationwide, cutting into the rise in purchasing power afforded by low mortgage rates. And, as the economy recovers, mortgage rates will, too.
When mortgage rates move past 4 percent into the 5s, it will hit affordability hard.
For now, though, the market is a buyer's oyster. Get started with a rate quote and see what you can buy.
Click here to get today's mortgage rates (Jul 20th, 2017).
The information contained on The Mortgage Reports website is for informational purposes only and is not an advertisement for products offered by Full Beaker. The views and opinions expressed herein are those of the author and do not reflect the policy or position of Full Beaker, its officers, parent, or affiliates.
Try the Mortgage Calculator