The FHA Streamline Refinance : 3 Ways To Reach More U.S. Households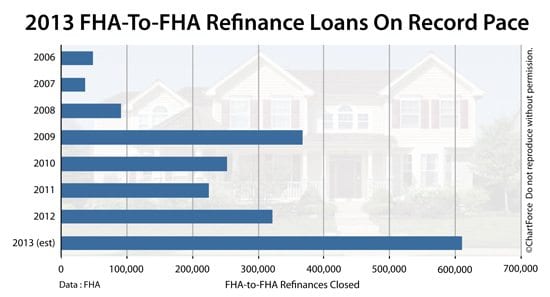 FHA home loans are a large part of today's U.S. housing market. With low rates, loose underwriting, and a minimum 3.5% downpayment requirement on a purchase, there were 300% more FHA loans insured in 2012 as compared to 2006.
The FHA's appeal goes beyond just "easier underwriting", though. FHA-backed homeowners also gain access to the FHA's streamline refinance program -- one of the simplest and fastest refinance programs available today.
More than 150,000 U.S. homeowners used the FHA Streamline Refinance in Q1 2013. Many lowered their mortgage rate by more than 2.00 percentage points.
Click here to check your FHA Streamline Refinance eligibility (Jul 22nd, 2017).
About The FHA Streamline Refinance
The FHA Streamline Refinance is a unique mortgage product, available to homeowners with existing FHA home loans. The program was built to be the fastest, easiest way for an FHA-insured homeowner to refinance an existing FHA mortgage.
The FHA Streamline Refinance's big draw is its simplicity.
According to the FHA rulebook, with the FHA Streamline Refinance, neither income is verified; nor is employment verified; nor are credit scores verified. So long as payments have been made on-time for the last three months; and so long as there have been no more than one 30-day late payment in the last 12 months, a mortgage approval is all but promised.
Plus, zero-closing cost loans remain readily available.
However, although more than 600,000 U.S. homeowners will use the FHA Streamline Refinance in 2013, not every mortgage applicant will become bank-approved.
Specifically, there are 3 groups which face challenges :
Those who meet the official FHA Streamline Refinance guidelines but fail to satisfy any FHA Streamline Refinance guideline overlays required by their bank
Those who are approved for an FHA Streamline Refinance, but without cash required to start a new escrow account for real estate taxes and homeowners insurance
Those who meet the FHA Streamline Refinance guidelines, but want to reduce their loan term to 15 years; or move from a non-adjusting ARM to a fixed-rate mortgage
To assist homeowners in the above three classes, the FHA could re-write its flagship refinance program to be more inclusionary, similar to how the Federal Home Finance Agency crafted its HARP refinance program.
What follows are three ways by which the FHA could reach more homeowners.
Click here to check your FHA Streamline Refinance eligibility (Jul 22nd, 2017).
Force Banks To Remove FHA Streamline Refinance Overlays
The FHA Streamline Refinance is the most lenient mortgage product in the market today. There are nearly no verifications required.
The FHA's stance is that -- irrespective of your credit score or your employment status -- if you're making payments on your mortgage at your current mortgage rate, you're likely to keep making payments on your mortgage if that mortgage rate was lower.
This is about as "common sense" as mortgages get.
U.S. banks, however, don't always underwrite to the exact standards of the FHA Streamline Refinance program. Rather, banks often add additional qualification standards beyond what the FHA requires.
In industry parlance, these additional standards are called "investor overlays" and, for the FHA Streamline Refinance program, investor overlays can include any of the following :
Verifying an applicant's current employment status and 10-year employment history
Verifying an applicant's income to make sure minimum debt-to-income ratios are met
Verifying an applicant's credit scores to make sure FICOs are 640 or higher
The hurdles aren't high, necessarily, but they still manage to stymie loads of otherwise-qualified FHA Streamline Refinance applicants; homeowners who have never been late on a payment and are in want of payment relief; homeowners who meet the FHA's standards but don't meet their lender's standards.
Now, there's a reason why banks make overlays. It's because the FHA holds banks responsible when they make "bad loans" and when banks make too many bad loans, the FHA fines that bank and may revoke its FHA lending license.
Banks don't want any part of that risk.
Therefore, if the Federal Housing Administration would absolve the nation's lenders of certain risks associated with underwriting FHA Streamline Refinances, we would expect many more Americans would be streamline-eligible -- maybe millions.
Until then, however, the FHA Streamline Refinance is "limited-access".
Allow Homeowners To Finance Tax And Insurance Escrows
Another hurdle for refinancing households is the tight restrictions than an FHA Streamline Refinance places on a borrower's final loan size.
In its guidelines, the FHA specifically states that the "new" mortgage balance may not exceed the existing mortgage balance, except for the cost of FHA upfront mortgage insurance. All closing costs and prepaid items, therefore, must be paid in cash at closing. Nothing may be added to the loan size.
This partially explains why zero-closing cost FHA Streamline Refinances are so common.
With a zero-closing cost FHA Streamline Refinance, the mortgage lender pays all loan closing costs on behalf of the homeowner, which reduces the amount of cash which a homeowner brings to closing. Unfortunately, the lender credit can rarely covers everything -- and this is where the program can be improved.
The FHA requires a real estate tax and insurance escrow to be started and homeowners are required to fund that account at closing. Meanwhile, in states with relatively high real estate tax bills, the cash to populate an escrow account can approach $10,000.
Few homeowners have cash like that on-hand.
If the FHA changed its FHA Streamline Refinance guidelines to allow "adding escrows to the loan balance", more FHA-backed homeowners would be eligible to use the program.
Click here to check your FHA Streamline Refinance eligibility (Jul 22nd, 2017).
Waive Certain Net Tangible Benefit Requirements
There's a third way for the FHA to reach more homeowners with its streamline program, too.
The FHA Streamline Refinance is designed to help FHA-backed homeowners save money, but the FHA also wants to protect against frivolous refinancing. As such, one of the FHA Streamline Refinance requirements is that homeowners must realize some "benefit" via the refinance.
In general, the FHA wants every refinancing homeowner save at 5% or more on their monthly principal + interest mortgage payment.
The FHA calls this 5% savings requirement a "Net Tangible Benefit". The 5% is calculated by adding your current (principal + interest) to your current monthly mortgage insurance premium (MIP), then comparing that figure to the same three inputs on a new mortgage.
If the new mortgage payment isn't at least 5% less than the current one, no refinance is allowed.
Given today's low rates, many refinancing homeowners will meet the FHA's 5% savings requirement. That is, so long as the refinance is from a 30-year loan to a 30-year loan. It's nearly impossible for homeowners to refinance from a 30-year fixed rate mortgage into a 15-year one -- the FHA won't allow it if the mortgage payments increase.
Similarly, the FHA won't let certain homeowners with ARMs use the FHA Streamline Refinance to swap into a fixed-rate mortgage.
Now, some people argue that refinancing from an ARM to a fixed rate mortgage can be considered a "tangible benefit". The FHA holds the same position. However, the FHA believes the tangible benefit only comes into play when the ARM is in its adjusting phase.
For homeowners with ARMs still in the initial teaser phase, the FHA Streamline Refinance remains out-of-reach.
To help more homeowners, the FHA could reclassify its Net Tangible Benefit to include "Reduce Loan Term" and "Convert To A Fixed Rate Mortgage". This would render more FHA-insured homeowners eligible for the FHA Streamline Refinance Program.
See Today's FHA Streamline Refinance Rates
The FHA Streamline Refinance is an excellent program with lots of success stories. It remains the fastest, easiest mortgage refinance program in the country. With some small changes, however, the FHA could put its refinance program in the hands of additional U.S. homeowners, potentially lowering mortgage payments for hundreds of thousands of families nationwide.
With mortgage rates still this low, see what an FHA Streamline Refinance can do for you.
Click here to check your FHA Streamline Refinance eligibility (Jul 22nd, 2017).
The information contained on The Mortgage Reports website is for informational purposes only and is not an advertisement for products offered by Full Beaker. The views and opinions expressed herein are those of the author and do not reflect the policy or position of Full Beaker, its officers, parent, or affiliates.
Try the Mortgage Calculator