New Underwater Refinance Program Available October 2017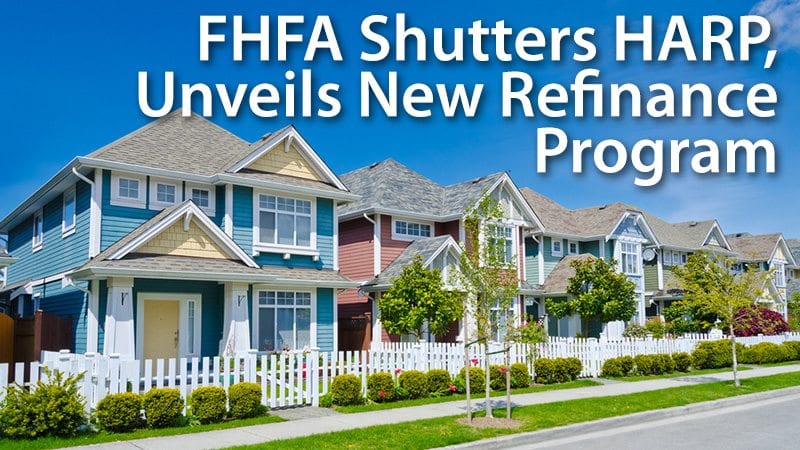 Rates To Stay Low, More Homeowners To Become Refinance-Eligible
According to mortgage rule-making agency Freddie Mac, the outlook for 30-year fixed mortgage rates will average near 4% through the end of 2017. This means this year will have offered the lowest annual average mortgage rates in over 40 years.
As low rates continue to defy the odds, many U.S. homeowners continue to take advantage of the opportunity to refinance.
Still, many are unable due to a high loan-to-value (LTV), and ineligibility for the HARP program.
But Fannie Mae / Freddie Mac overseer FHFA recently announced that relief could be on the way.
A new high-LTV program will be available in October 2017. Some of the HARP restrictions will be peeled away, and more homeowners will be eligible.
Freddie Mac predicts mortgage rates will stay low through 2017; it could be another a banner year for underwater homeowners.
Click to see your HARP eligibility (Jul 21st, 2017)
Reasons To Refinance In 2017
Lower rates can translate to a variety of benefits -- beyond a lower payment.
These benefits will vary according to each homeowner and their particular situation.
Some reasons homeowners decide to refinance to:
Tap into home equity
"Fix" an adjustable rate mortgage
Cut their loan term from 30 years to fifteen
Increase cash flow on an investment property
With less stringent underwriting guidelines combined with lower interest rates and increased home appreciation, it's no wonder that refinance applications made up nearly half of the total mortgage applications to start 2017.
In this rate environment, it's a fantastic time to shop for a refinance.
Click to see your HARP eligibility (Jul 21st, 2017)
The Final End To HARP?
The Federal Housing Finance Agency (FHFA) recently announced that it will be extending its Home Affordable Refinance Program (HARP) until September 30, 2017.
After that, the program is likely gone forever.
HARP was launched in 2009 as a way for homeowners who are current on the existing mortgage loan, but have little or no equity, to take advantage of low mortgage rates.
HARP was set to expire at the end of 2016. However, with more than 300,000 eligible homeowners who have yet to take advantage of the HARP program, FHFA decided to extend the program for the fourth and probably final time.
According to FHFA HARP-eligible homeowners can save approximately $2,400 per year on their mortgage payments. Some could save much more.
For those who are not currently eligible, the new high-LTV program could help.
Fannie Mae High-LTV Refinance Available October 2017
The HARP program, as we know it, will end in September 2017. The program's departure would leave a void for underwater homeowners who have not – or could not – refinance.
In response, Fannie Mae and Freddie Mac will release a new refinance option, available October 2017.
This new program, much like HARP, will allow underwater homeowners to refinance their mortgages and take advantage of low mortgage rates.
The program will come with some enhancements, though. Homeowners can use it more than once. Today's version of HARP is a single-use program.
Additionally, there will be no loan origination cutoff date. HARP requires the homeowner to have opened the loan before June 1, 2009. That was more than seven years ago; there aren't many mortgages that old any more.
The enhanced high-LTV program will come with no such date requirement. This will open up the program for homeowner bought or refinanced a home in late-2009 and beyond.
There could be a new wave of new refinance applicants starting in the latter part of 2017.
To be eligible, homeowners must obtain better loan terms, such as:
A lower interest rate
Reduction in their monthly principle and interest payment
A shorter loan term
A fixed rate to replace an adjustable-rate mortgage
Homeowners will need to meet certain eligibility requirements in order to take advantage of this new high LTV refinance option.
There won't be any loan-to-value restrictions for this new program on the upper end. However, Fannie Mae loan holders will need at least a 95% or higher LTV; Freddie Mac loans will need to be at a minimum 97% LTV at the time of the refinance. This information comes from sources inside the FHFA. The official announcement of the LTV lower limit is yet to be officially released.
In any case, the mortgage being refinanced must be an existing Fannie Mae or Freddie Mac loan. Many trade groups have been calling for HARP 3.0, which would eliminate the Fannie Mae / Freddie Mac ownership requirement.
For now, it appears this rule will remain in place.
However, the loan appears to be adopting major points of HARP 3.0, namely removal of the loan cutoff date and the ability to use the program again and again.
One key point, however, is that the new program cannot be used to refinance a HARP loan. Someone who had a HARP loan in the past but has since refinanced with a different Fannie or Freddie loan is eligible.
In addition, homeowners:
Must have made at least 12 on-time payments
Must have had no payments 30 days late in the previous six months
No more than one 30-day late payment in the past year
One of the more interesting features released by FHFA is "streamlined documentation requirements for employment, income, and assets." It's not clear -- yet -- what this means, exactly. It could mean that no paystubs, W2s, tax returns or bank statements will be required.
It's more likely however, is a requirement for limited documentation. Borrowers may have to turn in one paystub and a W2, for instance, plus 60 days' worth of bank statements.
According to Fannie Mae, more details will be released no later than November 2016. The full guidelines may reveal more surprises. For now, its wait-and-see.
Click to see your HARP eligibility (Jul 21st, 2017)
Freddie Mac High-LTV Program
Fannie Mae's sibling, Freddie Mac, also unveiled its own version of the high loan-to-value refinance program.
Freddie's high LTV option will be known as the Enhanced Relief Refinance.
For the most part, Freddie Mac's version will mirror the Fannie Mae program. One difference, however, is the minimum LTV requirement -- 97% compared to Fannie's 95%.
For instance, a homeowner with a Freddie Mac loan whose home is worth $100,000 could use the refinance if they have a loan balance of at least ninety-seven thousand dollars. A Fannie Mae loan holder's minimum would be $95,000. In this way, the Freddie Mac program is slightly more restrictive.
The more fundamental difference between the two programs, though, is that the homeowner's mortgage must be an existing Freddie Mac loan.
Homeowners can check their loan's ownership on Fannie Mae and Freddie Mac's loan lookup website.
The Enhanced Relief Refinance Program will replace Freddie Mac's version of HARP, called the Relief Refinance Program or Open Access.
What Are Today's Refinance Rates?
With mortgage rates predicted to remain at historically low levels through the end of 2016, there are lots of reasons for homeowners to consider refinancing.
Find out today's refinance rates. No social security number is required to start, and all rate quotes come with access to your live mortgage credit scores.
Click to see your HARP eligibility (Jul 21st, 2017)
The information contained on The Mortgage Reports website is for informational purposes only and is not an advertisement for products offered by Full Beaker. The views and opinions expressed herein are those of the author and do not reflect the policy or position of Full Beaker, its officers, parent, or affiliates.
Try the Mortgage Calculator