How To Rush Your Mortgage To The Closing Table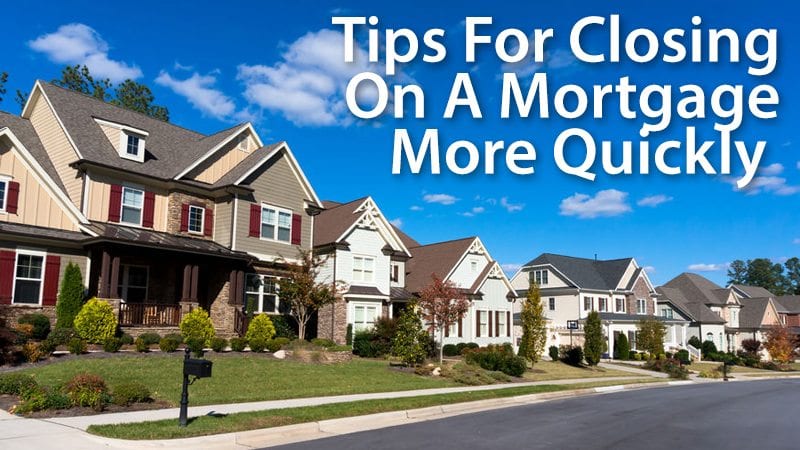 Close On Your Mortgage Loan More Quickly
There are lots of reasons to close on a home purchase or refinance loan quickly.
When you can close quickly, you can appease an anxious seller who wants to move yesterday; and, there's less chance of something "going wrong" in your life which can affect your final mortgage approval.
Quick closings can also get you access to lower mortgage rates that you may otherwise get quoted from a bank.
This is because mortgage rates worsen as the number of days required to close your loan increases. When you can close in 30 days or fewer, you'll often get a lower mortgage rate than if you need 45 days or more.
The major delays in approving a mortgage occur during the days in which your mortgage loan is underwritten. However, because mortgage underwriting is fairly standard process, with a little bit of prep work, you can help your underwriting period close quickly.
Here are some tips to help you close on your mortgage more quickly.
Verify your new rate (Jan 17th, 2018)
Have Your Documents In Order Before Beginning
To get a mortgage approved -- whether it's a low-downpayment loan via the FHA, a conventional loan with 20% down, or a different loan type altogether -- borrowers are required to meet minimum program standards.
These minimum standards are known as "mortgage guidelines" and they include such borrower traits as annual household income, assets in the bank, and citizenship.
During mortgage underwriting -- save for streamlined refinance programs -- your lender is required to verify this information in writing in order to issue an approval.
No verification, no loan.
It's common for lenders to request two years of federal income tax returns to support a loan approval, for example; and, to request W-2s, pay stubs, pension award letters, when appropriate.
Since you know you'll need these documents as part of your loan approval, consider gathering them in advance of making your application -- maybe even scan them to a file.
This can save you time, which will make it easier to close your loan more quickly.
You'll also likely be asked to supply the two most recent statements covering your bank, retirement, and investment accounts; and, documentation which shows the source of your downpayment.
If you're receiving a downpayment gift of cash, for example, you'll be asked to document that gift precisely. Therefore, do it advance.
Preview Your Mortgage Credit Score
Nearly 1-in-4 consumers have an error on their credit report and, often, those errors can negatively affect your credit score.
There's never a good time to find a credit report mistake, but finding one while you mortgage loan's in underwriting can definitely be considered to be a bad time to find one.
Check your mortgage credit scores prior to applying for a mortgage loan, if you're able. Your goal is to identify inaccuracies and to remove them before your loan is submitted into underwriting.
Plus, there's a secondary benefit.
When you know your credit score, it can be easier to shop for and identify the best mortgage loan for your needs. For example, if your credit score is between 580 and 620, you can be reasonably certain that an FHA-backed mortgage is in your future.
Or, if your credit score is above 680 and you plan to make a downpayment of between 10-20%, you'll likely find the piggyback loan to be your best fit.
Avoid Life Changes While Your Loan's In-Process
Mortgage lender don't like to approve loans twice, but out of prudence, they're required to.
The first approval is your initial underwrite. Your income, assets, and credit are verified; your employment is confirmed; and, your home appraisal is complete.
The second approval happens just before closing. It's a re-review of everything in your file -- your income, assets, credit, employment, home appraisal, and everything else.
It's this second approval that buyers and refinancing households sometimes forget, because if there's been any material change in your application information, your entire loan gets pulled for the queue and must be re-underwritten from scratch.
What's a "material change" to your application? Pretty much anything.
You change jobs, or quit your job
You change the source of your downpayment
You apply for a new credit card
You miss a bill payment to anyone -- even by accident
You purchase furniture for your new home using cash or a credit card
You purchase or lease a new car
You make a large, non-recurring deposit into your bank account
Should any of the above events occur, you will slow your loan approval and could possibly get your loan turned down.
Therefore, if you absolutely must do one of these things, have a conversation with your mortgage lender first. Your lender may have advice on how to move forward with as little disruption to the loan process as possible.
Verify your new rate (Jan 17th, 2018)
Stay in Touch With Your Lender During Approval
Another way to close your loan more quickly is to "be available".
Mortgage lenders almost never approve home loans during the first round of underwriting. This is because lenders are curious types and reviewing your paperwork leads to questions about your income or your job, for example, which triggers requests for additional supporting paperwork.
It's a fact of mortgage lending.
So, the best thing you can do when your loan is in-process is to remain available and accessible to your lender.
Mortgage underwriters can't do their jobs without you so -- wouldn't you know it -- borrowers who respond quickly to requests for additional paperwork find themselves getting priority treatment from the bank.
Borrowers who "disappear" tend to find their loan on the bottom of the pile.
What Are Today's Mortgage Rates?
Great mortgage lenders will guide you through the home approval process and will help you to close on your loan more quickly. The above advice will help, too.
Get today's live mortgage rates now. Your social security number is not required to get started, and all quotes come with access to your live mortgage credit scores.
Verify your new rate (Jan 17th, 2018)
The information contained on The Mortgage Reports website is for informational purposes only and is not an advertisement for products offered by Full Beaker. The views and opinions expressed herein are those of the author and do not reflect the policy or position of Full Beaker, its officers, parent, or affiliates.
Try the Mortgage Calculator