Lender Credits: Bait & Switch Or Fair Deal?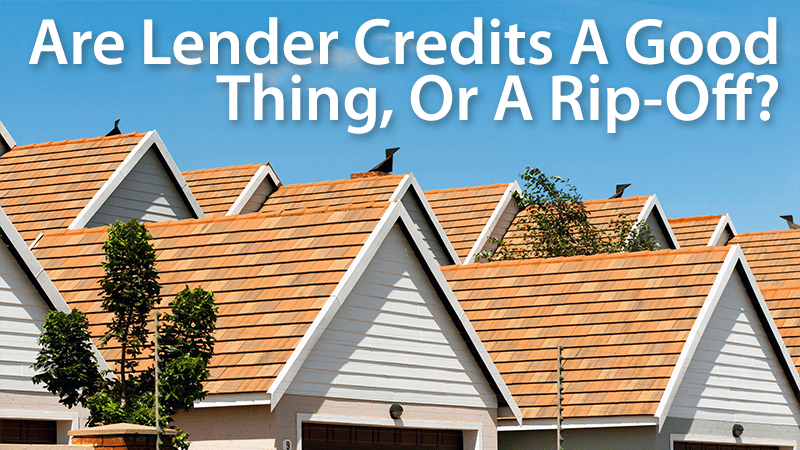 What Are Lender Credits, And Are They Good Or Bad?
When you shop for a mortgage, you contact several mortgage lenders and ask for the rate they'd give someone with your down payment, program and credit rating. You compare offers and select the best deal. But there are many ways for a lender to price its loan — at par, with discount points, and with lender credits (also called rebate pricing).
Here's how to evaluate these prices and choose your best loan.
Verify your new rate (Jul 21st, 2018)
How To Read A Rate Sheet
Here's an example of a rate sheet for today from a national mortgage lender. It shows the many ways you can price a 30-year fixed-rate loan with 20 percent down and a 680 FICO score.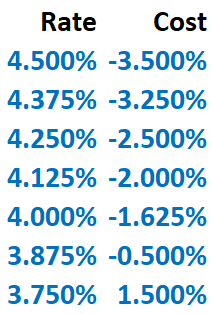 You'll notice that most of the rates listed have a negative cost associated with them. This means that those rates come with lender credits. Rates with zero cost are priced at "par" and you pay an origination charge but no other loan fees.
And loans with "discount" pricing carry origination charges plus discount points. These loans come with the lowest rates, but their higher cost may make them too expensive. The loan at 3.75 percent has 1.5 percent in discount points., and probably a one percent origination charge.
Get A No-Closing-Cost Mortgage And A Low Rate Too
If you select a 4.5 percent loan, you'd get back 3.5 percent in lender credits. With a $300,000 mortgage, that's enough to offset $13,500 in closing costs.
Some programs will allow you to take any excess lender credit as cash, while others require you to apply excess lender credit to reduce the principal.
Who Should Consider A Lender Credit?
Lender credits are one way to cover your closing costs when you can't or don't want to pay them out-of-pocket at closing. If the credit is large enough, you can even cover non-mortgage-related costs, like prepaying your property taxes. You may be able to take lender credits as cash to fix up the property a little.
How Not To Pay For Your Next Refinance
Lender credits can net you some quick cash if you plan to sell the property soon. For instance, what if you want to buy, fix and flip a home quickly? You can cover your loan costs and maybe some renovation costs. If you don't keep the loan very long, the cash you get upfront is likely to be considerably more than you pay in extra mortgage interest.
Example Of Lender Credit
Let's say you plan to buy a home, live in it for two years while fixing it up, and then sell and move. At a 3.875 percent rate, you'll have a .5 percent rebate, which covers half of your origination fee. And let's say you have additional costs of $3,000 and repair costs of $10,000. If you start with a $300,000 house and nets $350,000 for it in two years, here's how it pencils out:
Borrows $240,000 with 20 percent down.
Pays .5 origination fee ($1,200) plus $3,000 in other costs and $10,000 in repairs
Principal and Interest (P & I) payment is $1,411
Two years mortgage expense is $18,020 (Two years of payments minus principal reduction)
After selling the house for $350,000, the homeowner has made $17,780 and covered the mortgage for two years
Negotiating A Better Mortgage Rate 
Now, suppose the buyer used a lender credit to cover some of the costs of buying the house:
Borrows $240,000 with 20 percent down. gets a 4.5 percent rate and an $8,400 credit
The credit covers all closing costs ($2,400 origination plus $3,000 in fees)
There is $3,000 left for repairs. The buyer will come up with the remaining $7,000
The P & I payment is $1,520 and two years of mortgage expense is $20,940
After selling the home for $350,00, the homeowner has paid the mortgage and made $22,060

Downside Of Lender Credit
If you keep your house and mortgage more than a couple of years, lender credit upfront could get expensive down the road.
But the other downside of rebate pricing is less obvious. One study showed that borrowers are less likely to shop aggressively if they are not paying out-of-pocket for their costs.
How Mortgage Lenders Make Your Rate Quote
They tend to get less bang for their buck when the "buck" is coming from the lender and not the borrower's own bank account.
How To Shop For Lender Credit Mortgages
When shopping for a mortgage, drive as hard a bargain as though you were the one paying the costs. Contact several lenders and ask for what you want — a loan with no lender fees, a loan with no costs at all, or a certain rebate. Get all your quotes and see who gives you the best rate at that price point.
Don't Use APR To Shop For A Mortgage
For example, you might want a loan with a three percent rebate. One lender offers 4.25 percent. another offers 4.375 and two offer 4.125 percent. One of those at 4.125 percent should probably be your lender.
What Are Today's Mortgage Rates?
Today's mortgage rates are still nice and low, and that holds true for programs with rebate pricing as well. Keep in mind that lenders structure their pricing differently. The company offering the best deal on a loan at "par" may come in a little high when asked about rebates.
The trick is getting several quotes at the price point you want, not the one they choose to advertise.
Verify your new rate (Jul 21st, 2018)
The information contained on The Mortgage Reports website is for informational purposes only and is not an advertisement for products offered by Full Beaker. The views and opinions expressed herein are those of the author and do not reflect the policy or position of Full Beaker, its officers, parent, or affiliates.
Try the Mortgage Calculator