Mortgage Rates Drop Ahead Of Comey Testimony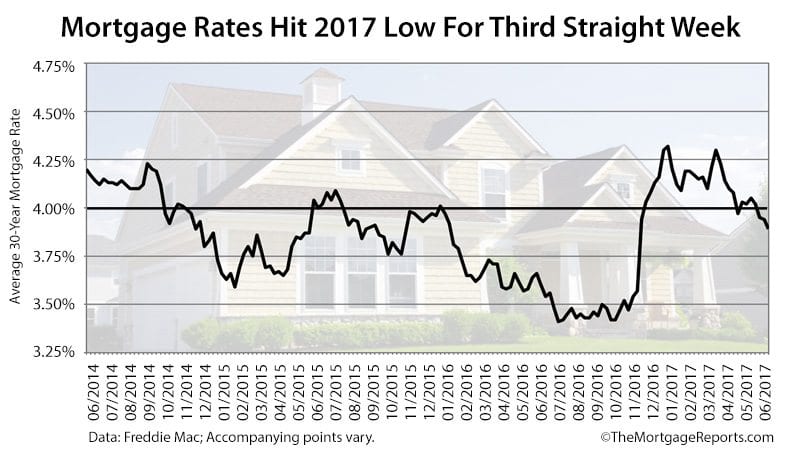 Freddie Mac: Mortgage Rates Sink To 3.89%
Mortgage rates are on a roll.
Freddie Mac, in its weekly survey of more than 100 lenders nationwide, reported the average thirty-year rate fell 5 basis points (0.05%) to 3.89% this week.
It's the third week in a row that rates have hit a fresh 2017 low. Markets are jittery, and all eyes are on former FBI Director James Comey's testimony to the Senate today.
In times of uncertainty, mortgage rates drop.
We could see a replay of the drama that played out on May 17. That's when Comey first released a memo saying Trump attempted to halt the investigation against former national security adviser Michael Flynn.
That day, the stock market fell nearly 400 points and mortgage rates improved big time.
If you're looking to lock your rate, today could be your day.
Click to see today's rates (Sep 23rd, 2017)
How Will The Comey Testimony Change Mortgage Rates?
Mortgage rates could swing big today as former FBI director James Comey testifies before the Senate.
It could be a watershed moment in American politics -- or amount to nothing.
Markets would be rattled and mortgage rates better if more comes out of the testimony than expected. Remember that mortgage rates are higher than they were last year for one reason: Mr. Trump got elected.
Tax cuts, infrastructure spending, and an economy-first perspective were supposed to kick inflation into high gear. Inflation is bad for mortgage rates.
If President Trump's political wings are clipped, though, markets will wonder if campaign promises can gain traction. The mortgage rate clock might be turned back to 2016 when rates were in the mid-3s.
Markets are tuning in, no doubt, to Comey's testimony. Any revelations about inappropriate actions by the president could send mortgage rates lower.
However, don't expect Watergate here. Analysts don't believe there was criminal intent in Trump's actions.
The focus for markets will be around whether Trump can, in fact, boost the economy, or if he will be embroiled in controversies that put a lid on his agenda.
Mortgage Applications Soar On Low Rates
The Mortgage Banker's Association (MBA) reported Wednesday that home purchase mortgage applications jumped 10% from the prior week.
Mortgage rates hit their lowest levels since November, by MBA's calculation, spurring home buyers to lock in. It's a second chance to take a rate near 4% after rates soared closer to 4.25% late last year.
Apparently, it's a new day for mortgage rates.
The anticipated "downward drift" is in full effect, and rates could dive even deeper into sub-4% territory as 2017 marches on.
Even refinancing homeowners are finding deals, especially those ditching FHA mortgage insurance with a conventional loan. Those who had lost hope of getting a good rate are not only finding one but locking it in.
If you've been shopping for a mortgage, now could be the time to apply.
Click to see today's rates (Sep 23rd, 2017)
The Making Of Freddie Mac's Average Rate
Each week, mortgage agency Freddie Mac surveys 125 lenders nationwide for its Primary Mortgage Market Survey (PMMS), a snapshot of current mortgage interest rates.
It asks mortgage companies, banks, and credit unions, and other lenders their current rate for a well-qualified borrower putting 20% down, and paying "discount points," or extra fees that directly reduce the rate.
The weekly Freddie Mac report is great for watching mortgage rate trends. The organization has been conducting the survey for 45 years. So, the weekly average rate is a good measure of historical movement.
But as a mortgage rate consumer who needs a truly current rate, Freddie Mac's survey isn't very useful. The agency polls lenders early in the week for its Thursday release. By publish time, their rate is already outdated.
Mortgage rates change by the minute.
Plus, Freddie's rates are based on the quote for a mythical homeowner: one with great credit, 20% down, and a short closing time frame.
Your rate might be higher or lower. The only way to know is to contact a reputable lender and request a rate quote.
What Are Today's Mortgage Rates?
Today's interest rates are low. Historically any rate in the 4% range was considered "too good to be true." Rates have averaged more than 8% over the 45 years Freddie Mac has been tracking them.
Get today's live mortgage rates now. Your social security number is not required to get started, and all quotes come with access to your live mortgage credit scores.
Click to see today's rates (Sep 23rd, 2017)
The information contained on The Mortgage Reports website is for informational purposes only and is not an advertisement for products offered by Full Beaker. The views and opinions expressed herein are those of the author and do not reflect the policy or position of Full Beaker, its officers, parent, or affiliates.
Try the Mortgage Calculator